EA's press recap at E3 2017: An event full of awkward goodies 
More awkward than a Nun at Hedonism, EA's press conference had some notably bad moments meant to illicit "real" virality.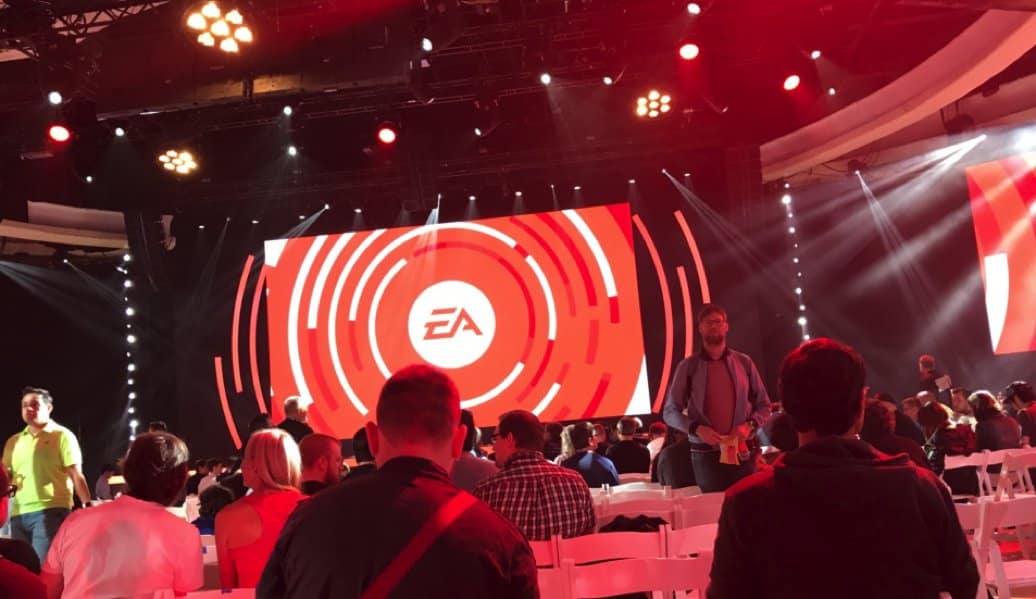 Snark engaged to the highest degree, here's a recap of EA's E3 press conference at the Palladium in Hollywood, CA.
Walking into the press conference itself was an extremely weird situation because there were chairs set up in the middle and around the front near the stage, but there were these giant circles of computers on both ends of the room. Uncomfortably, we were all squeezed onto these awful little wooden chairs that were so close the person next to me I basically had his hand in my pocket the entire show.
As it got closer to time for the event to start, an announcement over the speakers let us know that we weren't already compressed tight enough and that they needed to completely fill up all of the available chairs for the press conference. I didn't understand why they would care about what the audience attendance looked like, but once the press conference began it all started making sense.
The show started off with a whole bunch of notes on Madden NFL 18. They brought in a drum line to open up the show which was much more exciting than most of the actual show. Unsurprisingly, Madden 18 is finally being built in Frostbyte – a technology they should have been using since it was developed – and it looks incredibly promising. We were informed that the footage we were being shown was rendered on Microsoft's upcoming Scorpio console. The room kind of silently nodded as everyone went "uh, yeah, obviously" since it looked far better than what we typically see from Madden and knew there wasn't a chance it was a PC build.
Meet Therabody's All-New TheraFace Mask
TheraFace Mask is a breakthrough FDA-cleared LED skincare mask with added tension-relieving vibration therapy. Clinically proven results include firmer, smoother, healthier-looking skin with a visible reduction in fine lines, wrinkles, and uneven tone in as little as 8 weeks
From there, they transitioned from Madden to a note that we would be getting 30 minutes of dedicated time for Star Wars Battlefront II later on in the show, to some talk about new things coming to Battlefield 1. I guess the point here was to keep people from getting too much sports in the way of their shooters, but the only thing they came back to Madden for later was to talk about their story mode entitled Longshot. This is apparently a thing for all of the EA Sports titles as we were later introduced to The One in NBA Live 18, and the continuing story of Alex Hunter – the guy from the story mode in FIFA 17, if you're familiar with that franchise.
"The rest of it was a whole bunch of weird old dudes talking about FIFA and their awkwardness became a meme so there isn't much else to say."
From the looks around the room, very few people cared – presumably because sports games sell no matter what and this simply wasn't a crowd who would get hyped for sports games.
While we're on the topic of sports, I'm just gonna keep on this topic for a few more moments before going back to the Battlefield 1 stuff. All of the new sports games got new single player story modes. I think the last one I remember playing was Fight Night Champion, which was dope, but I don't know that the effort is really worth it since the majority of people who play sports games couldn't care less and dive right into online competition – but I'm curious to check out the story modes once these games hit the EA Access Vault. The rest of it was a whole bunch of weird old dudes talking about FIFA and their awkwardness became a meme so there isn't much else to say.
The rest of it was a whole bunch of weird old dudes talking about FIFA and their awkwardness became a meme so there isn't much else to say.
A little blurry but I didn't bother to take another picture.
Moving back to Battlefield 1, the new expansion called In the Name of the Tsar looks pretty cool and focuses on a WW1 setting. I haven't played Battlefield 1 at all, but it looked super interesting and made me consider buying it when I get home. There was also a new map playable called Lupkow Pass and an announcement of a smaller/tighter competitive style mode coming soon that basically makes Battlefield 1 esports because of course it does.
Need For Speed Payback was probably the most exciting part of EA's conference for me, as I like those games, even though the last one was marred by a terrible live action movie story full of C-list actors who couldn't act their way out of a nutsack.
Thankfully Payback learned from that mistake, and this new game shamefully bites from the style and story of The Fast and the Furious movies but has in-game graphical cutscenes and voice actors who actually understand how to become a character. In the demo – Highway Heist, which is actually Chapter 2 of the story – you'll drive a girl up to a truck hauling a rare Koenigsegg sports car and she'll attempt to steal it from the back of a semi. Obviously the initial attempt fails and there's a bunch of explosions, running protector vehicles off the road with flashy destructive scenes for takedowns, like you've seen in Burnout.
I was 100% more interested in the story from that demo than the entirety of the last game's story after playing through it. If I had to compare the two, Payback is basically Need for Speed Rivals' street racer campaign, but using the same graphics and style from the previous entry. All and all it looks pretty great and I can't wait to check out the final release.
Best graphics EA Live 2017.
EA then proceeded to a show a prison escape game called A Way Out which was created by the guy who made Brothers: A Tale of Two Sons. This had a vibe that looked like 2K's Mafia games, with a bit of exploration in tight spaces like what we saw in Alan Wake, yet it also felt reminiscent of the abominable Kane and Lynch games.
I'm not sure what to expect, but the guy who made it says it's awesome and awkwardly tried to reassure the crowd on how good it was. You could actually hear the expectation level in the room fall. Then another guy came out and said that EA was looking for SEED – the search for extraordinary experiences. He then proceeded to spew like six minutes of marketing nonsense and then left. I'm gonna assume they were just looking for a new way to define an acronym to impress investors and industry analysts.
This game will be totally good, guys. Promise.
They also showed a super quick trailer for a new Bioware IP called Anthem. I immediately burst out into Good Charlotte and then hated myself because I'm old and because I remembered that terrible song. Much like the insurance company of the same name, it looked good but I don't know what it actually did for me. They'll show some actual information during Xbox's conference.
This was the best part of the whole show.
Last but certainly not least, Star Wars Battlefront II got an hour of pandering, attempts at hard sells, and a whole bunch of paid for overreactions for the stream audience watching at home. Their hand selected content creators who had been flown in to play the event live played it for like 15 minutes. Sitting at the actual event, it looks good over someone's shoulder but that part of the show wasn't for those in attendance so we just kinda waited for it to end.
"It really did look great but I'll think I'll wait to hear more feedback from people who weren't paid to give it."
If there's any perk, it's that Finn and Captain Phasma are coming as DLC, and they're promising to do the Respawn method of free DLC and updates like Titanfall 2 did. I can only assume this means Battlefront II is crammed full of those stupid cards because what would an EA game be without a plethora of microtransactions, right? Jokes aside, it really did look great but I'll think I'll wait to hear more feedback from people who weren't paid to give it.
Star Wars Battlefront II releases on November 17th, just in time to give you an excuse to buy that shiny expensive Scorpio.
The streamers were clearly captivated and not at all putting on the "hurry the fuck up so we can do what we were paid to be here to do and get the hell out of here" face.
That's it. Nothing else to say here.
Follow us on Flipboard, Google News, or Apple News