Fartr is an app that finally gives you a new way to share your rancid, sticky farts
Start farting around.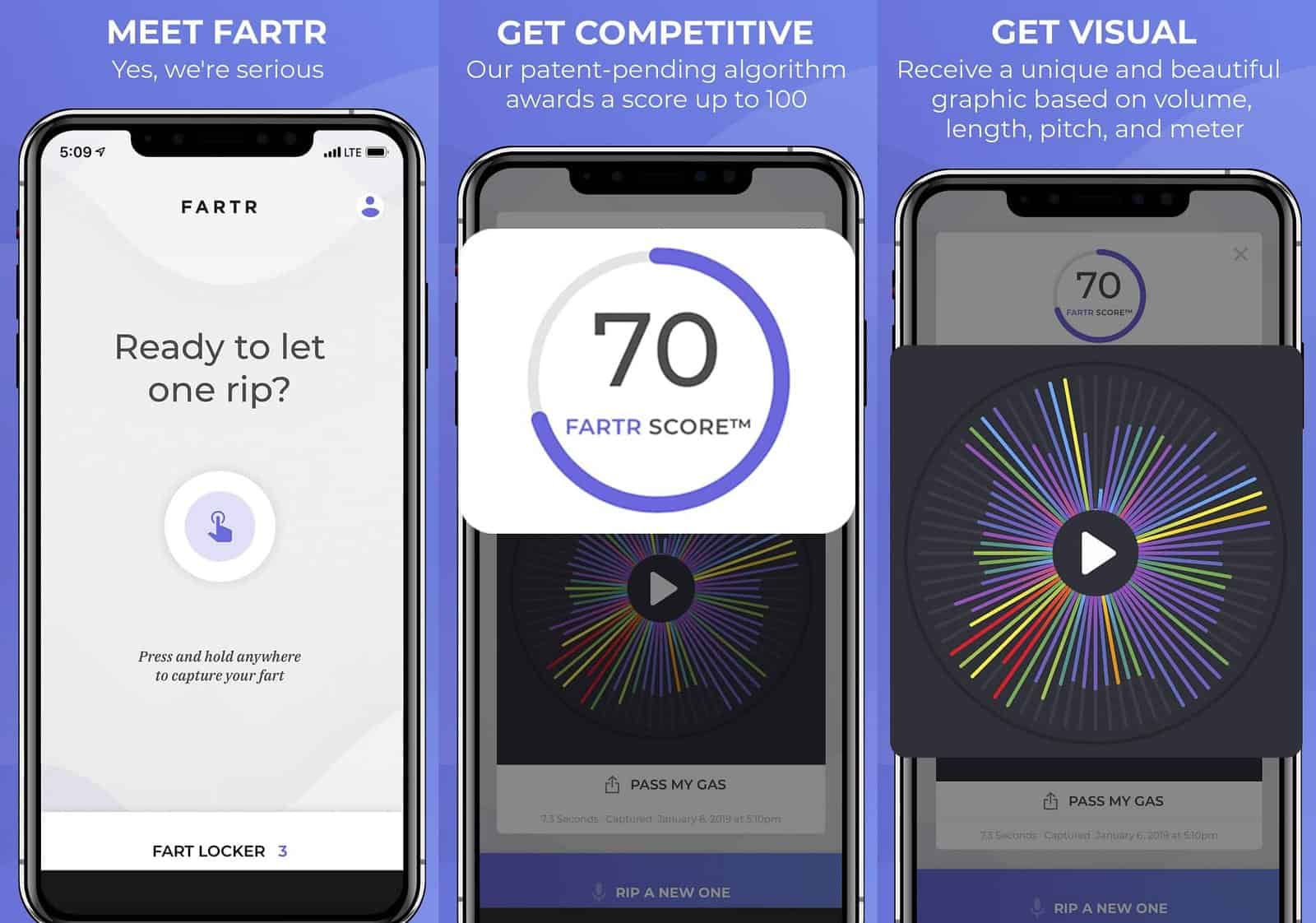 Farts are funny. There is no discussion here. In movies, television and our daily lives — farts are fucking hilarious. While dropping a tenaciously thick cloud from your anus in a crowded elevator might be generally frowned upon, being able to then use an app to create colorful visualizations and assign a score to it creates an instant sense of delight and fun.
That's what Fartr does. It's an app for analyzing, visualizing, scoring, and sharing flatulence. Unlike fart sounds apps, that are crude and basically stupid, Fartr takes your digestive results to an entirely new level. Every time you pinch the ass balloon to expound a fresh taste of whatever you ate six hours ago, Fartr will algorithmically assign a visualization to it as well as a full assessment of your windy butt baby's characteristics.
Simply hold the app near your rear-side blowhole and record the sound. The app interprets the captured audio and using the aforementioned algorithm, assess your exfoliation of anal pleasure sounds by volume, length, pitch, and rhythm.
Users will receive a unique Fartr Score™ on a scale of 0 to 100, a text description and the ability to then be shared via text, email, and social networks. That's right, you no longer have to wait until Kevin traps you in a hotel room, pulling you into a dutch oven 4 dayz. Now, Kevin can just text you his wonderfully acrid sounding fart without having it burn your nose hairs off.
"Fartr allows people to finally see their flatulence in full color and share those one-of-kind visualizations with their friends through social media or text messages," said the company in a press release. "At Fartr, we believe flatulence can be beautiful and unique, and we have built an app to capture that."
Farts are beautiful and unique. Each one speaking directly to some dangerously delicious part of our souls. From loud to nearly silent, to high-pitched and low rumblings, farts are something that brings us all together no matter our walk of life. Every person in the world farts, even if some of us don't want to admit it. Farts are competitive, necessary and as much a part of our daily lives as breathing and keeping the skin on our faces.
Because Kevin's farts are face melting and having an app to be able to share visualizations of them without having to actually experience them is something special indeed. Now that I write that, it doesn't seem fair to just single out Kevin. So here's a rundown of the fart profiles of the rest of the KnowTechie team.
Josh's farts are like if Sean Connery's burning chest hair was a scent that sounded like baby oil slapping off of a toaster oven.
Joe's farts are like if a dead pigeon somehow found its way inside a vat of cream cheese and sounds like a faint prayer by a dying dung beetle devoted to Jesus.
Jared's farts are what you'd hear at the moment the ER doctor yanks the glass bong out of your ass, and sound like the nurses' trailing scream at the number of snack cakes that are expelled with it.
Jake's farts are a special blend of the feeling you get after accidentally swallowing an entire Jolly Rancher and smell like a fresh car accident.
Diogo's farts are like a fresh bouquet of roses, jammed into the business end of a stray dog while a group of homeless folk singers throw popcorn at you.
Josiah's farts are like finding a very old sandwich under the couch cushions, eating the sandwich, paying the price for eating the sandwich, then getting beat in the head by a goat wielding a baseball bat.
My farts are lovely shut up.
The Fartr app is available for both Google Play and Apple iOS for $1.99. Part of the proceeds goes to causes supporting Crohn's and Colitis research because while farts are generally entertaining, for some they are painful and necessary parts of determining and diagnosing disease.
Plan on farting forking over the cash for this app? Let us know down below in the comments or carry the discussion over to our Twitter or Facebook.
Editors' Recommendations:
Follow us on Flipboard, Google News, or Apple News