A smartwatch packed with folding screens is a great idea for living in a future of stupid tech
Coming to a tech-douche-bro wrist near you.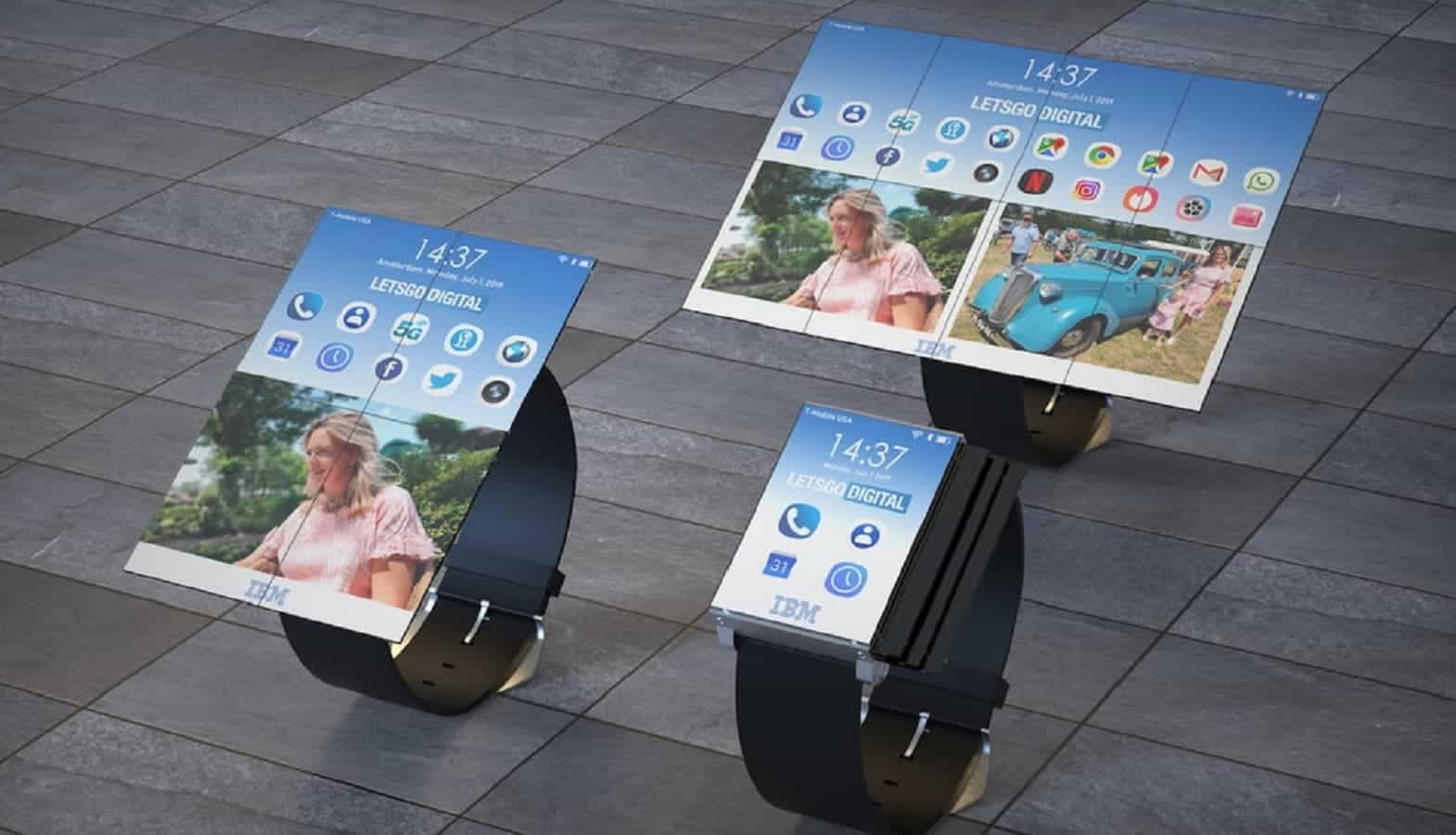 I've often opined that Silicon Valley frequently seeks to solve problems that don't exist in order to justify innovation. Innovation itself is subjective, just because it can be done doesn't mean it should be done. That apparently has never been a deterrent to creating ridiculous technology like this patent from IBM that presents a folding screen — on a smartwatch.
Let's Go Digital created some mock-ups based on the patent design and the patent was filed a few years ago (IBM, like most tech companies, silently files patents by the truckload). Regardless, it seems that the massive failure of folding phones (looking at you, Samsung) might not be enough to deter companies from trying to turn your watch into your phone.
I get it. We love screens. Everything needs a screen. Your toilet paper roll needs a screen. Your vibrating sex toy should have a screen that pops out. Your TV remote needs a screen so you don't have to look at your TV. Socks need screens. Nightmares need screens. Cigarettes need tiny screens so we can consume content while we are actively dying. Watches, already with screens, clearly are screaming for more screens.
When the wonder of the innovation wears off (which is fairly quickly these days) what are we left with? A watch that turns into a phone. Perhaps IBM filed the patent to get ahead of Apple and Samsung, to prevent these things from ever existing. Perhaps IBM really plans on getting into the smartwatch market in the weirdest way possible, it's hard to tell from a patent alone.
The only innovative functionality of a smartwatch that would elevate its current position as an ancillary piece of tech that compliments your phone would be augmented reality. If watches were able to project images — without additional screens — then that would be interesting. We've seen this in science fiction, Altered Carbon comes to mind when it comes to projecting images from screens, so it's possible it could exist someday.
But not today. Today we have back-of-the-comic-book crap like smartwatches with screens that fold out. A watch with this many screens packed into it would be bulky and it's already in your pocket. It's called a phone. Your phone has a larger screen than any smartwatch. To the point that you don't have to wear it on your wrist.
Could smartwatches with folding screens replace phones? That's the billion-dollar question. But I don't have a billion dollars, so here's twelve bucks to never speak about any folding screens ever again.
What do you think? Are smartwatches with folding screens the future? Are they the future you want to see? Let us know down below in the comments or carry the discussion over to our Twitter or Facebook.
Editors' Recommendations:
Follow us on Flipboard, Google News, or Apple News