IQOS is the next evolution in moving humanity past the brutality of cigarettes
Even smoking can evolve.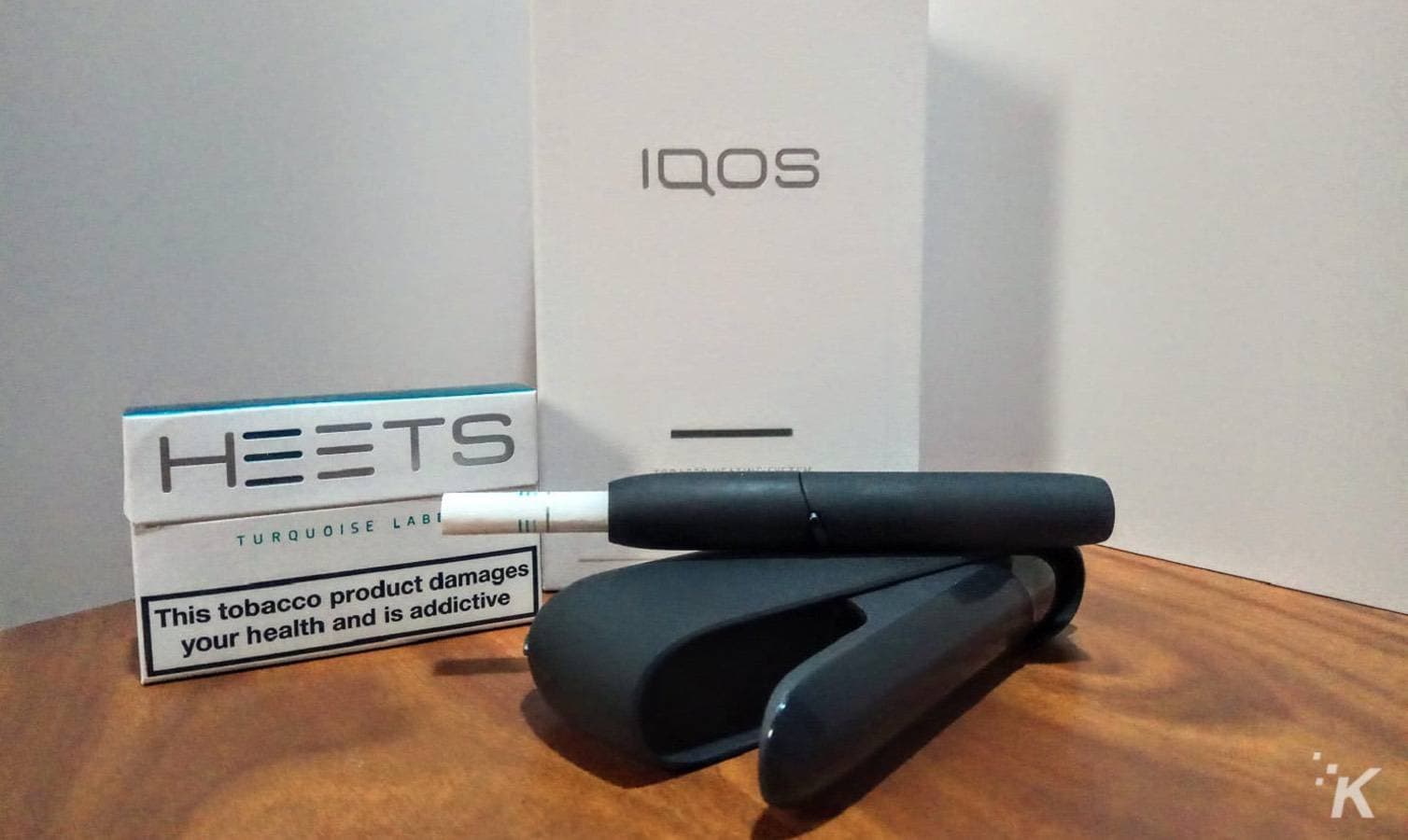 The best thing you can do when it comes to smoking is to not smoke at all. However, like the rest of us, fighting or even denying the true pleasure of addiction is hard. Sure, hard doesn't mean impossible but let's be honest here, you are human and humans like to fuck shit up — especially themselves.
The next best thing is a device that eliminates the most dangerous parts of smoking while still delivering the things we are addicted to, the experience and the nicotine. That device is the IQOS tobacco heating system from Philip Morris International (PMI).
I know what you are thinking, "a tobacco company getting into the vaping business is bullshit" and I get where you are coming from. But as I recently discussed, there is a worldwide effort to seriously consider vaping to not only be an alternative to smoking, but something that can change the face of the tobacco consumption business. Naturally, the United States is lagging behind this innovation due to poor regulatory practices, but that's another article for another day. Today I'm chain-vaping with the IQOS 3.
Not yet available in the United States but very popular in Europe, Japan and around the world, the IQOS 3 is a device made of three parts — a heated tobacco unit, a holder and a charger. It's pretty simple, you charge the holder in the charger and then pop in a tobacco unit and smoke like you would a normal death stick. However, the difference is the billions of dollars of research that has gone into a device that is changing PMI's business model.
The IQOS 3 uses half-size tobacco sticks called Heets, or HeatSticks in some markets around the world. The sticks are made up of a couple elements; a tobacco plug, hollow acetate tube, polymer-film filter, cellulose-acetate mouthpiece filter, and paper. They are heated to about 350˚C/662°F which is just below the threshold for combustion.
This is a sea change in how we consume cigarette-like products. Similar to say, a cannabis vaporizer, instead of being burned, the tobacco is heated. This creates a vapor-like exhalation and doesn't create all the chemicals through combustion that makes smoking as dangerous for your health as it is.
It's certainly a cleaner and safer way to consume tobacco through the inhalation process. Of course, it's not as safe as just quitting, but we're not talking about that. We're talking about PMI, a tobacco company, looking to the future of tobacco products and slowly adapting to a future in which smoking through combustion could be eliminated completely.
Meet Therabody's All-New TheraFace Mask
TheraFace Mask is a breakthrough FDA-cleared LED skincare mask with added tension-relieving vibration therapy. Clinically proven results include firmer, smoother, healthier-looking skin with a visible reduction in fine lines, wrinkles, and uneven tone in as little as 8 weeks
How (where) it's made
When you imagine tobacco production, your vision of a tobacco factory floor is messy. There are bales of tobacco everywhere and possibly hay on the floor. I don't know why you think this. Recently, I visited the PMI facility in Bologna, Italy, where the Heets are made. My first impression was not only how clean and modern the facility is, but how crisp and sharp the air was, with the lovely smell of fresh tobacco floating in the air with piercing but not overwhelming intensity.
I could walk you through the factory, or you can just look at pictures (Heets manufacturing in Bologna). From automated machinery to the hundreds of jobs provided for the region, the place is a testament to modern manufacturing. Take anything you've seen on How It's Made and add better lighting and a pristine factory environment with ridiculously tight quality control and you have the Heet facility in Bologna.
The point is that PMI just isn't pumping out a tobacco product for the sake of it, it is ensuring that every Heet stick created adheres to a strict scientific and manufacturing process that inspires quality and supports innovation in smoking alternatives and cessation tools.
Back to the device
The IQOS 3 device itself is functionally sound. There is a version called the Multi that is a smaller, self-contained unit that delivers 10 uses before needing to be charged. With the IQOS 3, you charge the holder within the charger, then use it, then place it back in the charger (where the holder recharges for next use) and charge the charger when that needs charging. The holder itself mimics the experience of smoking without yellow fingers, stinky clothes, or second-hand smoke.
It's a slick device that feels a lot like some of the vapes on the market today. While it isn't a vaporizer in that sense, it does operate as such through heating tobacco instead of burning it. The holder slides into the charger with magnetic ease, and pops open for easy cleaning. The charger itself doesn't add too much weight to your pocket and feels more like a small, mid-90s cell phone than a smoking tool. Using the IQOS 3 felt like smoking, something I hadn't done in a while, but didn't feel like a brand new experience save for the vapor instead of smoke. That's kind of the point.
The IQOS is not intended for people who haven't smoked before. All the warnings are there, on the Heet boxes and on the websites. If you aren't a current smoker, this device is not for you. Go buy a Juul or something if you want to be a cool vaper. If you want to stop smoking actual cigarettes and burning tobacco and want a less harmful way to feed the addiction monster, then the IQOS is that product. This is where the confusion comes in. Smoking with the IQOS isn't healthy or harm-free, it's just a hell of a lot less harmful than smoking traditional cigarettes.
I'm less trying to sell you on a product than on an idea. The idea that vaping is not some added danger to the already present one in cigarettes and other tobacco products, but rather a much more reasonable alternative to tobacco abstinence. The IQOS is a device that enables smokers to remain smokers, while eliminating most of the dangers of smoking. While many smokers can quit, many more can't. It's just not in their nature. PMI shifting its business model to ween its customers off combustible cigarettes and onto a vaping-type device is a huge investment in the future of nicotine and tobacco consumption. We can't side eye PMI completely, because while it is, of course, a business move, it's also a move based in science and innovation.
IQOS 3 (and all previous and future versions) is currently not available for sale in the United States, but if you are traveling abroad, you should be able to find one. I visited the High Street Kensington store in London last month, and it's a bit like an Apple store in presentation and space management. It was less like an Apple store in that no-one was wearing polo shirts and there was a bar. IQOS 3 just launched in PMI's global markets last month and retails for £99.
Have you ever used an IQOS? Would you like to see this come to the US? Let us know down below in the comments or carry the discussion over to our Twitter or Facebook.
Editors' Recommendations:
Follow us on Flipboard, Google News, or Apple News