We can mourn for Luigi, but let's not forget that Mario also died
RIP
Wednesday, after the Smash Ultimate Direct, Jason Schreier from Kotaku shared an obituary for Luigi Mario. If you weren't aware, the lanky green plumber was murdered by Death in the Smash Ultimate Direct. It was jarring, but Jason's obituary for Luigi showed that he was a beloved character. Unfortunately, Jason made a huge oversight in stating that Luigi was survived by his brother Mario, but he seems to have forgotten that Mario is dead too.
For those out of the loop, on June 12th at 9:41 AM PT Nintendo's iconic plumber, Mario Mario, was murdered by getting stabbed by the notorious space pirate, Ridley. I know that Jason's emotional state was probably a little shaky, having to be the one to report of the shocking death of Green Mario, but the Mario family and his loved ones will have to relive their hellish loss from two months ago with that oversight. They definitely need time to recover from these trying times and I hope that they can make full emotional recoveries.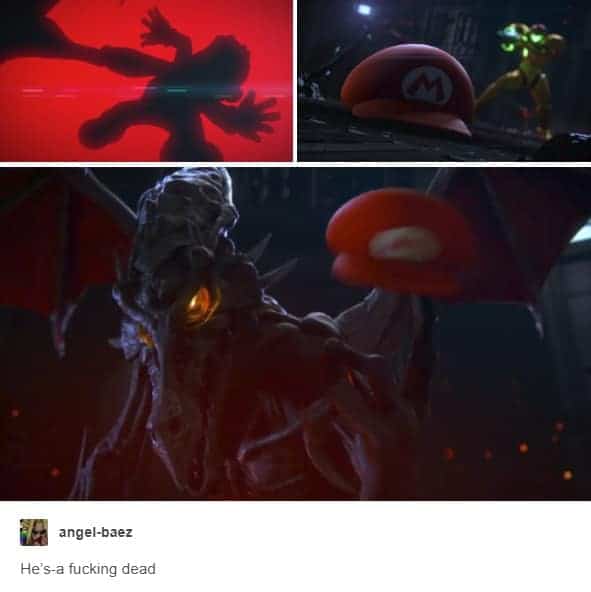 With Nintendo's loss of both of the iconic Mario Brothers, one can only hope that Nintendo can find a suitable replacement for them. Some people expect that Nintendo will lean harder on Link and Zelda to fill in for the deceased plumbers. Other camps expect to see Kirby and his shape-shifting abilities fill the void. Personally, there are two relatives of the Mario family that are still part of the Nintendo universe and I expect them to pick up the slack.
We are likely about to enter the era of Wario and Waluigi and I expect to see much more on the two in the next year. I could be wrong, but honestly at this point who isn't ready for Waluigi?
Are you going to miss Mario and Luigi? Let us know below!
For more gaming news and reviews, check out:
Follow us on Flipboard, Google News, or Apple News