The Mars rover Opportunity declared dead after not answering NASA's call
Do not go gentle into that good night.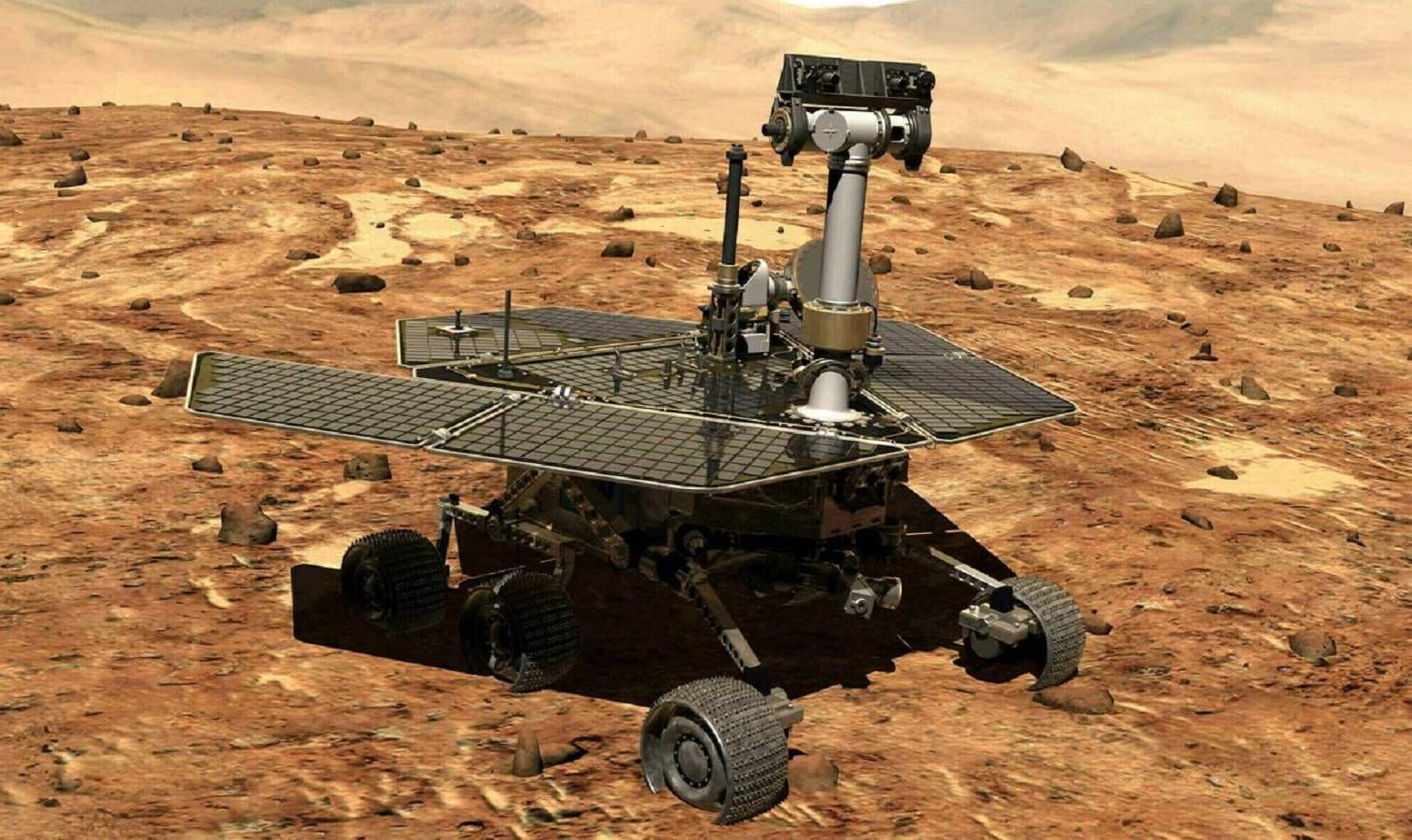 Pour one out for NASA's little rover that could. Opportunity was first sent to the Red Planet in 2004, with its sister rover, Spirit. Today, NASA and JPL officials finally called the end of the Opportunity mission, 8 months after losing contact with the plucky rover after a planet-scale sandstorm had obscured its solar panels, cutting off its energy source.
Originally sent for a 90-day jaunt around the dusty surface of Mars, both rovers outdid their design specifications. Spirit lasted for 7 years, after traveling 7.7 km. For a vehicle designed to travel 1 km before wearing out, that's already impressive – but Opportunity knocks, as they say, and the second rover just wouldn't say die. It took a weather event of catastrophic size to finally stop Opportunity's trek across the unknown, after 14 years and 45 km of distance.
That's a lot of science time, with the rover sending information back to Earth from everything about the rock composition to panoramic shots of the sweeping vistas to cheeky selfies when it wasn't busy doing science. And what science! The duo gave us a new understanding of the Red Planet, establishing that Mars did have water at one point, that would have been able to support life. That finding was backed up by the Mars Odyssey orbiter, which found ice on the surface.
Help us remember Opportunity, one of the greatest of all time. https://t.co/AnpUFS1Jue

Tag thoughts and memories #ThanksOppy pic.twitter.com/ZRVSNuJTZt

— NASA Mars (@NASAMars) February 13, 2019
While Oppy and Spirit didn't have Instagram accounts, like the newer Curiosity rover, they did have a vibrant mission Twitter account. Of course, Insta wasn't around when they rocketed across to Mars. They paved the way for future space exploration, creating a new paradigm for autonomous rovers which could be sent to even further celestial bodies.
The planet-sized duststorm subsided in August and it likely covered Oppy in far too much material for the little rover to get sunlight to charge its systems. No Number 5 is alive! moment here, as after 8 months of the team doing everything they could to get a response from Oppy, including beaming Billie Holiday's I'll Be Seeing You to the surface of Mars, it received no indication that the Opportunity would arise.
Maybe one day when manned missions go to Mars, Oppy can be found and immortalized in some kind of museum. Certainly, it'll live on in our hearts.
Press F for respects, we'll miss you, little guy.
How do you plan to mourn the event? Let us know down below in the comments or carry the discussion over to our Twitter or Facebook.
Editors' Recommendations:
Follow us on Flipboard, Google News, or Apple News