Mozilla has a gift guide that lets you know who's selling the most creepiest gadgets
Unsurprisingly, voice assistant-equipped gadgets top the list.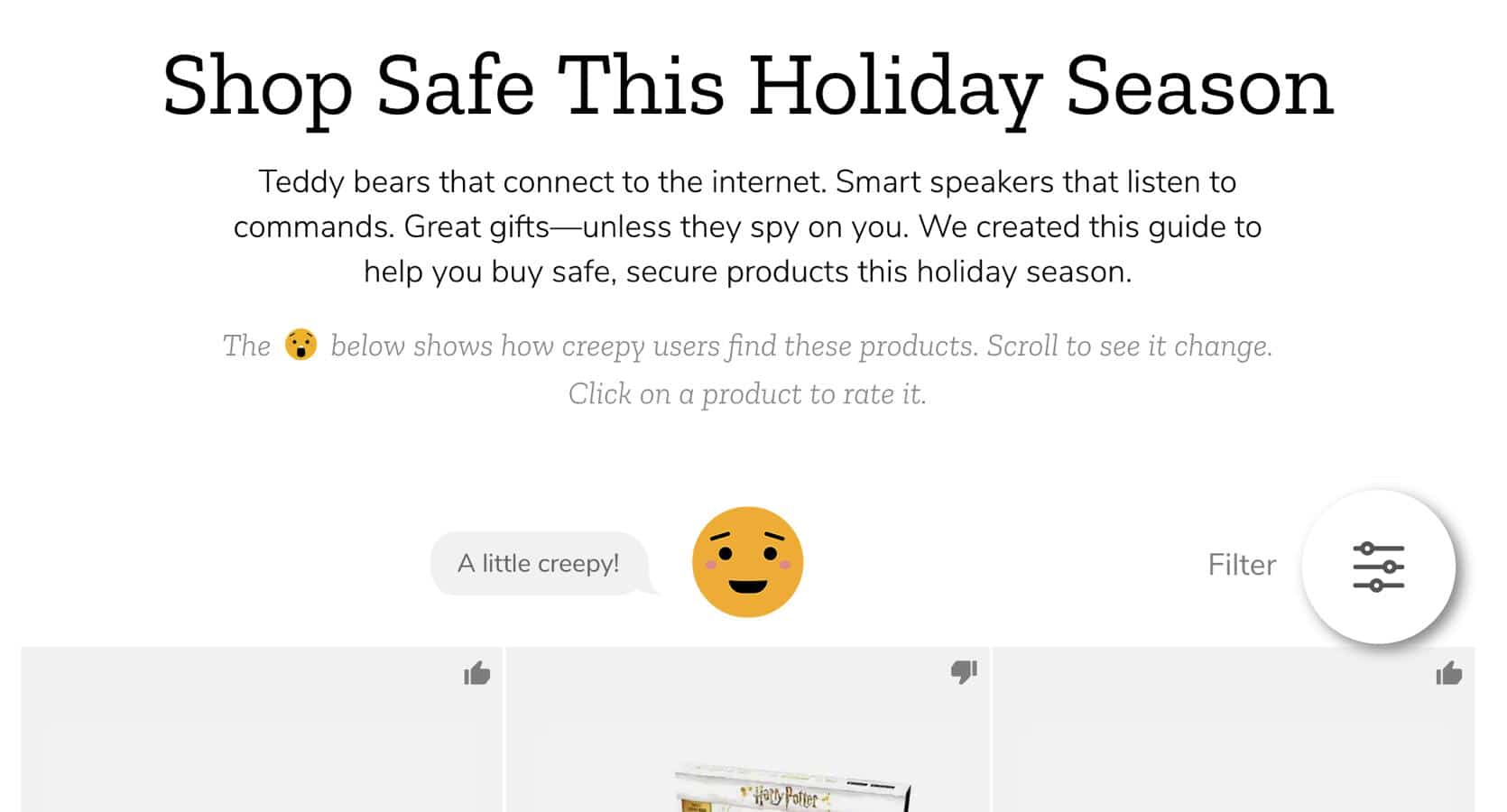 The holiday season is upon us, and electronic goods will undoubtedly be popular for gift giving, naturally. Mozilla recently published a gift guide on 70 popular gadgets that let you know if the devices meet basic security standards, like encrypting data and offering a clear privacy policy.
Basically, Mozilla released a list of gadgets and rated them by their creepiness.
While the list is only a subsection of the overall market, all of the items analyzed are pretty popular gift options. Out of 70 gadgets, only 25 of them meet Mozilla's minimum security standards.
The most secure gadgets included in the list is the Nintendo Switch, a Harry Potter Coding kit from Kano that mixes magic and technology while teaching kids to code, and an open-source smart speaker called the Mycroft Mark 1.
Runner-ups
Other notable devices that did well in testing include Apple's AirPods and the PlayStation 4. Both of these get some points taken off for having cryptic privacy policies as well as unexpected data sharing with third parties. The other popular console, the Xbox One, also loses points for the same data sharing.
Ashley Boyd, Mozilla's VP of advocacy, explained to The Verge:
Sometimes consumers don't recognize that their gifts are connected to the internet. Now they can make purchasing decisions based on privacy. It's part of our work to start conversations about online privacy. One thing we've noticed is that for a lot of the products in the current guide, we couldn't figure out whether they met the minimum security guidelines because the information wasn't available on companies' websites.
Obviously, Amazon and Google's devices are totes in the creep zone
Unsurprisingly, gadgets from Amazon and Google are on the other side of the privacy spectrum. Both the Amazon Echo and Google Home listen in on your conversations at all times, although as they're smart speakers, I'm not sure what else they're supposed to do.
Google's Home app can also track you and will share data with third parties for unexpected reasons. The Amazon Echo doesn't delete stored data it gets on you and essentially shares that data with third parties. It also has a complex privacy policy. The Alexa app can access your camera, microphone and track your location. That's the price for the utility that these services provide, I suppose.
The report from Mozilla also includes user feedback on whether they find a device "super creepy" or "not creepy." The results of this might not be accurate, as Mozilla told The Verge that it doesn't verify if people own the devices before voting.
And the creepiest gadget goes to…
The creepiest gadget in the report kinda surprised me. We should be able to trust anything we use with our kids implicitly, but the FREDI Baby Monitor has a history of being easily hacked and has a groan-inducing "123" default password that can't be changed. Not only that, FREDI doesn't have a basic privacy policy, and they don't push out security updates to their devices.
Mozilla says that some companies reached out after last year's report, and in some cases, they've adjusted their privacy policies and upgraded security as a result.
Are any of your favorite products in this list? IF so, are they creepy or not? Let us know down below in the comments or carry the discussion over to our Twitter or Facebook.
Editors' Recommendations:
The best tech gifts to give this holiday season (trust us)
Follow us on Flipboard, Google News, or Apple News