My Friend Pedro is basically a deadly ragdoll ballet with guns, old people, and a banana
You have a banana advisor, need I say more?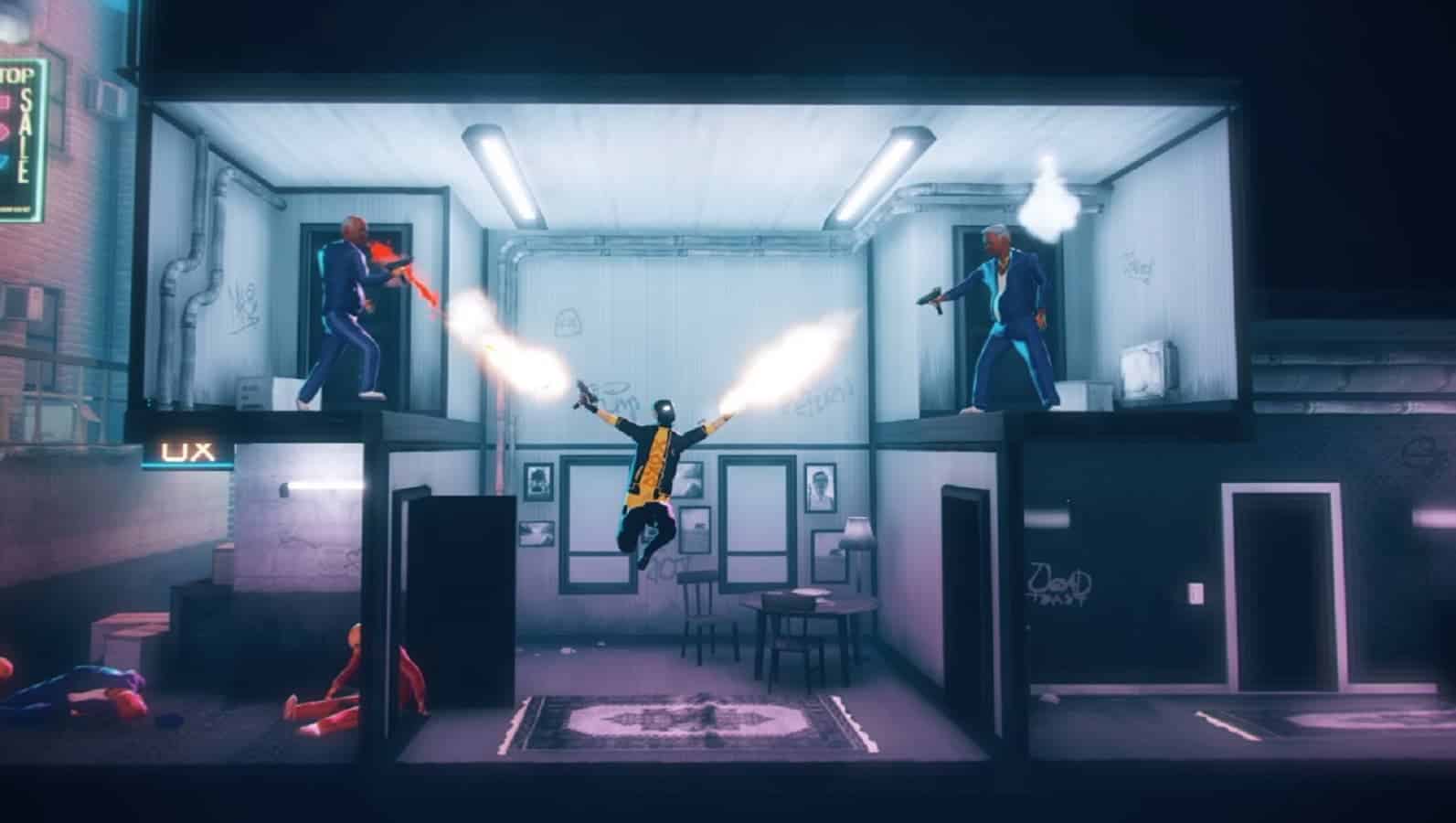 My Friend Pedro is a silly game. In it, you play the role of a dude in a gas mask with large ears. He may be Pedro. This dude follows the advice of a floating, sentient, banana who may also be Pedro. The banana advises you to take on the hordes of silver-haired senior citizen gangsters that block your way as you help them make it to the afterlife just a little quicker.
At least that was how it worked in the demo I played.
Overall, My Friend Pedro was one of the weaker games a played at PAX East this. This wasn't really because the game was bad or controls were confusing but more because I feel like My Friend Pedro is a game about taking time and developing a rhythm. Unfortunately, I just couldn't do that in the 10-15 minutes I played the game.
In the game, you dispatch enemies and kill them in wild and fantastic ways
You can spin like Micheal Jackson while firing dual uzis. You can kick a frying pan into the air and deflect shots into enemies in another room. Hell, you can jump into a room while doing front flips and shooting in two different directions and then landing on the floor and rolling on the ground like a ball.
Getting the hang of things in My Friend Pedro is very important. Amongst the hustle and bustle of the PAX East show floor, it was kind of hard to find that much-needed rhythm to feel like I was gracefully dancing through levels instead of wildly flailing through while firing bullets and running into walls. It was fun, but I felt like I was missing all the real enjoyment. Kind of like knowing a joke is funny but missing the punchline.
Controls were complex, yet fairly straightforward
The biggest issue I had was remembering I could lock onto enemies while moving. There was a part at the end of the demo where I was riding a motorcycle, the controls during this part were so jarringly simplistic that I did quite well, even though I spent most of the time wondering if doing a wheelie was important at all. I just kept doing it because being a stylish vigilante is the way to go.
I really want to see how My Friend Pedro expands from here. It will be launching on Switch and PC in June of this year.
What do you think? Does this look interesting to you? Let us know down below in the comments or carry the discussion over to our Twitter or Facebook.
Editors' Recommendations:
Follow us on Flipboard, Google News, or Apple News