Review: Akaso Trace 1 Dual Dash Cam – great for personal use and rideshare drivers
Because the roads are scary, yo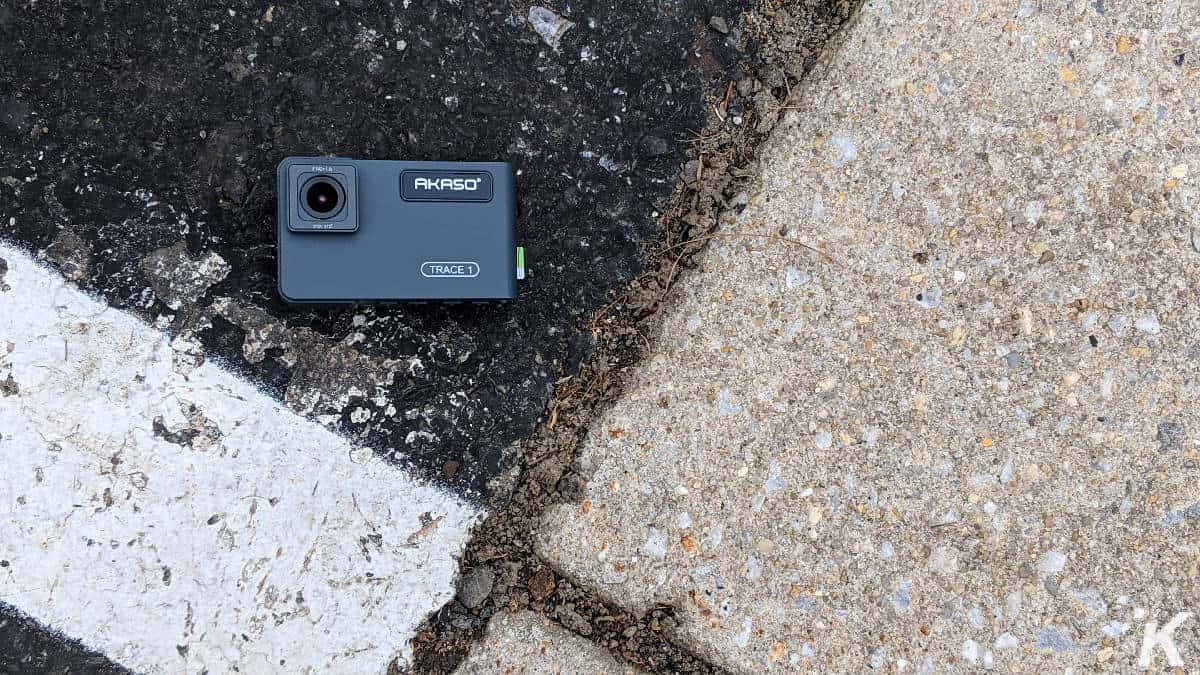 The Good
Sony STARVIS camera sensors record great footage
Internal nightvision backed by IR LEDs
Up to 128GB miniSD card support
The Bad
No WiFi or Bluetooth to let you record to your phone
Listen up. If you want to stay safe on the roads, you need a few things. An emergency kit, a spare tire, maybe some defensive driving lessons, and a dashcam. Seriously, people seem to be driving more like it's Mad Max out there and in case of an accident – you'll be super glad that you had a good dashcam recording it all.
Well, unless you caused it, in which case you'll probably want to introspect over the footage so you don't do it again. It's not just having footage to send to your insurance agent, sometimes you can get a discount on your premiums for having one, as they really do make the roads a safer place.
Akaso has a pretty wide range of affordable, quality dashcams, like the Trace 1 that we're looking at today. While so many low-cost dashcams skimp on the camera modules, the Trace 1 has dual Sony STARVIS modules, which should give excellent performance in all light conditions. After all, it'd be pretty irritating if after you do get into a fender bender didn't manage to record the license plate of the car in front or any other relevant details. One camera records the road in front of you, while the second is pointed inside your car, to record both the inside and some of the back view.
Oh, and those STARVIS sensors? They can pick up infrared, so with the four infrared LEDs painting the inside of your car with light, even on the darkest of nights, you'll be able to record what goes on inside. That's wicked if you're a rideshare driver for Uber or the like, as you always have a video record of your passengers in case of any issues. You can't be too careful these days.
Meet Therabody's All-New TheraFace Mask
TheraFace Mask is a breakthrough FDA-cleared LED skincare mask with added tension-relieving vibration therapy. Clinically proven results include firmer, smoother, healthier-looking skin with a visible reduction in fine lines, wrinkles, and uneven tone in as little as 8 weeks
Both cameras also have an ultra-wide lens, with a 170-degree field of view
That combines to wrap around your car, giving a total of 340 degrees of video coverage. That comes in handy with the next trick the Trace 1 has up its sleeves – a G-sensor to automatically record if your car gets bumped while parked. It'll spin up recording for 30 seconds, then go back to standby mode. No more unknown scratches on your paintwork, or unexplained dents when you're at the local warehouse store. The Trace 1 also locks any footage from these incidents, so they can't be overwritten accidentally as footage is normally recorded on a continuous loop.
When the Trace 1 is set to record from both cameras, it does so at 1080p at 30fps on each camera, giving crisp footage from both (note the footage from the interior camera is black&white). You can also set it to record just from the front, bumping the fps up to 60, while staying at 1080p. It's a nice touch, not everyone wants the interior of their car recorded and being rewarded for switching to just one camera rolling is cool.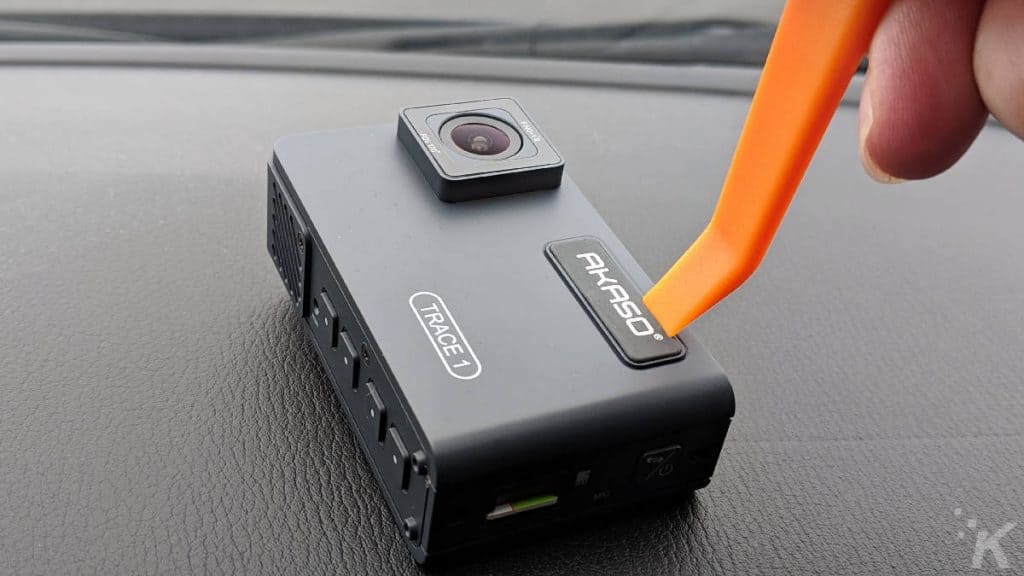 There are some nice touches on the install as well. Prying up the Akaso logo uncovers a slot that the suction cup arm for the windscreen slides into. Then the rubber logo can be plugged into a similar channel on the outside of the arm, keeping it safe in case you don't want to use the arm in the future.
The Trace 1 is powered by a long mini USB cable that plugs into your car's lighter port. Akaso also includes some 3M-backed cable hooks, for ease of installation. I found I didn't need these as I was able to snake the cable underneath the body panels of my car. That cable also has a USB socket, so you don't lose the ability to recharge your phone/GPS or whatever else while using the dashcam. Oh, and there's a small internal battery, that lasts up to 20 minutes. That'll be there instead of a supercapacitor to power the parking record feature if/when needed.
Okay, what you really want to know is: how is the video quality? Footage from both cameras is pretty darn clear. The wide-angle lenses show the entire road, and the entirety of the interior of your car (assuming you place it right in the middle of your windscreen, our car has a huge sensor bump in that area so I had to offset it, which stopped the camera recording the driver's seat).
As you can see, the footage from the Akaso front camera is pretty good, with license plates and van hoardings all legible, while the light conditions change pretty rapidly when the semi blocks the sun.
Yes, I do look like the world's most bored car thief but it shows off the internal camera perfectly. I think I was too close to where it was mounted on the windscreen, as the rest of the interior is completely in sharp focus. That seat is pretty far forward due to the car seat base on the rear seat so without that, it should pick up all your passengers as intended.
So should I buy it?
If you're a rideshare driver, definitely put the Akaso Trace 1 onto your list for consideration, for the interior camera alone. The Sony STARVIS sensor is fantastic with those IR LEDs turning night into day. As a bonus, it will be tax-deductible for you as a business expense. The footage from the front-facing camera is just as good, showing clearly what's on the road without any of the graininess I've seen on other dashcams with lower resolution.
Even if it's just going in the family taxi, it's still a good choice. The parking sensor is great for picking up incidents when you're not around, and being able to see the back seat at a glance lets you keep an eye on the kids.
At $89.99 this dashcam from Akaso is already a steal, but it's even better as right now Amazon has a 10-percent coupon that can be applied.
A sample unit was provided for the purpose of this review.
Editors' Recommendations:
The Good
Sony STARVIS camera sensors record great footage
Internal nightvision backed by IR LEDs
Up to 128GB miniSD card support
The Bad
No WiFi or Bluetooth to let you record to your phone
Follow us on Flipboard, Google News, or Apple News