Review: Bloody B820R Light Strike Keyboard – Bloody good
One of the best blue switch keyboards I've used.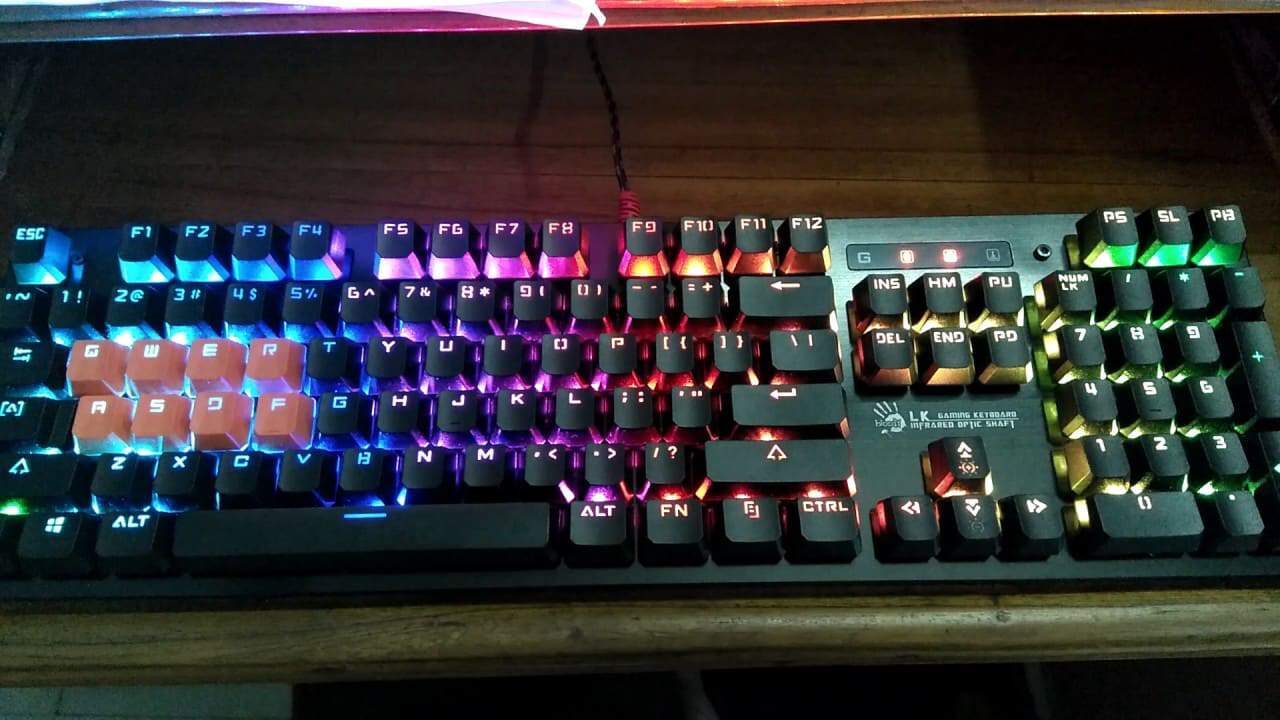 E3 gave us the opportunity to meet a whole slew of companies we hadn't heard of this year. One of the more interesting ones were Bloody Gaming, which while sounding like a Call of Duty clan, actually had some incredible products on display. Along with mice and audio peripherals, Bloody showed us a few keyboards they had as well. They bragged about their proprietary Light Strike switches and sturdy designs. We took a look and decided that we'd need to check them out.
Bloody decided that they'd like us to try out not one, but two of their keyboards. They sent us both the B820R and the B830 keyboards. Initially, I was planning on putting both into one review, but after considerable time with both, they both merit enough to get their own dedicated write ups. Up until review time, I had been using my SteelSeries M500 keyboard, which I had stepped down from the M800 to stick with. I mention this because both keyboards use customized MX Cherry Blue switches. Would the Light Strike technology stand out enough to matter?
Once I unpacked the B820R keyboard, I immediately had to visit the Bloody's site to download the right software for the keyboard. I was a little surprised with the keyboard software engine because, in comparison to the incredibly aesthetically pleasing and non-invasive SteelSeries software, Bloody's felt like it was a decade old and had an icon that was permanently on my display. It wasn't visible over games, which I am thankful for but the whole thing looks undercooked.
However, the good news the software itself performs fantastically, despite looking like it was built for Windows 98. While far less aesthetically appealing than the SteelSeries version, the options and abilities of Bloody's software did an excellent job of showcasing the strengths and capability of their keyboard.
"The good news the software itself performs fantastically, despite looking like it was built for Windows 98."
The only drawback is that if the software isn't open, I don't get to use any of the nifty gadgets and stuff. The RGB animation is the best I've seen up to this point, seriously, it's pretty fantastic.
Update: I wanted to let you all know that you can actually remove the icon. I had no issues by doing so, and everything has been great since!
Meet Therabody's All-New TheraFace Mask
TheraFace Mask is a breakthrough FDA-cleared LED skincare mask with added tension-relieving vibration therapy. Clinically proven results include firmer, smoother, healthier-looking skin with a visible reduction in fine lines, wrinkles, and uneven tone in as little as 8 weeks
I've said it before, and I'll say it again, I'm a sucker for shiny things and shit that lights up, but I suppose you want to know how the keyboard performs in use. I had absolutely no complaints overall. The modified Light Strike switches succeeded in every instance of usage, and I was never left in a situation where I wondered if I missed a key press or if the game I was playing had failed to register one. A majority of the testing was done through writing and also playing some keyboard heavy games, like Final Fantasy XIV.
"I've said it before, and I'll say it again, I'm a sucker for shiny things and shit that lights up"
The B820R's aluminum alloy body was thick and durable enough that I didn't find myself continually adjusting the keyboard to a comfortable position after it got jostled by my kids. The bottom is plastic, but the top adds enough weight that the whole thing actually feels sturdy.  The keyboard includes keycaps, which are easy to replace. Unfortunately, the RGB doesn't look super great with them. On top of that, for some unexplainable reason, the "A" keycap was slightly higher than the rest. I thought I could live with it, but after about an hour of playing games, it was quickly apparent that I could not.
Final Verdict
Overall, as someone that doesn't have a massive exposure to mechanical keyboards, the B820R is absolutely fantastic. While the software could certainly use a visual update, the keyboard performance is exactly what you would expect from a mechanical one. The price may be a little steep at $99.99, but in comparison to similarly priced keyboards, it holds its ground and in many cases performs better. There aren't any media keys on the keyboard but this also isn't 2005, and I haven't used media keys since then anyhow.
EDIT: Turns out there are media options and I totally missed them!  FN+ F1-F12 can be customizable through the
KeyDominator software to be media keys. 
If you are looking for a good mechanical keyboard, you can ask yourself the following. Do you want a quick and relatively quiet keyboard that is ultra-responsive? Do you want a keyboard that feels durable and is super easy to keep clean? Do you really enjoy RGB? If you answered yes to all of those, the B820R mechanical keyboard is going to be right up your alley. The B820R is also available in red switches as well, which we are going to cover in the B830 review. Stay tuned.
Don't sleep on Bloody, I'm sorry I did.
The Good
Super responsive, I never had to question if I missed a keypress
Amazing RGB options, let's be honest, you want to have your keyboard looking flashy
Sturdy build and a durable body - I may have dropped it a few times... on accident
The Bad
Key caps that came with it all fit, except the "A" key, that was slightly raised and was like tactile nails on a chalkboard
The engine looks... really old. Old enough that it almost is easy to dismiss at first
Follow us on Flipboard, Google News, or Apple News