Review: Crucial P1 NVME SSD – Fashionably Late
Coming fashionably late has its advantages.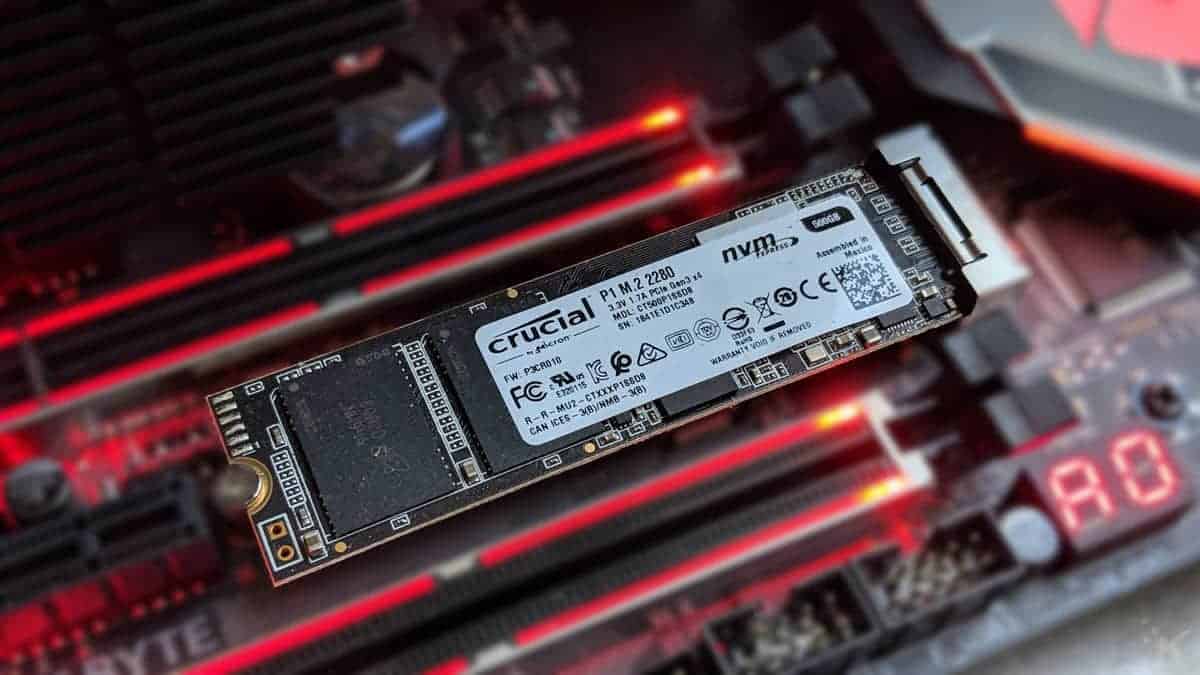 The Good
First NVMe from Crucial
New QLC NAND
Good value
Sequential read and write performance
Black PCB
The Bad
Slower than TLC-based NVMe drives
NVMe storage has been around for a while now, with the super-fast (and previously super-expensive) small form factor drives turning up in everything from laptops to gaming PCs. Crucial might have been the first company to enable end users to buy directly from a major tech manufacturer, but it's relatively late to the NVMe market, preferring to stick to SATA devices up until now.
Coming fashionably late has its advantages, with Micron deciding to skip Triple-Level Cell NAND and go straight to the newer, Quad-Level Cell (QLC) NAND with 4 bits per cell. Now while QLC is the slowest type of NAND, it's also very cheap to produce. The manufacturers use RAM as cache to make up for the relatively slow speed of the NAND modules. That cache is provided by Crucial's Hybrid-Dynamic Write Acceleration technology and means the P1 series can deliver up to 2/1.75 GB/s of sequential read/write throughput and up to 250,000/250,000 random read/write IOPS.
That's not the fastest NVMe can be, with top drives hitting 3,500/2,500 MB/s read/write speeds, but then the P1 isn't aimed at that market. This is firmly aimed at getting people off of SATA-based SSDs at a price that's affordable. I should mention that at launch, pricing wasn't the most affordable, mainly due to a rapid drop in DRAM pricing across the board. At the current price of $89 for the 500GB model we're reviewing here, it's a compelling alternative to SATA (Crucial's MX500 SATA m.2 is also $89 right now), and cheaper than faster NVMe drives.
The P1 comes with a 5-year warranty and can absorb 100TB of data writes per 500GB of SSD capacity. On this 500GB model, that works out to 55GB of data written per day. Most consumers won't hit this endurance maximum, but it's worth keeping in mind if you're a prosumer and was thinking of using this as a working drive to speed up video editing etc.
Crucial adds value to the P1 with a copy of Acronis True Image HD software, which helps you clone your old OS drive onto the new speedy NVMe or for backing up data and its Crucial Storage Executive software. This provides SMART value monitoring, performs firmware updates and capacity monitoring. It also lets you enable Crucial's Momentum Cache, which uses system RAM as cache to improve performance and endurance.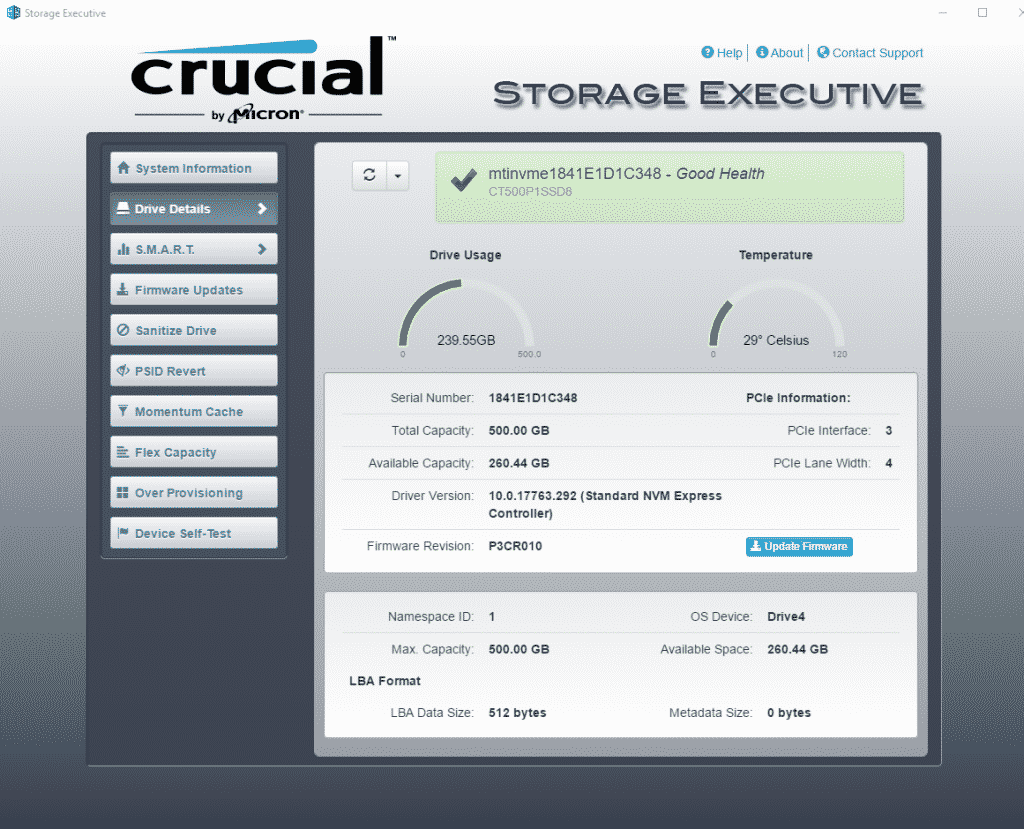 Performance
Okay, let us see if all the tricks that Crucial has packed into this QLC NAND can pull some good numbers.
First up it's the stalwart of CrystalDiskMark. It's simple, easy to use and gives a good way to compare different drives.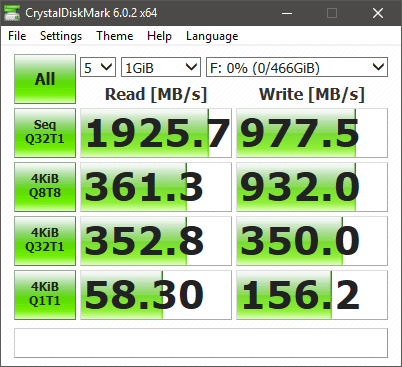 The P1 manages 1926 MB/s read and 978 MB/s Write. With the 500GB P1 rated for 1,900/950 MB/s, that means it's actually exceeding the rated speeds. Good stuff so far.
Atto's benchmark is useful to see how a drive performs across different file sizes.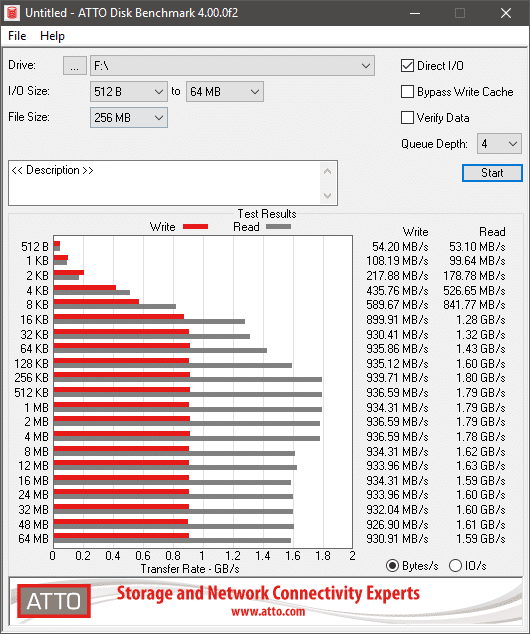 The P1 performance is where I'd expect it for the market segment Crucial is aiming at. It's twice the write throughput of a SATA SSD and almost four times the read throughput. With high-end NVMe drives going twice this again, it's a good middle ground between price and performance.
PCMark 8's storage benchmark uses a selection of real-world programs like Battlefield 3, Photoshop and Microsoft Office to put a storage drive through real workloads to see if it still matches up to the theoretical.
Here, the P1 pulls a 5042 score, which is line with other NVMe-based drives. With 427.12 MB/s, it's again middle of the pack between SATA SSDs and NVMe-based ones (high-end drives get scores around 600MB/s).
So, should I buy it?
This is the second consumer QLC-based NVMe drive on the market, following the Intel 660p. While it's not the speediest in the pack, the price/performance is where you'd expect given the lower price. At the time of writing, that is $79.99 for the 500GB version. That's almost 1/2 the price of the class-leading Samsung 970 Pro, making it a viable replacement for budget-conscious users.
Let's face it, NVMe has the most benefit in the form factor, as most users won't see a difference in the speeds between this drive and the more expensive ones. If you're after a boot drive or a secondary gaming drive, the Crucial P1 is worth a look.
A sample unit was provided to KnowTechie for the purpose of this review.
Editors' Recommendations:
The Good
First NVMe from Crucial
New QLC NAND
Good value
Sequential read and write performance
Black PCB
The Bad
Slower than TLC-based NVMe drives
Follow us on Flipboard, Google News, or Apple News