Review: BlitzWolf true wireless earbuds – More boom for your buck
Good for the gym. Even better for chasing stray dogs.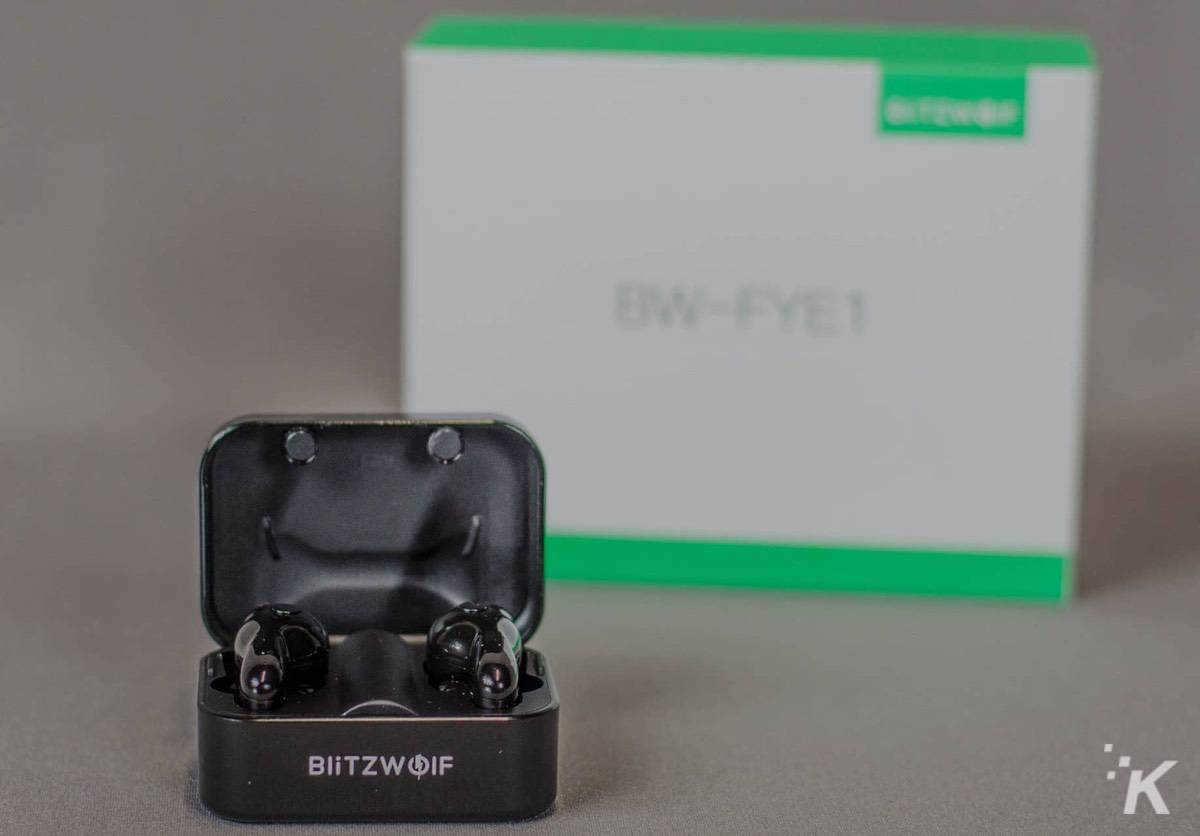 The Good
Sleek charging case with a long-lasting charge
Moderately discreet, very comfortable fit
Waterproof
Good sound quality/microphone for calls
The Bad
Sensitive connection at times, especially in left earbud
Sound lacks low end
Raise your hand if you've suffered through this nightmare scenario before. You're at the gym, or maybe just going for an afternoon walk in the park. You decide that you want to listen to a little music to kick this experience into overdrive, so you plug your headphones – your outdated, tangled-mess-of-wires headphones – into your phone.
But before you can even get to the bridge section of that incredible first song, your wires get caught on a passing branch, or in the outstretched fingers of an overly expressive Italian guy in the midst of a great story about the time his cousin Joey fought that cop. You're yanked backward. Your feet fly out from under you. Your earbuds twist, then turn, taking your cochleas with them on their sudden and violent expulsion from your head. You scream. There's a madman with a gun in his hand nearby. He gets startled. The gun goes off. You die.
Well, that's precisely the situation that Blitzwolf's new BW-FYE1 True Wireless earbuds are aiming to solve.
First impressions of the BW-FYE1 earbuds
In case you've forgotten, I know nothing about technology. I mean nuh-thing. BlitzWolf has a lot of numbers on its site that explain just how powerful the FYE1 earbuds are. Numbers like "3 MB/s transmission speed" or "Up to 12h music time." Numbers that no layman like you or I could ever hope to understand. So, I'm gonna spare you the technobabble and get right to the point, which is that the FYE1s – though not without their faults – are pretty kickass.
For starters, the FYE1s come in a suuuper sleek charging box, which will fully charge both earbuds up to 4 times. I've been using the Blitzwolf buds almost daily for a few weeks now and have yet to recharge the box.
Secondly, they're incredibly comfortable and won't slip from your ears even when engaging in strenuous physical activity (chasing stray dogs, for instance, which is what I've mainly been using them during). The buds also happen to be 1PX4 water resistant, which really comes in handy when, say, being splashed upon by a passing car while chasing stray dogs.
Audio quality with the Blitzwolf earbuds
While the audio quality you can expect from the FYE1s is probably equal if not better than most earbuds at a comparable price (they currently sell for $49.99 on Amazon), there are two small issues that stand out.
The FYE1's right earbud kind of acts as the leader of the set, automatically pairing with your phone/computer's Bluetooth and whatnot, and perhaps as a result, the left earbud tends to experience some connection interruptions from time to time. They're never longer than a millisecond, but milliseconds tend to add up quickly when you have to spend them listening to the apoplectic roid monster on the squat rack next to you at the Planet Fitness scream about how "the calves are the tits of the legs."
The earbuds also lack a little in the bass department, producing an overall sound that's pretty mid-heavy. It's probably to be expected with earbuds this small – or maybe it isn't, because again, I know nothing about technology and these are the only pair of wireless earbuds I've ever tried. In any case, you might want to reconsider the FYE1s if you're an EDM head, as well as every decision in life that led to you being an EDM head.
Final thoughts on the Blitzwolf earbuds
Overall, the FYE earbuds offer a mostly reliable listening experience that's as comfortable as it is convenient. The sound quality is pretty great depending on your genre of choice, and at worst, they still won't result in your violent, untimely death at the hands of a boisterous Italian. Let's see your wired headphones say that.
You can purchase them on Amazon here, or if you also think Jeff Bezos is a demonic lizard person who you'd rather not support, snag them on Bang Good here (for ten bucks cheaper, just sayin').
A sample unit was provided to KnowTechie for the purpose of this review.
Editors' Recommendations:
The Good
Sleek charging case with a long-lasting charge
Moderately discreet, very comfortable fit
Waterproof
Good sound quality/microphone for calls
The Bad
Sensitive connection at times, especially in left earbud
Sound lacks low end
Follow us on Flipboard, Google News, or Apple News