Review: The Dr. Dabber Switch induction vaporizer by Dr. Dabber
Half Amazon Echo, half vaporizer from outer space.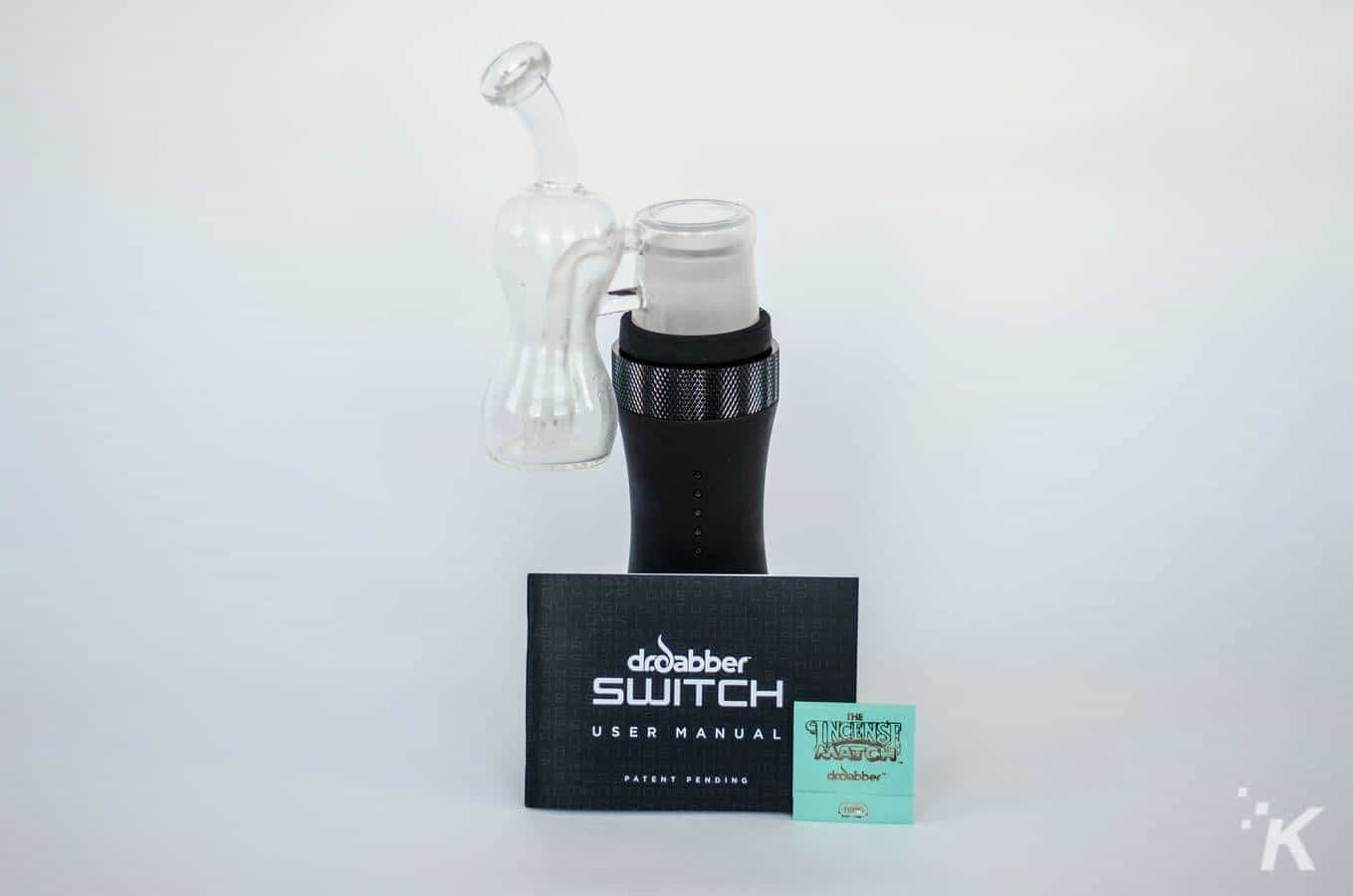 The Good
Incredibly well built/sturdy
Designed for wax and herb
Over 25 temperature settings
LED lighting modes that are pretty frickin' sweet
The Bad
Has a tendency to char dry herb
More for personal than social use
Vapes are a dime a dozen these days — or at least, that's what I've been told by my friends who vape.
Don't get me wrong, I've got nothing against vaporizers. I'm a pretty regular smoker, but believe it or not, the guy who still rocks an iPhone 5s and burns CDs is more of an "It never got better than a joint" guy. Needless to say, I almost turned down this particular partaking when I was first approached to do it, but then I thought, "Hey, free swag" and quickly reconsidered.
Which brings us to the Switch by Dr. Dabber, the first vaporizer I've been chosen to review for this site (and ever). Rather than give you some technical breakdown of this thing that I'm obviously not qualified to give, I'm going to give you the layman's analysis of the Dabber, focusing mainly on things like practicality, let's call it "effectiveness," and how much time it took me to figure the damn thing out.
So, my incredibly long-winded introduction aside, here we go.
Meet Therabody's All-New TheraFace Mask
TheraFace Mask is a breakthrough FDA-cleared LED skincare mask with added tension-relieving vibration therapy. Clinically proven results include firmer, smoother, healthier-looking skin with a visible reduction in fine lines, wrinkles, and uneven tone in as little as 8 weeks
In the Box:
Dr. Dabber Switch unit
Glass bubbler
One black and one white ceramic induction cup
Dab tool/carb cap and silicone wax container
Tweezers and ceramic flower filter
First Impressions
My God, the size of this thing. With the bubbler attached, the Switch easily stands over a foot tall (13″ according to a review I later read), and weighs enough that it could easily be used as an improvised self-defense weapon should someone decide to break into your house mid-session. Considering the Switch's relatively high price point (it currently sells for $399.99 on the official Dr. Dabber site), I have a hard time seeing its incredible sturdiness as anything other than a huge positive.
As far as setting it up goes, the Switch comes with an incredibly thorough user manual that could talk even the dumbest dum-dum through powering it on to its various temperature settings (more on those in a bit) and cleanup process. Naturally, I also consulted a video review just to make sure I had everything right.
Design
While the Dr. Dabber Switch isn't exactly something you can carry around for discrete sessions, its overall look and feel is incredibly sleek for a device its size — like an Amazon Echo meets a Shake Weight (note to self: Create this.). The Switch's LED lights are also capable of cycling between 25 different lighting modes (from "Stealth" all the way up to "Fireworks") to help the user navigate the various temperature settings.
You can even display these different lighting options when the Switch is in standby mode, turning it into a sort of lava lamp that's sure to please your Dad and old farts like him. I mean, if they party.
And like I said, this thing's built like a goddamn tank.
Performance
Unlike most vapes, Dr. Dabber's latest creation uses induction heating to heat the wax or herb inside. What is induction heating? Well, I'll let Vape Guide explain:
Induction heating is different from convection and conduction heating because it uses an electromagnetic coil to heat up the wax or herb. With this method the coil is heated from the inside out rather than the outside in. Induction heating also means that you never have to worry about replacing a coil or heating element.
The result is a vape that can heat up from 300°-800°F in a matter of seconds (maybe more than 5 but definitely less than 10, in my experience), with lower temps producing more flavor and higher ones producing denser "clouds."
But none of that's what you want to know. You want to know how high this thing gets you. The answer? Potato. It gets you potato.
Final thoughts on the Dr. Dabber Switch
All the bells and potatoes aside, the Switch's heating method alone certainly sets it apart from most (if not all) of it classmates. It's also borderline indestructible and has enough temperature settings to please even the pickiest of potheads, so big ups to the Dr. for that as well.
The critiques I have for the Switch are pretty minimal and entirely subjective. It's not exactly built for those who consider smoking an inherently social activity and has a bit of a tendency to char your herb if you don't have the temperature dialed in juuust right.
The Switch may not be a device you use every day (the anachronistic lighting modes certainly don't detract from its overall novelty appeal), but it does offer a relatively hassle-free experience for a device that looks like it requires a computer science degree to operate.
The Dr. Dabber Switch currently sells for $399.99 on the official Dr. Dabber site.
A sample unit was provided for the purpose of this review.
Editors' Recommendations:
The Good
Incredibly well built/sturdy
Designed for wax and herb
Over 25 temperature settings
LED lighting modes that are pretty frickin' sweet
The Bad
Has a tendency to char dry herb
More for personal than social use
Follow us on Flipboard, Google News, or Apple News