Review: The Zeus Arc GT portable vaporizer by Zeus Arsenal
Stylin' and (low) profilin'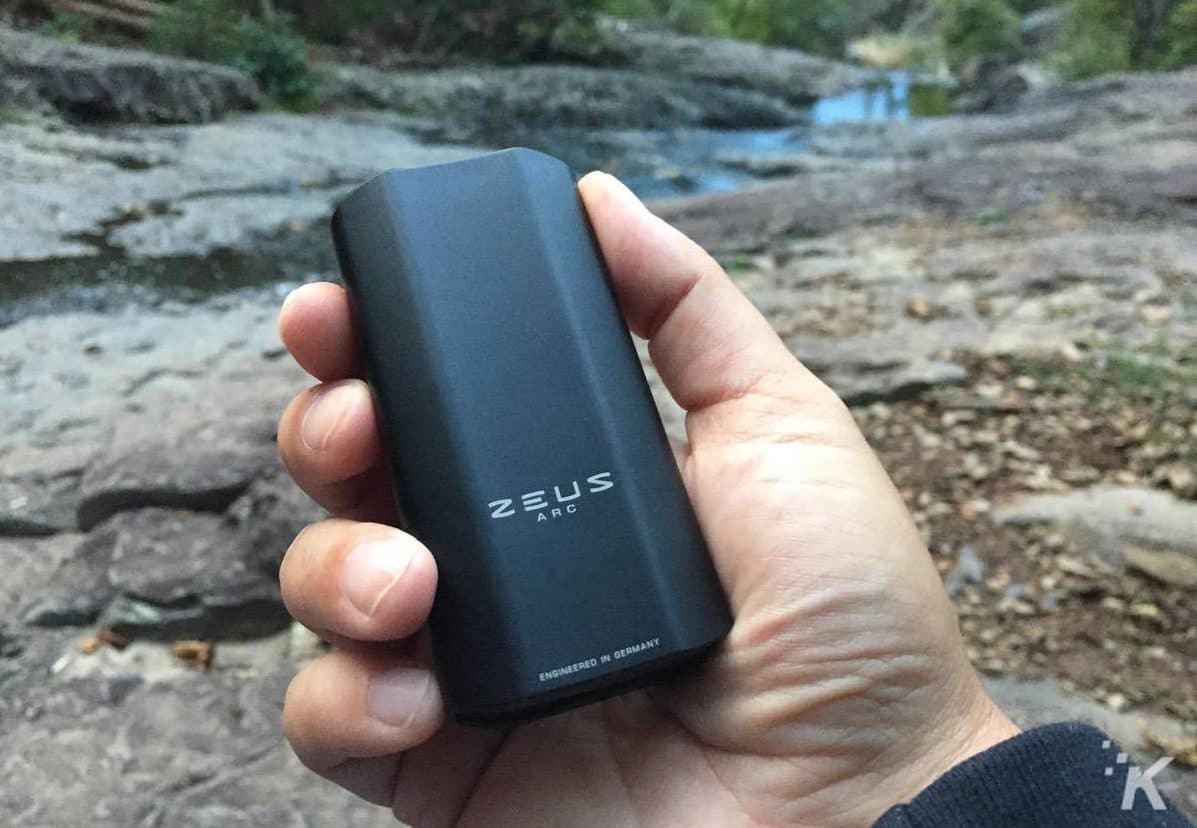 The Good
Well built, easy to use, and discreet
Great vapor production for a conduction vaporizer
First of its kind Gold technology
Haptic feedback and Accelerometer
The Bad
Magnetic Packing tool is easy to lose
Non-removable battery
If I told you I'd been in the driver's seat of a fine-tuned machine engineered in Germany that flashes a gold GT label on its side, I'd bet you'd think I was talking about exotic sports car of that same origin. Well, you would've been wrong, but not by much.
Say hello to the new Zeus Arc GT, a compact portable vaporizer that in my opinion is sexy enough to be inside of a Porsche catalog and like a Porsche, the Zeus Arch sports the latest technology and craftsmanship. The Zeus Arc GT is expected to be released November  1st and could easily be considered a late entry for best portable vaporizer of 2018. I got to test drive it and here's the scope!
In the Box:
Zeus Arc GT Vaporizer
USB Charging cable
Instructions
Cleaning supplies
Packing tool
First Impressions
The Zeus Arc GT is a dry flower portable vaporizer by Zeus Arsenal. With the Zeus Arc GT, they took it to the next level. It can easily be placed in the same category as the Pax 3, the IQ, or even like another German designed vaporizer, the Mighty. Yeah, it's that impressive.
Design
On the outside, the Zeus Arc GT comes in a sexy black matte finish with a gold GT badge just like an exotic sports car and shares the same smooth curves as one as well. For its compact size, the Zeus Arc GT has nice weight to it and feels well-built. It's super discreet, also. If you weren't aware, you'd think it was one of those portable power banks that they give out as a gift with the purchase of a Porsche.
When it comes to design, it's not all just about looks though. As we know functionality plays a big part as well. For starters, the Zeus Arc GT is easy to use. There is no learning curve as there is with other vaporizers. You simply press and hold for 3 seconds on the right side of the recessed mouthpiece and depending on which heat setting you had it on last (there are three), the Zeus Arc will begin heating up.
On the side of the Zeus Arc GT, you'll see a blue pulsing light that will turn green once it's ready for vaporizing. Just don't forget to fill it with your favorite herbs. And to make sure its packed good, there's a magnetic tool that sits flush on the bottom of the Zeus Arc. Just don't lose it!
Performance
When it comes to performance, just like a fine-tuned German machine, The Zeus Arc GT does not disappoint. It is the first portable vaporizer to use an all-gold vapor path and heating chamber. When it comes to conducting heat, it doesn't get any better than gold. In effect, your flower will evenly bake to perfection.
The Zeus Arc GT also introduces Gold Sink technology inside of mouthpiece to cool down and produce smooth, tasty vapor on all of the heat settings. For best taste, I would recommend the starting on the lowest setting and work your way up. You'll start to really conserve your herb and get the most of it.
The Zeus Arc GT comes with some cool technology such as; haptic feedback and an accelerometer, fancy! In layman's terms, the Zeus Arc GT will vibrate when it's ready to vaporize and will indicate how much battery life is left by shaking it. Inside, you'll find 3500mAh battery that will last about 90 minutes or 6-9 sessions. I love that they use a standard micro USB instead of a proprietary charging dock because I tend to lose things. It is even future-proof, with the ability to update the firmware on the unit.
Final thoughts on the Zeus Arc GT
The Zeus Arc GT is one powerful, compact portable vaporizer that's loaded with features and innovation. It's the first portable vaporizer to introduce a gold heating oven and pathway. It produces great tasting vapor with every puff. They didn't cut any corners with this one. You'll also get a 3-year warranty and there are plenty of accessories for it such as; the Zeus Bolt grinder that's specially designed for vaporizers or a super strong carrying case in the Zeus Armor.
If you'd like to have more juice for on the go, there's the Zeus Charge, a slim power bank that's designed to charge your Zeus Arc twice! They really thought of everything. The Zeus Arc is definitely great for notices or enthusiasts alike and can be a contender for best portable in its class. If gold isn't your thing, they also will have a stainless steel version. Get ready to pre-order the Zeus Arc GT.
The Zeus Arc GT retails for $229 and can be found on the TVape website.
A sample unit was provided for the purpose of this review.
Editors' Recommendations:
The Good
Well built, easy to use, and discreet
Great vapor production for a conduction vaporizer
First of its kind Gold technology
Haptic feedback and Accelerometer
The Bad
Magnetic Packing tool is easy to lose
Non-removable battery
Follow us on Flipboard, Google News, or Apple News