Review: Eachine E10C mini quadcopter – small, but durable
Do you enjoy crashing drones but hate having to deal with damage? Do I have a review for you!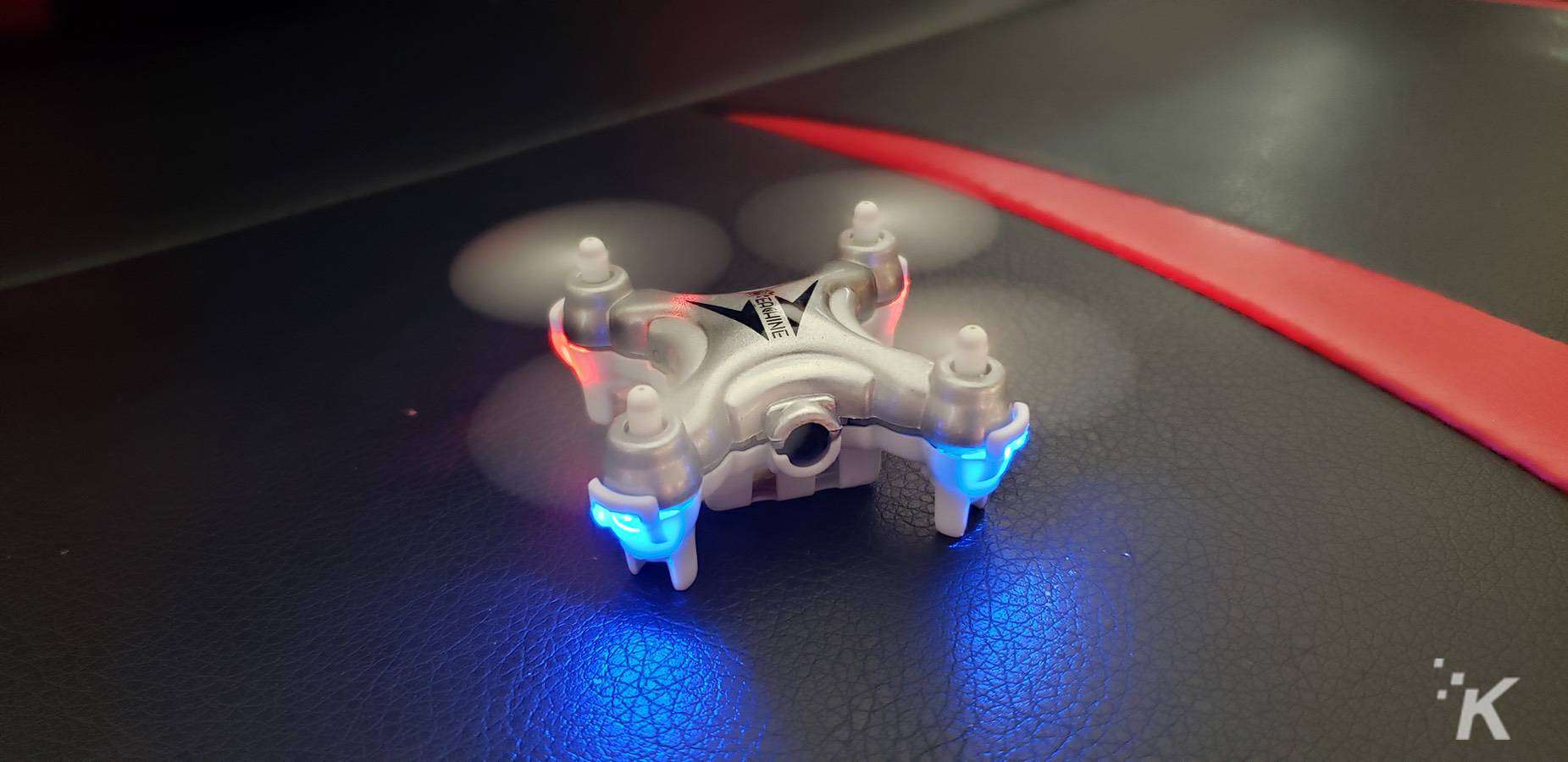 The Good
It hasn't exploded into a million pieces after hitting people, the ground, and ceiling fans
It's easy to get off the ground
The Bad
Sometimes it just doesn't work, the manual has no indication of why
Once off the ground, it isn't too easy to control
The camera is almost completely useless
The concept of a mini-drone is an appealing one, especially when it boasts the ability to shoot video as well. While on paper, these guys usually boast features that should run a price tag much higher than $100, the E10C cuts out the middleman and runs a $40 price tag. Does the lower price still offer the quality of higher priced models? Short answer: No, not really.
Eachine's E10C mini-drone was fun to play with and acted as a relatively inexpensive set of drone training wheels for moving into bigger things, but simply seemed to lack the quality and endurance to make it through a few sessions of use.
I spent a weekend trying to use the 720p integrated video camera and the 2mp snapshots but it appears that as much as I tried, the quality was laughable at best. Pictures were blurry and unfocused and video captures were shaky and distorted. I have to believe that this was due to the drone never being able to stay at a single, stable level.
Flight issues with the Eachine E10C
It seemed the E10C has two flight modes, to the heavens and plummeting to earth. I think that part of this was because there is some sort of fault within the drone I received. In take-off and flight, one of the propellers seemed to not spin properly intermittently. I'm no flight pro, but I'm pretty sure that effects that ability to stay in the air.
Even though it functioned as a small kamikaze drone with a camera built in, I was able to beat it up enough to have a bit of fun with it. When I say I beat it up, the dog chewed on it, there were collisions with ceiling fans, it fell from about 50 feet in the air and worse. It was abused and still flies as of this review.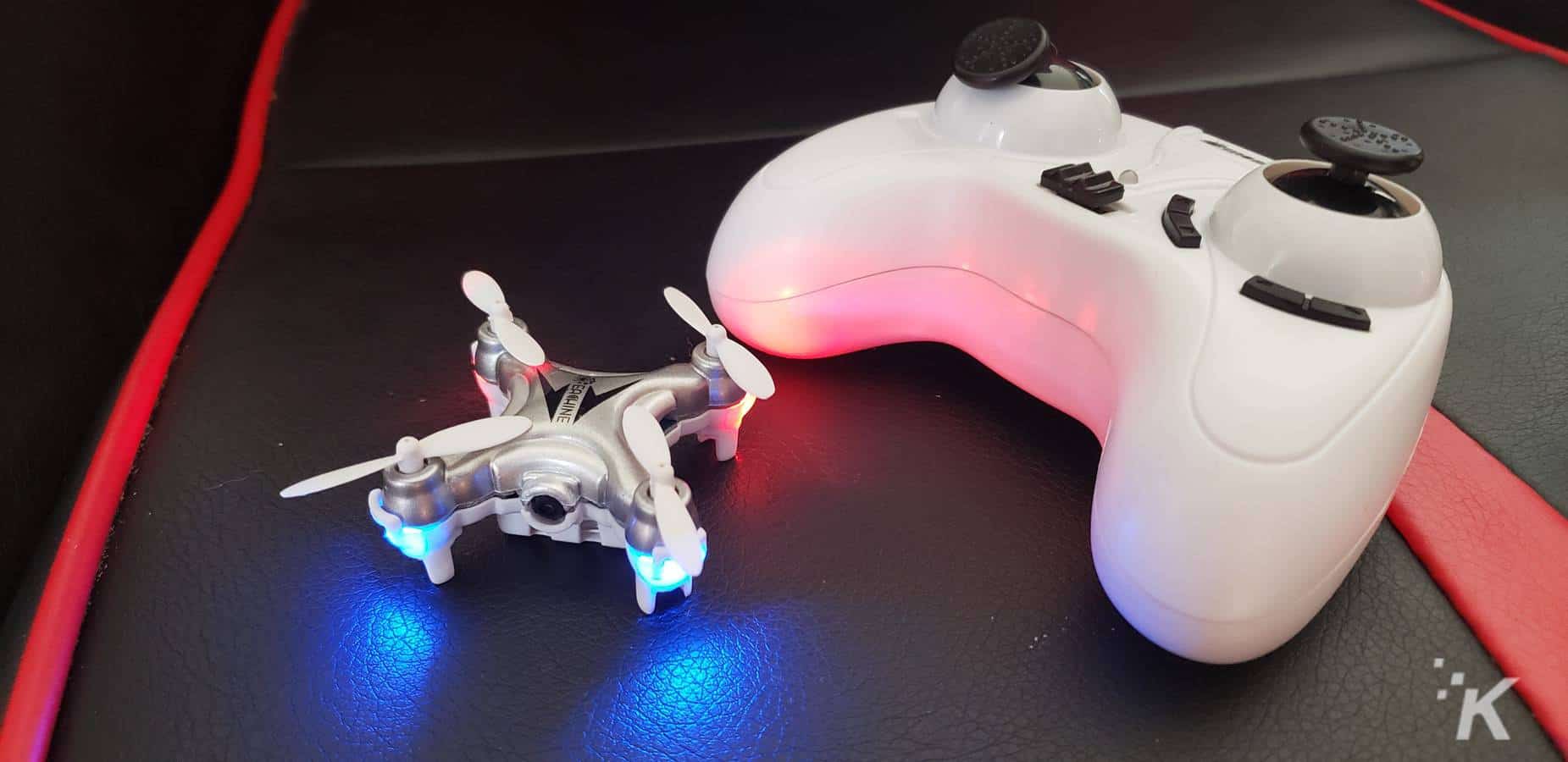 Past drones I've used have been able to move around the backyard of my home with relative ease. Instead, the E10C liked to go for the mini-bladed comet of death and destruction route, by taking out my 5-year old son, my German Shepherd, and finally, getting it stuck in my own hair.
This was because each time I got the drone high enough into the air to do something with it, it would plummet back towards the ground in the direction I told it to go, sort of. Any attempt to level the speed or to gain altitude caused it to go really high into the air or hit someone or something. It was easier to fly outside, but also harder to control since the lights were more difficult to see. I'd be lying if I said it wasn't fun though.
Not the best, not the worst
It's not the worst quadcopter I've ever played around with, as this one can at very least lift off the ground and dart around the house like a bat out of hell. The video and photo options are basically useless as you can only record blindly and there's no device link to know what you are taking pictures of. You also have to record to a micro SD card, which wouldn't be a huge issue outside of then having to upload it from a separate device because the drone's USB connection is strictly for charging.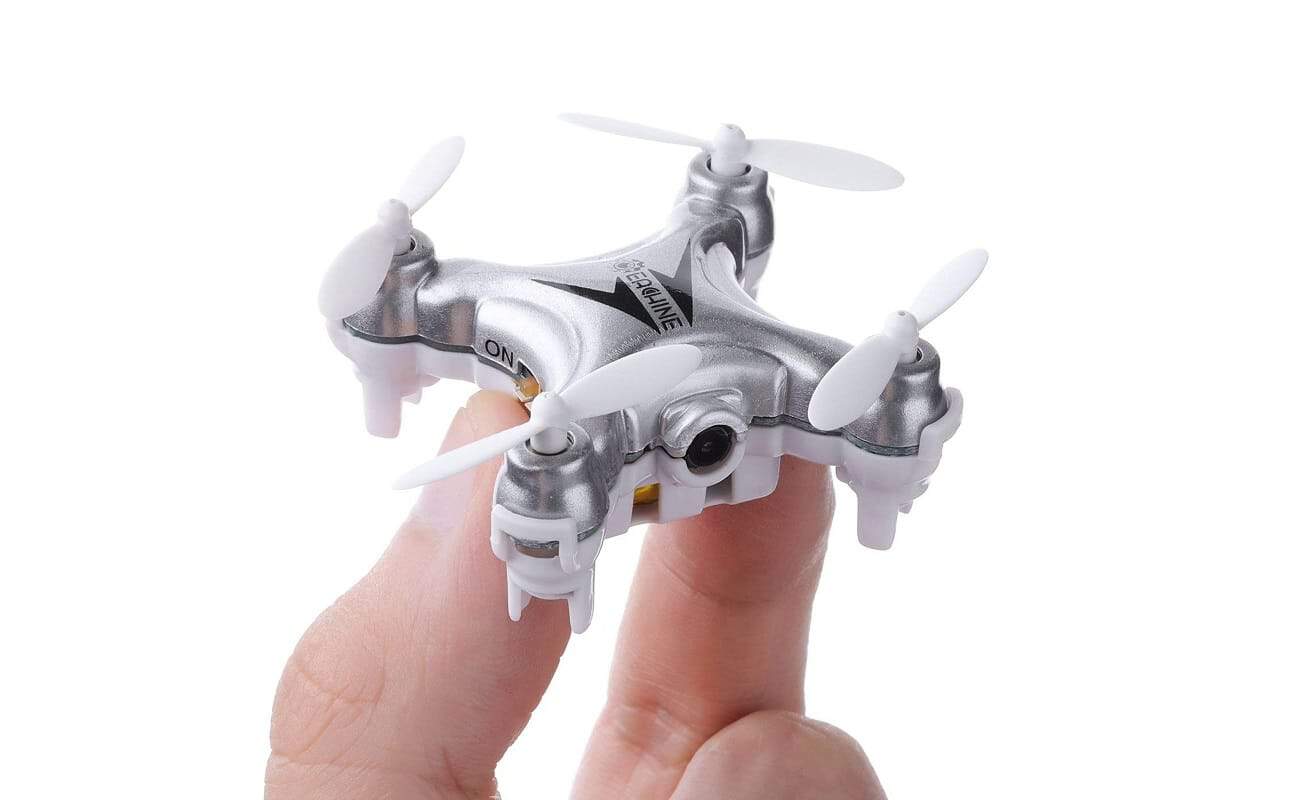 Let's not mince words here, the E10C is ultimately a toy. At a normal purchase price of $39.99, it's probably not the worst idea for someone wanting to get into something bigger down the road but also a bit rich for many people that are looking for something for a younger child. My 10-year-old was all about it, which seems about right.
Would I personally go out and buy it? Nah. Would this be a cool gift to a budding drone enthusiast? Definitely.
A sample unit was provided for the purpose of this review.
Editors' Recommendations:
The Good
It hasn't exploded into a million pieces after hitting people, the ground, and ceiling fans
It's easy to get off the ground
The Bad
Sometimes it just doesn't work, the manual has no indication of why
Once off the ground, it isn't too easy to control
The camera is almost completely useless
Follow us on Flipboard, Google News, or Apple News