Review: Echogear dual monitor desk mount
Now we're cooking with gas (struts).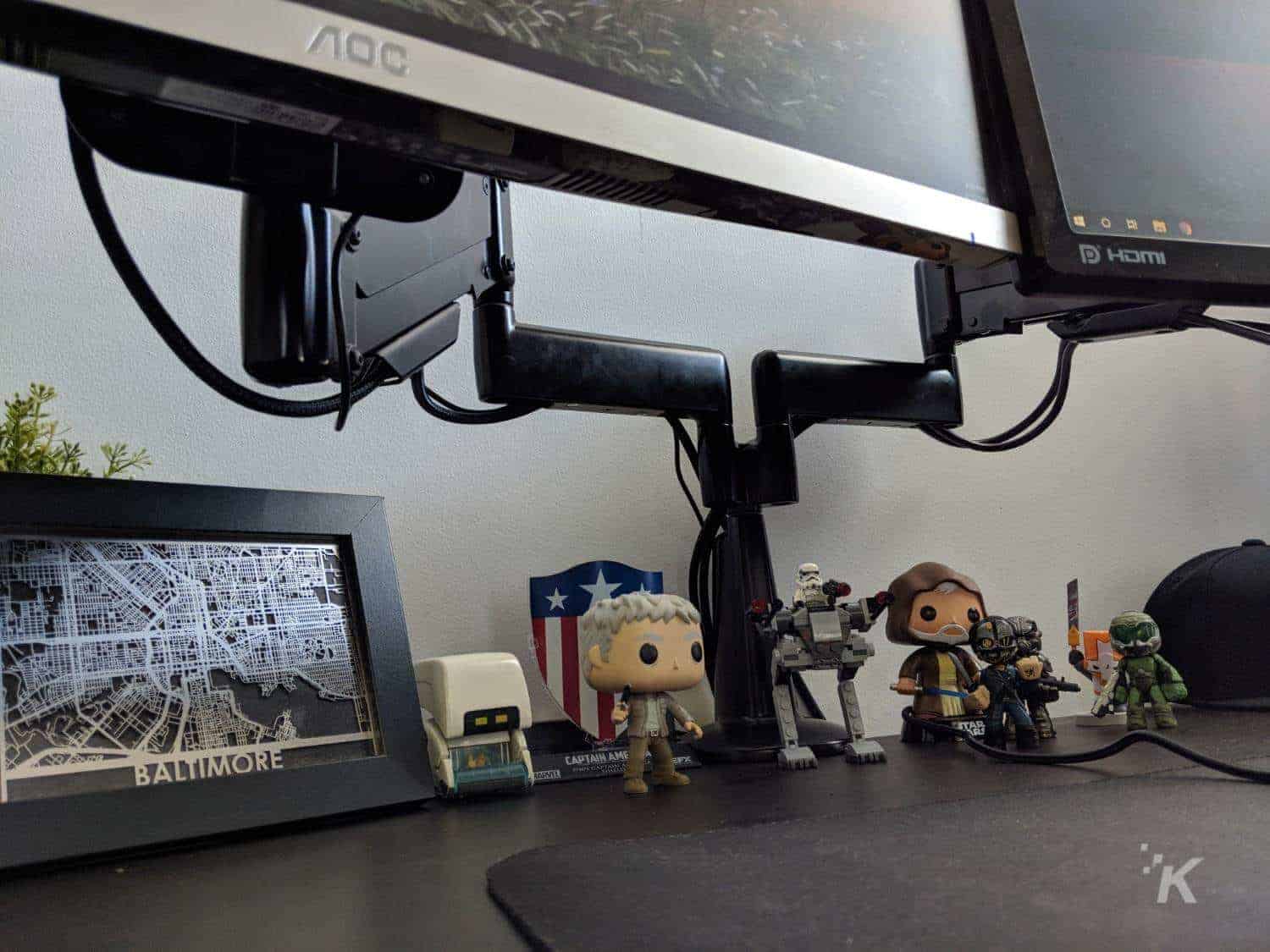 The Good
Sturdy construction
Easily adjustable
Easy setup
Reclaim your desktop
Echogear's made a name for themselves with their display mounts and are now making a push into the gamer market. It's a shrewd move, gamers tend to want the best for their systems whether that's inside their case or outside as peripherals. There's been a huge spike in gamer keyboards/mice/microphones/webcams etc, which has also corresponded with the meteoric rise of livestreaming.
There are even gamer-centric monitors now, with adaptive sync technologies and eye-bleeding pixel clocks. The technology used to display those monitors, however, has stagnated. For the longest time, you were limited to whatever the manufacturer outfitted the screen with or heavy, cumbersome VESA mounts that were limited in repositioning. With the introduction of gas-strut articulated mounts in recent years, companies like Echogear have brought innovation back to a segment of the market that was essentially static.
I've been using the Echogear Dual Monitor Dynamic Height-Adjust Mount for a short while now, which currently ships for $199. It's a sturdy, clamp-style design that can support two monitors from 10-inches to 30-inches, and a maximum of 20-pounds per monitor. Currently, I've got an ASUS VG248QE 24″ (12lbs) and an AOC i2367Fh 23-Inch(8lbs) installed, and it was an absolute breeze to do so. The cleverly designed mount makes it easy to line them up for optimal angles, or even stack them vertically if you so wish.
It has also reclaimed about a quarter of my desk that was taken up by monitor bases, so that might be worth the asking price alone. Now my collectibles get some elbow-room. Finally.
[envira-gallery id="64834″]
What you'll like
As befitting a two-monitor mount, the box with the mount inside is fairly hefty when it arrives. You want the mounting solution for your precious monitors to be solidly built, and the cast aluminum parts that make up the vertical stand, mounting spines, and the articulated arms all fit the bill.
Installation was over and done in less than half an hour, and that included time to unscrew the bases off my monitors and pause to take photos. You start off by loosening the clamp screw, put it over the back of your desk and re-tighten. Then drop in the mounting spines, slip the arms over these and secure with a large bolt. This might be tricky close to the wall, so move your desk about a foot away if you can.
Putting the monitors on was a task I was dreading, previous experience with mounts has shown me that usually, you need to screw the VESA on first then mount the arm. Not here with the Echogear, you screw the top two bolts in slightly, and then hang it over the top of the mount. The final two bolts get fastened in through holes and it feels more secure than the stand the monitors came with.
[envira-gallery id="64833″]
Echogear has shipped their mount with everything you need apart from a standard Phillips-head screwdriver. I particularly like the attention to detail in the packaging, where all the mounting hardware and hex-keys are all in individually labeled and in their own separate sections, and also organized according to step numbers. Not having to dig through a jumble of parts saved quite a bit of time, and it's something to be commended.
Effortless adjustment
The heavy-duty look wouldn't be out of place at the office, and the gas struts are able to hold up all but the largest of gaming monitors. There's an adjustment screw on both arms to ensure that the arms stay where you put them without drooping, and another adjustment on the VESA mount so that the tilt adjustment also stays put. Once adjusted to the weight of the monitor, you can literally move them to your desired position with one finger. They can be rotated to portrait orientation just as easily. In my time using the mounts, not once have I had to re-adjust due to droop.
Great cable management
This is an area that monitor arms tend to lose points, but not with the Echogear. There's a dedicated cable channel in the lower arm section that fits a power cable and even thick HDMI cables with ease, and a smaller cable channel mounted to the upper section.
What you won't like
Not much to mention here, the only minor quibbles here are that there's no cable channel on the back of the vertical stand part that clamps onto your desk, and the upper cable channel needs a small hex-key to adjust. Neither of these detracts from the overall utility of the mount.
Conclusion
If you're running multiple monitors and want to reclaim some valuable real-estate on your desk, a mount like this is essential. Echogear has managed to take all the pain out of the install with a well-designed setup process, and the mount is highly recommended.
A sample unit was provided to KnowTechie for the purpose of this review.
The Good
Sturdy construction
Easily adjustable
Easy setup
Reclaim your desktop
Follow us on Flipboard, Google News, or Apple News