A look at some of the best low-cost mechanical keyboards
With so many great choices, which one will you go with?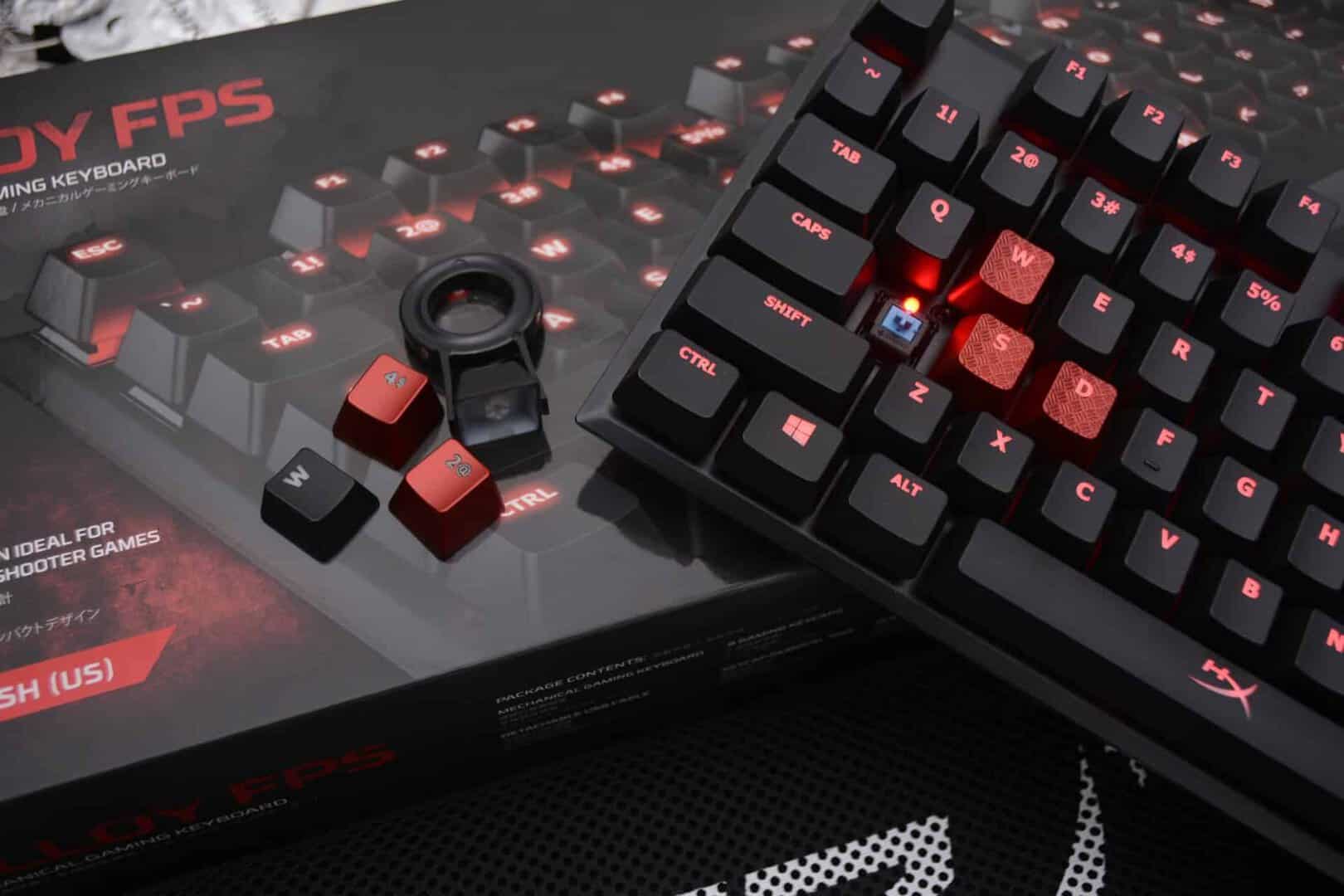 With how much most of us type on a daily basis, we should care about what we're typing on — right?
Let's run some numbers: the average person types at a speed somewhere between 38 and 40 words-per-minute, which is nearly 10,000 keystrokes per hour. That then turns into a staggering number, millions of keystrokes per year.
If your keyboard isn't up to the task, you could find yourself replacing it far sooner than you'd bargained on. Wear and tear will cause dead keys, loose keycaps, and wonky buttons that activate only after a long press.
The math adds up — and mechanical keyboards can be a sound investment in your future happiness and productivity.
Not only do mechanical keyboards tend to be more structurally-sound than their rubber dome counterparts, they're also easier to type on and more satisfying to use. That clackity-clack sound on all 80's office movies? It's pleasing to the ear, and to the touch, although depending on which switches you choose your co-workers might not agree so much.
The main reason today's plasticky keyboards are so popular is price — they're cheap and flexible to manufacture so companies can create super-thin, super-weird, or even roll-up keyboards without much R&D outlay. They also tend to not last as long for this reason and aren't as comfortable to type on for long periods of time.
So whether you're an office worker, a gamer, a writer, or an ASMR fan; here are the best cheap mechanical keyboards based on Amazon reviews, in no particular order:
Starting off this list, the Nixeus Moda v2 has tactile brown key switches that are tested with precision machinery from Switzerland. They're also stress-tested by professional gamers, so should serve you in good stead in the office environment. The ultra-durable compact keyboard body is steel plate reinforced and currently is at a wallet-friendly $58.
Verified Amazon Purchaser Connie says:
First of all, I really like the sound the keys make. They can be a little loud, and would not be a good choice to use during the middle of the night, but I find the sounds to be somewhat pleasing and a little relaxing. I also really like the layout of the keyboard. It is nice and compact, which is handy since I do not have a lot of space on my desk. I never use the number pad anyway. The board that the keyboard uses is heavy and durable, but slides a little, though not unless you apply a considerable amount of pressure to the keyboard.
With a 4.0 out of 5 stars rating, it's a solid choice that won't break the bank.
---
Element Z-88 Mechanical Gaming Keyboard
Another budget-orientated board, the E-Element Z-88 RGB Mechanical Gaming Keyboard comes with Outemu switches in a variety of choices. It also comes in black and white versions with RGB so you can match the rest of your setup. With a smaller footprint than even usual 88-key boards, this is ideal for those who don't have a lot of desk space or prefer to hold their mouse closer to the keyboard.
Verified Amazon Purchaser Mitch W says:
Physically, the keyboard is very sturdy with very little flex. This is due to the metal backplate under the keycaps. The bottom of the keyboard has four rubber pads and the end of the feet also have rubber pads to reduce movement on the keyboard. E-Element has included cable routing channels on the underside of the keyboard so the cable may exit on either side or out of the middle at the back of the keyboard.
With a 4.4 star rating, this is a keyboard you can take all the way to the bank.
---
https://www.youtube.com/watch?v=ePIfo46Ldxw
Okay, I know I said low price keyboards but this is really the upper limit of what 'budget' can still apply to for mechanical keys. The $159.99 Corsair K70 LUX RGB does come with a lot of improvements over the low-end keyboards, so it's worth it. You get aircraft-grade anodized brushed aluminum, for looks and strength. Per-key RGB with effects, all customizable in the iCUE software. Advanced macro recording, 100% Cherry MX switches and 100% anti-ghosting with full key rollover. You also get a wrist rest and dedicated multimedia controls.
Verified Amazon Purchaser alpackii  says:
The optional hand rest is very comfortable and I love using it. My Logitech didn't come with one and I never really thought about purchasing one. Now that I have one, however, I will never be without. The amount of strain that I experienced before has been pretty much solved with this comfortable addition. I love the feel of it – it's very smooth with small indented bumps – and it just adds a positive to the overall look of the K70.
They also mention needing to use two USB ports to use the keyboard with all its effects, so that's worth keeping in mind if your computer is low on ports.
Again with a 4.4 star aggregate, this is a pricier but well-liked keyboard.
---
This is another premium keyboard, with Das Keyboard's signature volume wheel placed by the media controls. Retailing for $149, you get a refined typing experience with subdued styling. There's also a variant that's designed specifically for macOS, and you can get the keyboard without legends on your keycaps if you're the kind of genius who can touch-type.
There's a two-port USB3.0 passthrough, key rollover, and a magnetic footbar can also be used as a precise ruler.
Verified Amazon Purchaser Alex Paluzzi says:
Cons: I tried to find some. I thought I would miss backlighting but I don't. I find backlighting distractive and non-helpful. I got nothing.

Buy this keyboard.
Glowing recommendation indeed, and worth looking at if you want to get one of the best mass market keyboards.
---
No RGB here, but you do get a red backlight on this keyboard from the stalwart of the industry, Logitech. There are per-key brightness settings and F-key customization for macros using the Logitech Gaming Software utility. With an understated gamer-y design, the G610 uses all Cherry MX switches and wouldn't look out of place in a professional office.
Verified Amazon Purchaser Lauren has this to say:
In the end this is a nice keyboard for $80, and even while $100 would be doable it would be stretching it but I do trust the Logitech name and therefore can be pretty certain this keyboard will serve me well for the next few years, even if only as a backup. The flaws I mention are relatively minor and the quality and styling of this board far outweigh them. Personally I do not at all regret the purchase of this keyboard. If you want an easy, simple keyboard from a reputable company go ahead and pick this up and it should serve you well.
With an overall score of 4.3 stars, it's another popular addition to Logitech's huge range.
---
Back to the budget boards with this $59.99 keyboard from HAVIT. This uses the latest Kailh low-profile Blue switches for easier activation and a lower footprint on your desk. With a replaceable USB cord, the HAVIT has some features that usually aren't found on boards of this price range.
Vine voice M. R. Simmons has this to say:
The keyboard comes with a detachable microUSB cable. The keyboard uses switches similar to a Cherry MX Blue (tactile and clicky). The sound of these switches is a little quieter than the regular Cherry MX switches, but due to the low profile I believe the sound is muffled a bit more. They still have a good click, but the noise will not raise the dead.

I am enjoying this keyboard quite a bit! It is wonderful to type on. If they would just release this keyboard with brown or red switches, then this would be perfect for me.
If you don't like the clicky noise of blue switches then, this isn't the keyboard for you. Still, with a 4.4 star rating — there must be enough clicky aficionados.
---
This FPS-orientated keyboard bundle also comes with Titanium looking keycaps to replace the QWERASDF keys for both FPS or MOBA players. The textured keycap replacements will help you get your fingers back in the right places for continued fragging. It also has a steel frame, Cherry MX Red key switches and a convenient USB charging port for your mobile devices.
Since the bundle doesn't have any reviews, here's Verified Purchaser Rocky Mountain Marty who had this to say on the original listing:
As a former instructor in IBM's typewriter technical training school in the 70's…and then an instructor in IBM's PC technical training school in the 80's, I consider myself an expert on keyboards….as IBM made the very best back in the day. After spending countless hours researching every mechanical keyboard offering on the market, I feel I made the absolute best choice. This HyperX Alloy Elite with Cherry MX Brown switches keyboard is an outstanding keyboard. The construction is first rate, it has a professional feel, it is heavy in weight so it is very stable.
Sounds like an expert source to me, don't you agree? And with a 4.5 star rating, it seems that the majority of the 211 other reviewers agree with him.
---
A second das keyboard is gracing this list (yes, they are just that good). This time it's their gaming range, with their self-designed key switches. The Alpha-Zulu switches have a 1.7mm actuation point, so they're perfect for lightning-fast reflex-based gaming. The switches are rated to 60 million keystrokes and feature gold-plated switches to offer the best reliability.
It also has a gaming mode that disables the windows key, so you can game uninterrupted.
Here's Verified Purchaser Brice who had this to say:
Das Keyboard is a great product. I use a DK 4 Professional at work, and this 40X at home. Their custom switches are fantastic for gaming. A really great middle ground between MX red and MX blue.

This keyboard is so sturdy and well made, the aluminum interchangeable top panel adds a lot to that. My only problem is the keycaps. They are….cheap, to say the least. I've already broken two caps in the process of cleaning them over the year or so I've been using it. I would recommend picking up a pair of custom ABS key caps from somewhere like WASD. Still, overall a great board.
Minor quibbles aside, if someone is willing to buy two keyboards from the same company — that says a lot to me about their quality.
---
This keyboard from Aukey uses Outemu Blue Switches, which are another company that manufactures clones of the Cherry MX design now the patent is no longer running. Similar to the more expensive offerings, we get RGB Backlighting, a brushed aluminum panel, double-shot-molded keycaps, and a bonus – a water-resistant design. Good for those who accidentally knock over their G-Fuel during frantic gaming sessions. You also get Aukey's 45-Day Money Back Guarantee and 24-Month Product Replacement Warranty.
Here's Verified Purchaser TheBeardedArtist who had this to say:
First off let me say how surprised I was at the sturdiness of this keyboard. I was thinking it would feel much cheaper than it does at this price point, but I'm happy to say I was wrong. Getting used to the keys takes a few minutes since they are so precise and any screw-ups in typing show, where my old keyboard was spongy and allowed for some operator error. I like the precision, it will certainly be nice for gaming.
Strong words for a budget keyboard, Aukey have a significant Amazon presence as they have modeled themselves on a low-price, high-quality business built on Amazon's storefronts.
---
The tenkeyless form factor is big, and this CoolerMaster MasterKeys is a great example of it. Above-average RGB, on the fly macro recording, removable USB cable and a bombproof construction are part of what you get for your $117. You also get original Cherry MX switches across the board, and 100% anti-ghosting.
Verified Amazon Purchaser Ryan had mixed feelings about the board:
Firstly, the RGB lights on this are amazing; easily blows much of the competition out of the water with how vibrant they are. I switched out the black keycaps with white ones I had laying around from a Ducky Shine, and the LEDs are fantastic. The software is subpar, but as a Mac user, I don't have access to it anyway unless I use bootcamp. The clear base of the keys really do make a difference, especially compared to my Corsair K70.
Shine on you crazy diamond. (I'm kidding I really don't know his LoL placement group)
---
The top keyboard in Logitech's G gaming range, the G910 is the big daddy of the G610 we saw earlier. Now, you get full per-key RGB, controllable through the Logitech Gaming Software app, along with Romer-G mechanical switches, the Arx Control app, a dock for your smartphone, and 9 customizable dedicated G keys for macros. With dedicated media controls, this is the swiss army knife of keyboards and can control your whole battle station.
Verified Amazon buyer T. Drake Terry said it took a little time to get used to the G keys for macros, but now he can't live without it.
It did take me a bit to get used to having the G keys on the outer left of the keyboard, since I use ctrl in so many keyboard shortcuts. But after about a week of use, my fingers have gotten used to that. I love the feel of the keys and their responsiveness. I'm not even a competitive gamer, but I've still noticed a difference in my gaming, even in my single-player games. And the Logitech G software that drives both this keyboard and my new gaming mouse is pretty intuitive for setting up macros.
---
The Corsair K95 was one of the only keyboards with the super cool Cherry MX Speed switches, which are the fastest activating switches Cherry MX makes. The exclusivity deal with Corsair ran out earlier this year so other manufacturers are using them now but this is the OG still. All the RGB you could shake a unicorn's horn at, controlled by the iCUE software that can sync all your Corsair kit together.
Verified purchaser Hank Dank loved the keyboard, but said there were some minor quality control issues. Might want to test it as soon as you get it and return for replacement if you see anything wrong.
As for quality control, the LEDs in the light bar were not consistent. Some were bright and some were dim. There were also a few chips on the plastic on the bottom edge of the keyboard. I think most people would not have noticed it, but for a $200 premium product, your keyboard should have zero flaws. This led me to believe I may have received a refurbished product. As I've heard other similar complaints, this made me want to stay away from this particular model. I ended up returning this keyboard and purchasing a K70 Rapidfire RGB. I find that it matches my setup much better, as it is a little more understated, but very professional and still beautiful as hell. It is essentially the same keyboard just without the lightbar, no macro keys, no built in memory for saving lighting profiles, and no cable channels underneath.
---
The CODE is a creation of custom keyboard maker WASD. They wanted to make a backlit keyboard that would do exactly what was needed without the fripperies of RGB. With the ultra-rare MX Clear switches, which are slightly firm with a tactile bump, and the utilitarian backlight, I'd say they succeeded. This is a beloved keyboard by coders everywhere, and well deserves a place on this list – even with the $155 asking price.
Verified purchaser Erik K. loves his CODE for dev ops, noting their quiet typing noise and the minimalist design.
I love using this keyboard. I do software development and I use this keyboard a lot. The Cherry MX Clear switches are great to type on with a satisfying click but a relatively quiet sound (especially compared to my Poker II with Cherry MX Blues). I really like the minimalist look this keyboard has without any branding. I personally replaced the ABS key caps with POM blank key caps so I can't speak on the included caps, but I would recommend looking into PBT caps.
---
Do you have any preferences when it comes to mechanical keyboards? Let us know in the comments.
For other buying guides, see: