Review: Jump Force (Xbox One) – a power level NOT over 9000
Can we write Jump Force in the Death Note?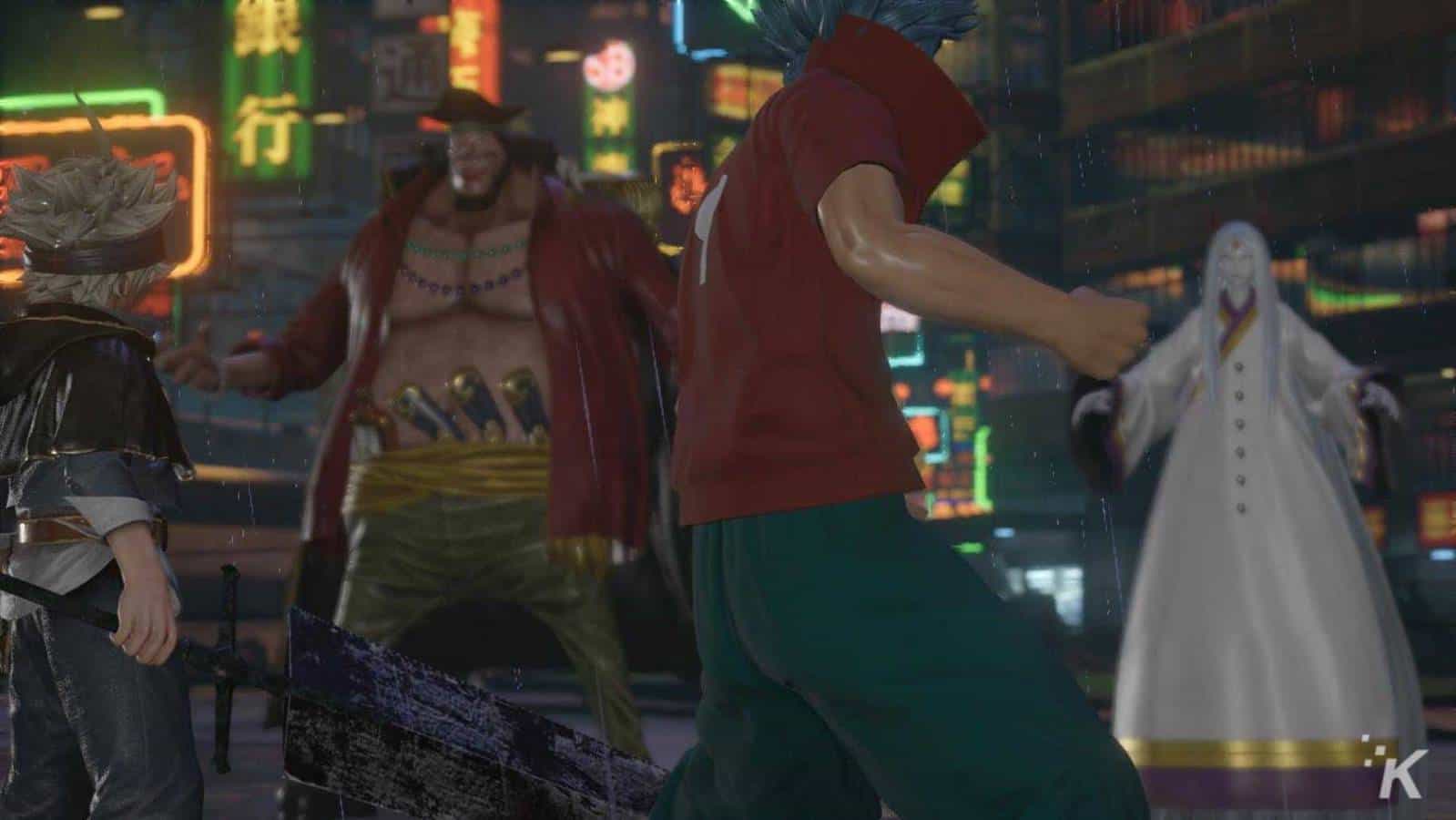 The Good
Fighting battles is a blast
Combat is easy, yet nuanced enough for experienced fighting game veterans
Some great character interaction moments
The Bad
I heard you liked load times, so they put load times on their load times
The story has scenes that aren't fully animated and all characters have a look stuck on their faces like they need to poop really bad
The hub world is terrible Seriously, it's the worst
For this review, I think it's important to start with a little exposition. If you didn't know, Weekly Shōnen Jump is serialized weekly magazine that features a weekly collection of comics in bite-sized chapters.
Over the last 50 years, the magazine has been the place to read Dragon Ball, Fist of the North Star, Naruto, Bleach and so many more. Dragon Ball was the first ultra-mainstream hit, then the big three came along and became the jumping on point for generations of western audiences.
They were One Piece, Naruto and Bleach. Of those three, One Piece is still running intermittently, Naruto ended but was replaced by Boruto (the son of Naruto), and Bleach ended the series on a sour note and was cast aside. The most recent era of Weekly Shōnen Jump manga hits are Boruto, My Hero Academia, Black Clover, and The Promised Neverland.
I promise that there is a point here.
So, at E3, Bandai announced a new fighting game to celebrate the 50 years of Weekly Shōnen Jump by creating a fighting game that imagines a world where Jump characters are pulled from their worlds to our reality. I was excited. I grew up watching Dragon Ball, my family watches My Hero Academia, and I have friends that belong to the Cult of Naruto.
These shows are near and dear to my heart and the possibility to play a game where they all interact was just too much. Unfortunately, there's a caveat here. As it turns out everything that this game does outside of actual combat is pretty much shit. I know Bandai Namco and Spike Chunsoft can do better and I hope that Shōnen Jump would want its IPs better represented.
The story of Jump Force
Jump Force's issues plague the game from the get-go. The game is heavily reliant on the story it tells, but throughout the actual relatively short campaign, there is little explanation to what is going on.
You are a regular human and at some point, Shōnen Jump characters are materialized on Earth, along with generic bad guys that are called Venoms. You get blown up by Dragon Ball Z villain, Frieza, and Trunks shows up to shove a cube in your chest to give you super powers and save your life.
At this point, you create your character and choose one of three fighting styles. From this point, you globe trot to free other heroes and villains from the big bad. There's no real point to focus on specifics because the story is weak as hell. Cutscenes themselves are actually sometimes half animated. You will see characters move by sliding across the ground or floating in the air. Who looked at this and said "Yes, this is acceptable," and why?
The leader of the Jump Force is a long-necked create-a-character named Director Glover and the lack of his design is indicative of the plot itself. Jump Force is almost dependent on you having knowledge of each one of the characters. As much as the game leans on Dragon Ball Z, One Piece and Naruto, with a Bleach chaser, it doesn't explain too much about who these characters are.
To a person not familiar with Vegeta or Sasuke, they are just moody assholes that hate working with teams. Luffy and Goku are battle maniacs that eat a lot. People don't seem to respect Naruto much.
Without background from these characters, they don't shine on their own nor in the rare opportunity to interact with each other. There are moments of fan-service that give players a taste of what it could be, but overall the game seems to be made for people that are already fans but made to appeal to those that don't even have a working knowledge of Goku.
But what about the visuals?
Visually, Jump Force looks pretty fantastic in a vacuum. I can show you a number of screenshots that will make you say "Wow, that's pretty nice," but seeing the game in motion is another story. Jump Force is plagued with characters that don't have facial expressions in cutscenes, sub-30 framerates at times and disturbingly empty areas outside of the battles themselves.
The world hub is something I hate with the fire of 1,000 suns. It's a circular hub that has some outer rings that feature zones that are reminiscent of Dragon Ball Z, Naruto, and One Piece worlds. There isn't anything to really do there except visit the shops that are spread out too far from one another.
The shops themselves are plagued with an issue of selling items you can't even preview on your character. I've bought several outfits, only to realize they look stupid as hell. Lots of grinded money gone just like that. The scenery between these locations is so bland that even my kids remark on how boring it looked. I actually found it difficult to play the game because everything you do is based around running around this hub and I hated it so much.
Then there are the load times
The last thing that makes this game so unappealing is the load times. Every time you do almost anything, the game stops to load.
Want to change your characters outfit? Three-minute loading screen. Want to play an offline battle? Enjoy watching the load screen sit at 99% for a full minute. Battles have no rematch option, so sometimes you spend more time waiting for the game to load or connect to opponents than actually punching their faces in. The game is horribly optimized and it blows my mind how bad it actually is for a game that is coming out in 2019.
Fighting is actually a lot of fun, however
There are a few saving graces to Jump Force though. Most importantly, the actual battles in the game are fantastic. The animation is fluid and the effects are jaw-dropping. Each fighter has their own personality and moveset that makes them unique.
Standard attacks are lighter rush attacks and, of course, there are also heavy attacks. Special moves are easy to execute and there isn't anything to complex in battle. Basically, once you've braved the loading screen the reward of being able to pick three of your favorite Jump characters to pummel your opponent is a sweet payoff. Playing online wasn't too horrible and the times I did get dropped during an online match was most likely due to my opponents.
On top of fantastic battles, there are moments within the game's poor story that do play to the fandom of these series. There are times when some of Weekly Shōnen Jump's best swordsmen debate on who is the best and it ends up in a typical fight with Kenshin showing them why he's the best. Boruto gets to act chummy with the new generation of Weekly Shōnen Jump characters Deku and Asta, remarking on how they both seem to remind then of his dad.
The Soul Reapers from Bleach are super concerned with Yusuke from Yu Yu Hakusho since they send souls to the afterlife and Yusuke is a wayward spirit, which is ultimately their greatest enemies. These interactions are what kept me returning to the game's campaign. If the whole game felt like this, I'd be willing to forgive many faults.
In conclusion, Jump Force doesn't deliver – yet
There's a lot of issues that compound into much larger problems with Jump Force. Combat is pretty fantastic and the moments of anime-fan excitement is great but that's about where it ends.
Unfortunately, a poorly constructed hodgepodge of game mechanics, really low framerates during sometimes-beautiful cutscenes and God-awful load times ruin a 50-year Weekly Shōnen Jump celebration that spans from Fist of the North Star to Black Clover. If there are longterm plans to support and fix the issues in Jump Force, the game has the potential to be a real gem, however,  the game nowhere close to where it should be.
Don't buy this….yet
Jump Force is available on Xbox One, PlayStation 4, and PC.
A copy of the game was provided for the purpose of this review.
Editors' Recommendations:
The Good
Fighting battles is a blast
Combat is easy, yet nuanced enough for experienced fighting game veterans
Some great character interaction moments
The Bad
I heard you liked load times, so they put load times on their load times
The story has scenes that aren't fully animated and all characters have a look stuck on their faces like they need to poop really bad
The hub world is terrible Seriously, it's the worst
Follow us on Flipboard, Google News, or Apple News