Review: Kingston DataTraveler Bolt Duo and Canvas Go! SDcards
More storage than we can shake a (memory) stick at.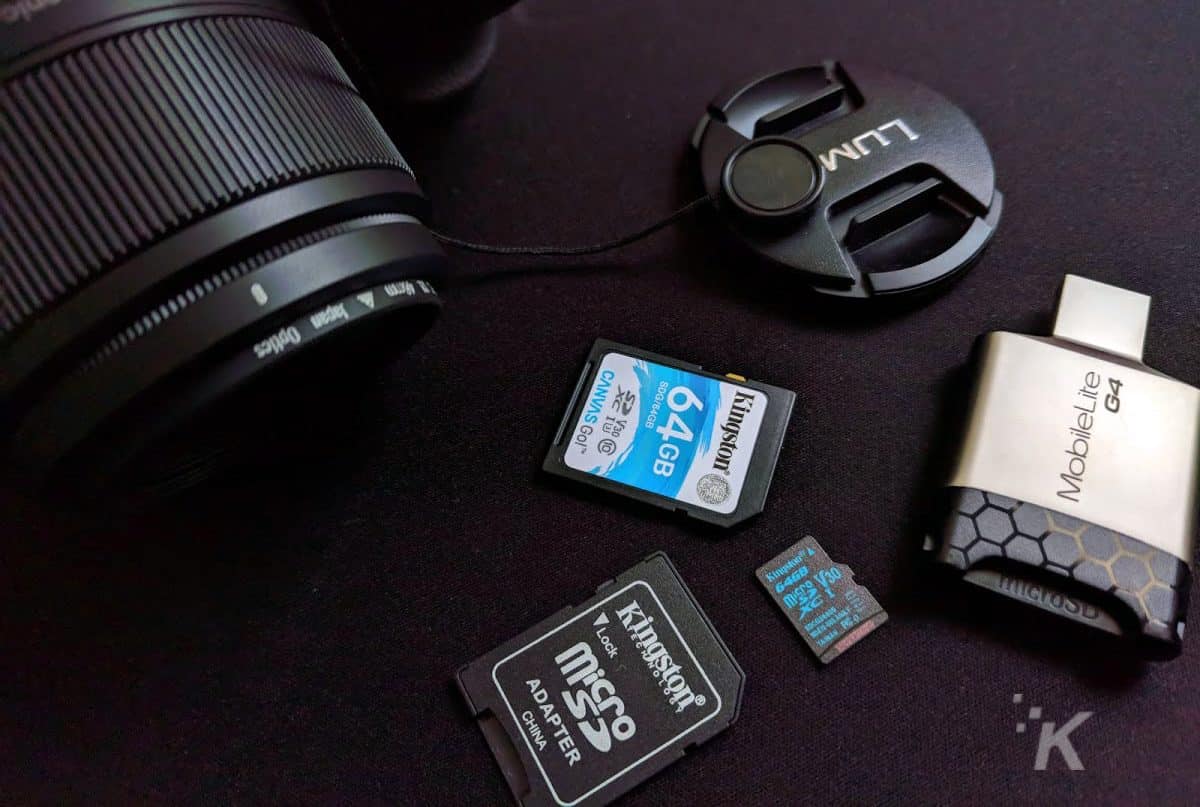 The Good
Speedy Transfer Speeds
Industry Leading Warranty
Reliable
Easy way to back up your iPhone Camera Roll
The Bad
DataTraveler Bolt Duo is costly
Since their founding way back in 1987, Kingston has grown to be the largest independent manufacturer of memory products. They are credited with setting several industry standards, including a 100% testing rate.
They've sent over a few of their latest memory products for review today. Two Canvas Go! Class 10 SDcards, one full-size and one microSD, and a USB3.0 Multi-card reader, the MobileLite G4 to access them.
They've also sent over an interesting new product, the DataTraveler Bolt Duo which is aimed at the iDevice market. All of these devices have a lifetime limited warranty to back up the quality Kingston is known for.
The Canvas Go! range is aimed at intermediate level photographers, drone pilots, and other hobbyists. With their Class 10 UHS-I U3 specs, they can transfer at speeds up to 90MB/s read and 45MB/s write. Actually, in my testing, they both performed above this, with 95MB/s read speeds on both cards using a 500MB file in sequential read. Writing was over 93MB/s, which is amazing – over twice the rated speed.
I've been using these in my Lumix G7 to shoot images and video in 4k and I haven't noticed any corruption or any of the slowdown when reading to the card from when I first started using the camera about a year ago. I'm hoping to get some drone time soon, so I'll update this and mention the cards again at that time once I've had the chance to test further.
These cards are available in capacities up to 512GB for the full-sized SDcards and 128GB for the smaller microSD format. After using them for the last week, I'm moving all my camera memory needs onto Kingston cards.
I've gotten into the habit of backing up daily from the camera as I've had some minor issues with corruption of RAW files in the past. Backing up with these cards and the MobileLight G4 haven't given me any issues at all, even letting me open straight from SDcard to edit (note: this was for testing purposes. don't do this in normal usage, you risk corruption of your files).
In testing with CrystalDiskMark, the difference between the two size formats is negligible for most use cases. It really speaks to the quality of Kingston that the miniSD card is so close, considering that it was tested using the miniSD-SDcard adapter that it came with. These adapters are usually afterthoughts, so it's nice to see Kingston caring about their design.
DataTraveler Bolt Duo from Kingston
Okay, so this one is a little different from the storage options so far – it's specifically designed for backing up photos from iDevices. Most people have a ton of photos on their iPhone/iPads, and one of the more common Genius Bar services is recovering those photos after accidents strike and the screen gets shattered. Wouldn't you rather backup those photos yourself and save the hassle?
That's where Kingston's DataTraveler Bolt Duo comes in. Available in 32GB ($60), 64GB ($90) and 128GB ($120) versions, it's a Lightning-equipped thumb drive with an accompanying app in the AppStore that backs up your images.
It's simple to use, simply plug the Bolt into an iDevice and it will bring up a prompt to install the Bolt app from the AppStore. Then, you're ready to backup images from your camera roll to the Bolt. You can choose to remove photos as they're backed up, or keep them on the device, as well. Choices between only photos, or only videos, and even copying photos that you have designated as favorites are also possible. It's usable across multiple iDevices, with the software creating a new folder for each.
External Shooting
It's also possible to set the Bolt as the main save location while shooting if you know you're going to take lots of photos or need more storage for a longer video. It's slightly unwieldy to use like this, but it sits securely in the Lightning port so hitting it with your fingers accidentally doesn't affect it.
You can then swap it onto your laptop or desktop to transfer files easily, the OS will just see it as a normal USB drive. I tested the speed over USB  and with 141Mb/s read and 14Mb/s write, it is more than enough for the use case.
It's small, and as it's more expensive than normal USB drives, Kingston has thought ahead. There's a handy silicon jacket for it, that can then can attach to your keyring.
Everything worked well for me while transferring images and video, maybe because I don't have that many in my camera roll (my daily is Android). If you've got an extensive camera roll, you might want to transfer in stages as you can't charge the device while the Bolt is plugged in. The software is clever enough to save your place so when you replug the Bolt, it will continue where it left off.
The DataTraveller Bolt is more expensive than your usual USB drive but does add utility and space to the usually fixed-storage iDevices. For that, it's worth buying if you can afford to – especially if you weigh it against the price of storage tier upgrades when buying an iPhone.
The Good
Speedy Transfer Speeds
Industry Leading Warranty
Reliable
Easy way to back up your iPhone Camera Roll
The Bad
DataTraveler Bolt Duo is costly
Follow us on Flipboard, Google News, or Apple News