Review: SainSmart TS80 Soldering Iron – a soldering iron that can be powered by a battery pack
USB-C is everywhere nowadays.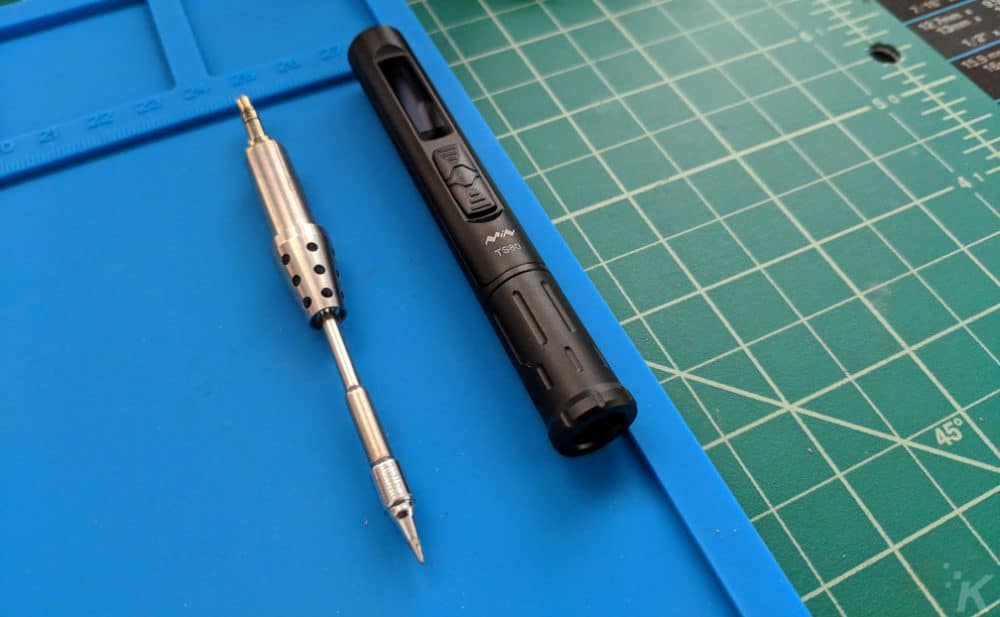 It used to be said that when buying a temperature-controlled soldering iron, you can choose two of the following: cheap, lightweight, and good. That mold got shattered by the Miniware TS100, which gave you all three in a sub-100 package that you could run off almost anything you could attach a DC-out plug to.
Drone hobbyists picked them up in droves so they could do repairs out in the field running off whatever battery packs they had on hand. It was also hackable, with firmware that was sold as open source, and you could fairly easily change the parameters with a bit of googling. It had a couple of minor drawbacks, mainly the plastic housing.
If the TS100 was enough to scare soldering iron companies, now they have a new fear to look at – the TS80.
The Miniware TS80 soldering iron
No longer featuring a plastic housing, the STM32 microcontroller is now shrouded in a sturdy CNC'ed aluminum barrel. The tips are connected with a Weller-style 3.5mm jack, and the iron is powered by USB-C, needing a power source that supports Qualcomm's Quick Charge 3.0 (9V 2A) protocol.
As before, the firmware is open source and can be updated by simply holding one of the buttons on the iron while plugging it into a PC. That opens the iron just like a USB drive, and you drag the firmware update onto it. I updated mine with a community-created firmware that fixes an issue with idle and battery packs and was happily melting solder in a matter of minutes.
Just like on the TS100, options are set by plugging your iron into a PC (without holding any buttons) and editing the settings file you'll find on the drive that pops up. Standby temp, working temp, sleep time, rated wattage and a few other things can all be changed easily. I found it took about 15 seconds from cold to get to 300c, which beats the cheap iron I had on hand by a country mile.
Burn baby burn
The precise tip of the TS80 was great for the project I decided to use as a tester – a mechanical keyboard build. Lots of repetitive key switch terminals to do, which gave me a repeatable test. It's been a while since I did any soldering other than splicing wire, so I was kinda apprehensive going in.
It turns out I needn't have worried, the TS80 made quick work of the task at hand. I wish I'd had this iron when I was at college, projects for credit would have been so much easier. With the TS80 only weighing 36.5g it wasn't fatiguing at all to use for a full afternoon.
Oh, did I forget to mention that I was running the TS80 off a battery pack? The Naztech Volt if anyone's interested, which is rated at 27,000mAh and has both QC3.0 and USB-C. A full afternoon of soldering barely dented the charge, as once the TS80 is at working temperature it barely draws any current.
As with all new irons, replacement tips have only just started hitting the market. I've seen fine point and chisel so far, hopefully, there'll be more as time goes on.
Final Verdict
After having the TS80 for a few weeks, I certainly won't be going back to my old iron. The versatility of the TS80 is just fantastic, whether using a wall adapter or using battery power. Having digital control over the temperature is great, and you'd be hard pressed to find a better iron at this price point.
Whether you want it for desk use, or to add into your drone repair kit – it should handle almost anything you throw at it. Best of all, it'll only get better as enthusiasts create custom firmware for the TS80, just like they did for the predecessor – the TS100. The only minor annoyance is that you need a QC3.0 compatible power supply, it would be nice to see a USB Power Delivery version which would work with more chargers that are capable of supplying the 9V, 2A needed.
A sample unit was provided for the purpose of this review.
Editors' Recommendations:
The Good
USB-C makes it easy to power
Metal housing
An absolute joy to work with
Open source firmware
The Bad
Needs QC3.0 compatible power sources
Follow us on Flipboard, Google News, or Apple News