Review: Vinpok Taptek Low-Profile Mechanical Keyboard with Bluetooth
Apple's Magic Keyboard has a new challenger.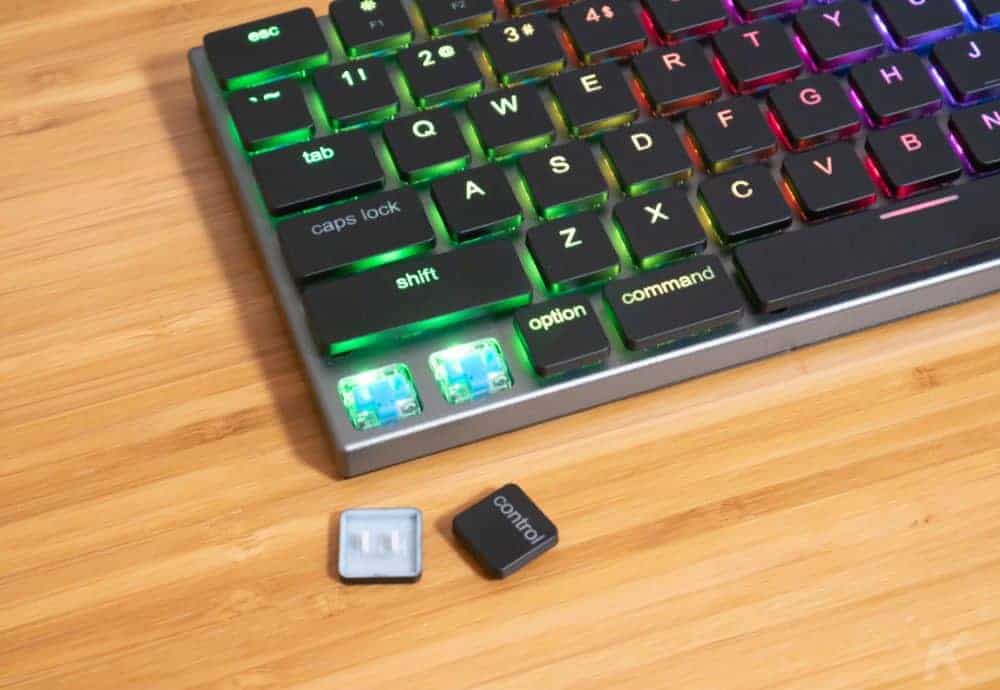 Ever since both Cherry and Kailh introduced their low-profile mechanical key switches, there's been a slow but steady introduction to the market. We recently looked at one from Hexgears, which used the advantages that the low-profile switches offer. Now, it's the time of another newcomer to the market, Vinpok, with their Taptek mechanical keyboard.
This keyboard just launched on Indiegogo for $89 yesterday, and we've been testing one here at KnowTechie for the last couple of weeks.
How low can you go?
The Vinpok Taptek is small, like super small. It immediately reminds me of the Apple Magic Keyboard, the version without a numpad. The comparison keeps on going, with 78 chiclet-style keycaps and a case made from aircraft-grade aluminum. The keyboard is set up for a Mac layout to begin with, sliding a switch next to the micro USB port changes it from Mac to Windows/Android layout.
The Command key changes to the Windows key and Delete turns to Backspace. There are no keycaps with new legends in the box I was sent, however, there's a $10 add-on on the campaign that has the new legends. It also comes in white or black colorways.
The key switches are self-developed and customized blues, designed to give you the Cherry MX Blue typing experience in a low-profile form factor. There's 3mm of travel here when the keyboard is only 16mm high overall. That's not all that's hiding in the casing, there's an 1800 mAh battery for when the keyboard is used in Bluetooth mode – which should give you 13 hours of use before recharging (more if you turn the backlighting off). There are also 19 onboard RGB patterns/effects, accessed through a dedicated button on the top right corner. That button also doubles as a charging indicator, with different colors depending on if it's in Bluetooth or wired mode.
Typing experience on the Vinpok Taptek
The blue switches used on the Taptek will certainly appeal to those who like clicky switches. There's a pleasing click when the key switches actuate, with a better level of feedback from the usual scissor-switch used on chiclet keyboards. They do take a little bit of getting used to, however, with the slightly larger gap than normal mechanical keyboards. The spacebar is slightly tricky to press sometimes if you don't hit it either on the switch or the two dummy keys that help stabilize it.
That's just something that happens on low-profile keyboards though, so don't be put off by it. My typing speed hasn't really changed, and it's been speeding up the more time I have with the Taptek. It's been a while since I used a Mac keyboard as a daily driver, so it's taking a little bit of adjustment to some of the layout features. The right shift key, for example, is half-size and on the other side of the similarly-sized up arrow. I find myself going for the up arrow when I reach for it, so it'll take some muscle memory to get used to.
I appreciate that there's a full F-row, with them doing dual-duty as media keys. This often gets buried in multiple Fn layers on small form factor keyboards so Vinpok keeping the Apple 78-key layout was a smart move. Bluetooth on my Kindle Fire HDX worked well, pairing almost instantly and showing no sign of lag while typing or navigating.
I had a little difficulty with my Pixel 2, having to reboot the phone a couple of times but it was smooth to type with after that little hiccup. It just goes to show how far wireless peripherals have come that the typing experience doesn't really change between wired or wireless.
So should you buy it?
Well, it kinda depends on the type of person you are. Do you appreciate minimalist design, portability, and versatility? Because the Vinpok Taptek has all of that in spades. It might not be the best choice for gaming (although you can certainly game on it), mainly as the key switches are weighted for typing use.
The people I've shown it to during my testing have all been intrigued, so I could already see the campaign going well. In fact, it's doing so well it was fully funded after half an hour, with 357% of their 10K target at the time of writing.
If you're intrigued, head on over to Indiegogo where you can still get one for the early bird $89 price ($199 MSRP).
Just remember, crowdfunding campaigns aren't a sure thing – they're a way to help bring something to market. You buy into the promise, and they don't always go as planned. That said, the team behind the Taptek have two successful campaigns under their belts, and with units already being available (I'm typing on it right now), that's about as sure a thing you'll get on a crowdfunding campaign.
A sample unit was provided for the purpose of this review.
Editors' Recommendations:
The Good
Fully mechanical switches
Super thin and portable
Works on Mac/iOS/Android/Windows
The Bad
RGB isn't programmable
Follow us on Flipboard, Google News, or Apple News