Review: HyperX Alloy FPS RGB – Speed skates for your fingers
Gotta go fast.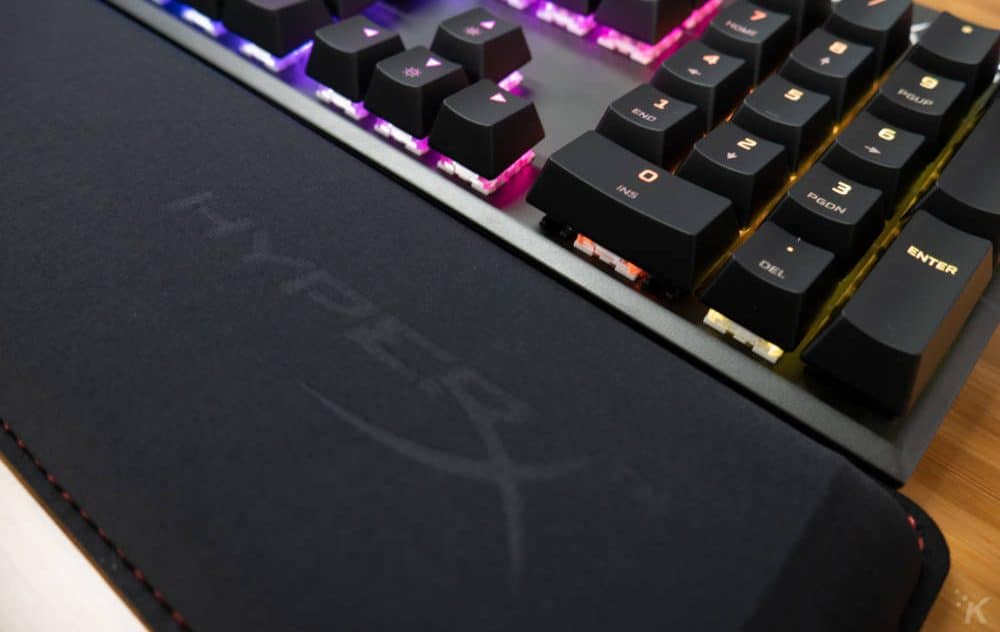 The Good
Good RGB
Built for gamers, great at gaming
Kailh Silver Speed switches are great
The Bad
No USB-C
Takes up two USB ports to get the charging port
It's no secret that I love keyboards. So much so that when HyperX asked if I wanted to give their new Alloy FPS RGB with Kailh Silver Speed switches a go, I jumped at the chance. Here's one of the biggest names in gaming peripherals using one of the best manufacturers of mechanical keyswitches. Is it a match made in ELO heaven or hell?
Built for gaming
HyperX is the gaming arm of Kingston Memory, and as such all their products have a distinct gamer-y design. That's not a bad thing in this case, with accurate, super-bright RGB lighting, and the edgy 'floating key' style of faceplate. That bottom panel might be plastic, but the faceplate and the frame underneath are steel to give stability in those frenetic gaming moments. Nobody wants their keyboard to out-flex them, and the Alloy FPS RGB performs like a champ in that department.
I really tried to get it to wobble, even pounding on it with my Cuphead-enraged fists. There was some rattling of the keycaps but no bend in the board. Pretty impressive stuff when you look at the often plastic cases that the opposition use.
The HyperX keycaps themselves are slightly soft-touch, which aids in finding your WASD without looking. I really like this type of paint finish, it's tactile without being clingy. No oil spots yet either which is nice. It's a full-size keyboard, so that means a numpad for those who can't live without it. I personally prefer TKL as I like the extra space for my mouse hand, so it would be nice to see HyperX make a future variant.
The braided USB cable is removable for transit and uses the sturdier mini-USB connector. It also takes up two USB ports on your computer, one for the keyboard itself and one for the USB charge port on the back edge. You can plug your mobile device into this to charge. Unfortunately, it's not a true pass through as you can't use it for data. I can't quite see why you'd take up two precious back panel ports just to charge. I'd also like to see USB-C so you don't need so many different cables in a future board.
[envira-gallery slug="hyperx-alloy-fps-speed-silver-switches"]
Some extra functions are mapped to the board, the three profiles, media keys, and a Game mode button. This, when activated, disables the Windows key, and also certain combinations that affect gaming (if set) such as ALT-ESC, ALT-F4. Yes, it's a guard against the 'press F4 to' troll brigade. This works pretty well in practice, and there's a dedicated LED next to the CAPS/SCROLL ones to let you know if it's active or not.
The three profile buttons are there because once set in the NGenuity software you can save them to the onboard memory. That ensures that your settings will persist if you take your keyboard to a LAN or a friend's house, where you might be using a different PC.
The keyboard has N-Key rollover and claims 100% anti-ghosting. Certainly, I couldn't find any evidence to disprove this. Gaming will be glorious and you'll live or die on your skill level alone.
The need for speed
The Kailh Silver Speed switches are linear and are a modified and improved-upon version of the well-known Cherry MX Red design. We've all heard that linear switches are better than tactile for gaming, but really there's no significant advantage unless the switch has to travel less for actuation.
The Silver Speed switches were designed for rapid performance, with ~60% less force (27 gf) of the Red version to actuate and moves ~30% less to register a keystroke (1.3mm). That will help you increase your APM in games like StarCraft, or your speed of changing weapons in games like CS:GO. When the competitive edge is often milliseconds, every advantage helps.
That combination of lower force and lower travel also benefits typing, with a bit of practice my CPM improved. I know the main point of the keyboard is for gaming, but it's nice to know that it's just as good at drudgery. The Silver switches also have a very wide base, which enables the fantastic RGB lighting on this keyboard.
NGenuity software from HyperX
The NGenuity software package from HyperX has all the usual RGB control that you'd expect. It also has a very well laid out macros section, which lets you reprogram individual keys to perform a number of tasks in sequence.
The software is laid out well, works and doesn't appear to use many system resources. It also lets you save three profiles to the keyboard, so you can take your macros with you without reinstalling the software. Pretty ingenious.
The right strokes
The HyperX Alloy FPS RGB is a gamer's keyboard – through and through. From the edgy styling, RGB and steel to guard against rage-damage, it would be a great keyboard just on its own. Adding to the mix the super-speedy Kailh Silver Speed keyswitches creates a wonderful thing.
To use a phrase from another CEO, "It just works." Sure, it won't actually make you better at gaming, but it'll make all the grind more enjoyable. Plus you won't be able to blame your keyboard anymore. At $109.99, The HyperX Alloy FPS RGB is a good value for a board with the niche keyswitches.
A sample unit was provided for the purpose of this review.
Editors' Recommendations
The Good
Good RGB
Built for gamers, great at gaming
Kailh Silver Speed switches are great
The Bad
No USB-C
Takes up two USB ports to get the charging port
Follow us on Flipboard, Google News, or Apple News