Review: Kono Store Whitefox mechanical keyboard
What does the fox say?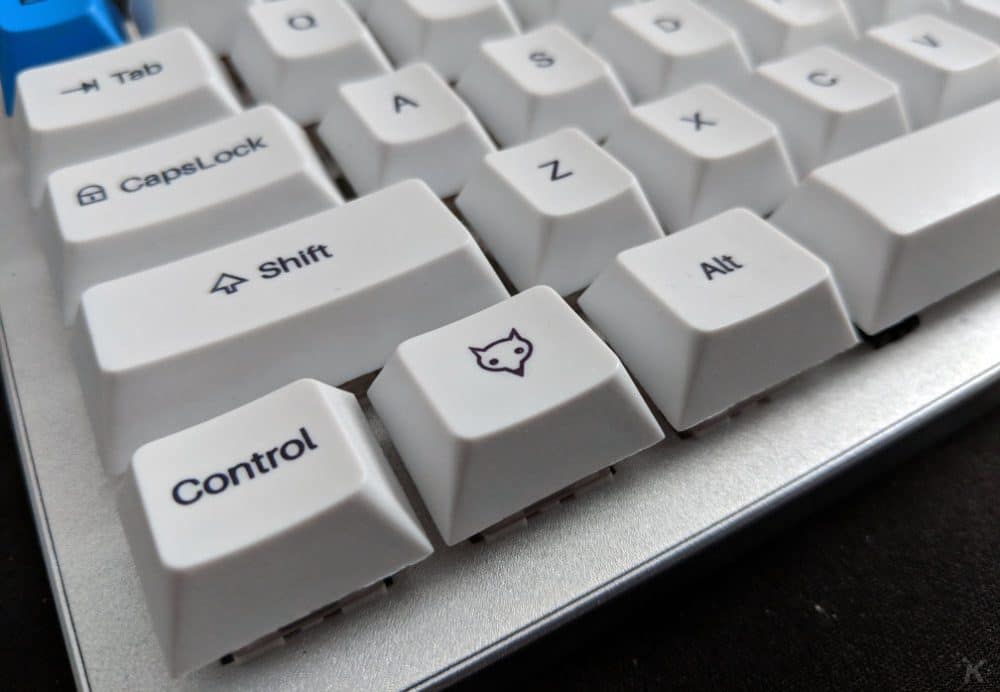 The Good
Well thought out 65% layout
USB-C
Beautiful design
New switch types are a joy to type on
Comes with a snazzy carry case and extra keycaps
It's no secret I love mechanical keyboards and the near-infinite array of keyswitches, keycaps, enclosures and other various components. That's a love shared by Matteo, Kono Store, and Input Club, and culminated in a partnership that created the Whitefox. Fully programmable keys, PBT keycaps with custom legends, anodized aluminum body, compact, open source hardware, new keyswitch types (in the Halo and later Hako), and USB-C connectivity – did anything other than the kitchen sink get left out?
That's pretty much the wishlist for any keyboard enthusiast, all wrapped up in a beautifully realized layout. There are some nice touches underneath, as well, with a white PCB and the super-kawaii fox motif.
Four long years in the making, the WhiteFox started as a quest to replace the Apple Magic Keyboard that Matteo was spending long hours coding on at the time. Not able to find a keyboard that suited his needs, he decided to design one himself. It had to be compact to minimize hand movement (and eventual RSI) and had to have the arrow cluster. After three iterative stages (Steely, BrownFox, and Elf-Board), the design of the WhiteFox was almost perfect. Matteo got Input Club involved, and a group buy to get enough cash together to make a quality keyboard, and the first WhiteFox was released. 1,300 backers joined in this initial group buy back in 2016. This group buy was for self-assembly kits and had six different layouts to choose from. Also present, a bewilderingly large number of switch types to choose from.
That was followed by a wildly successful Kickstarter campaign that also introduced the Halo (and later Hako) switches that are on the model I'm typing on right now. These were fully-assembled and made the WhiteFox more accessible to more enthusiasts. Nearly 2000 backers this time, and almost $400k raised to make the new WhiteFox a reality. There's also a NightFox variant that was added to the campaign, adding a darker side of the 65% board. This time only the True Fox layout was available, and that's the layout now available on the Kono Store.
After spending time with the WhiteFox, I can see why all those backers got on board. It's a looker and will make any desk that it's gracing look better by association. The rubber feet keep it exactly where you put it, even under really heavy fingering and the soft-touch PBT keycaps are a joy to tap on. There is also no RGB in sight by default, although there was a LED option on the original group buy so maybe the brave among you could add them in.
The 65% layout of the WhiteFox means that all 'unnecessary' or less-used keys are moved onto a programmable layer accessed by the Fn key by default. The F-keys are set to the secondary function of the number keys, for example, and media controls are clustered on the right of the keyboard. This takes a little bit of time to get used to, but once the muscle memory is there, it's quicker to use as your fingers don't need to stretch as far.
The embedded arrow keys are half a keyspace away from the rest of the row for ease of finding without looking down. I really appreciate this, as it's something that frustrates me on most small layout keyboards. The programmable layer can be fully customized, in the drag and drop configurator that Input Club have created. Create your desired layout, download the resulting firmware file and flash it to your keyboard. No bloated software package to run, and it'll work on whatever computer you plug it into.
True typing bliss
The Hako Trues that are on this keyboard are quite possibly the most comfortable key switches I've typed on. Built on the Kaihua box switch architecture, which adds a certain amount of liquid-proofing, and reduces stem wobble for stability while typing, they are medium weight, and super smooth to type on. There's a light preload so they ease your fingers into typing, with a ramping of pressure needed at the end of the keystroke to reduce bottoming out.
That all adds up to tactile typing without a 'bump' or 'click' that doesn't fatigue your fingers after long typing sessions. I love them, it feels like the best from both mechanical and topre switches, with the force increasing substantially after the actuation point. There's just enough initial preload to avoid double-taps and the combination of PBT and the box architecture reduces keyboard noise substantially. The only keycap that is slightly noisy is the spacebar, which reminds me of 80's IBM keyboards.
Conclusions on the WhiteFox
The WhiteFox is a true enthusiast's keyboard, open source, configurable in both settings and hardware, and with looks to die for. Less is often more, especially when considering desktop space and the small footprint of the WhiteFox will both reduce your chances of repetitive strain and give you more space to do 360 no-scopes with your mouse.
At $169 it's not cheap, but you're buying a boutique item and every penny is deserved. Add to that custom developed keyswitches that innovate in a field that's been stagnant for a long time, and the true value of the WhiteFox shines like a star.
A sample unit was provided for the purpose of this review.
For more reviews, check out:
The Good
Well thought out 65% layout
USB-C
Beautiful design
New switch types are a joy to type on
Comes with a snazzy carry case and extra keycaps
Follow us on Flipboard, Google News, or Apple News