Review: Sound BlasterX AE-5 PCIe Sound Card
Hi-Resolution PCIe gaming sound card and DAC with RGB Aurora lighting system.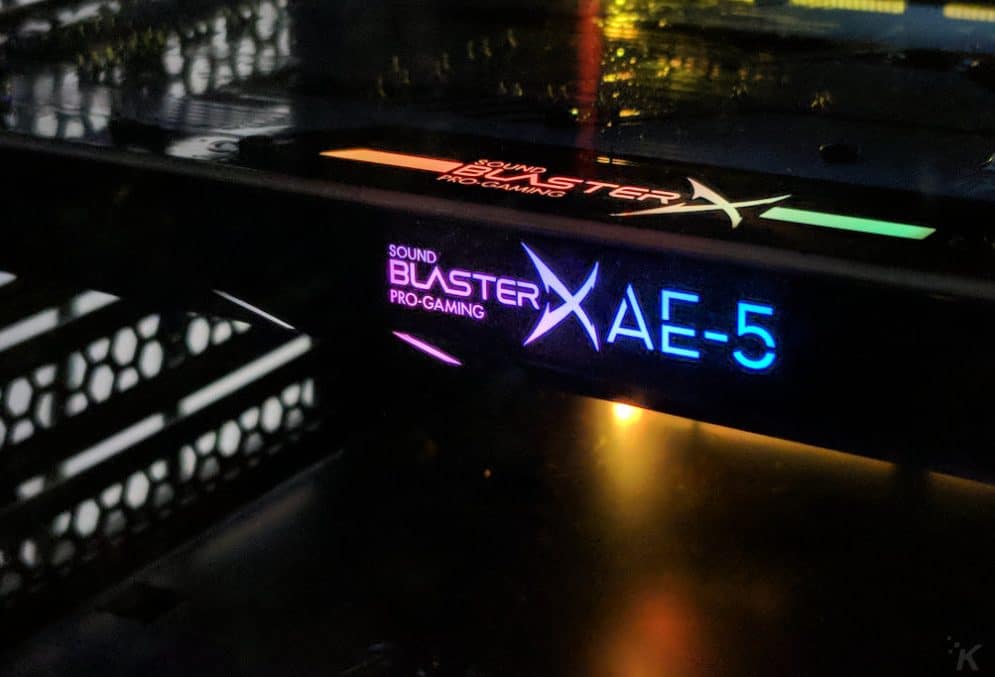 The Good
Xamp discrete headphone amplifier is amazing
SABRE32 Ultra Class PCIe DAC
Can drive 600-ohm high-end headphones
The Bad
Lighting needs a molex cable from your PSU
Creative Labs has been the mainstay of the PC sound card market since their first soundcard back in 1987. The Sound BlasterX AE-5 is the culmination of their three decades of experience. The question is: do we need a discrete soundcard in 2018?
The Sound BlasterX AE-5 installs like any other PCIe device, into any open PCIe slot on your PC's motherboard. In addition to the usual front-panel audio connector on the card, there's also a Molex power socket to power the RGB, and a small socket on the side that the included RGB LED strip plugs into. This light strip syncs with the RGB lighting on the sound card, with what Creative Labs dubs the Aurora Reactive Lighting System.
The lighting strip has magnets so you can position it on your PC easily. Shame it doesn't appear to be able to sync with the RGB on your motherboard or other devices. The lighting can display 16.8 million colors and can be set to various lighting patterns that can also be customized to suit your mood/PC/whatever.
Once all the hardware is plugged in, download the software from Creative Labs' website and install. The overall install process is a breeze.
[envira-gallery id="71655″]
Once that's taken care of it's time to get down to the serious business of playing some tunes. The Sound BlasterX AE-5 is a seriously impressive performer. Every music track, every video, every game from every genre that I tested sounded far better on the AE-5 compared to the top-end onboard ALC1220 that's on my motherboard. It does that in part because of the technological advances that Creative Labs added into the soundcard.
First, the headphone amp, which has Xamp – Creative Labs custom-designed headphone amplifier. Most amps (even the high-end ones) use one amplified circuit to amplify both channels of audio at the same time. The Sound BlasterX AE-5 does things differently, with each individual audio channel going through its own amplification circuit, which results in higher audio fidelity. The output of 1Ω can drive headphones from 16-600Ω, the highest range I've seen on a soundcard and capable of driving everything from your Apple Earpods to high-end headphones with massive pricetags. This is the standout feature on this soundcard and should be the main selling point.
The DAC (Digital-to-Analog Converter) used in the AE-5 is a SABER32 Ultra Class model (ESS ES9016K2M) that can deliver up to 32-bit, 384kHz playback with a dynamic range of 122dB. That last figure is important as sound on a CD is 96 dB, so your higher quality audio files should play with no issues. I've been punishing the AE-5 with everything from Gabber to Aphex Twin and beyond, and my headphones have never been happier.
I'd recommend going into the sound settings of the software and changing it to the "Concert" setting for the best preset DSP mode. It's easy to tweak those settings further to your individual tastes. You can also set the output to "Direct HP" mode, which bypasses all the Digital Signal Processing (DSP) and lets you hear the music exactly as recorded. The Saber DAC shines in this mode, and it's now my go-to mode, where I only turn back to the 7.1 mode for gaming.
Gaming audio performance is no less impressive, with a convincing soundstage from the virtual 7.1 audio. Again, you can tweak things to your preferences, with enhanced dialog being my most used setting for the RPGs I mainly play. There's also noise reduction, auto-gain, and echo reduction for your microphone, and Creative Labs have added back their fun option – voice changing.
[envira-gallery id="71656″]
There are 17 different voices to use, ranging from simple Man/Woman to Orcs and other creatures. It's honestly so much fun to use in multiplayer sessions (until you get booted from your party). There's also the updated Scout 2.0, which allows you to visualize the direction a sound is coming from in your favorite FPS titles in a companion app for your smartphone. Great for home use, but please don't use it in a tournament as you'll likely get disqualified.
The Sound Blaster Connect software also handles all of your attached Creative Labs products, so it's nice that it's a central hub only needing one install. This is a welcome change from needing separate install packages for every individual device and makes management so much more simple.
Conclusions on the Sound BlasterX AE-5
The Sound BlasterX AE-5 once again proves that the discrete soundcard isn't dead, in fact far from it. Creative Labs' inclusion of a DAC that's usually found in $1600+ receivers has surprised my ears. The AE-5's Xamp is amazing, revitalizing my headphones (Sennheiser Game One) and a marked improvement over the prior Soundblaster Zx range. It's a winning argument for not needing to buy 'gaming' headphones with inbuilt 7.1. Creative Labs have stiff competition nowadays with a host of USB offerings with virtual surround, the extras in the AE-5 put the big dog back on top.
At the current price of $130 on Amazon it's worth it for the headphone amp alone, once you factor in the rest of the functionality, it's a steal.
A sample unit was provided for the purpose of this review.
For more tech reviews, check out:
The Good
Xamp discrete headphone amplifier is amazing
SABRE32 Ultra Class PCIe DAC
Can drive 600-ohm high-end headphones
The Bad
Lighting needs a molex cable from your PSU
Follow us on Flipboard, Google News, or Apple News