Review: Nuphy Halo96 wireless mechanical keyboard
The Halo96 wireless mechanical keyboard is a testament to compact functionality.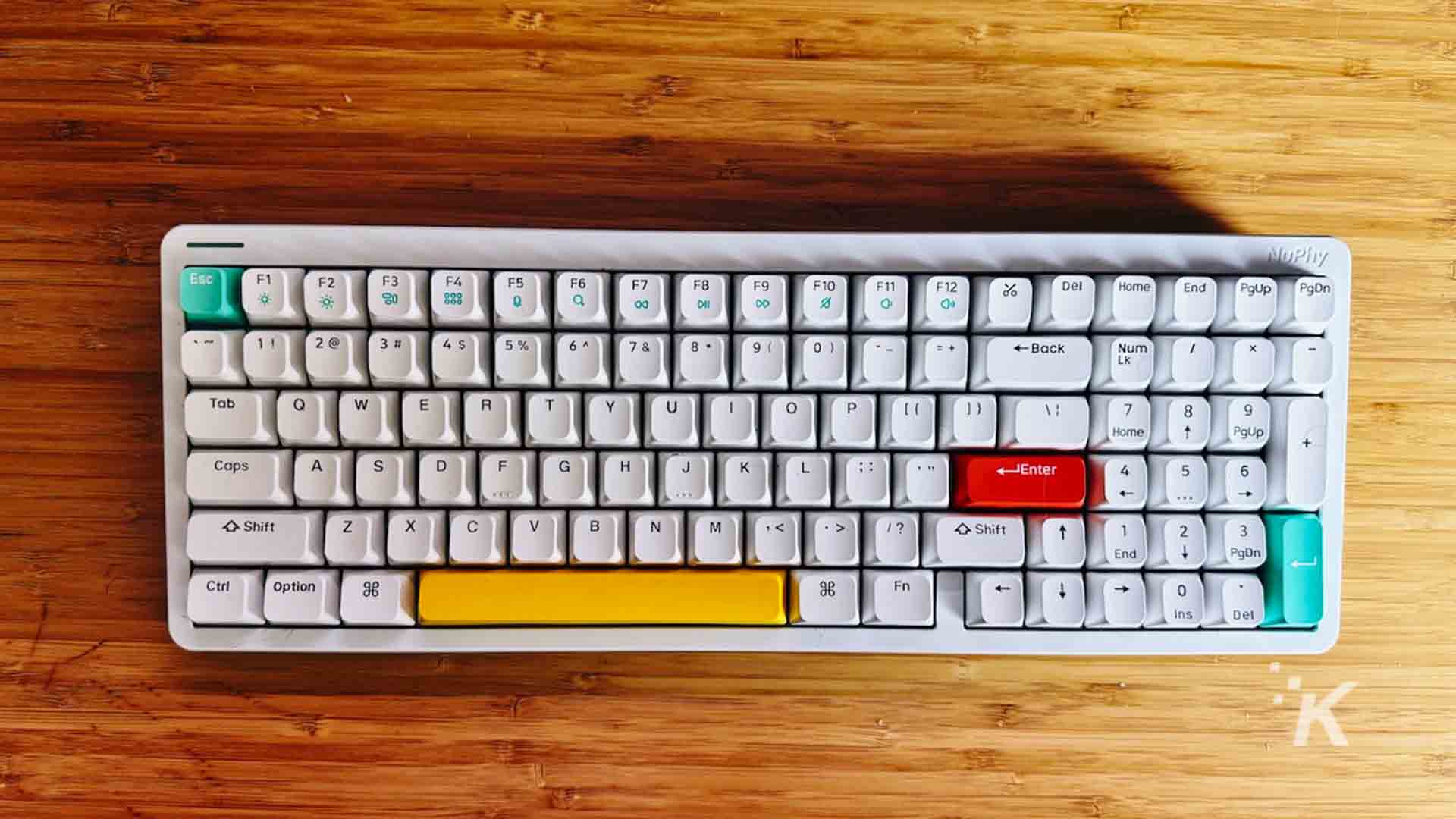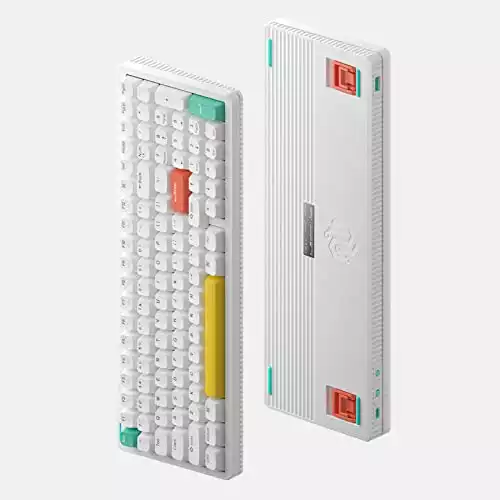 Nuphy Halo96 Mechanical Gaming Keyboard
Quick Verdict: The Nuphy Halo96 wireless mechanical keyboard delivers a compact, ergonomic design with customizable features. It's ideal for gamers and writers, offering responsive keys and vibrant backlighting. However, its noisy switches, higher price, and compact layout may not suit all users. Its portability and strong battery life make it a noteworthy choice in the market.
Pros:
Ergonomic design relieves wrist strain during marathon typing sessions.

Bright RGB backlighting makes it easy to see the keys in dim environments.

Satisfying tactile feedback on every keystroke

Five switch types to choose from based on your preferences
Cons:
A compact layout can cause mistakes if you have large hands

Premium quality comes at a premium price point

A compact layout can cause mistakes if you have large hands
KnowTechie is supported by its audience, so if you buy something through our links, we may get a small share of the sale.
12/07/2023 05:15 pm GMT
So, there I was, all geared up to cover Samsung's big Galaxy S23 launch. Everything was in place – content, images, social media buzz – the whole shebang.
But as luck would have it, my keyboard decided to call it quits right when the event started. Typical.
Now, I could've just plugged it in, but my spare USB-C cable decided to play hide and seek. So, I thought, why not seize the opportunity to test drive a new keyboard? Enter the Nuphy Halo96 wireless mechanical keyboard.
After a quick unboxing, I powered it up and started typing. The responsive keys felt like magic against my arthritic hands. I rattled off a dramatic "new keyboard!" announcement to my colleagues – it made that good of a first impression.
So, what's the deal with the Halo96? It's a compact wireless mechanical keyboard packed with 96 keys.
That includes a number pad and function keys despite its smaller size. For gamers desiring quick keystrokes or writers looking for ergonomic comfort – it aims to please.
Let's get into the nitty-gritty.
For mobile users, the Halo96's lightweight and compact build makes it easy to toss in your bag. The dual wireless connectivity ensures a seamless experience whether you're working remotely or gaming on the couch.
Speaking of gaming, anti-ghosting allows for accurate input even when mashing multiple keys. The macro programming lets you set up custom commands for complex button combos in your favorite games.
When it comes to personalization, you can swap out the keycaps for different colors and textures. There are also options to tweak the RGB lighting effects and key assignments through software.
Who is this good for? Who isn't this good for?
The Halo96 mechanical keyboard is built for a specific user in mind. It's ideal for:
Writers/coders: The ergonomic wrist rest prevents strain during long typing sessions.
For those who spend countless hours typing out articles or lines of code, the Halo96's ergonomic design is a must-have. The wrist rest positions your hands naturally, and the optimized key spacing reduces fatigue over time.
Gamers: Responsive keys allow for quick, precise inputs and actions.
Gamers will appreciate how the responsive mechanical keys allow for rapid inputs and precise control. When every millisecond counts, the Halo96 provides the speed and accuracy needed to come out on top.
RGB lovers: Bright and customizable backlighting sets the mood.
With its per-key RGB lighting, the Halo96 is a rainbow dream. Tweak color and effect settings to match your mood or gaming setup.
Audiophiles: Satisfying clicky feedback on each keystroke.
For those who love the sound of mechanical key clicks, the Halo96 delivers audio bliss with every tap. Crisp and consistent tactile feedback makes typing a joy.
But the Halo96 may not be the best fit for:
Minimalists: Lots of extra features may seem excessive.
If you prefer bare-bones keyboards without all the bells and whistles, the Halo96's many extras like RGB lighting and macro keys may seem overkill.
Noise-sensitive folks: Clicky mechanical switches can be disruptive.
The loud clicks of the mechanical key switches mean this isn't the best pick for quiet office or study environments.
Budget-focused shoppers: The premium quality comes at a premium price.
Given its high-end components and build quality, the Halo96 sits at a premium price point, which could be prohibitive for budget-conscious buyers.
Unpacking the Nuphy Halo96 compact design
Nuphy nailed it on the design. The Halo96 wireless mechanical keyboard is a testament to compact functionality.
This keyboard only weighs in at around three (3.28) pounds or 1448 grams, making it an ideal companion for on-the-go work or gaming sessions.
Its dimensions are also impressively small, considering its full-size layout with 96 keys. It's like having a full-fledged desktop keyboard that fits right into your backpack. In fact, it does!
Ergonomics: Upgrade your typing experience
Despite its compact size, comfort isn't compromised. The ergonomics of the keyboard are designed to reduce strain during prolonged use. This is great for folks like me who are developing the slow onset of arthritis.
READ MORE: The best mechanical gaming keyboards (2023)
The keycaps have a slightly concave shape that fits the fingertips naturally, reducing typing fatigue. Plus, the adjustable feet allow you to set up your preferred angle – talk about custom comfort, am I right?
But to tell the truth, even with all these features designed to facilitate long typing sessions, I still found my joints aching after prolonged use. That's not a criticism of the keyboard itself, but rather due to my arthritis.
Aesthetics: Color and lighting options
The aesthetic appeal of this keyboard is another feature worth noting. It comes in two color options: a classy dark tone and a vibrant white version, catering to different user preferences. Personally speaking, I prefer the white colorway.
But what really sets this gadget apart is its RGB lighting effects. With customizable brightness levels and multiple lighting modes, you can tailor your typing experience according to your mood or environment.
Material Choice: Durability meets compactness
Don't let its lightweight demeanor fool you – this keyboard is built to last. The frame is made from sturdy aluminum alloy, which gives it robust durability without adding unnecessary bulkiness.
To sum up, Nuphy Halo96 manages to pack impressive features into a compact yet durable design. From ergonomic considerations for comfortable usage over extended periods to aesthetically pleasing elements like color options and LED lighting effects – it's clear that every detail has been thoughtfully crafted.
Wireless features of Nuphy Halo96 explored
Bluetooth connectivity options
The Nuphy Halo96 wireless mechanical keyboard features Bluetooth 5.0 connectivity, which allows for stable and efficient wireless connections. This feature minimizes lag time and ensures smooth typing experiences.
Here are some connectivity perks you get with the Halo96 mechanical keyboard:
Quick pairing: The keyboard pairs swiftly with devices with no hiccups.
Multi-device connection: It can connect up to three devices simultaneously – a real timesaver if you're multitasking across different gadgets.
Range Test Results
The range test results for the Nuphy Halo96 are impressive:
| | |
| --- | --- |
| Usage Scenario | Connection Stability |
| Within 10m | Stable |
| At 15m | Slight Lag |
| Beyond 20m | Disconnection |
You see, even at a distance of 15 meters, only a slight lag was experienced. That's like being able to control your computer from across a basketball court.
Pairing process ease-of-use
Pairing this keyboard with various devices is pretty straight forward. Here's how:
Turn on the device's Bluetooth.
Press Fn+Q/W/E on the keyboard (each corresponds to a different channel).
Select 'Nuphy Halo96' from available devices on your gadget.
Boom! You're connected.
See, it's not all that hard, right?
Battery life 
Now, let's talk about battery life because nobody wants to be in the middle of a gaming session or work project and have their keyboard die on them.
The Halo96 is equipped with a 4000mAh battery that, according to the manufacturer, can provide up to 205 hours of use. While specific battery life can vary depending on usage intensity, this gives you a general idea of the keyboard's endurance.
For instance, under light usage (2 hours/day), you could expect the battery to last for many days before needing a recharge.
Under light usage (2 hours/day), this baby can last up to 200 days. Moderate usage (4 hours/day) will give you around 100 days, while heavy usage (8 hours/day) will still provide a decent 50-day battery life.
Nuphy Halo96's performance and quality
The Nuphy Halo96 wireless mechanical keyboard is a beast at its price point. The response time of this keyboard is lightning-fast, making it a favorite among gamers and typists alike.
Its key travel distance is optimal, providing tactile feedback that enhances typing speed and accuracy.
Response Time: Almost instantaneous
Key Travel: Ideal for fast typing
These factors contribute to the overall performance score of the device, making it shine on any test bench.
Build quality & durability
The build quality of this keyboard is top-notch. It feels solid in your hands, giving you confidence in its durability. The keys are sturdy and show no signs of wear, even after prolonged use.
Material: High-quality plastic with metal reinforcement
Durability: Long-lasting with minimal wear over time
This level of quality is rarely seen in keyboards within the same price range, further enhancing its appeal.
Compatibility with gaming platforms
What good is a gaming keyboard if it doesn't play well with others? Good news – the Nuphy Halo96 has got your back. Whether you're into PC or console gaming, this keyboard fits right in.
Here's a quick rundown:
Xbox: Check.
PlayStation: Double-check.
PC (Windows and Mac): Triple-check.
And let's not forget about compatibility with popular games, too! FPS, MOBA, MMORPG – whatever your poison, the Halo series has got you covered.
Latency issues?
Ever experienced that annoying lag during an intense gaming session? Yeah, me too. But guess what? With the Nuphy Halo96 – latency issues are practically non-existent. The high-speed wireless connection ensures smooth gameplay even under heavy load.
Hardware customizability
Keycap replacement
Have you ever dreamt of having a keyboard that you can customize to your liking? The Nuphy Halo96 wireless mechanical keyboard offers just that. A standout feature is its keycap replacement option.
This means you can swap out the standard keys for ones that suit your style or needs better. For instance, if you're a programmer, you might want to replace some keys with custom ones specific to your coding language.
Silicone keycaps for a softer touch
Transparent keycaps for an edgy look
Themed keycaps for added fun
It's all about making the keyboard truly yours.
Switch types & typing experience
Beyond aesthetics, customization extends to functionality as well. The type of switch used in a keyboard significantly impacts the typing experience, and Nuphy Halo96 doesn't skimp on options here either:
Linear switches: Smooth keystrokes with no tactile bump.
Tactile switches: A noticeable bump halfway through the keystroke.
Clicky switches: Tactile bump plus an audible click sound.
Each type has its own feel and sound, catering to different preferences.
Software support for customization
To top it off, there's software support available for additional customization:
Key remapping: Change what each key does based on your usage patterns.
Macro programming: Automate sequences of keystrokes or mouse actions.
RGB lighting controls: Adjust color schemes and effects based on mood or task at hand.
This level of software support makes personalizing your work or gaming space even more exciting! The Nuphy Halo96 is not just any wireless mechanical keyboard; it's YOUR wireless mechanical keyboard – customizable down to every last detail.
Final verdict on Nuphy Halo96 keyboard
After a considerable amount of time with the Nuphy Halo96 wireless mechanical keyboard, it's safe to say that this keyboard is a standout in its category. This isn't just another keyboard; it's an epitome of design and functionality working hand in hand.
Key points recap
Let's jog your memory a bit about the key points we've discussed earlier:
The keyboard has a sleek and compact design that makes it portable.
It comes with customizable keycaps. You can switch them out as you please for a more personal touch.
The mechanical switches provide satisfying tactile feedback while typing.
It supports both wired and wireless modes, providing flexibility depending on your needs.
My two cents
From my perspective, based on research and hands-on testing, I have to say – this keyboard is worth every penny. It strikes the perfect balance between aesthetics and performance. The customizable keycaps are not only visually appealing but also enhance the typing experience.
But hey, no product is flawless, right? The price tag might be a bit steep for some folks. And if you're not into mechanical keyboards, the clicky noise might get on your nerves.
Standout Features & drawbacks
The standout feature of the Nuphy Halo96 has to be its dual connectivity mode. Whether you're at home or on the go, this feature ensures seamless usage. Its robust battery life further adds to its portability.
One personal peeve is the placement of the left command key for Mac users.
Since the keyboard is smaller than your usual 96-key layout, there's not much room for error between keystrokes, meaning the keys are packed together really close. This causes numerous mistypes near the arrow and the CMND key.
Major advantages
The Nuphy Halo96 wireless mechanical keyboard is a game-changer in its league. Its ergonomic features are right up there, putting itself in a league of its own. Here's why:
Compact and Portable: The Nuphy Halo96 doesn't hog desk space. It's compact, lightweight, and easy to carry around – perfect for on-the-go users.
Wireless Connectivity: Say goodbye to tangled wires. This keyboard offers seamless wireless connectivity, allowing you to work or play without restrictions.
Ergonomic Design: The keyboard boasts an ergonomic design that supports a natural typing posture, reducing the risk of wrist strain. Heck, it even comes with a wrist rest.
Potential drawbacks
Despite its impressive features, the Nuphy Halo96 has a few potential drawbacks that might be deal-breakers for some:
Battery Life: While wireless connectivity is convenient, it also means you'll need to charge the keyboard regularly.
Price Point: High quality comes with a price tag. The Nuphy Halo96 may not fit everyone's budget.
Key Placement: Since the keyboard is smaller than your usual 96-key layout, there's not much room for error between keystrokes, meaning the keys are packed together really close. This causes numerous mistypes near the arrow and the CMND key.
Recommendations based on user needs
Depending upon specific user needs:
If you're someone who values aesthetics just as much as performance – then go for it. Those customizable keycaps won't disappoint.
If you work remotely or travel frequently – its compact size and wireless feature make it an ideal companion.
However, if budget is your main concern or you prefer silent typing – then perhaps consider other options available in the market.
Alternative options to consider
Wrapping it up
So, you've been through the highs and lows of the Nuphy Halo96 wireless mechanical keyboard with us. It's clear as day that this keyboard is a beast. But remember, it's not all rainbows and unicorns – there are some trade-offs, like hardware customizability.
Now, it's your call. If you're all about compact design and wireless features and don't mind tinkering a bit with the hardware, then go for it. The Nuphy Halo96 might be your next best buddy.
But if you're not into that stuff? No sweat. There are plenty of fish in the sea.
The Nuphy Halo96 can be found on the company's website, Amazon, and Newegg.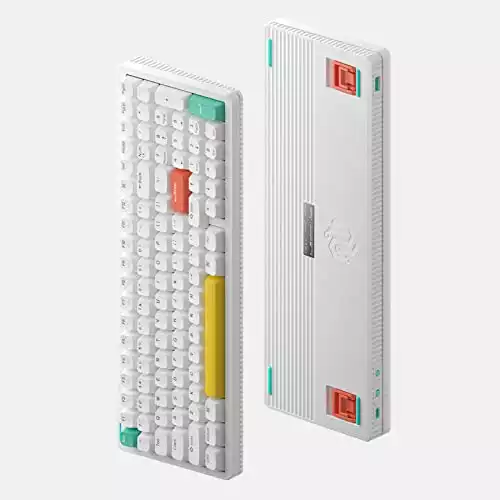 Nuphy Halo96 Mechanical Gaming Keyboard
The Nuphy Halo96 is a wireless mechanical keyboard that offers an impressive balance of customizability, functionality, and quality. It's designed for tech enthusiasts seeking personalization and a superior typing experience.
Check Availability
See at Nuphy
KnowTechie is supported by its audience, so if you buy something through our links, we may get a small share of the sale.
12/07/2023 05:15 pm GMT
Have any thoughts on this? Drop us a line below in the comments, or carry the discussion to our Twitter or Facebook.
Editors' Recommendations:
KnowTechie was provided with a sample unit for the purpose of this review.