Review: Roccat Kone Air Mouse
The ROCCAT Kone Air is a long-lived ergonomic mouse for gaming on the go that won't make your hands sweat.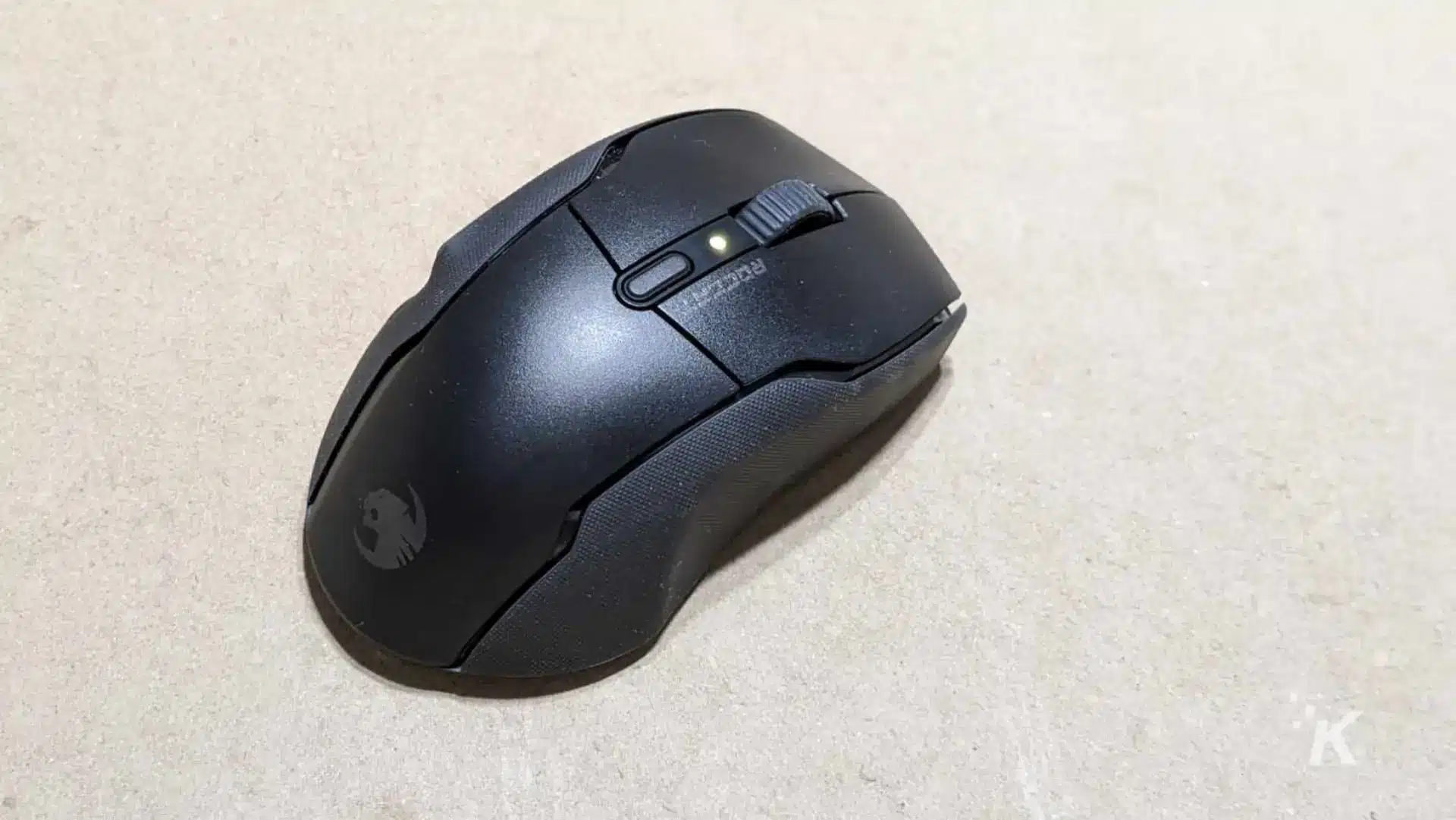 There's nothing quite like the feel of opening a new gaming mouse like this Roccat Kone Air. That feeling also comes with many questions about feel and performance, and we'll try to answer those today.
Roccat might not be a household name, but it consistently puts out solid gaming peripherals that won't break the bank.
It's now owned by Turtle Beach, who picked it up in 2019 to expand its offerings and has infused its own knowledge into the mix.
Let's dive into what this new mouse can do.
Who is the Roccat Kone Air Mouse for?
The Roccat Kone Air is a wireless mouse for gaming. If you're looking for a simple, inexpensive option that offers good bang for your buck, the Roccat Kone Air Mouse fits the bill.
If you're gaming on the go and need wireless or Bluetooth capability in your mouse, the Roccat Kone Air is a great upgrade to the older, but still great, wired Kone line.
The standout feature? Fantastic battery life compared to the competition.
No, seriously. Trying to find anything with the same range of battery and wireless requires a huge price increase in other brands. Some of the comparable mice out there are usually over $100.
The Roccat Kone Air is Perfectly Functional
| Category | Details |
| --- | --- |
| Connectivity | Gaming Grade 2.4GHz Stellar Wireless or Bluetooth 5.1 |
| Battery Life | Up to 800-hour battery life |
| Batteries | Compatible with 1 or 2 AA Batteries |
| Shape | Ergonomic shape with double-injected rubber side grips |
| Programmable Inputs | 17 programmable inputs |
| Switches | ROCCAT Titan Optical Switches tested for 100 million clicks |
| Sensor | 19K DPI Owl-Eye Optical Sensor |
| Glides | Heat-treated 100% pure PTFE glides |
| USB Report Rate | 1,000 Hz |
| On-board Memory | 1 Profile |
| Software | ROCCAT Swarm |
| DPI Range | 50 to 19,000 |
| Weight (without/with batteries) | 96g weight (without batteries) / 119g weight (with one battery) |
| Contents in the Box | Mouse, 1 AA battery, 2.4 GHz wireless sensor, quick-start guide |
Design and layout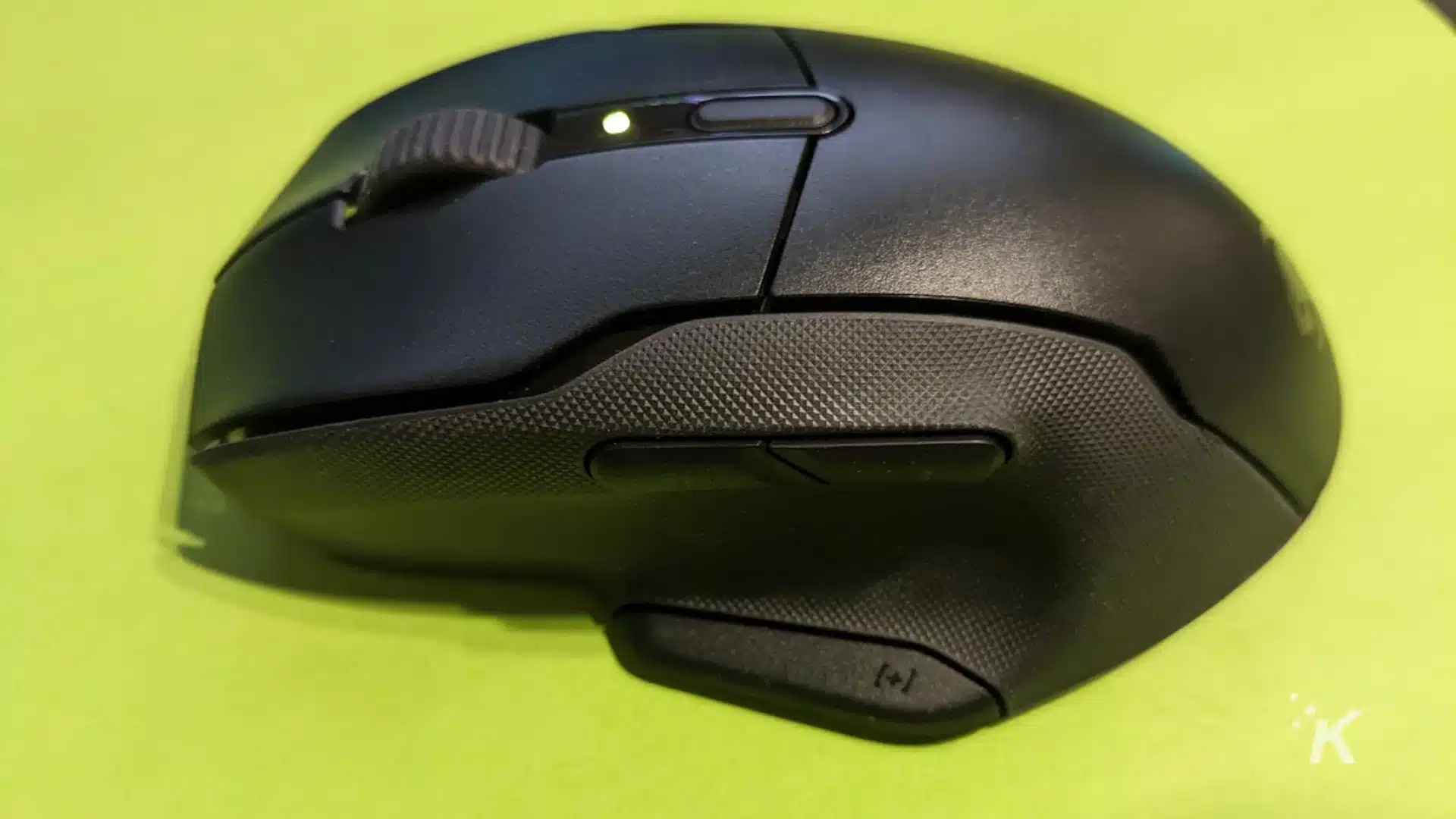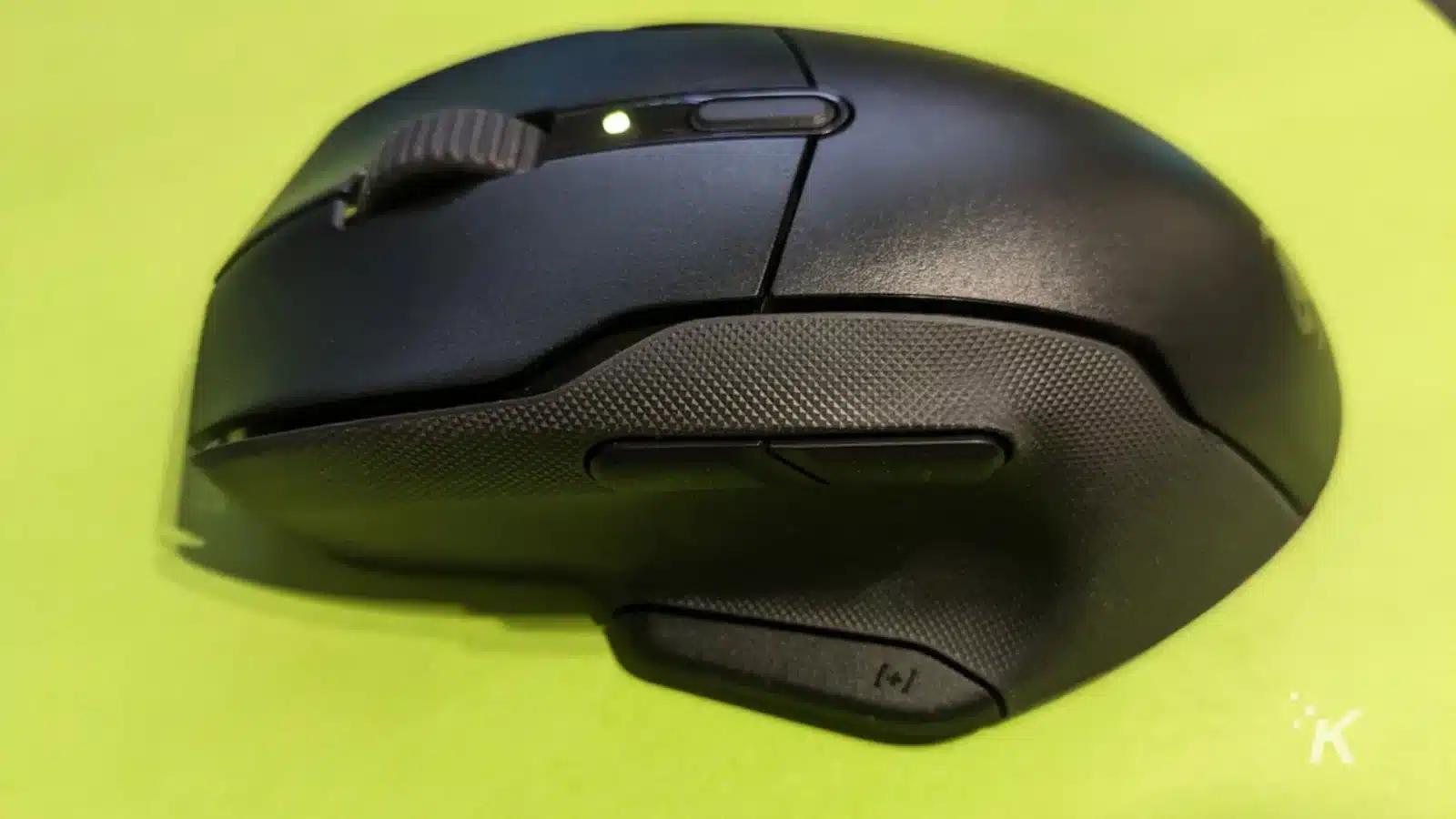 I consider the Roccat Kone Air to be the "business daddy" of gaming mice. Sure, it's designed for gaming by a company that makes gaming mice, but it doesn't offer any of the usual gaming flair.
You won't find any glowing RGB colors here. You barely even get additional macro buttons.
This mouse is designed for comfort, ergonomics, and those who need something a bit bigger in their hand.
As far as wireless mice go, it's not exactly the smallest. In fact, when sitting next to its Kone XP Air sibling, it's bigger and bulkier.
When compared to modern gaming mice with a ton of macro buttons, this one only offers three on the side: two above your thumb and one below.
Again, you can compare it to the Kone XP Air, which has six above your thumb and one below. And the other one has an RGB LED, whereas the Roccat Kone Air doesn't.
But, where it lacks in swagger, it makes up for in functionality.
Compatibility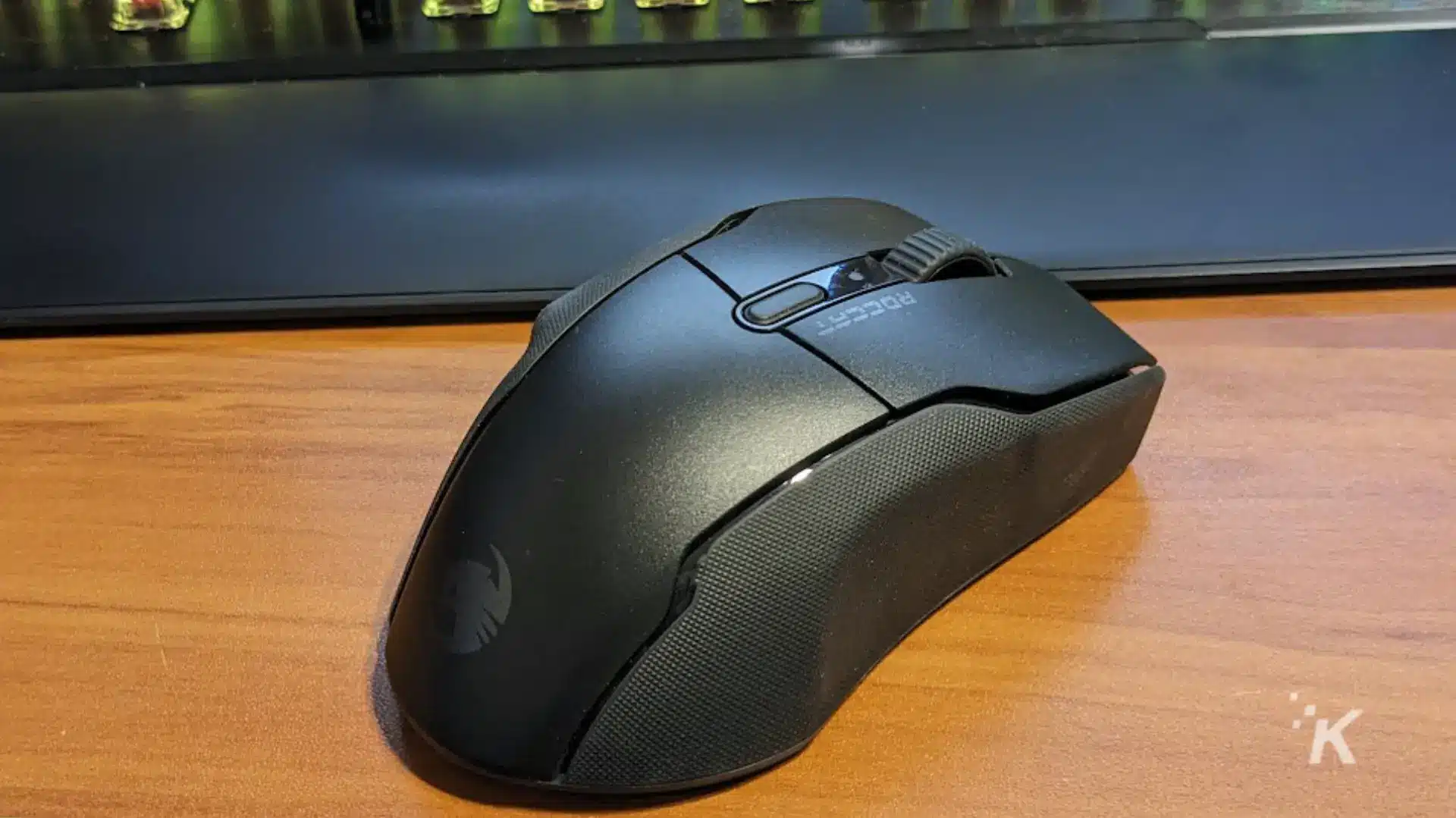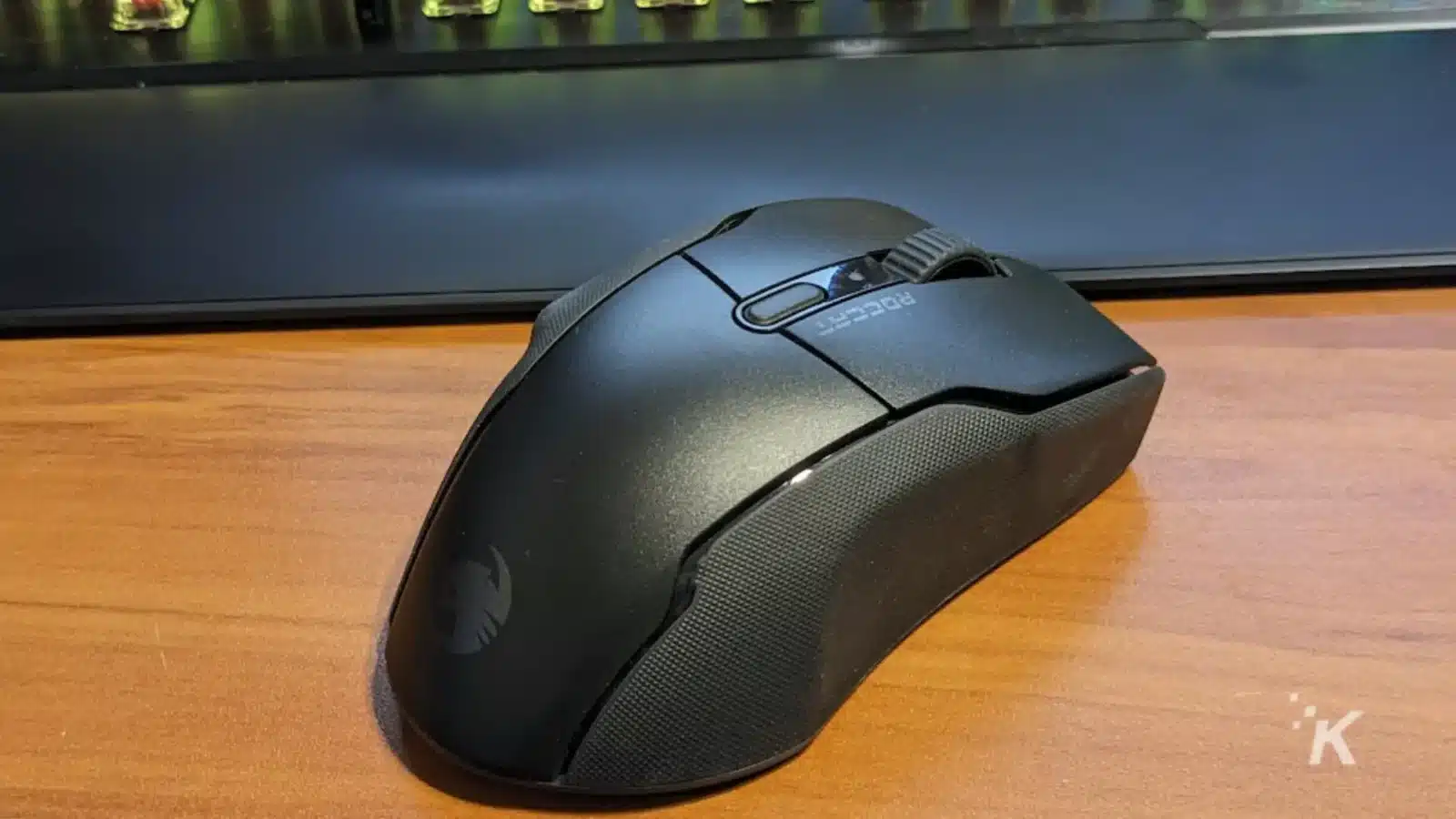 It's a mouse. It's compatible anywhere that mice are compatible. What gives it the edge is that it offers both a Bluetooth and wireless dongle option.
While some mice only offer a dongle to connect, the Roccat Kone Air steps it up with an additional Bluetooth functionality. You can swap between both on the go, too, with a tiny switch on the bottom.
Just make sure your mouse is already connected to the device via Bluetooth, and it's seamless. 
I've used it on multiple computers (a gaming desktop, a gaming laptop, and a small non-gaming productivity laptop) and have come to the same conclusion on all three.
Wireless is a stronger, more direct signal. But connecting via Bluetooth makes that battery last even longer.
If you're looking for exact movement in your gaming mouse for a game, it's worth swapping to the wireless mode with the dongle to play. But, if you're using the mouse for productivity or business, Bluetooth is perfectly acceptable.
The one downside is that if you're in Bluetooth mode, you can't do anything in the Roccat Swarm software. Think of Bluetooth mode as "turn off any function other than being just a mouse" mode, which is what gives it such a long battery life.
Battery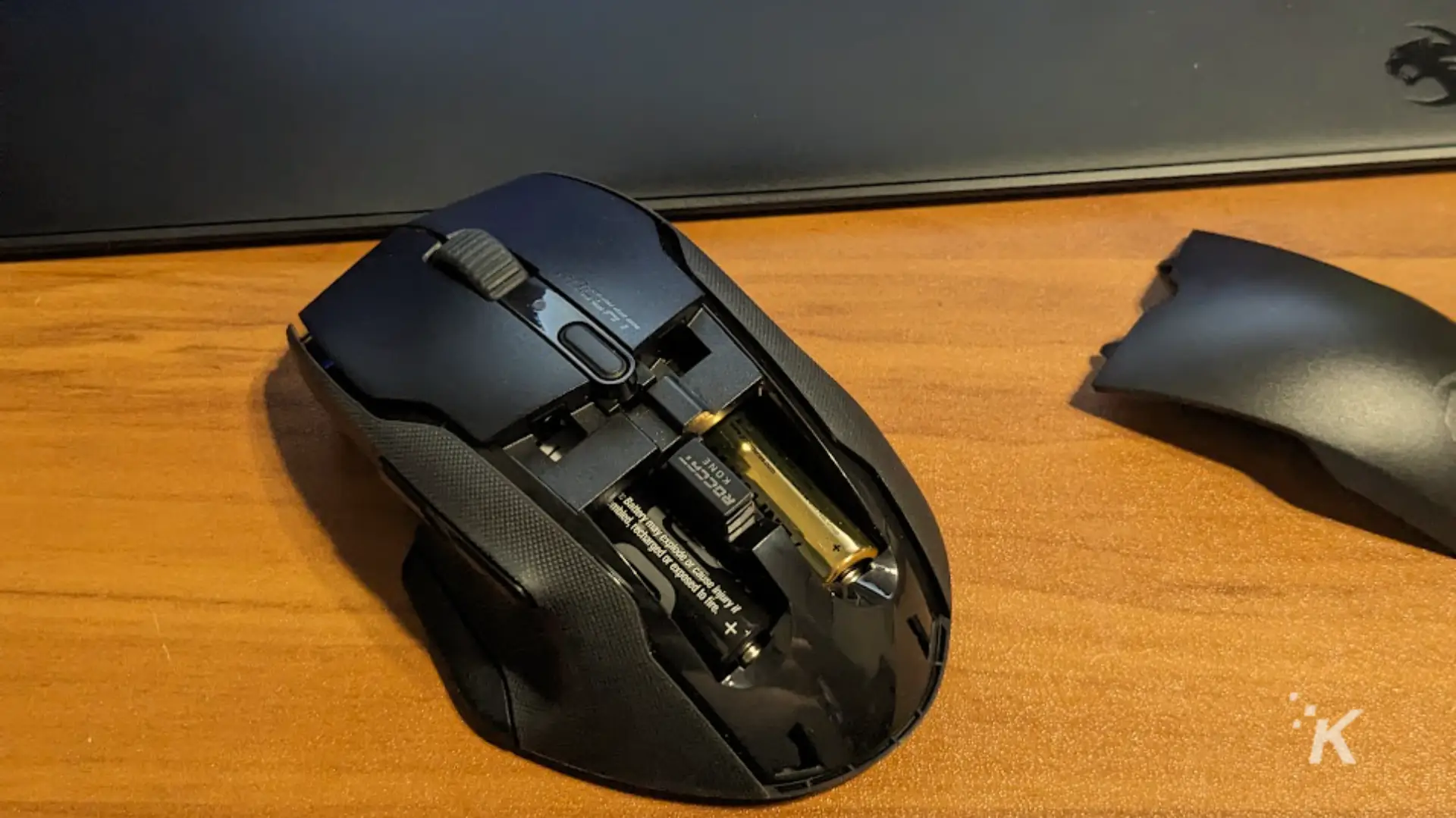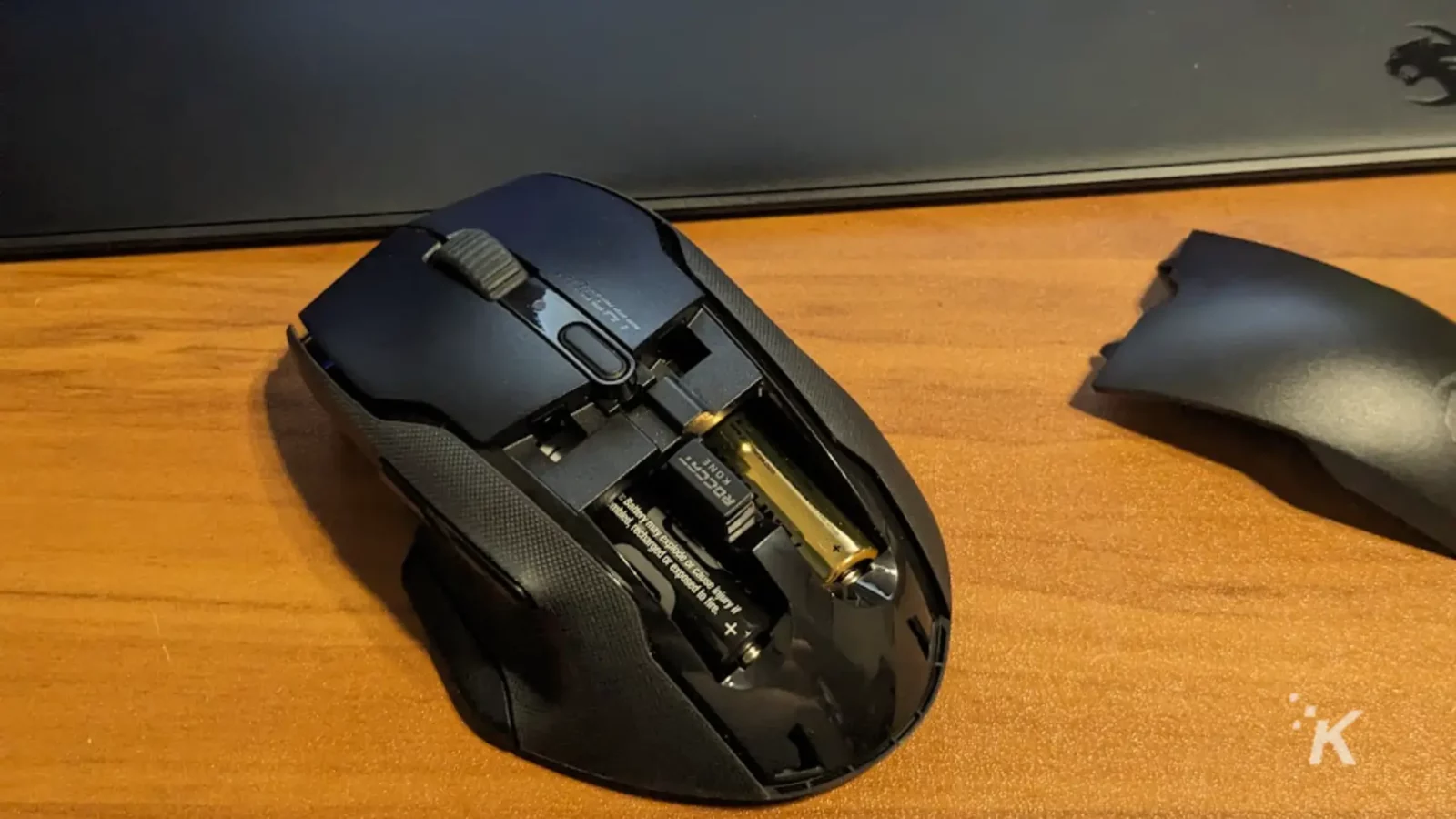 The battery life varies, depending on your usage and the mode used. Each offers a drastically different option, so let's break those down.
Officially, they say that the Roccat Kone Air clocks in at over 800 hours. This is potentially true. 
As I don't have 33 days to test this directly, I will trust it's relatively close, based on the life left after several days of use.
This, however, only works like this in Bluetooth mode. Since that setting essentially turns the mouse into a generic mouse and pretends Roccat Swarm doesn't exist, this is for those looking to use the mouse for professional reasons.
Interestingly, the AA batteries don't require both slots to be full for the Roccat Kone Air mouse to work. In fact, contained in the box is only one AA battery to get you going.
According to their boasting, one AA battery offers 400 hours, exactly half of what two would give. Because math.
However, if you're using your gaming mouse for gaming, as many do, that number drops significantly. Keeping the mouse on while using the included USB dongle plugged in significantly drops the runtime of the mouse, closer to similar mice on the market from Razer and Logitech.
At 100%, the mouse says it should only give me around 225 hours of battery life while in use with two fresh batteries inserted. That's still fantastic, but nothing in comparison to the Bluetooth mode.
Unfortunately, as an AA battery-supported mouse, there is no charger cable for the Kone Air. This means that you need to keep some extra batteries around if you use it heavily and daily for both work and play. 
Comfort and weight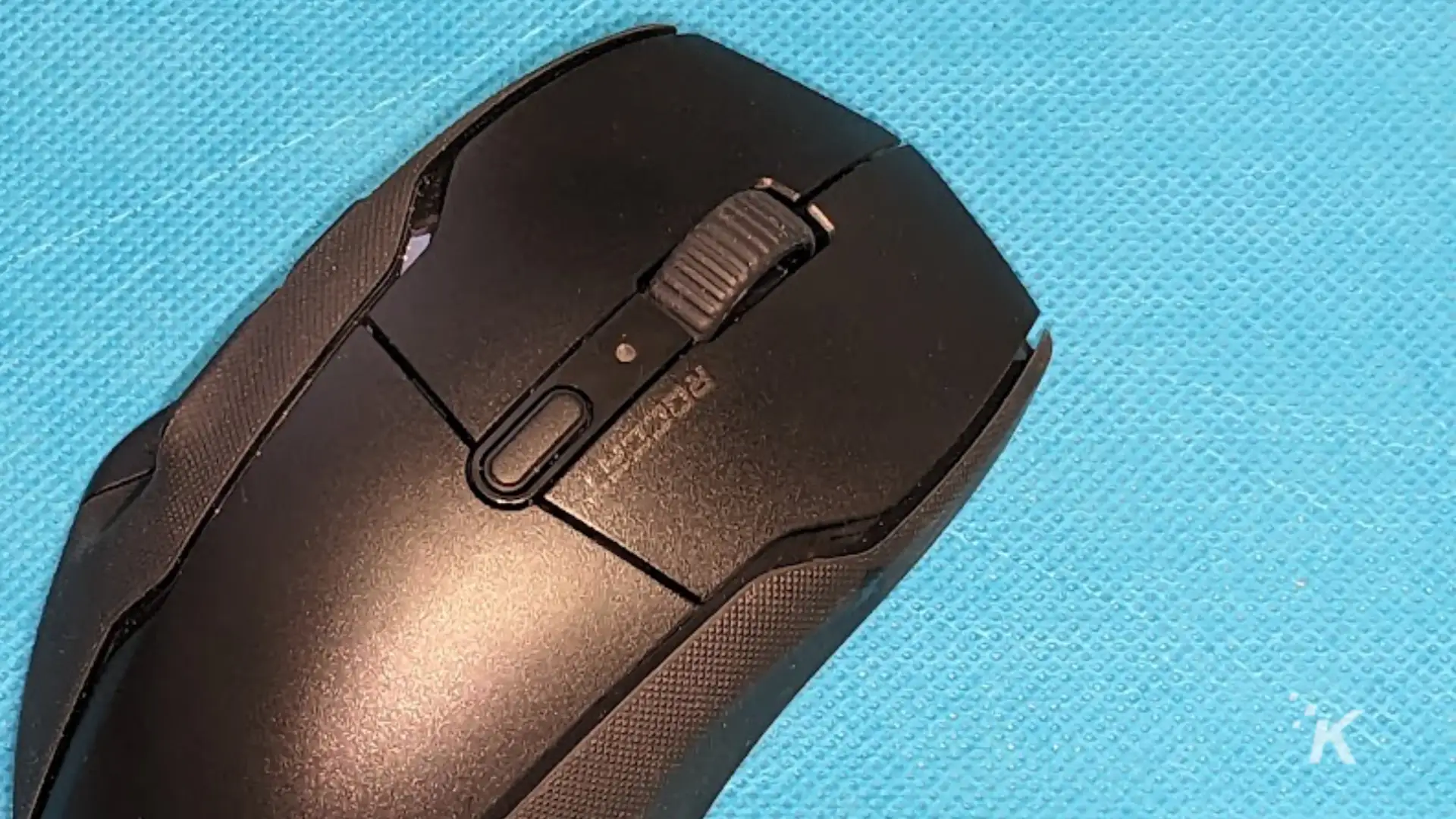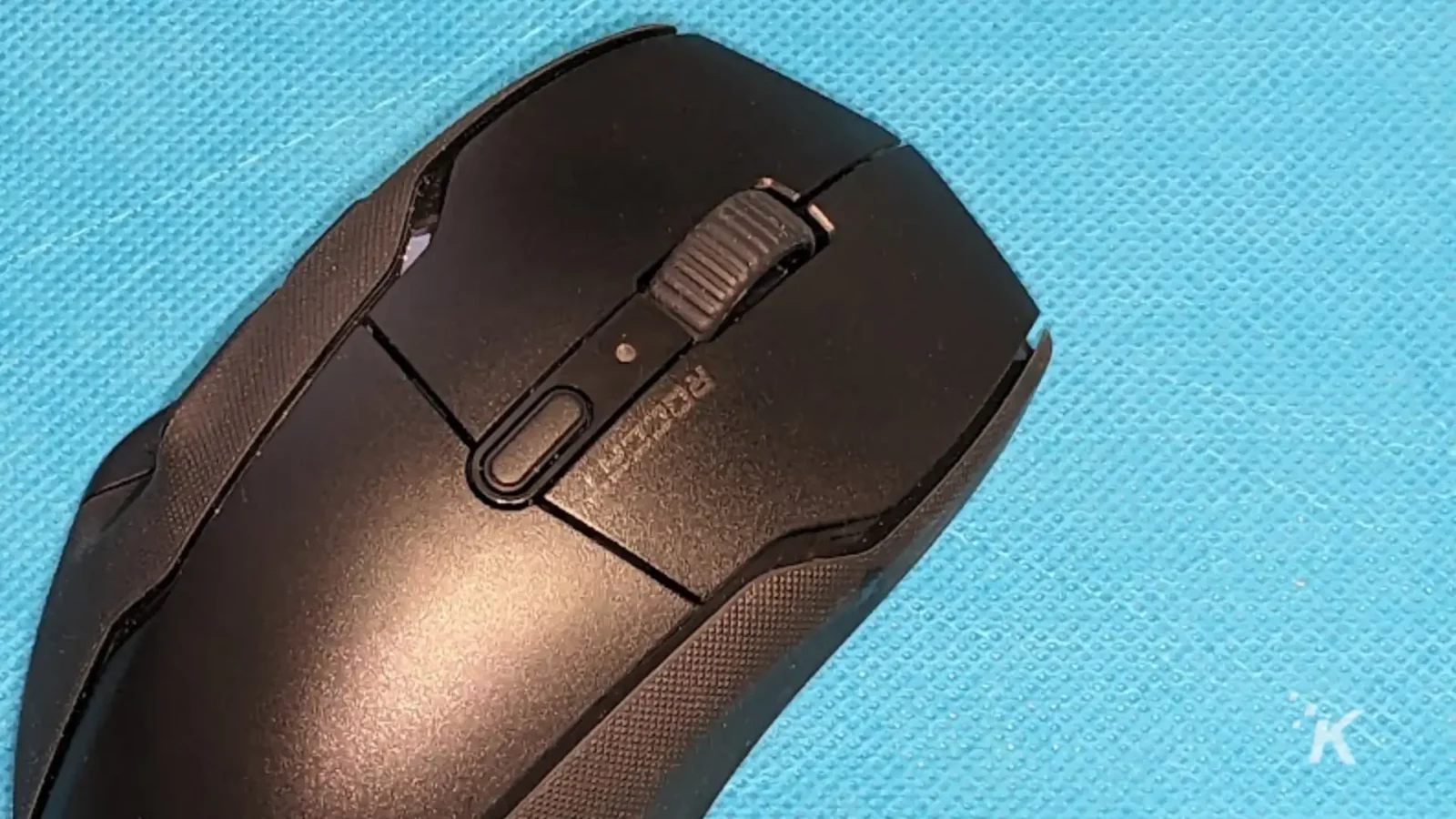 The Roccat Kone Air is actually quite heavy for a wireless mouse, more akin to the Razer Naga line of mice. It's not a problem for those who use their mice at a deck, but it could be bulky for travel purposes.
The Roccat Kone Air also has a nice rubberized grip that feels pretty comfortable in a hand. It has a really nice texture to it that doesn't feel rough to the touch.
When I look for anything I have to hold onto for long periods of time, I want something that won't make my hands sweat. It's a difficult mission usually to find something to fit my needs, but the Kone Air's rubber grip allows my hands to insulate well.
Color options
The Roccat Kone Air comes in two color options: black and white. My Kone Air mouse is a black model. 
Unfortunately, white mice and controllers usually eventually start to retain the oils from your hands, so the black option hides that very well.
If I, someone who sweats pretty profusely from my palms, were to come back and edit this article a year from now after heavy use, I probably would still retain my stance on this.
Despite the basic color options, the mouse, as mentioned, doesn't offer any LED lights to offset the simplicity of the color. So, if you're looking for a plain, professional-looking gaming mouse, you're looking at the right option here.
Roccat Swarm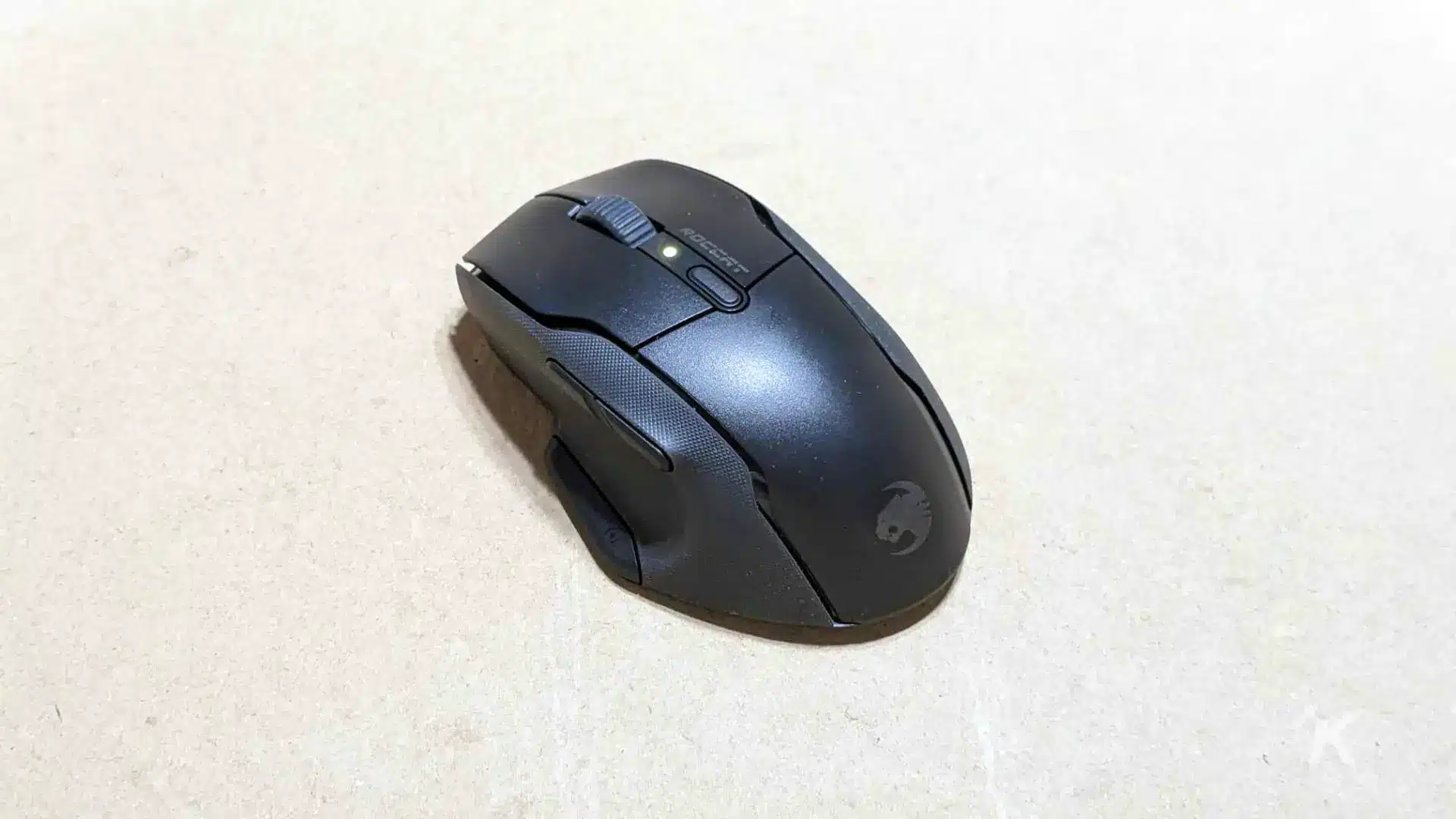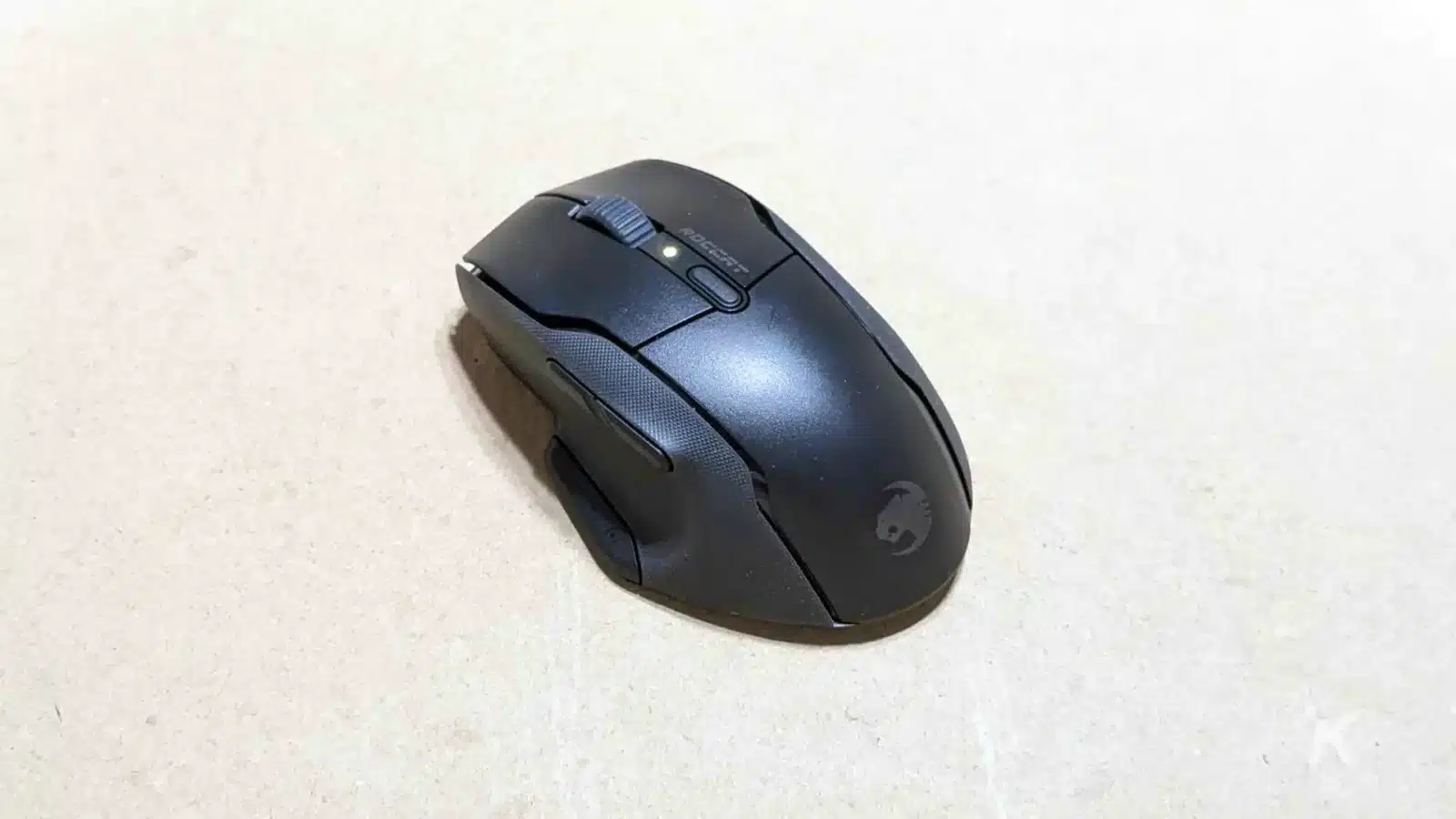 As with most Roccat products, the Roccat Swarm program offers your updates, firmware, and the capability to customize your hardware.  Honestly, the amount of options that this mouse packed surprised me. 
If you head into the Swarm app, you'll see a ton of configurations. You can affect some basics, like your scroll speed and pointer speed, as well as a DPI switcher. 
You'll also notice your Hz polling rate and a nice battery life toggle that you can set up to alert you about your battery. But it's the button assignment settings that caught my attention most.
Since the ROCCAT Kone Air doesn't offer nearly as many physical buttons as its rivals in the world, you could easily miss an interesting feature that is built into the mouse.
There is a bottom button seated below where your thumb likely is sitting with a + sign on it. While you can change this to any macro or setting you please, it automatically comes pre-assigned with a feature called Easy-Shift+.
When tapped, it doesn't affect anything, so those of us out there with clumsy sausage fingers will likely tap it often and not have anything happen.
But, when held down, it allows a new set of functions to happen for each mouse button, similar to an FN key on a laptop.
Since ROCCAT is owned by Turtle Beach, it seems that the presets lean toward music, affecting playing tracks and volume. But these can be changed to anything you please, especially if you need them for extra gaming macros.
It's really a nice touch and doesn't feel like it impedes your daily use.
Alternatives
Final Verdict
The Roccat Kone Air gaming mouse is not a perfect mouse. But, as a mouse that wants to look like a business professional while still having the charm and feel of a gaming mouse, it balances well.
While there are likely smaller mice that offer wireless or Bluetooth functionality, the Kone Air excels at having a long-lasting lifespan on any amount of batteries while also offering modern conveniences like macros.
It doesn't feel like a boring ergonomic mouse in your hands, and it keeps your sweaty palms dry. It's almost like it's trying to be stealthy in how good it is, and it's working.
It may not be the prettiest, glowing-est mouse out there, but it does its job very well.
Have any thoughts on this? Drop us a line below in the comments, or carry the discussion to our Twitter or Facebook.
Editors' Recommendations:
Just a heads up, if you buy something through our links, we may get a small share of the sale. It's one of the ways we keep the lights on here. Click here for more.
Follow us on Flipboard, Google News, or Apple News