Review: Turtle Beach Recon Cloud
The mobile-first Recon Cloud controller for Xbox is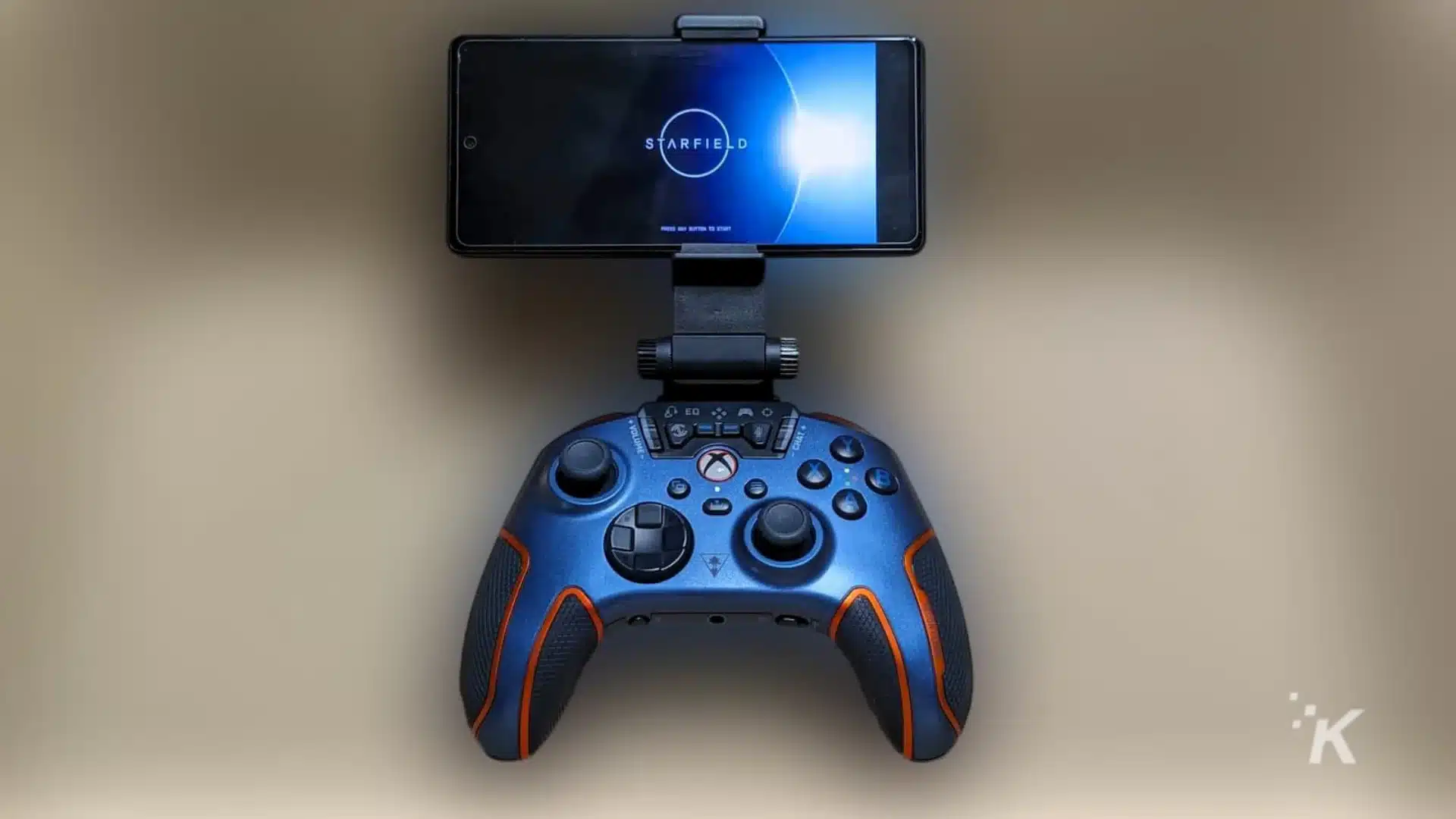 Turtle Beach Recon Cloud Wired Gaming Controller
Quick Verdict: The Recon Cloud takes their solid wired controller line and adds Bluetooth. Unfortunately, they leave some of their original audience behind with compatibility issues on PC. But, if you're buying this for your phone to play games, at least you can mount it to the controller and it connects to your Android really well for that specific purpose.
Pros:
Shape and weight is identical to their other Recon controllers

Full-sized buttons

Mount is easy to use and holds phones well

Can be connected directly to make it a normal Recon controller
Cons:
If you want to use it on a PC, you have to jump through a ton of hoops

Mount requires thinner cases or no case at all on your phone, it determines center of gravity, and will push down on your volume button

Mount detaches and turns into a stand that won't stand up on its own when phone is attached

Superhuman Hearing only works when directly plugged into a PC or Xbox

No phone app for firmware or additional options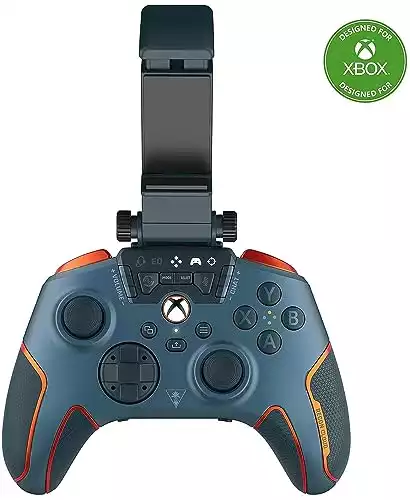 KnowTechie is supported by its audience, so if you buy something through our links, we may get a small share of the sale.
Fans of Turtle Beach's Recon line always know that they make good wired Xbox and PC controllers that are comfortable and inexpensive.
So, when they put out the Recon Cloud controller that works on Bluetooth for mobile, PC, and Xbox, it's a no-brainer that it'd work great, right? Right?
It has some great uses and features. But, the good and the bad, at times, can outweigh each other from moment to moment. It's not a bad controller by any means, but we'll explain more ahead.
Who is the Turtle Beach Recon Cloud controller for?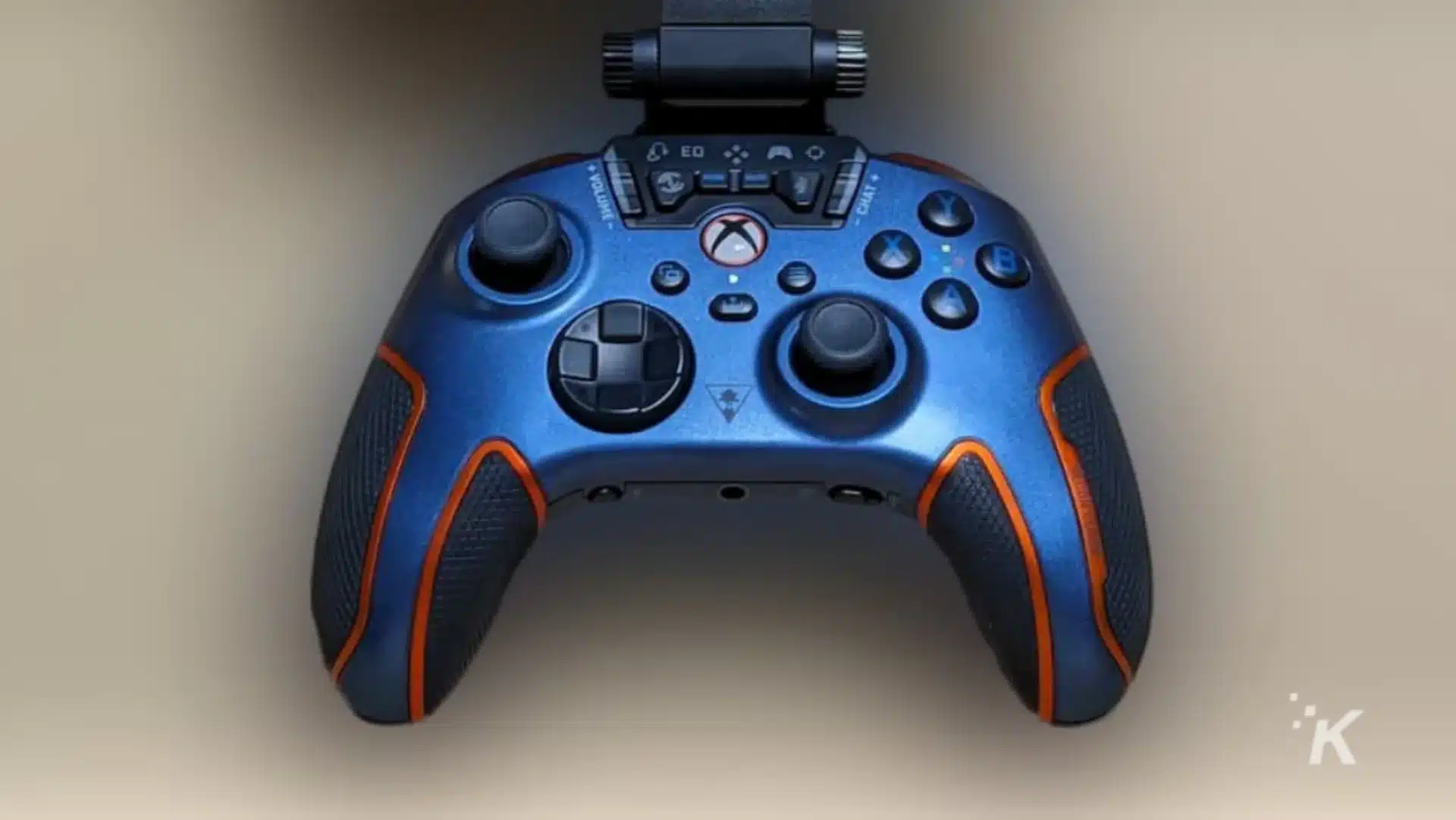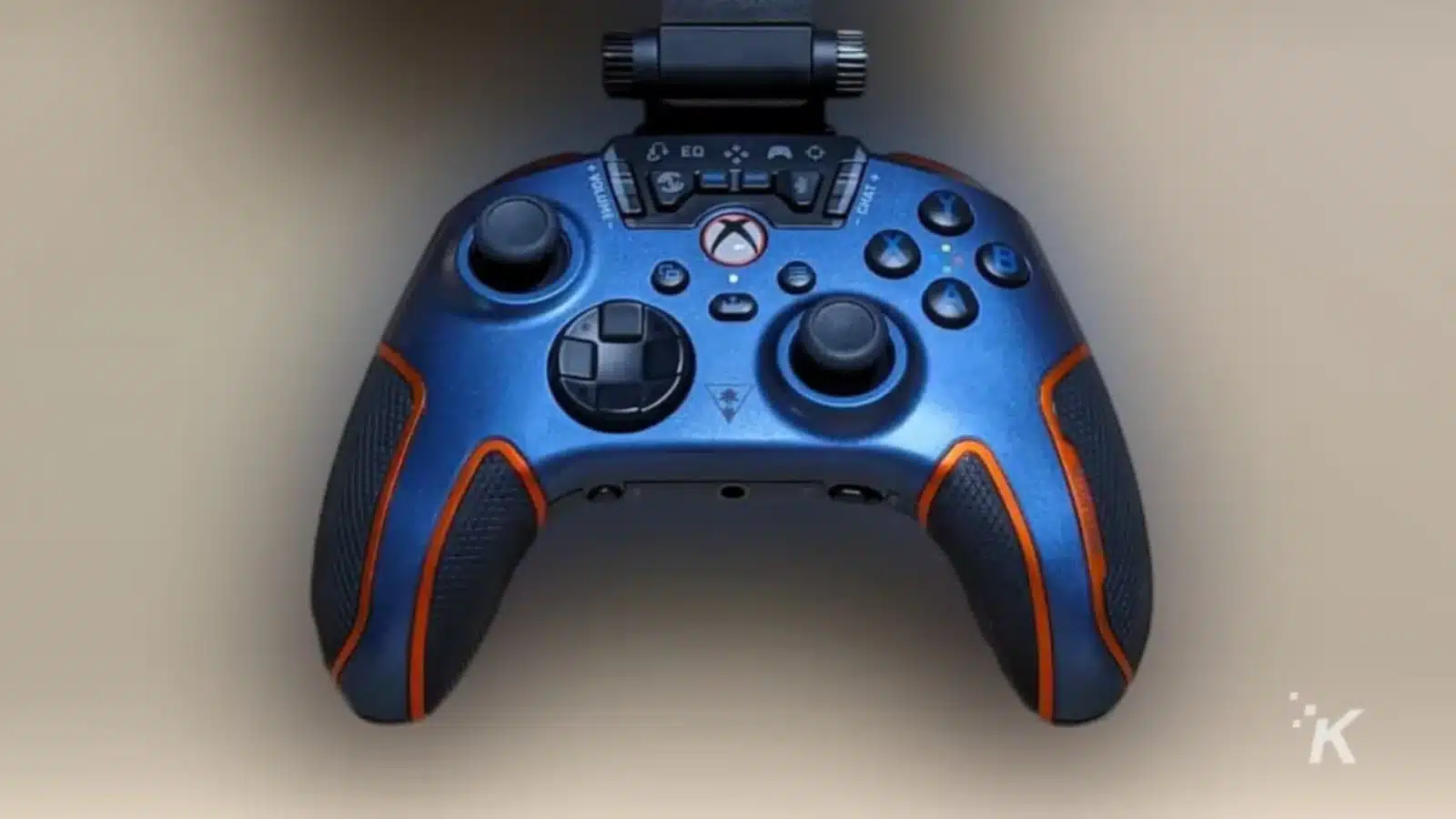 The intended user of the Recon Cloud controller is anyone who plays controller-ready games and services on their Android devices. While it works with PC or Xbox, you'll need a cable for those platforms.
Meet Therabody's All-New TheraFace Mask
TheraFace Mask is a breakthrough FDA-cleared LED skincare mask with added tension-relieving vibration therapy. Clinically proven results include firmer, smoother, healthier-looking skin with a visible reduction in fine lines, wrinkles, and uneven tone in as little as 8 weeks
The Recon line of controllers always focused on Xbox and PC players since they came out, with affordable alternatives to an official Xbox Controller.
The problem that players have always had is that it was wired only.
The Recon Cloud was designed to be intended to solve that. But, they put a new focus on Android users, relegating Xbox and PC users to second place.
Turtle Beach Recon Cloud Features and Specifications
Technical details and specs
| Feature | Details |
| --- | --- |
| Connection | Wireless 2.4GHz between modules, Bluetooth to Android Devices |
| Battery Life | 30 hours |
| Charging | USB-C |
| Audio Port | 3.5mm audio port for stereo audio output & microphone input |
| Product Weight | 0.306 Kg / 0.67 Lbs. |
| Product Dimensions | 155x63x110 / 6.1" x2.48"x4.33" |
| Box Contents | Recon Cloud controller, USB-C to A Cable, quick start guide, Turtle Beach sticker, One Month Free Subscription to Xbox Game Pass Ultimate (not mentioned on their website, but is mentioned on the box) |
| Compatibility | Xbox Series X |
Design and layout
For what it's worth, the Recon Cloud controller is nearly physically identical to its older Recon siblings. That's a good thing, as those are some of our favorite controllers for Xbox.
One thing of note is that the grips on the Recon Cloud feel like a different material than the others in the line. Instead of a rubbery texture, the Recon Cloud feels and looks more like a softer, glossier plastic.
The screw hole for the mount is on top and out of the way, while the Bluetooth button and switch are in a perfect spot not to get hit by accident.
The Recon Cloud comes in two color options: Black and Blue Magma. The one we used to test was Blue Magma and reminds me of something right out of modern Halo or Destiny games.
Since the Recon line are Xbox controllers at heart, they are actually fully licensed by Microsoft. This means that the Recon Cloud controller keeps the same layout as a normal Xbox controller.
Speaking of the Xbox dome button, for some reason, the plastic used on it is much softer and easier to hurt than the original Recon controllers.
I accidentally pushed on it with my fingernail, and now there's a long slash indent in it.
I tested my original Recon controller, and no matter how hard I pushed on it the same way, it wouldn't indent the dome. I tried it again on the Recon Cloud, and now there are two indents.
The phone mount isn't perfect
The mount for the Recon Cloud is one of the highest-quality mounts I've seen in this style. As a clamp, it does really well.
If you want perfect balance, as all things should be, you likely want to have your phone centralized to the Recon Cloud controller. But, the mount clamps hard onto the volume for some phones, so you have to push it slightly off balance.
You can feel that pull to the side as you're playing. It's not a dealbreaker here, but definitely should be noted.
The mount also has a major problem for people with chunky cases. The Recon Cloud only clamps onto thin cases or caseless phones.
If your case is just too thick, you have to remove your phone from its case entirely. As someone with carpal tunnel and shaky hands, I just have to trust that the clamp is holding it well, which it is. I won't be able to be helped if I drop the entire thing, though.
The mount is supposedly designed for two modes: attached and stand-alone. When attached, it's sturdy, and it does its job.
When detached, with the leg stuck out, it won't stand up straight no matter how hard you try if a phone is strapped into it. When you potentially don't have a case on your phone so the clamp fits on it, that can be scary.
PC and Xbox compatibility
So, the compatibility is where things really start to fall apart. You can almost excuse the mount issues if it wasn't so difficult to get the Recon Cloud controller to work on a PC.
You see, the Recon line, as mentioned, has always been for the Xbox and PC. While the controller connects almost effortlessly to your Android phone, the box notes that it was "made for Xbox" as well.
Sure, it's "made" for Xbox, but the controller doesn't have the option to connect wirelessly to one. You can connect it by wire, like a normal wired Recon controller, with the included 10-foot cable.
Being Xbox-compatible means that it should be PC-compatible as well. Well, just like how the Xbox version is sort of compatible, PC is a different kind of "sort of".
Understandably, this controller can't be everything you want it to be. When plugged in via the USB-C port to a PC, it functions identically to my original Recon controller.
But, I didn't want just to replace my older black Recon. I wanted a wireless version to work with Bluetooth on my PC.
It connects via Bluetooth, that's not the problem. But, for some reason, none of the buttons work that easily.
You have to manually configure every button for whatever game or loader that you are playing on. For instance, their help page only shows how to set it up on Steam, with outdated instructions.
My wife is a gamer, and I told her she could use it on her PC. But, she, a normal PC user and gamer, would have to individually calibrate her buttons for the games she wanted to play.
I showed her how to calibrate it from Turtle Beach's website, and after about 2 minutes in the Halo Infinite menus, the Bluetooth was acting up when trying to connect. So I had to plug it in.
As always with Turtle Beach, it's a software issue. The controller plays without a single hiccup on my Android-based Google Pixel 6a phone, so why does it have so many issues with Windows?
In fact, I tried it out on both my Pixel 6a and my much older Pixel 4a, playing Halo Infinite on the included 1-month Xbox Game Pass trial. It worked fantastically on both.
Nothing wrong at all. Every button works, and the easy Bluetooth setup is a breeze. It's a shame it doesn't work like that on PC.
Battery
The battery life, according to Turtle Beach, boasts 30 hours. Based on my testing, it's not far off from that.
I used the heck out of it in games and then left it on by accident, only to come back to 75% battery left. If you leave it idle for long enough, it will apparently turn itself off.
Comfort and weight
If you're looking for something that weighs roughly the same as the original Recon controller, you're in luck. The controller has a bit of heft to it.
In fact, it's even slightly heavier than its predecessor due to the extra Bluetooth and features built into it. With a phone and mount attached, it's close to the weight of a Nintendo Switch, but top-heavy.
As this controller is definitely meant with travel and portability in mind, it's important to note that this controller's weight or design just isn't really actually designed for either.
What is definitely a plus is the larger buttons for someone like me. With fat sausage fingers, the Recon buttons are always going to win me over compared to the smaller buttons on the newer Turtle Beach Atom Mobile controller.
But, for the sake of travel and portability, bigger buttons mean more bulk. Unlike the Atom, which could easily slip into your pocket or a purse, the bulk on the Recon Cloud just wouldn't fit. So, I digress.
Firmware, features, and programs
As mentioned when talking about the PC compatibility, this is a Turtle Beach product. So, you know that the hardware is superb, but the software capabilities are not.
Honestly, there isn't much to say in terms of the firmware updater. While some Turtle Beach products get some detailed programs for customization, the Recon Cloud is relegated to "just a firmware updater".
Not only is it nothing special, but you have to connect it by wire to your PC to update it. It feels archaic and could be improved with a cleaner UI.
The controller, like its predecessors, includes some extra buttons near the top of the controller. These are Turtle Beach hallmarks and are identical to the older Recon controllers.
Pro-Aim works anytime if you set it to be on. It slows your right stick speed down just a little during crucial moments to get a steadier aim in first-person shooters.
Superhuman Hearing is pretty fantastic like it always is on their headsets. It changes the speakers to help people hear gunshots or footsteps better when in fast-paced games.
There is a caveat here, though. Superhuman Hearing only works when directly plugged into a PC or Xbox. If you're looking to plug a 3.5mm headset into the bottom of the controller, it will not work at all on Bluetooth.
This means that using the controller the way that it was intended cuts you out of many of the features. You lose access to Superhuman Hearing, EQ presets, volume controls, and mic monitoring.
If you're looking to configure any of the buttons, such as the back triggers, it's all done within the controller itself. Just use their manual or online tutorial if you want to mess with those settings. You'll thank me later.
Alternatives
09/24/2023 12:31 am GMT
Final Verdict
If your intent is to use this controller as a quick way to play games away from your desk or TV, the Turtle Beach Recon Cloud is perfectly fine and capable of doing just that.
If you were hoping for something more, I recommend checking out the alternatives we mentioned earlier.
For people who travel, there are more travel-capable Android-compatible controllers. If you were hoping to get your Recon wireless to your PC to replace your wired one, don't bother.
The Recon Cloud had the potential to be a versatile one-stop-shop for your controller needs. It, unfortunately, leaned too hard in one direction and left its original audience behind.
For the $79.99 price tag, you could just design yourself an official Xbox controller on their Design Lab. Or, you could consider any other controller offering, such as the Atom Mobile controller, for the same price.
For people who need a real controller in their hands and have a thin case on their phone, the Recon Cloud excels in that aspect.
It just doesn't excel much anywhere else.
Have any thoughts on this? Drop us a line below in the comments, or carry the discussion to our Twitter or Facebook.
Editors' Recommendations:
Follow us on Flipboard, Google News, or Apple News