Review: Turtle Beach Atom Controller for Android
This surprisingly well-made controller for your phone can play Halo… on your phone.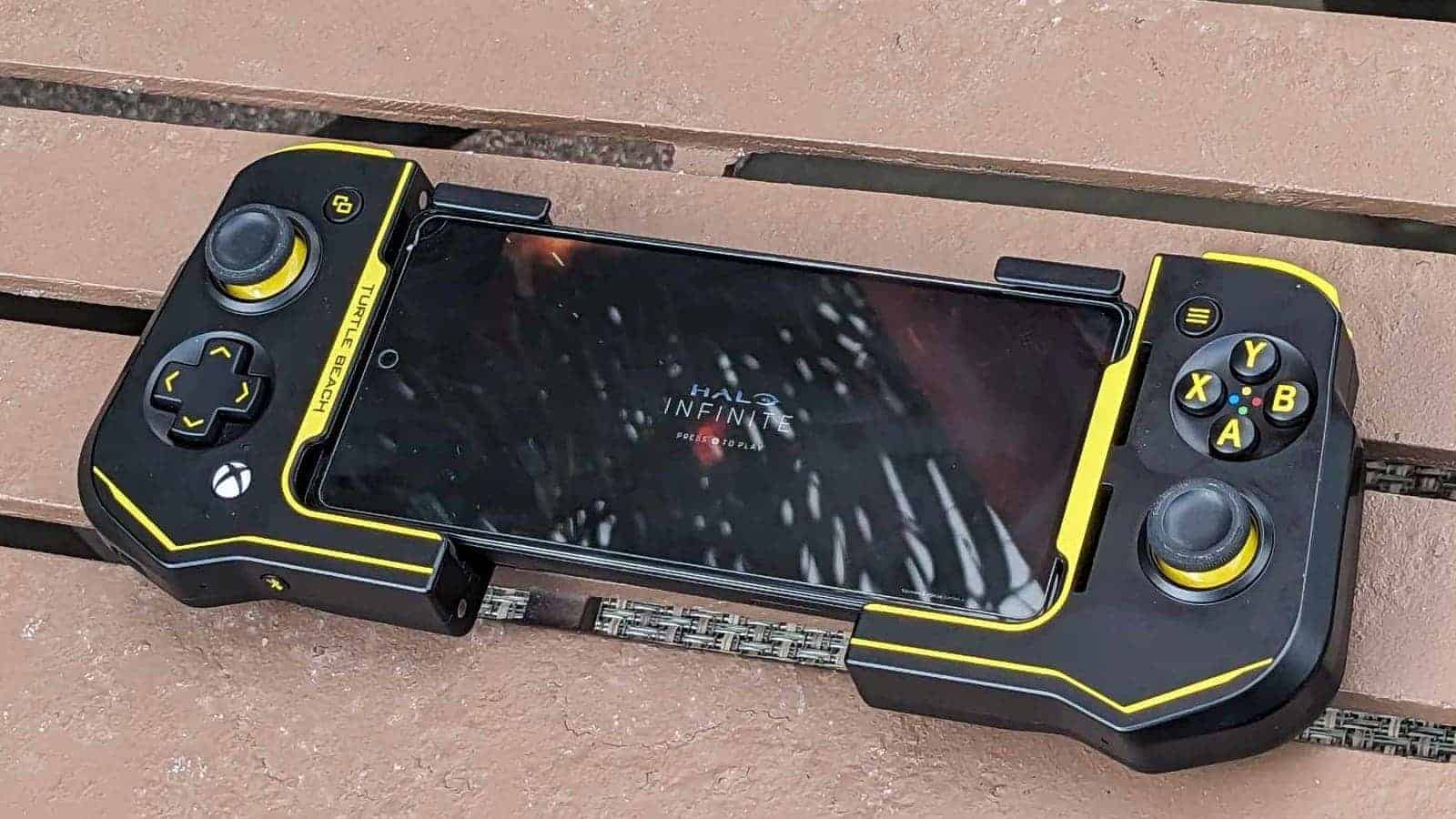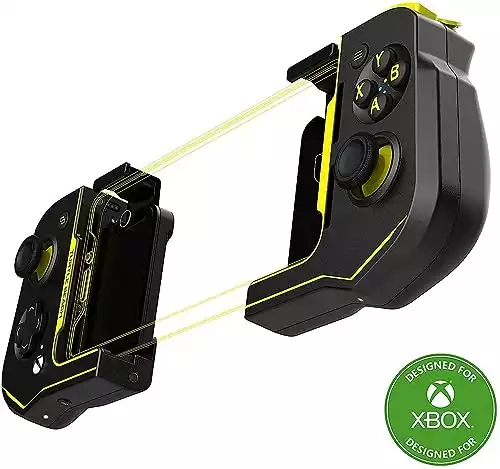 Turtle Beach Atom Mobile Game Controller
This surprisingly well-made controller for your phone can play Halo… on your phone.
Quick Verdict: While it isn't perfect by any stretch, the Atom Mobile controller is comfortable in your hands and incredibly easy to take on-the-go. If you're used to a normal Xbox controller, you're going to have to relearn all of your muscle memory. But, it plays Xbox Game Pass Cloud games on Bluetooth without a single hitch.
Pros:
Compact and easy to store in a bag

Super lightweight and doesn't feel clunky

Bluetooth connection works like a charm

Makes your phone feel like a Nintendo Switch Lite

Comes in multiple colors
Cons:
A bit expensive for a mobile controller

Android versions don't include the iOS version's rubber pad accessory

Doesn't work with phones that have chunky cases

Plastic feels cheap

Can't charge your phone while in use
KnowTechie is supported by its audience, so if you buy something through our links, we may get a small share of the sale.
09/24/2023 12:31 am GMT
We're in a new era of gaming, where you can play your games at home on your console or PC and then play the same exact games on your phone as well. But mobile games have come a long way since the era of Snake on your old Nokia brick phone.
Nowadays, games like Genshin Impact run nearly identically on your PC as it does on your mobile device, giving you a full adventure RPG anywhere you want to play.
With cloud services like Microsoft's Game Pass, the options then become exponentially higher. Gaming on your phone is kind of clunky, though, with touchscreens not being optimal.
Enter the Atom mobile controller from Turtle Beach. This well-made, comfortable controller comes in versions for Android (and soon, iOS) and adds physical controls to optimize your gameplay.
Meet Therabody's All-New TheraFace Mask
TheraFace Mask is a breakthrough FDA-cleared LED skincare mask with added tension-relieving vibration therapy. Clinically proven results include firmer, smoother, healthier-looking skin with a visible reduction in fine lines, wrinkles, and uneven tone in as little as 8 weeks
Who is the Atom controller for?
Honestly, the Turtle Beach Atom Controller is for people who are constantly on the go and want to play games and not lug around bulky consoles in their carry-on luggage.
Now that mobile games have gotten to the point of being as in-depth as some major console and PC games, it's designed with the traveling gamer in mind.
For those who are playing at home with it, it's a great option for those who get tired of using their Pop Socket to hold their phone horizontally.
The controller even bundles itself up into a "travel mode", which clips itself into a small frame for sticking in a bag, which it also comes with.
If you're looking to play full-blown games that require a controller on your PC, such as those that stream from Geforce Now and Xbox Game Pass, the Atom is made specifically for you.
Turtle Beach Atom Controller Features and Specifications
Technical details
The Turtle Beach Atom controllers for Android, as you can expect, are designed to work for phones running Android 8.0 and later.
Utilizing low-latency Bluetooth 4.2 or later, they connect and can immediately be used on your Home screen and in some apps, as well as controller-capable games.
The system itself weighs in at 0.18 kilos or 0.4 pounds. That puts it around 6.4 oz.
Putting my Google Pixel 6a in adds 6.3 additional oz, making the total similar weight to a Nintendo Switch Lite. I'll go into more detail later on about this.
Games that focus on touching the screen don't work. We tried it, for instance, with several gacha-style games to no avail.
Specs
| Feature | Specification |
| --- | --- |
| Connection | Wireless 2.4GHz between modules, Bluetooth to Android Devices |
| Battery Life | 20 hours |
| Charging | USB-C, quick charge at 2.5 to 3 hours |
| Product Weight | 0.18 Kg / 0.40 Lbs. |
| Product Dimensions | 132.5 mm x 102.1 mm x 42 mm / 5.22" x 4.02" x 1.65" |
| Box Contents | Atom controller, carrying bag, USB-C to A Cable, quick start guide, Turtle Beach sticker. (Black/Yellow model includes One Month Free Subscription to Xbox Game Pass Ultimate) |
Design and Colors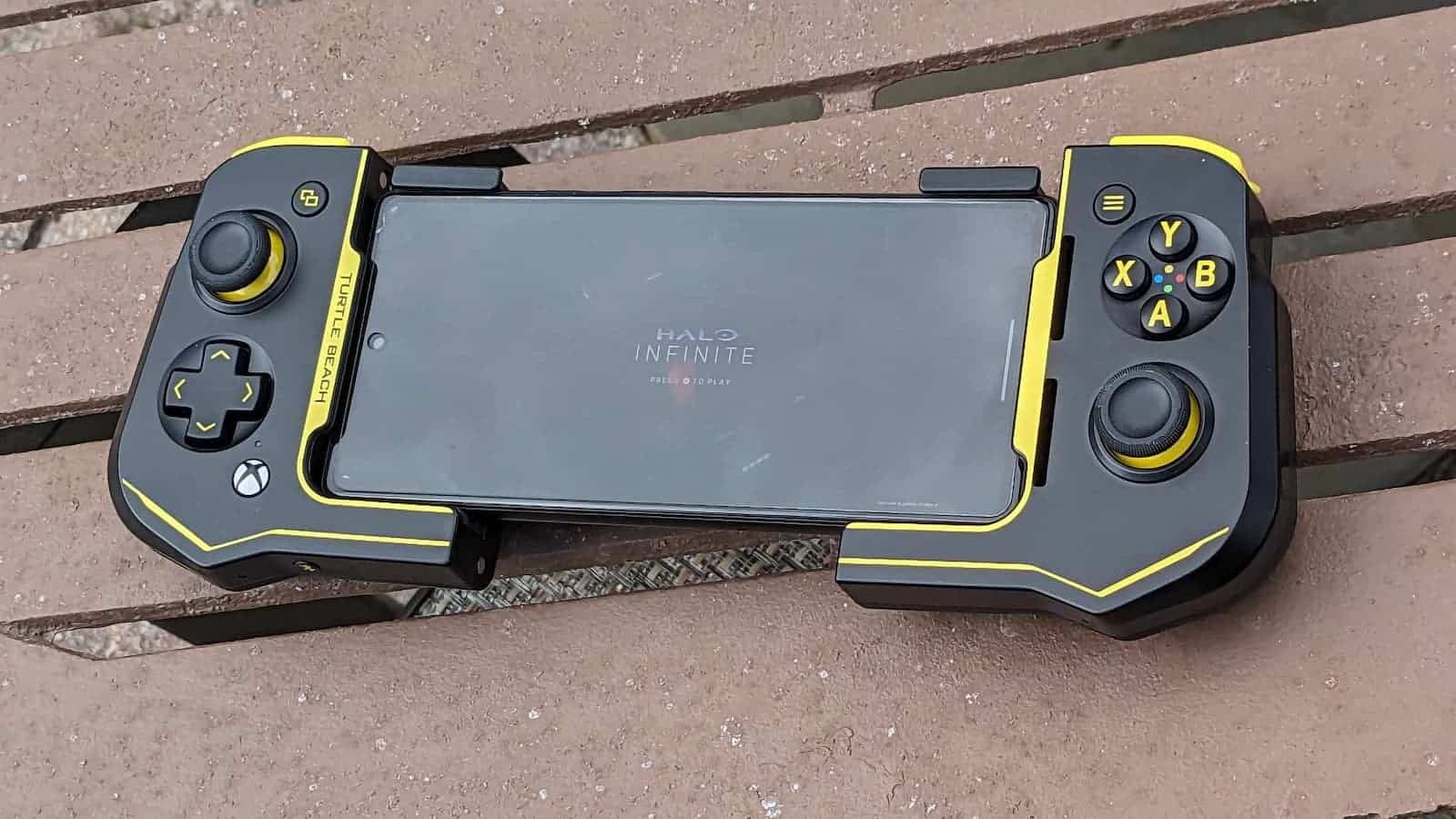 If you're on the go, people are going to see your gadgets, so style is everything. The Atom controller comes in a few flavors for specific needs and preferences.
The other Atom controller, for instance, only runs on iOS-based devices. While that one is iOS all around, in theory, they're designed to slot an iPhone in, which I don't have.
Luckily, this newer lineup is entirely Android-based for my Google Pixel 6a.
It comes in three options: Red/Black is mostly red and follows Turtle Beach's usual red motif. The Black/Teal model looks straight out of Tron. But the Black/Yellow model is definitely my favorite and looks like it should be kin to Bumblebee from Transformers.
For the sake of review, we got our hands on both the Black/Teal and Black/Yellow models. Both models are essentially the same but offer a couple of small (but noticeable) differences.
The Red/Black and Black/Teal models are definitely meant to be generic Xbox-style controllers. However, the Black/Yellow model is clearly partnered with Microsoft for some slight changes.
While the other models offer the basics, the Black/Yellow has a full Xbox logo dome button like a normal Xbox controller in lieu of the Turtle Beach logo button on the others. In addition, the left ellipsis button has been replaced by Xbox's usual "View" button.
Technically speaking, you could Bluetooth this controller straight to your PC or Xbox. We don't recommend it, but it's technically just an Xbox controller in a weird shape.
The Black/Yellow model also includes a full free month of Xbox Game Pass Ultimate. The usual $16.99 value gets you full access of their games available on console, PC, and the cloud.
Button layout
As mentioned, the Atom controller is a glorified Xbox controller in a different shape, no matter which version you decide to buy. However, if you're an Xbox elitist, throw your entire muscle memory out the door.
While the layout is incredibly similar by design, buttons are designed to be slightly more compact for the travel option. As someone with fat sausage fingers, old age, and carpal tunnel, learning the controls was like learning how to tie your shoes for the first time again.
Also, everything is smaller and buttons are shifted slightly to fit into the frame of the device. The directional pad, for instance, is now directly under the left joystick, while the right joystick is directly under the A button.
Someone younger, with smaller hands, could easily get the hang of this. But, if you're attuned to your own ways, you're going to have trouble. I'm not going to dock it points for personal preference like this, but it's definitely something you should be aware of.
Physical Compatibility Experience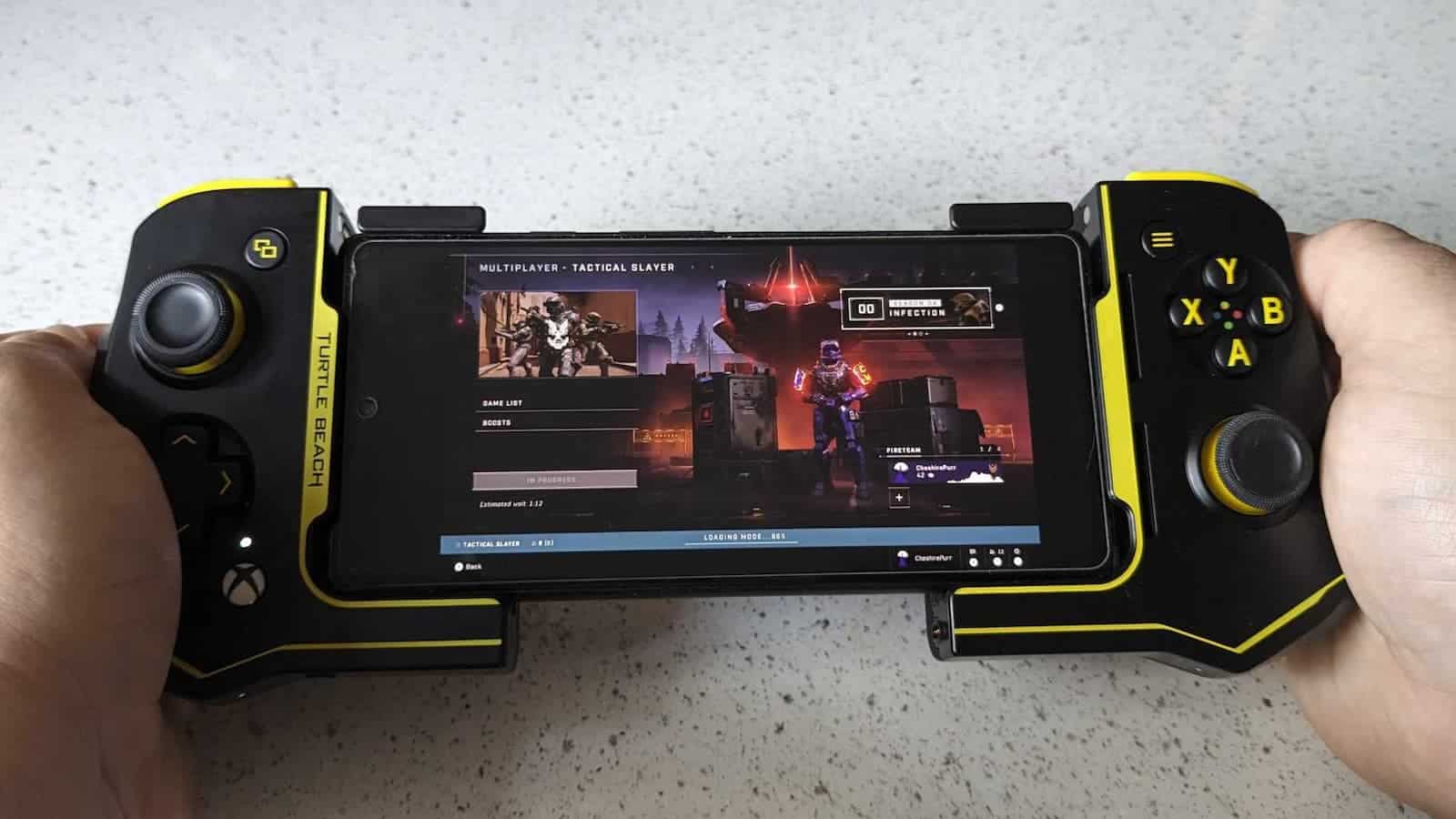 The Atom controller allows anyone to slide any size phone into it with a sturdy design that doesn't feel flimsy when everything is connected. It uses a well-designed clamp pulley system to hold it in place.
A major downside to the Atom controller is that if you have a slightly chunkier case on your phone, it will not stay in those clamp holders at all. If you're rocking a super slim case, it shouldn't be a problem.
But, if you're like me, with much thicker protection, you have to remove it from the case entirely.
If you're the type actually to need a thicker case, like an Otterbox, you might have second thoughts about leaving your phone naked just to play a game in the open air.
For comparison, the original iOS model of the controller came with additional rubber pads to allow for different-sized cases. The Android models all removed this additional accessory, and it hampers its potential.
Once out of the case, my phone fits super nice and snug right into it, locked in with the clamps. I don't necessarily feel like it's going to fall out at any time without a case on it, but if you have anxiety like me, it'll be in the back of your mind the entire time.
Battery
According to Turtle Beach's listing for the Atom controller, it boasts a 20-hour battery life. After testing, the rating holds up pretty well.
Based on my experience, I was losing battery much faster on my phone itself as opposed to the controller. But, to be fair, it's a Google Pixel 6a.
Luckily, the Atom controller also offers a USB-C port for charging, which can also fast charge. From nearly dead, it only needed a couple of hours to charge back up when I tried it.
Comfort and weight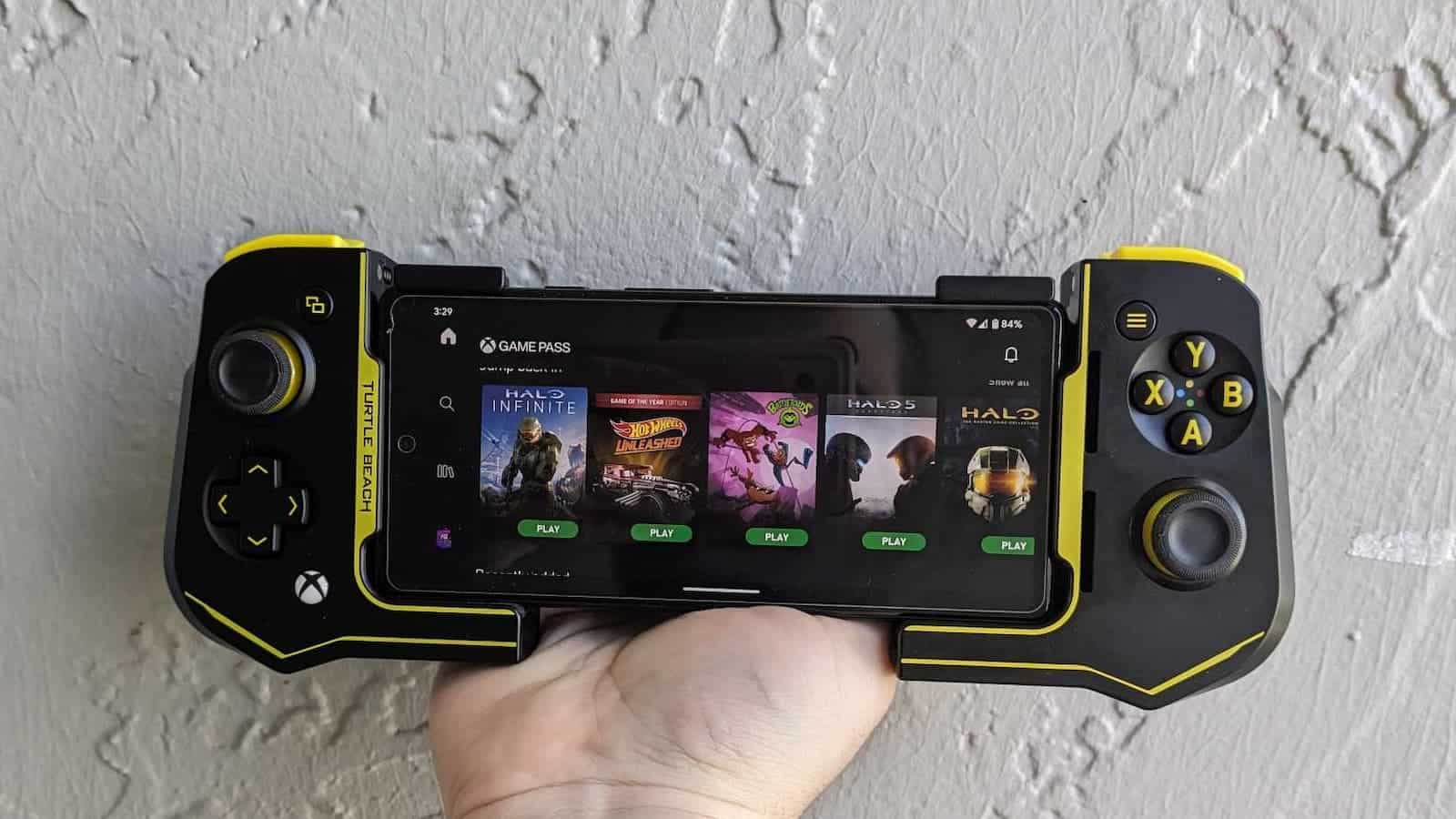 As mentioned earlier, I have carpal tunnel. So, holding a controller needs a little weight to balance my shakes out. I may be in the minority by saying that I miss the original Xbox Duke controller.
With that said, the controller without a phone in it is super lightweight. But putting a phone between them gives it just enough heft that it feels comfortable to hold for prolonged play.
Depending on your phone, the total weight places it somewhere between a Nintendo Switch and a Switch Lite, making it surprisingly comfortable for a traveling or mobile gamer as well.
The one thing to note about the physical casing of the Atom controller is that it feels like it's not made from quality plastic. It lends itself to its weightlessness but also feels really cheap to the touch.
If you're a Turtle Beach headset user of yesteryear, it feels like the same plastic used for the hinges of older models of headsets that used to crack and break over time. While this controller isn't going on your head and likely won't flex nearly as much, it's important to note here.
Atom App on Google Play
Oh boy! The official Turtle Beach Atom app is where things get a little dodgy. As per normal, the hardware itself is really good. But, the software is where you see Turtle Beach's weaknesses.
I've been a tried and true fan of the company for years, but the firmware updaters for various products have been pretty touch and go from product to product. The Atom controller app from the Google Play Store is no different.
The app itself is designed pretty basic, and doesn't feel like there is much polish to it in UI or design. It's definitely for utility and doesn't look like it was made by a multimillion-dollar company.
But, alas. Maybe I'm just being nitpicky. What can you do in the app?
In the app itself starts you on an overview screen, which offers some basic information about your Battery Power Level, Dead Zones, and Response.
In the menu, you have the same offerings, as well as a "Game Discovery" screen and a "Firmware Update" option.
Game Discovery is just a ton of icons of various games and services with zero context or titles. If you don't know the game from the Google Play Store icon, you have to manually click on it, which will just take you to its official Google Play page.
The Response and Dead Zone menu items offer some customizability, but it is pretty basic in comparison to other non-mobile Turtle Beach offerings.
I do wish there were options for button mapping or some additional customization with the Response settings. But it's not a dealbreaker for me.
Firmware Updates From Hell
Let's talk about firmware updates now. I have quite a bit to say.
I paired my Black/Yellow Atom controller to my phone and attempted firmware updates from the app. The system starts with version 1.0.1.0, out of the box, which is great to get going in games immediately.
Then, they introduced a new term to me that doesn't appear in any paper manuals or on the box, which is called "Travel mode" during the update.
Based on the image, I figured out that that just meant that it has to be closed up, like if you're not playing with it. But, for less technical people, this could be confusing as this is the only place that the term is used at all.
I attempted the firmware update, which said it was successful. But, it didn't change the version on any screen. I rebooted the app and tried again and again. Nothing.
It said that the newest version was 1.0.6.0, but I still had the base version installed according to the app. I gave up and moved on since it still played games like a gem.
I opted to pair my wife's phone, also a Google Pixel 6a, to the Black/Blue Atom controller. Doing the firmware update worked on the first try with no issues whatsoever. It immediately reflected the update, and we were good.
I decided to try it again with my phone, but I didn't need to. When I came back to the app the next day, it had the new version ready to go.
Version 1.0.6.0 is from at least January 2023, but it works perfectly fine as-is.
Xbox Game Pass and other cloud services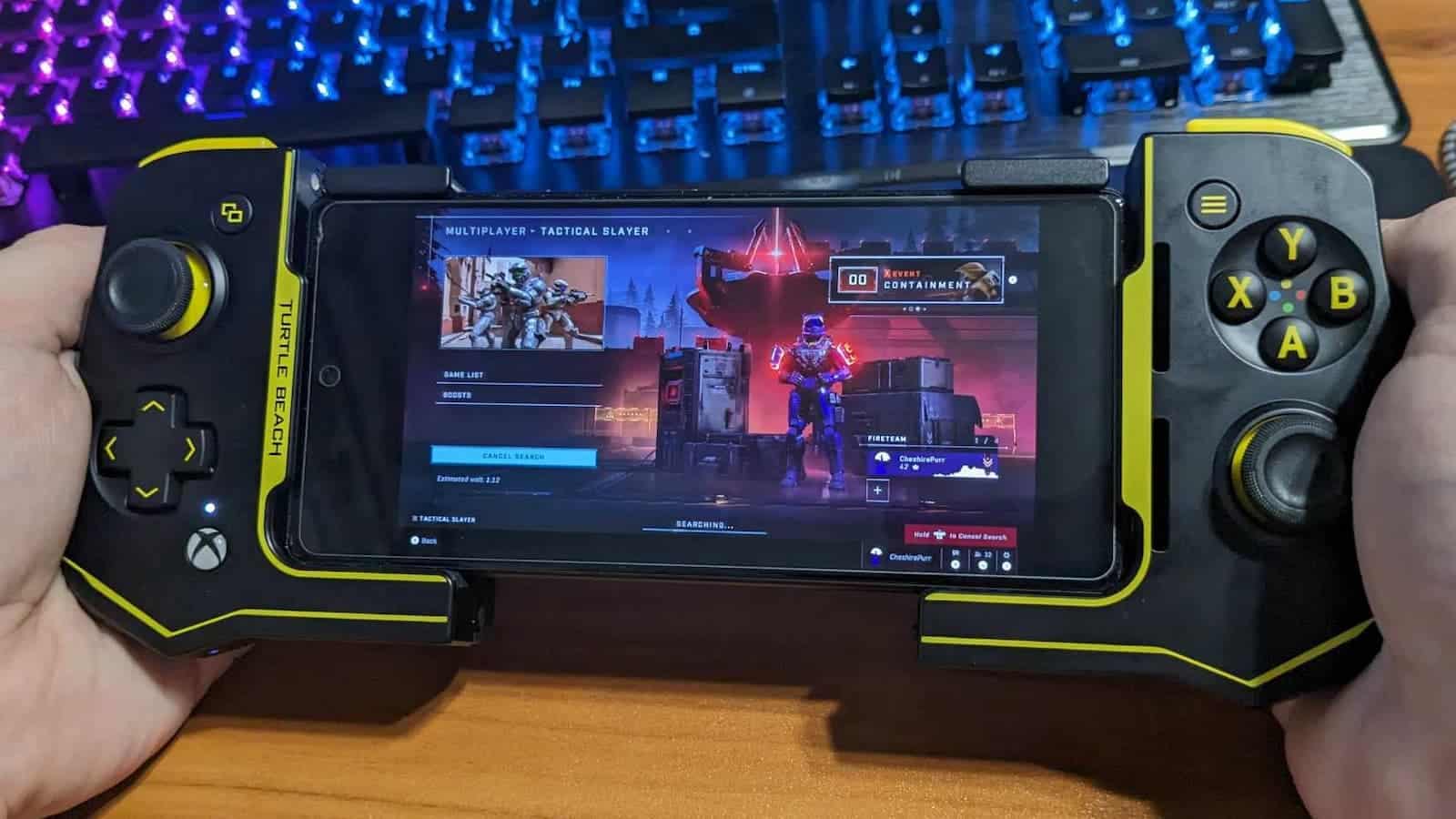 I mentioned Join%20Xbox%20Game%20Pass%20Ultimate%20-%20Ultimate%201%20Month
" data-lasso-id="442223″>Xbox Game Pass app from Google Play, I dove into my options. While the obvious choices are PC and console experiences, mobile phones utilize the Cloud option.
The app runs smoothly as well, honestly, on good Wi-Fi. But how does the Atom controller stack up during play?
I jumped into Halo Infinite on my phone, all suited up with my Atom controller. And, aside from my sausage finger problem previously noted, it was really smooth.
Similarly, I pulled up the more recent iteration of Battletoads and played several levels with no issues.
What I've started to understand is that if you're playing more fast-paced games like Halo or Forza, you need to tinker with the basic Response settings in the Atom app.
If you're more diverse with your mobile gaming, GeForce Now, Steam Link, and Amazon Luna, if you so wish, as well as a multitude of Android games on Google Play.
Alternative mobile gaming controllers
If this particular model just isn't your cup of tea, there are some great alternatives out there from other brands and companies.
09/20/2023 01:56 pm GMT
The good news here is that literally any Bluetooth-compatible controller would work with your phone. If you have a modern Xbox controller lying around, you can connect it and move on.
Final Verdict
The Atom controller, as a piece of hardware, works really well. Getting it paired on Bluetooth is a snap, and you can start playing games with it pretty much right out of the box.
If you're looking for a good controller that works well with most Android phones, the Atom controller is definitely a solid option. Aside from some minor issues and personal preferences, it's one of the better third-party controllers I've used.
But it is just a little pricey for my taste, even if it's in line with other like-minded controllers out there. If you're on a budget and don't care about the clamp experience, you can do well with a normal Xbox controller for a bit cheaper.
Even with its flaws in software and prejudice against thicc phone cases, I do highly recommend the Turtle Beach Atom Controller.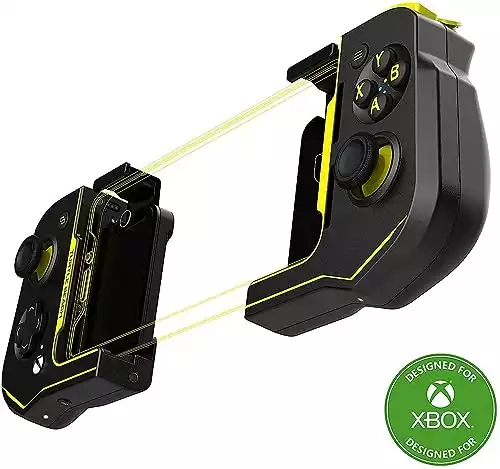 Turtle Beach Atom Mobile Game Controller
This surprisingly well-made controller for your phone can play Halo… on your phone.
KnowTechie is supported by its audience, so if you buy something through our links, we may get a small share of the sale.
09/24/2023 12:31 am GMT
Have any thoughts on this? Drop us a line below in the comments, or carry the discussion to our Twitter or Facebook.
Editors' Recommendations:
Follow us on Flipboard, Google News, or Apple News