Review: Turtle Beach Stealth Pro Headset
The Stealth Pro wireless gaming headset has great noise-canceling and surround sound.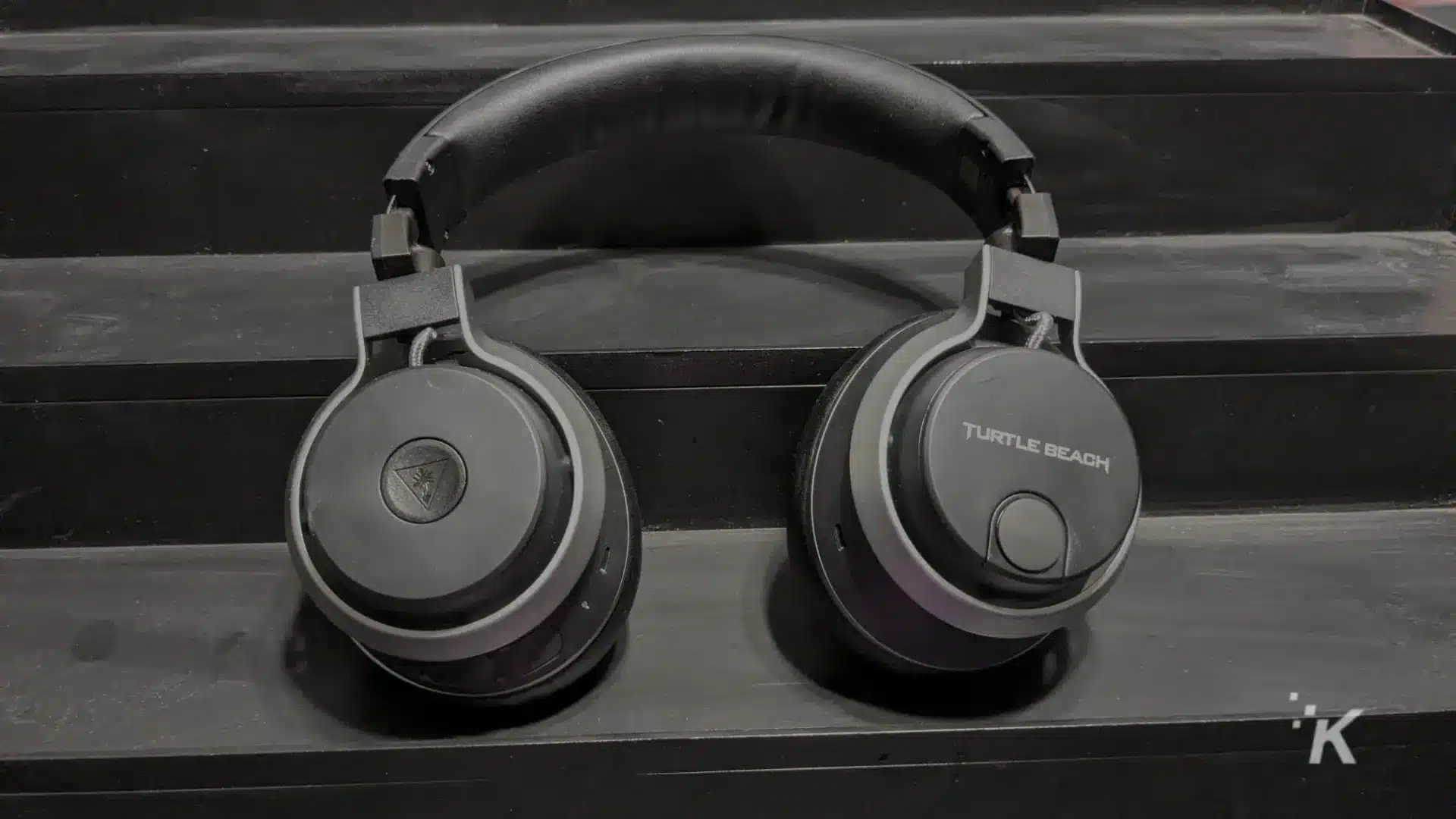 Turtle Beach Stealth Pro Wireless Gaming Headset
Quick Verdict: The Stealth Pro headset is comfortable to wear, offers amazing noise canceling and audio options, and is super easy to charge and use. I just wish that setup was much easier.
Pros:
Great audio with a stand-alone volume dial separate from your console or PC's volume

Noise-canceling really works

Comfortable to wear for long hours

Great battery life
Cons:
Set up, like most Turtle Beach items, is really rough

No ProSpecs Glasses Relief System

No light or color customizability

Mic is made of cheap plastic that melts in its port if you pull on it the wrong way
KnowTechie is supported by its audience, so if you buy something through our links, we may get a small share of the sale.
12/08/2023 12:35 pm GMT
Turtle Beach is one of the longest-running PC hardware and peripheral manufacturers. Originally making only sound cards, they now make a huge range of peripherals.
We've liked the majority of their devices that have graced our desks, and now it's time for one more. That's the Stealth Pro headset, a multiplatform wireless headset with tons of features.
This headset comes in versions designed to work with Xbox consoles and PC, or PlayStation and PC. Let's see what's up.
Who is the Turtle Beach Stealth Pro headset for?
You want a comfortable headset while you play games, watch YouTube, or listen to music at your desk. But, you don't want to pay the price for the top-of-the-line options. 
The Turtle Beach Stealth Pro headset is a great way to get some of the luxury and richness that comes with audio without breaking the bank entirely.
If you need headphones to use when walking around, this isn't the headset for you. But, for those who play action games or just want to have a good headset for your computer, you can't go wrong.
We got to dive into both the PlayStation and the Xbox versions of these headsets. Even though the baselines of these headsets are identical, both come with their own quirks and those will definitely be discussed below.
Turtle Beach Stealth Pro Headset Features and Specifications
While there may be fancier headsets out there, the Stealth Pro is no slouch. There are plenty of pros and cons to Turtle Beach's newest flagship audio solution.
| Technical Details | Specifications |
| --- | --- |
| Headphone Drivers | 50mm Nanoclear™ Drivers with Neodymium magnets |
| Headphone Noise Cancellation | Variable Active Noise Cancellation – >30dB Noise Reduction @ 100Hz |
| Headphone Frequency Response | 10Hz – 22kHz |
| Microphone | Unidirectional Noise Cancelling – >35dB Noise Reduction @ 3kHz |
| Microphone Frequency Response | 100Hz – 8kHz |
| Microphone Sensitivity | Boom: -22dBFS/Pa / Built-in: -26dBFS/Pa |
| Wireless Connection | Simultaneous 2.4Ghz & Bluetooth |
| Range | Up to 50ft (15m) |
| Wireless Transmitter | Xbox, PlayStation, PC, Mac, and Nintendo Switch |
| Bluetooth | iOS, Android, PC & Mac, Nintendo Switch & other Bluetooth Capable Devices |
Design and layout
Turtle Beach has learned over the years that people actually use their headsets. The Stealth Pro doesn't suffer from the same issues as earlier models, which had cheap plastic at pressure points.
The headset never feels like I'm going to break it, no matter how much use and movement it gets, a problem that some previous models have suffered from. This alone gives it high marks.
The buttons on the headset itself are mostly in smart places. The buttons line on the right ear cup and never feel in the way.
I say mostly, however, due to the rotating volume dial on the same side. This dial is a bane to anyone who leans their head back or touches their head at all.
Since the headset volume is independent of the primary device's volume (a smart move, honestly, for versatility), the dial must inform you when your volume is maxed out.
It does this by a double-beep in your ears, which is annoying and all too easy to trigger by brushing your arm past the dial.
It's not a dealbreaker for the headset. But it is an interesting design quirk that could have been tinkered with more for a headset at this price point.
Turtle Beach went the classic Ford Model T route for color and design options. That's black, and umm, black, with either a tiny blue or green LED that lets you know if it's the PlayStation or Xbox version.
As you can imagine, aside from the smallest differences, the PlayStation and Xbox versions are identical.
Battery
The Stealth Pro comes with multiple options when it comes to its battery. The box has two batteries, one in the headset already and another with the hub.
These batteries can be swapped out on the fly. You can also charge a battery by plugging the headset in via the USB-C type port.
As for the life expectancy of the battery, after a month of use, I've gotten used to swapping in a new battery when I get to my desk early in the day each day.
You can expect a battery to last the entire length of your workday, plus some, in heavy use. If you're using the headset for gaming only, you're going to get a lot of play from a single battery charge.
As mentioned, the batteries swap quickly and easily with the hidden magnetic cover on the side of the headset. I can almost do this process one-handed at this point without removing the headset from my head.
When turning on the Stealth Pro, a voice is programmed into it to tell you your battery level. She speaks as if Microsoft made an Iron Man suit to tell you and will pop up randomly when your battery is dying to say, "Battery level is low. Shutting off." And then the headset dies.
My only complaint is that she doesn't give you any real warning that the battery level is low before it shuts off. If you're in the middle of a match, it can throw everything if you weren't expecting it.
You can occasionally hear a "beep beep", potentially for the low battery level remaining. But, I've had that happen at a higher charge as well when bumping into the rotating volume switch. So, they're hard to distinguish.
Comfort and weight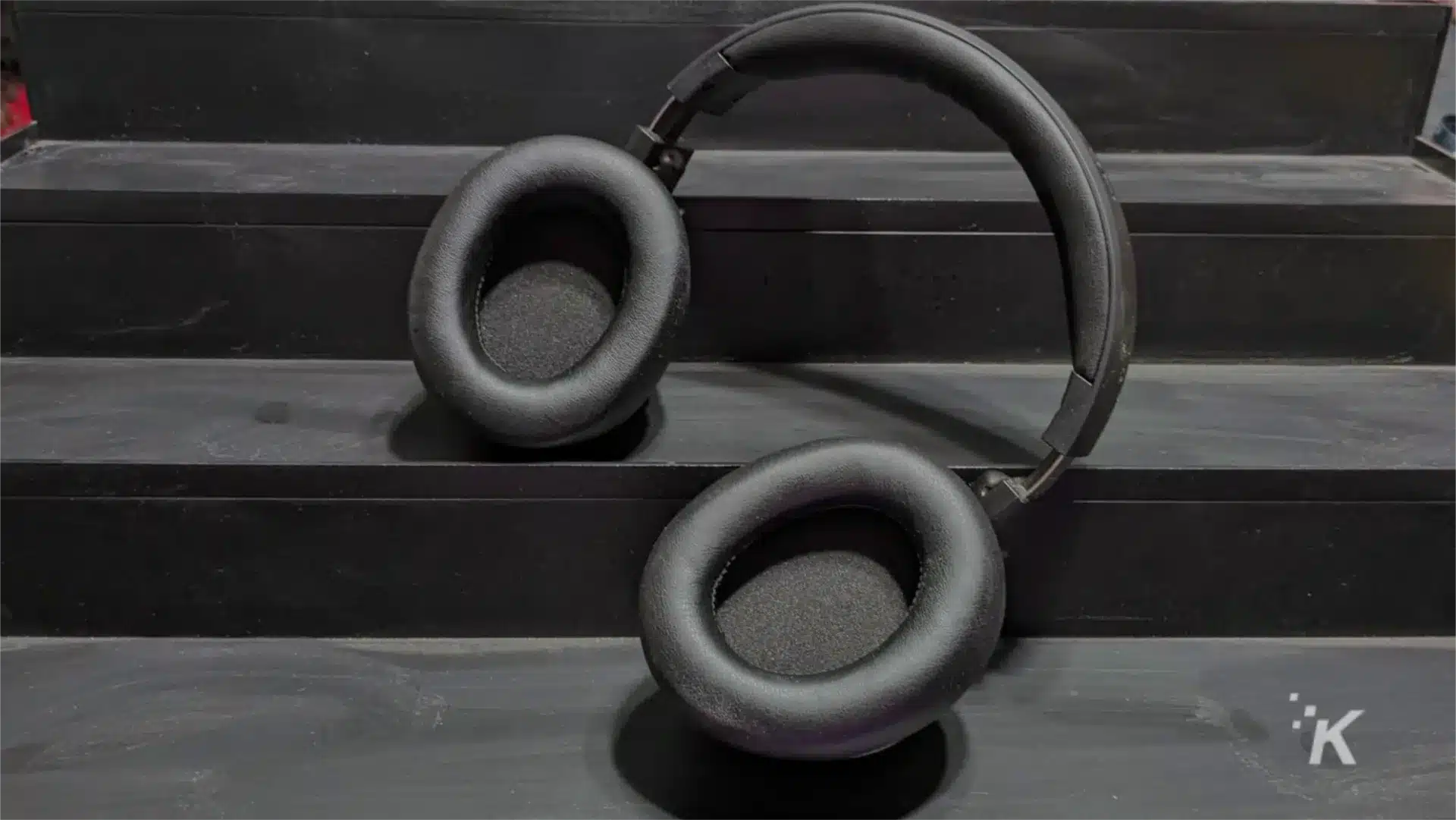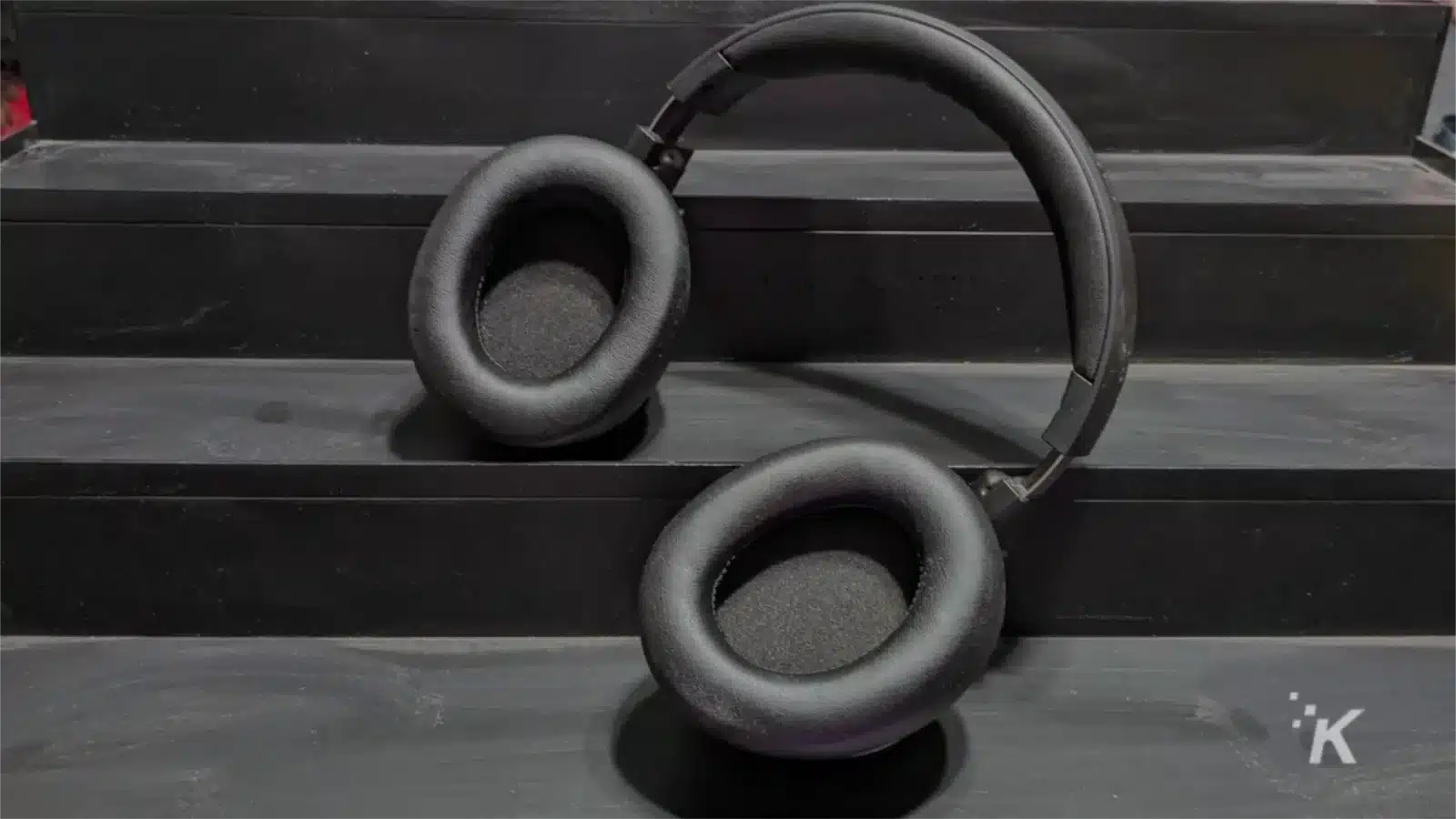 Turtle Beach is great about balancing style with comfort regarding their headsets. They've come a long way over the years.
Older Turtle Beach headsets, for instance, are noticeably heavier and clunkier to wear. Think of them as stepping stones to get to the Stealth Pro.
While the new headphones are lighter and easier to wear, they don't come without their own caveats. Nothing is perfect after all.
Wearing these for long periods can make the sides of your head and ears sweat. It takes a long time, but it's got to be something in the padding that eventually makes your head warm.
One choice that the manufacturer has made recently is to take away the usual removable, magnetic ear cups. This comes with a couple of consequences to that design choice.
First off, they're a little harder to clean if they're attached. As mentioned, you may sweat from your ears during long gaming or work sessions. It's nice to clean the ear cups every so often.
But, it also removes an important feature that I utilized personally: the ProSpec Glasses Relief function. While I don't wear prescription glasses, I do wear Gunnar brand gaming blue-blocker glasses.
This little feature would always allow you to create a notch that lets the glasses through without pushing them into your head. It was on the Elite Atlas Pro, which is significantly cheaper, and I don't understand why it wasn't featured here.
Customization options
Customization is almost non-existent, at least for cosmetics. The blue or green LED can be turned on or off, and that's it.
The Stealth Pro excels at allowing audio options to be changed on the headset without needing software.
On the headset itself, you can change the volume of the headset, with the all-too-easy-to-hit dial. You can also turn the Superhuman Hearing and Noise-canceling functions on and off.
Compatibility
The Stealth Pro headset is Bluetooth. So, connecting anywhere that utilizes that is going to work.
However, the issue comes where the hub is part of the headset. You'll definitely want to connect it to your main device to have full functionality for your headset.
When connected to your Xbox or PlayStation, this headset works like a charm. Your necessary customization like Superhuman Hearing, Active Noise Cancellation, and the manual volume dial are all built directly into your headset.
If you need to adjust any other functions, such as the equalizer, you need to get your Turtle Beach Audio Hub on mobile and connect the headset through Bluetooth to your phone. 
As for the compatibility with PC, there's a lot more to say. So, it gets its own section. (Spoiler alert: yikes!)
Turtle Beach's usual software problem strikes again
I don't know what it is about me and Turtle Beach products that refuse to work right the first time. If you're willing to take some time and frustration in your day, they're absolutely great.
But you have to be willing to put in the work.
Both the Xbox and the PlayStation versions gave entirely different issues on entirely different PCs during installation and setup.
If you're trying to connect them to a console, they connect directly with Bluetooth and they're done. No frustration is necessary.
But, if you're looking to connect these to a PC to use for gaming or day-to-day basics, you're going to need to put some work into it. Once you get past this, however, they're fantastic.
When setting up the Xbox version of the Stealth Pro, it refused to connect via Bluetooth for more than 1 minute. I'd remove it entirely from the PC and try again. Still nothing.
Then, it'd connect and work perfectly, but still not allow a firmware update. I had given up and tried the exact same steps that were given by Turtle Beach for the 5th time… and it worked.
To this day, changing my audio output setting to any other speaker option on this PC has a small chance, for some reason, of uninstalling the Stealth Pro from my PC entirely.
For the PlayStation version of the Stealth Pro, the problems were increasingly worse. I used my wife's gaming computer to have a fresh option away from the Xbox version.
The initial setup broke after the first attempt and required a full factory reset every single time it tried to connect. I tried around 7 times before giving up.
But, there is a happy ending here, weirdly. It took entirely factory resetting the headset and bringing it to our spare laptop.
It connected and worked immediately. No problems whatsoever.
After bringing the PlayStation Stealth Pro back over to my wife's PC, it worked immediately on the first try. I can't explain it, but not everyone has multiple computers to solve these kinds of issues.
If you're a fan of anything with the Turtle Beach lineup, none of these stories should surprise you. Their software, notoriously, isn't great on anything.
Alternatives to the Stealth Pro
Final verdict
The Stealth Pro headsets, even with the software issues that plague nearly all Turtle Beach products, are fantastic for the price.
If you're looking for a high-quality audio source without breaking the bank, they are a fantastic option.
Once you get past the initial setup, they excel in nearly every category for the price point.
While I wish they had more customizability with colors or lights at this price, they are amazing at noise canceling and equalizing.
They offer a ton of features once you get the Turtle Beach Audio Hub set up on your PC or mobile device. I highly recommend the Stealth Pro headset. Just know what you're getting into, if you're using them at your desk.
The Turtle Beach Stealth Pro wireless gaming headset can be found on the company's website, along with various online retailers like Amazon, Best Buy, Gamestop and more.
Turtle Beach Stealth Pro Wireless Gaming Headset
Final Verdict: One of the best, most reasonably-priced gaming headsets on the market still comes with some caveats. Despite these caveats, the Turtle Beach Stealth Pro headset provides excellent value for its price. It delivers high-quality sound and offers many features once the setup is complete. It is recommended for gamers who prioritize comfort and audio performance without breaking the bank.
KnowTechie is supported by its audience, so if you buy something through our links, we may get a small share of the sale.
12/08/2023 12:35 pm GMT
Editors Recommendations:
Just a heads up, if you buy something through our links, we may get a small share of the sale. It's one of the ways we keep the lights on here. Click here for more.
Follow us on Flipboard, Google News, or Apple News