Review: The UPLIFT Desk adjustable height standing desk – Stand up for your health
An UPLIFTing experience.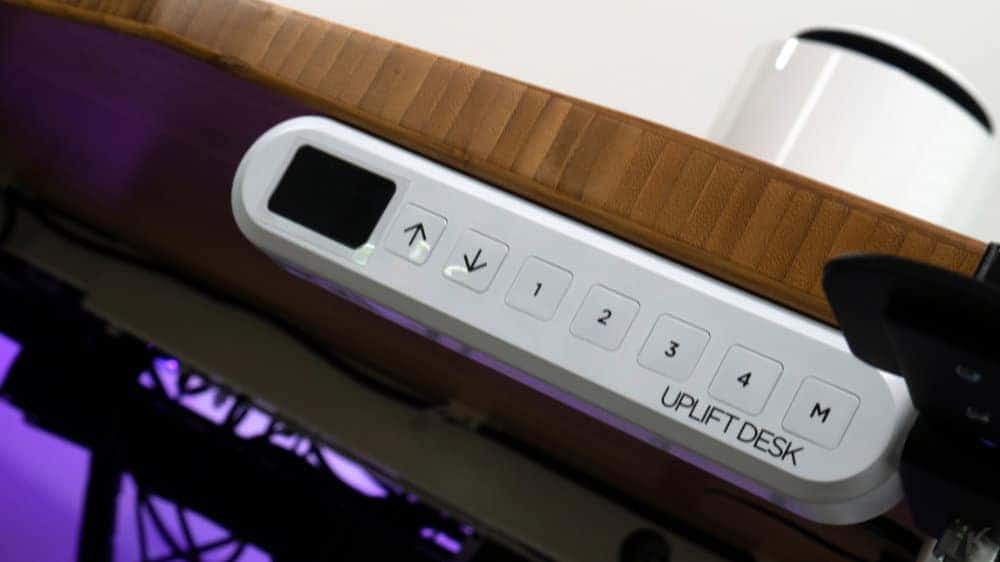 The Good
Solid as a rock at all heights
Multiple desktop materials if you don't like bamboo
Did I mention no wobble?
Accessories through the wazoo
Industry leading 7 year warranty (12 with additional extension)
The Bad
Can get spendy once fully-specced
Will be heavy to get into your apartment if no elevator
We've all seen the articles warning of the pitfalls of our sedentary modern lives. Lack of activity is a huge deal, especially as our jobs are becoming less and less manual. We can stand up and fight back by, well, standing up. That's the crux of the sit-stand desk movement, like this model from one of the industry leaders, UPLIFT Desk.
Similar in use to the sit-stand riser I looked at recently, it enables you to be more active by changing your working position. How it differs is that the legs of the desk provide the height adjustment. That should mean the issues I had with stability while changing heights and wobble when typing isn't a consideration here. It also means that most of your desktop is usable for work, with almost all of it usable if you add in accessories like a monitor arm or keyboard tray, as in this model that UPLIFT sent over.
UPLIFT Desk came about in 2011 when leading ergonomic experts, the Human Solution, decided to make industry-leading sit-stand solutions at an affordable price. Since then their team of experts has expanded the range with height adjustable desks, standing desk converters, ergonomic chairs, and almost any office accessory you could think of. Seriously, you can spec out your desk with additional cabinets, panels – even under-desk treadmills or stationary exercise bikes. All of their products are created with a user-focused design, and aim to make you "happily productive."
An uplifting experience
As you can see in the first image below, the desk came in a number of well-packaged boxes. Don't be like me – get a friend to help you move them to your office. The desktop and the bundle with the legs are mightily cumbersome for one person to hoof up stairs. In fact, according to FedEx, the total shipment tipped the scales at 167 lbs. Okay, weight isn't an indicator of quality but it might indicate quality materials and solid build. You'll also want a friend to help you flip the desk once you've assembled it – while you can do it solo it'd be much easier with help.
Putting the desktop on the floor, you then put the frame for the legs onto the pre-drilled holes. This was easy to do, even solo. The next part was slightly more tricky and required holding the bottom of the legs onto the frame while bolting them on. There's no pegs or any other guides to help with this so I recommend putting one bolt in quickly to balance the foot of the desk while you put the other three on. Once the bolts are tightened movement isn't a consideration, it's just a minor issue while assembling. The holes for the control box and remote control panel are also pre-drilled, which is good to see. The power/control wires for the control box and legs have PCI-E connectors on them, which I found interesting. I don't often see non-proprietary connectors being used, so well done for UPLIFT Desk using standardized ones.
[envira-gallery slug="uplift-desk-assembly"]
UPLIFT Desk also supplies cable management ties so the extra cabling can be tidied away behind the frame so you don't see it. I found that the 3M backing on these was pulled away from the frame under weight. This could be due to the heat while shipping, we were going through a 90f+ heatwave. The cable ties have a hole in them so you can also screw them onto the frame, which is what I opted for. You'll want to pre-drill holes for this as the bamboo is hard to screw into. I marked my drill bit with some tape so I didn't go beyond 1/2″ while doing so.
Then the track for the keyboard tray got added over the frame, and some (self-supplied) RGB lighting was screwed onto the back. I also added a support for the power conditioner I use as a power bar for my apartment's weird wiring. This has continuously saved my hardware, and I completely recommend one if you have weird power issues.
The one-touch operation of the programmable controller is sublime. Super smooth, and quick. Seriously, I barely trust myself to hold a glass of water like that, possibly paving the way for our future robot overlords.
Flipping marvelous
Flipping the desk around, there were just a few more things to do before adding my computer setup. The grommets got filled in, one with a hole for cables and one with a two-socket power bar. The remote controller for the legs got a factory reset so it had a clean slate for me to program. I then programmed in my sitting and standing heights so I can do one-touch adjustments once I started using the desk. This was effortless, and the desk moved smoothly without jerking at all times.
Then it was time to put on the Horizon monitor mount. Clamping it to the desk was easy (I could have also used one of the grommets). What I wasn't sure about, is if it could support my 32″ Viotek monitor. This behemoth weighs in at just over 20lbs when the Horizon mount says it's rated up to 18.7lbs. Well, with the stand removed it weighed less than that, so the Horizon mount won. Really impressed by this monitor mount, it literally just needs a finger to move around. I have friends with this monitor that couldn't get their monitor arms to hold it, so full marks to UPLIFT for this design.
It's really beautiful once everything is assembled and connected, isn't it? Fully specced out like this, it comes out at $1,067.00. You can get the basic frame with a bamboo top from $495.
[envira-gallery slug="uplift-desk"]
Accessorize that
UPLIFT Desk also sent over a host of accessories for the desk. There's a clamp-on surge protector that connects on a side to give you more power options. This also has two USB power ports for additional utility. They send over their normal UPLIFT-branded anti-fatigue mat, and also their E7 active anti-fatigue one. This last is interesting, as it has angled sections for you to stretch your leg muscles as you work, and ball-shaped areas to stretch the arches of your feet. Being able to change your stance and stretch has really helped me adjust to standing for periods of time while typing.
Then there's the large keyboard tray with the track spacer. This lets you slide your keyboard back underneath your desk for more desktop space to work on. I've been using it as a holder for my editing keyboard, as I often have two keyboards in use at any one time. They also sent over their cable management kit. As you can see in the before/after pictures below – it really does a great job. Since there are no bulky drawer units that you'd normally route wires behind this is a lifesaver. Cluttered desk, cluttered mind – that's what I always say.
[envira-gallery slug="uplift-desk-accessories"]
Conclusion on the UPLIFT standing desk
Whatever your thoughts on the sit/stand trend, you'd be hard pressed to find a better-looking desk for the money. The UPLIFTdesk is solidly built, pleasing to the eye, and has an ever-increasing accessory range to suit almost every taste (and wallet). I love how well-designed and crafted it is, which is the main things to look for when shopping for a desk.
The fact that it can adjust to a standing desk at the touch of a button is almost magical, and and the purported health benefits are an added bonus. I've only been using mine for a month or so now and I already feel healthier.
A sample unit was provided for the purpose of this review.
Editors' Recommendations
The Good
Solid as a rock at all heights
Multiple desktop materials if you don't like bamboo
Did I mention no wobble?
Accessories through the wazoo
Industry leading 7 year warranty (12 with additional extension)
The Bad
Can get spendy once fully-specced
Will be heavy to get into your apartment if no elevator
Follow us on Flipboard, Google News, or Apple News