Review: Tranquilo mat – a vibrating mat to soothe your little one
Seriously, why did nobody think of this before now?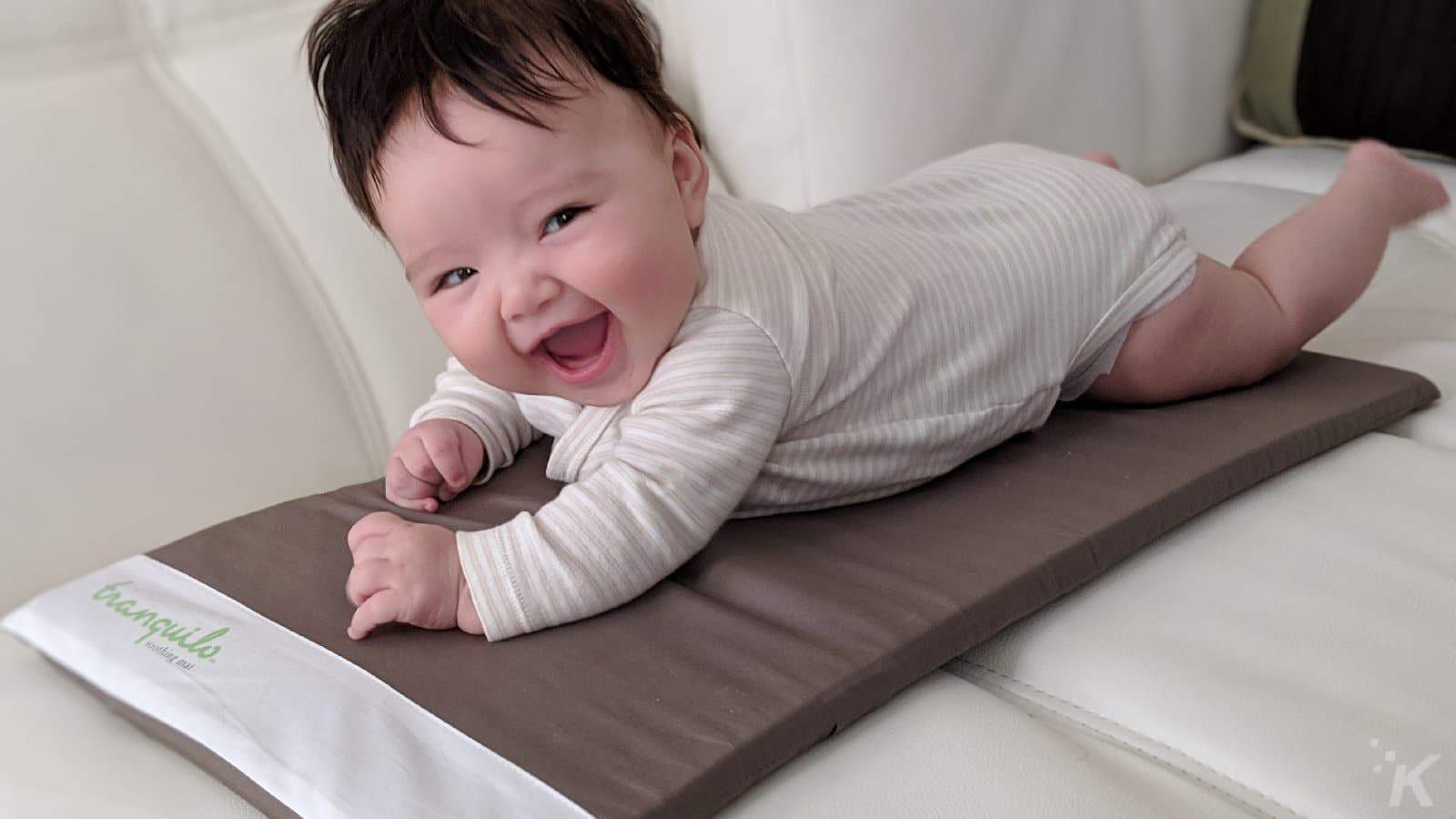 The Good
Full-surface vibration effect and noise
Effective at calming down meltdowns
Easy to transport
The Bad
Wires holding the battery pack seem thin
On/off switch on battery pack easy to accidentally hit
It's not often that products get backed while in the pressure-cooker of the Shark Tank, but that's exactly what happened with the $100 Tranquilo mat.
Not only did it get backed, but several Sharks were fighting over who would work with Melissa Gersin, the inventor of the baby soothing mat. With her background of being a certified infant crying specialist and maternity nurse, she knows a thing or two about how to soothe the fussiest of babies.
The Tranquilo Mat was designed for the so-called "Fourth Trimester," those first months out in the world when your newborn is going through the greatest acclimation period of their lives. After being safe in the womb for nine months or so, everything is strange, wonderful, and terrible all at once. The Tranquilo Mat is designed to remind the baby of the feeling and noise of the womb, which studies show that has a calming effect on babies of that age.
The Tranquilo Mat is CPSIA safe, something you should always look for with any baby tech. It's also won the coveted National Parenting Center Seal of Approval, handed out by the leading Parent's Advocacy Group in the US.
Now, for the science bit
The reason so many products for babies have built-in vibration is that it has a calming effect on the developing nervous system. Vibration has been shown to have a sedative effect on awake, crying babies, while having the opposite effect on sleeping ones.
The same effect has been shown from playing white noise to babies, with 80-percent of newborns played white noise falling asleep spontaneously within 5 minutes. Lemme tell you, five minutes would be a godsend at this point…
The thing is, most vibrating baby tech like bouncers, swings, etc, all have the same type of vibration effect – a motor at one point, which radiates vibration along the rest of the seat/cradle/etc.
The Tranquilo Mat is different. The patented mat has the same level of vibration across the entire surface. There's also four levels of vibration, with two "heartbeat" modes that vary the intensity of the effect. The mat can be set to always-on, or to shut off after 60 minutes. The flat form-factor makes it easy to put underneath playmats, used in cribs or bassinets to assist with naptime, or even inside a baby harness while wearing your child.
There's also a smaller size, perfect to roll up and keep in your diaper bag for soothing anytime, anywhere. Can't fit a bouncer in your bag, eh?
So.. does it work?
Well, that depends on your kid probably, but overall yes, it does. My little one found most settings too strong at first, until she matured a little bit more. She loves it for the dreaded tummy time, where it turns screams of frustration into smiles and the occasional shriek of laughter. She also loves it underneath her lounger, where it provides just enough soothing to not make her want to attempt to climb out.
Not that she can climb out, that, and crawling, are still in the not-so-distant future. She's also fallen asleep on the mat several times now, although she likes the vibration so she often fights sleep calmly to experience it longer.
So should I buy it?
This is easier to answer with another question – How much is your little one's contentment worth to you?
Is $100 worth shorter crying sessions, less fuss at naptime, tummy time that's actually enjoyable instead of seemingly torturous, and fewer meltdowns? If so, then the Tranquilo is probably worth it. Just a tip: buy the highest-capacity rechargeable AA batteries you can find, you'll need them. Actually, buy twice the amount you think you need.
A sample unit was provided for the purpose of this review.
Editors' Recommendations:
The Good
Full-surface vibration effect and noise
Effective at calming down meltdowns
Easy to transport
The Bad
Wires holding the battery pack seem thin
On/off switch on battery pack easy to accidentally hit
Follow us on Flipboard, Google News, or Apple News