Review: Baby Brezza Formula Pro Advanced and Safe & Smart Bottle Warmer
It's the Keurig of baby formula.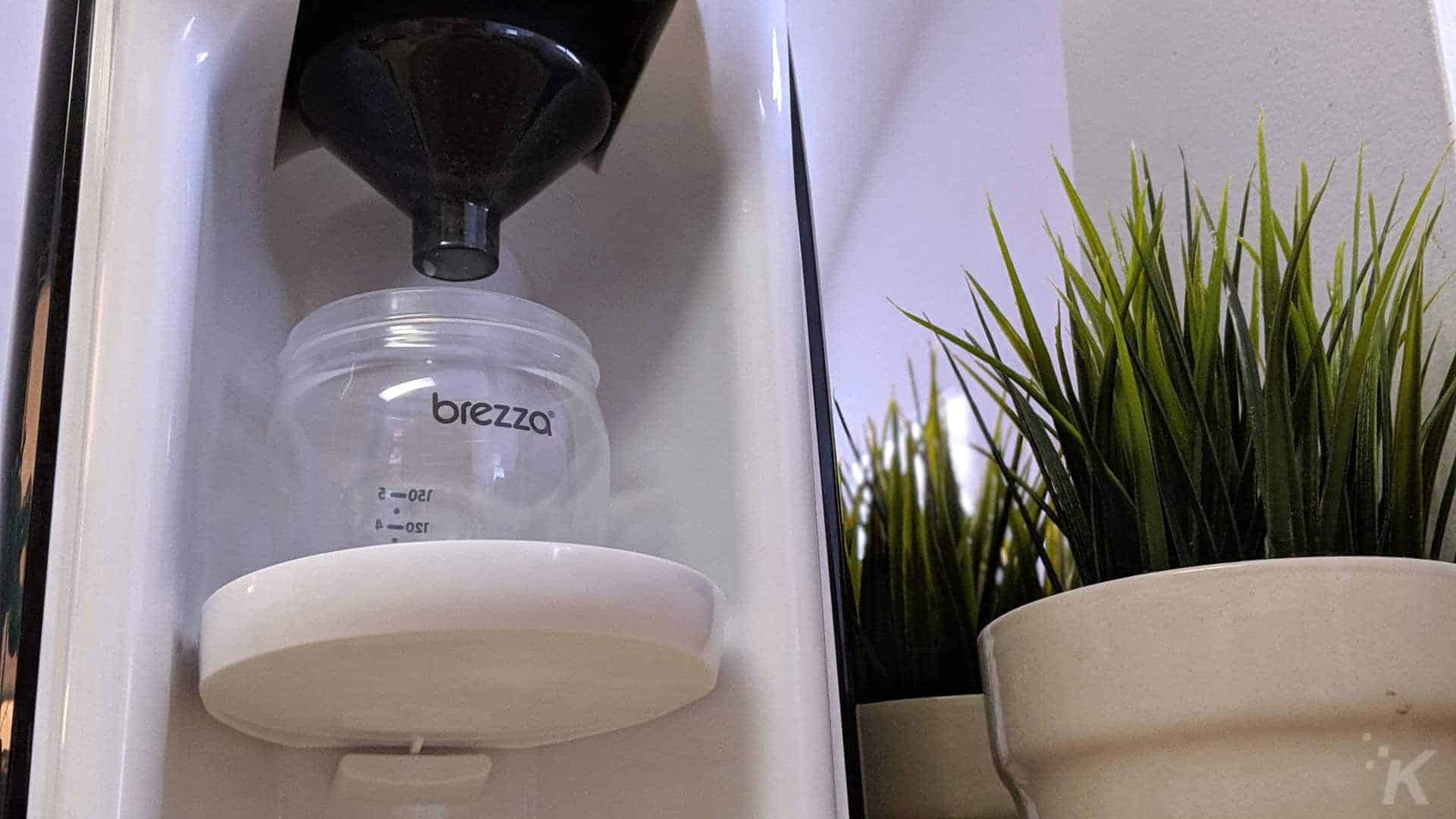 The Good
Seriously impressive
Never make another bottle ever again
Seriously, why haven't you stopped reading and bought this already
If I could give it an 11, I would
The Bad
The price tag (but it's so, so, so worth it)
Umm idk, it's not self-cleaning?
If like me, when you have a newborn in your life, time quickly becomes the most precious commodity. Time with your child, time to sleep, time to manage to get parts of the household chores done before it's time to repeat the cycle all over again. Time with your partner, or just time to relax and unwind.
Time, time, time.
One company that's also all about time is Baby Brezza, who has been "saving parents 30 minutes per day for years!" with its ingenious time-saving baby-feeding range of products.
Time for something a little different
Now, Baby Brezza asks one question to parents using its gear – What will you do with the extra time?
For me, the value that Baby Brezza brings is the ease of being able to provide for my little one's needs, while still saving time. One minute feels like an eternity when your baby flips from hungry to hangry, so anything that reduces prep time is an essential piece of equipment to baby's mood as well as to mummy and daddy's sanity.
Safe + Smart Bottle Warmer
Okay, so let me start by just setting the scene. We're breastfeeding with the occasional formula supplement. The little one nurses for the most part, but I still want to be part of the feeding times, which provide such an essential part of bonding that I don't want to miss out on.
That means bottle feeding pumped milk, but it also means rewarming the pumped milk before each bottle feeding. Typical rewarming is a loooong and, at times, arduous process, especially so when your little one turns hangry on a dime. Waiting for the water in the kettle to boil, pouring it over the bottle in a container, waiting for it to warm up to the correct temperature; and, more often than not, frantically splashing cold water on the bottle in a race to get it to cool back down. All while you mentally swear the little one's screams get louder by the second.
Meet Therabody's All-New TheraFace Mask
TheraFace Mask is a breakthrough FDA-cleared LED skincare mask with added tension-relieving vibration therapy. Clinically proven results include firmer, smoother, healthier-looking skin with a visible reduction in fine lines, wrinkles, and uneven tone in as little as 8 weeks
What if there's a better way? A safer way? A quicker, not-dependent-on-your-sleep-deprived-sense-of-time way? Baby Brezza's bottle warmer not only quickly warms up bottles, but it does so in a temperature controlled way so it should be the perfect temperature, every time.
I appreciate the ease of use, without needing to pore over manuals or complicated settings. Any bottle can fit, from slim+tall ones to the short, boob-like ones from Baby Brezza. Those are pretty nifty on their own, with wide necks for ease of cleaning and a one-piece top that stops you from having to fiddle with additional parts.
That bottle gets put into a bright orange sleeve, which makes getting the bottle back out again once warmed super easy. Then it's just a case of if you want to steam-heat the bottle (best for formula) or if you want a gradual water-bath heating (best for breastmilk to not break down the goodness). Timings are all pre-programmed in, so all you need to remember is to press the "room temp" or "cold" button once per ounce of milk in the bottle.
That's it, giving you time to see to your little one's other needs while you wait for it to heat up. Oh, and there's an app which uses Bluetooth to control the bottle warmer, and also alert you once the bottle is ready.
That's reheating bottles sorted, but what about those time-sensitive, middle-of-the-night feedings where your little one is on a hair trigger to go into full meltdown? Or those feedings where you misjudge how hungry they are, and need to top them up? Not to mention those feedings during developmental leaps, growth spurts, or because the name of the day has a "y" in it, and your little one suddenly decides that they want more than the usual?
Don't worry – Baby Brezza has you covered there as well.
It's the formula for success
Enter the imposing-looking Formula Pro Advanced. If you think it looks like an instant coffee maker, you'd not be far off from the mark. [Full disclosure – I fully expected this to be an overpriced frippery that no parent needed. I was utterly wrong on this assumption, but more on that later.] The Formula Pro Advanced fast became one of the most used pieces of baby gear in the house.
Bear with me on this – You've got a newborn, you're running on love and Starbucks and the last time you slept seems like a life long passed. The only thing stronger than your need for that next Venti Cappuccino quad-shot is the need your newborn has for milk whenever they're hungry, particularly when they wake up. That could be at a reasonable time like 6 am, but I wouldn't bet on it.
The fabled morning of "they slept through the night" is still just that, a fable, like the stories of knights, dragons, and princesses that you read to them at bedtime. You're sleeping when they are, so you barely know what time of day it is, let alone how to read a measuring cup.
What the Formula Pro Advance does is eliminate all the waiting time, all of the guesswork, all of the stress, all of the confusion around making formula bottles. All you need is to fill the water tank and formula hopper, and set-and-forget the mixing setting based on Baby Brezza's extensive testing of baby formula available in the USA.
Set the desired temperature from body temp, just below or just above, and the number of ounces you want to make (from 2oz to 10oz, in 1oz increments), and you're ready to make full bottles of milk at a button's press. Literally one push of a button, and literally in seconds. No more boiling water, waiting for it to cool, measuring water, measuring powder, shaking; again, hoping your little one isn't on the way to an epic meltdown in the meantime… It even smoothly mixes the formula we use, which has a tendency to clump into concrete-like lumps.
It's also great for when you need to feed smaller amounts more often. Our little one suffers from reflux, so we try to gauge each feeding to how much she can keep down without spitting it straight back up. The Formula Pro lets us make multiple bottles in seconds (if needed). Before this, if we over-estimated, that meant a lot of (expensive!) dumped formula when we got it wrong. If we under-estimated, that ended up with a hangry baby after the first bottle, who was inconsolable to eat any more.
So should I buy it?
Time, convenience, precision… The Formula Pro Advanced is something we've come to rely on so much especially during late night and early morning feedings. Yes, the Formula Pro Advanced is $200 (or $250 if you want another color) but it's amazing. Never mis-mix another bottle at 2am. Never have to wait for water to boil, cool, and be measured. Never let your little one's cries of hunger escalate into a full-on meltdown.
The Safe + Smart Bottle Warmer is no slouch either. Warming milk to the right temperature, every time, is something that can't be mentioned enough. Get the kit with six bottles and cleaning tools for $85 and you're all set.
For us, it's not just about the time saved; it's just as much about the escalations staved off and the meltdowns averted. We get a huge sense of fulfillment from being able to respond quickly to our little one's ever-changing needs, and Baby Brezza ticks all the right boxes to enable that.
Sample units were provided for the purpose of this review.
Editors' Recommendations:
SmartCup will prepare your coffee, tea and baby formula with one tap
The Good
Seriously impressive
Never make another bottle ever again
Seriously, why haven't you stopped reading and bought this already
If I could give it an 11, I would
The Bad
The price tag (but it's so, so, so worth it)
Umm idk, it's not self-cleaning?
Follow us on Flipboard, Google News, or Apple News