Review: Doona Infant Car Seat – The Transformer of car seats
Seriously, this is an exciting car seat.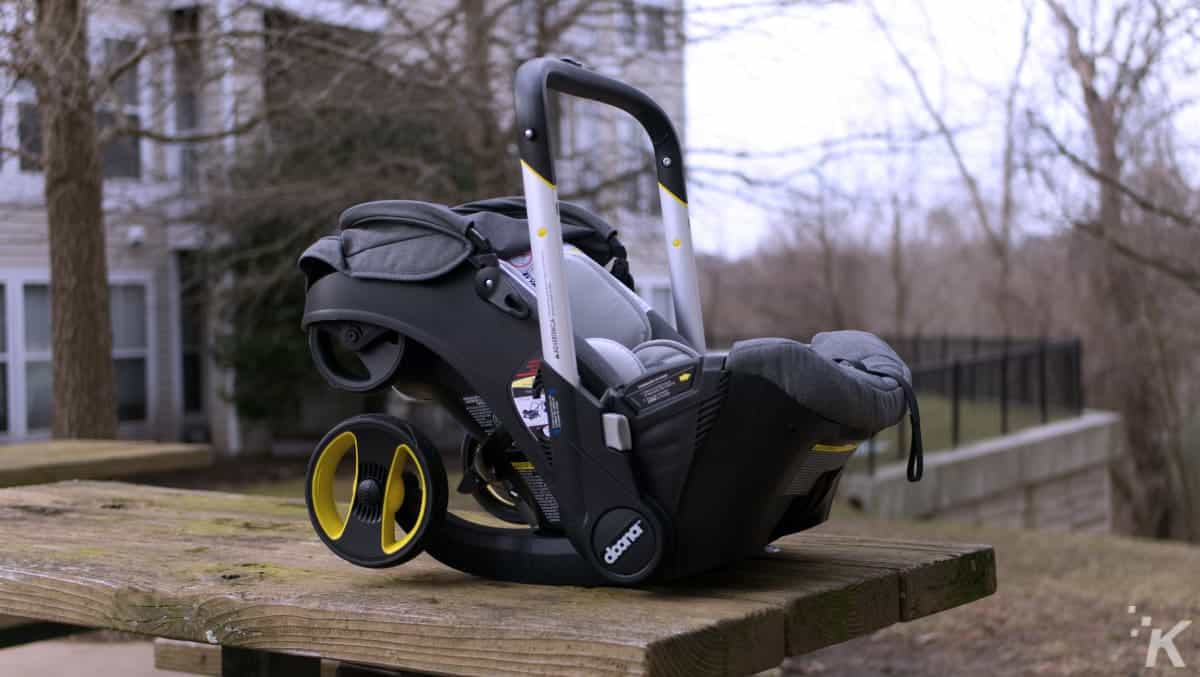 The Good
Transforms into a stroller
No need for separate, heavy travel system
Small and maneuverable in stroller mode
Tested to all the US and EU safety standards
Did I mention it transforms?
The Bad
Slightly heavy as a carrier
No storage without buying accessories
High initial cost
With a recent addition to our family, one of the things my SO and I spent a lot of time looking at is car seats. Partly because the hospital won't let you leave without one, but also because there's just so many choices out there.
At least, it looks like that at first glance. Once you actually start breaking things down, there's really only two options: an expensive (and heavy) travel system with a car seat that fits onto a bulky stroller portion, or buying a car seat and a stroller separately and then maybe even needing additional adapter parts.
That's fine, but isn't there a better way? I mean either way you'll be losing half of your trunk to the stroller portion and only a few car seats can be used without their associated base. We came across the Doona and something clicked. Here was a car seat, with attached wheels so it turned into a stroller. No more losing trunk space. No more carrying two bulky things around when using taxis or coming back to the apartment (4th-floor walk-up).
More than meets the eye
The Doona car seat's secret weapon is the one-touch transformation from car seat to stroller. It's effortless, to extend the wheels it's just one pull of the action handle, and to stow the wheels you pull the same handle while pushing the big wheel against a foot. No more having to put the car seat down to wrestle the stroller out of the trunk. No more having to leave your baby unattended in the car seat when you put the stroller away. Isn't that great?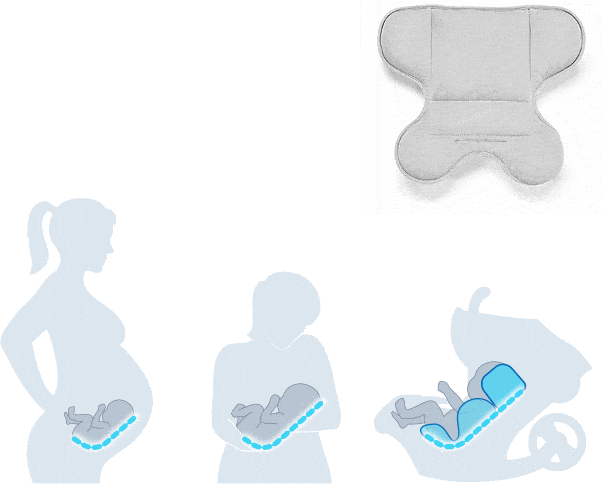 This type of thinking is in evidence all the way through the seat. All of the 'action' buttons that control the features are in the same color for finding easily. There's an infant insert cushion for newborns that simulates the angle that the baby was laying in the womb, for comfort. All the cushions/fabrics are removable and machine washable – invaluable with the plethora of liquids that come out of a baby. There are inbuilt hanging points for Doona's other accessories, which does lock you into its ecosystem, although there are all the accessories you could think of.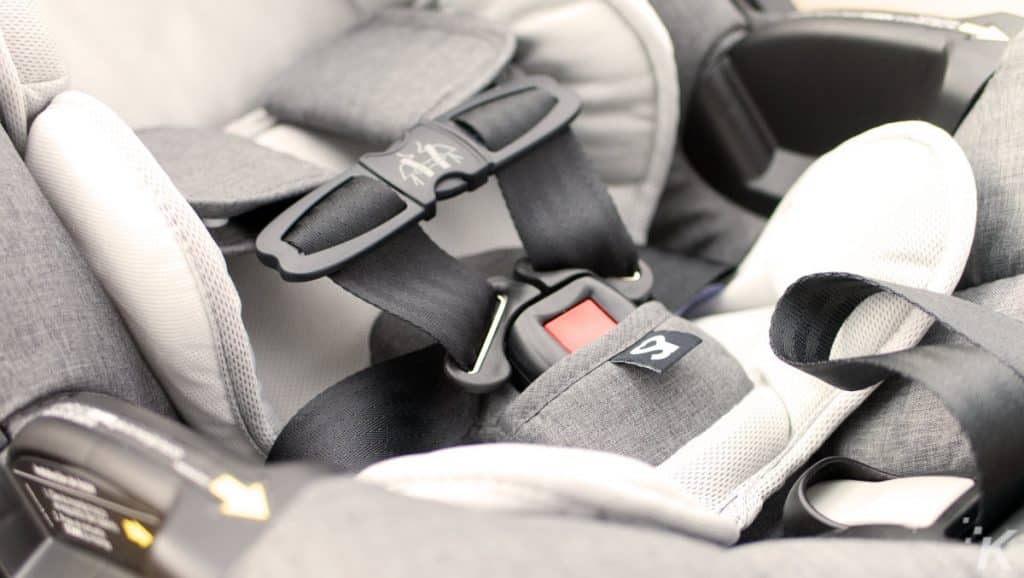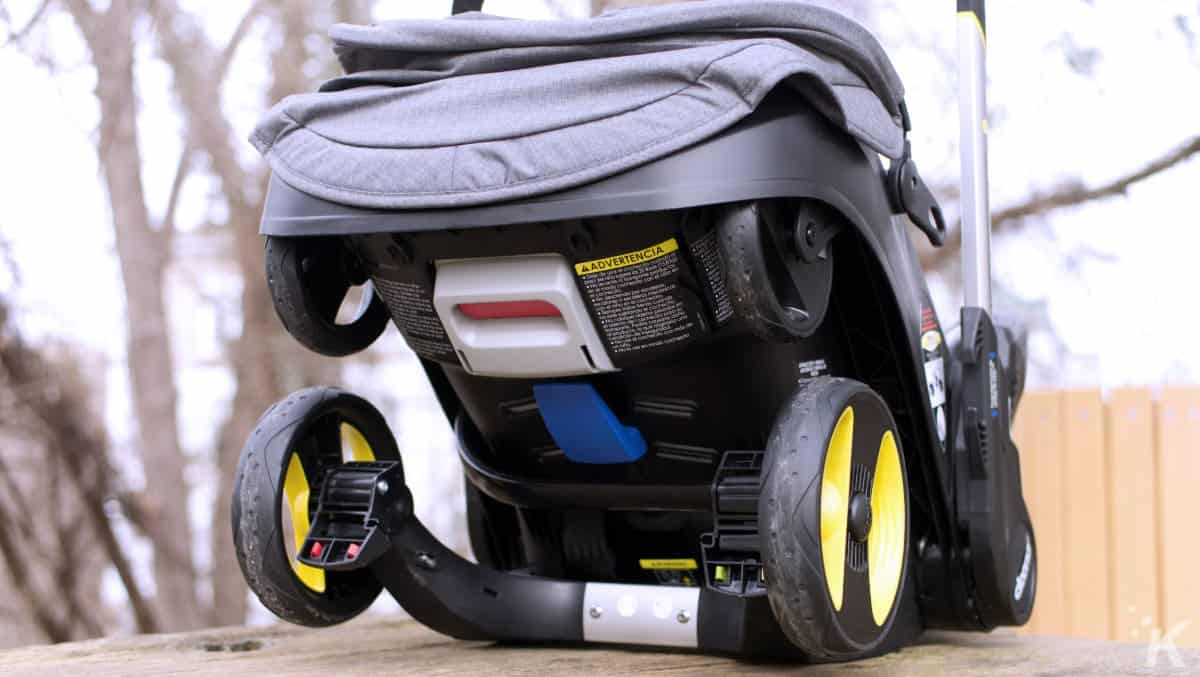 Wow factor
Now as a tech reviewer I'm used to people getting all interested when they see the latest phone or smartwatch, but a car seat? Everywhere we go there's at least one person who gushes about how cool the Doona is, how easy to use it is, and how they wished it was available when their kids were born. Whether it was the hospital at birth, staff or other parents at pediatrician visits, or even just out shopping, every time someone realized what the Doona could do they were amazed.
Before LO was born, we took the Doona to a local Car Seat Check-Up event at a local firehouse. As first-time parents, this was an invaluable service, plus it was a great chance to get the opinions of the pros on the Doona system.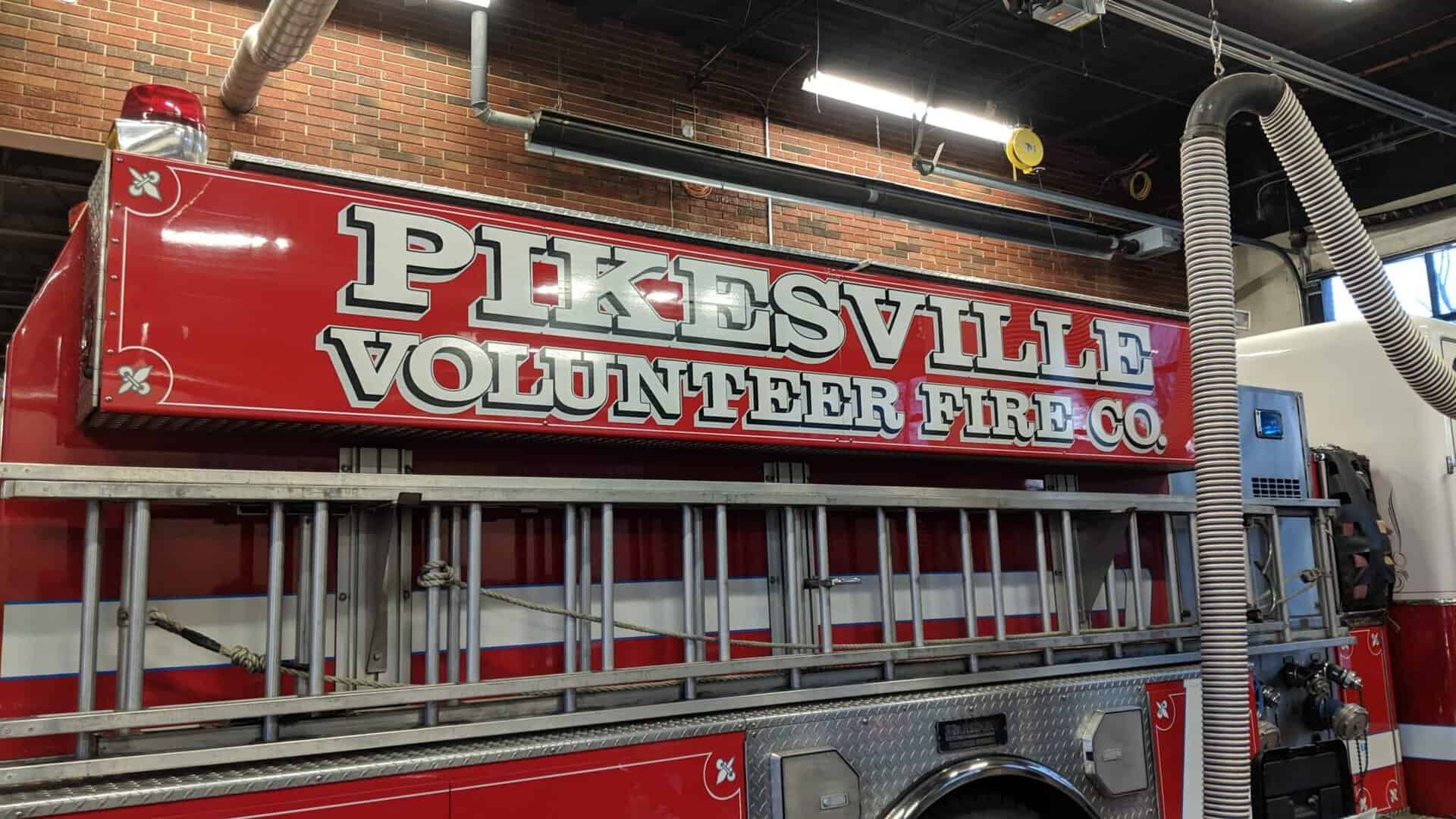 They loved it, with all the technicians making sure to come and check in on the system. One called it "the transformer of car seats" which is pretty accurate. They also pointed out the different ways that the Doona can be secured in your car, both using the one-click car seat base in LATCH configuration (for newer cars like our Mazda 6) or using the seatbelt and the two ways that the Doona can be secured just by the seatbelt itself.
That's great if you need to take a taxi or maybe if you have a second car and don't want to swap the base across. The Doona is also certified by the US and EU authorities for air travel, making it easier to travel with a newborn. That LATCH base is fairly easy to install in your car, although the belt is a little difficult to tighten to the fullest. It needed my weight to push the base far enough into the seat for optimal tightness. Doona also includes a seat cover to go between the base and your seat.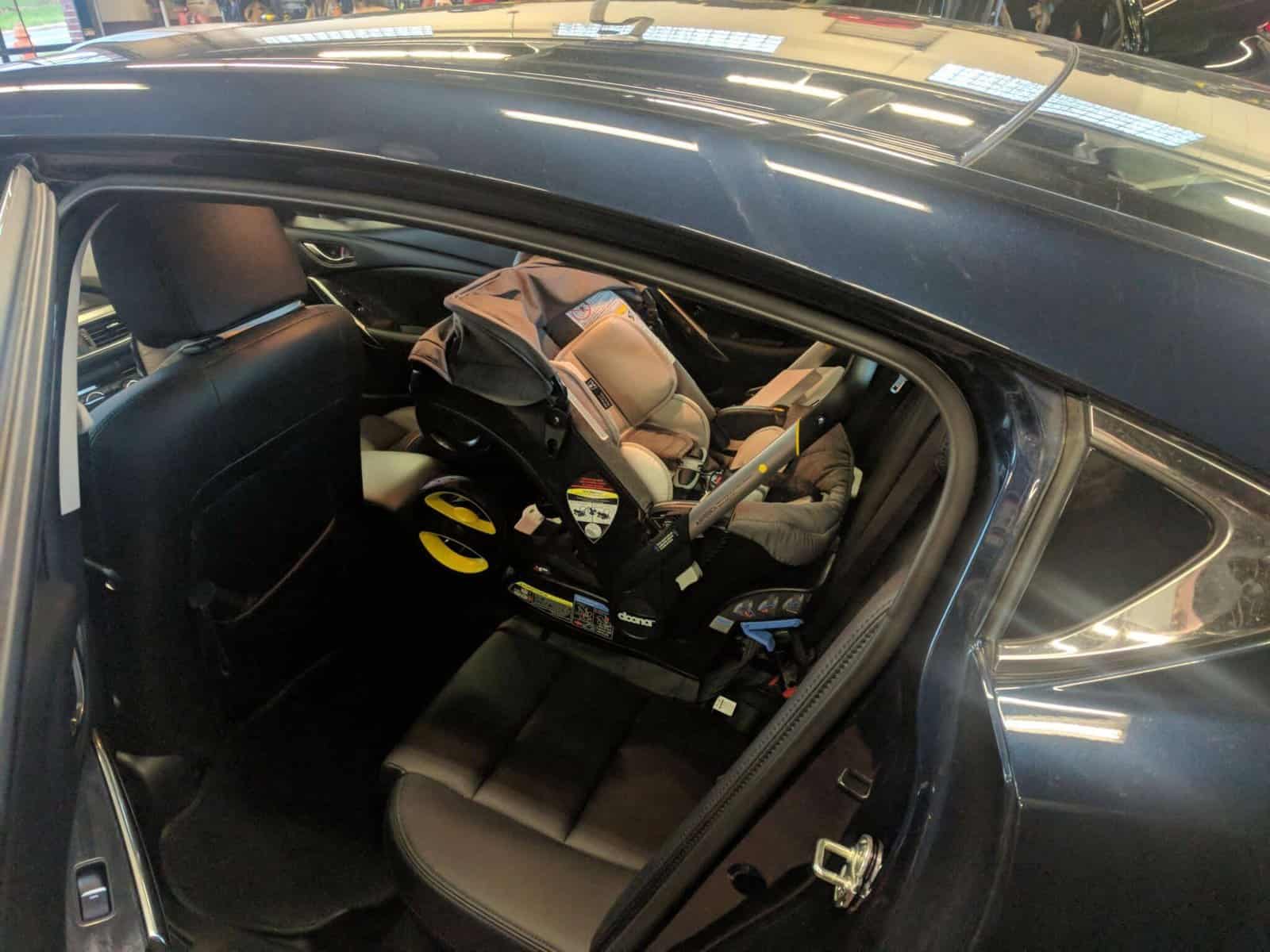 Weighing in
It's a little heavier than most car seats, weighing in at 17 lbs. That's still less than car seat + stroller for a typical travel system. It's slightly larger than a normal car seat too, but then it's more compact when used as a stroller, so you can wheel it right up to your table at a restaurant or maneuver through supermarkets easier.
There's no storage inbuilt, as it has to fit onto the LATCH base. Doona's thought of this though, with several add-on storage options that clip onto the car seat when in stroller mode. They sent the Essentials Bag, which is great for short trips, and the All-Day bag in Storm Grey to match the Doona and they're great. Easy to clip on, easy to remove and with tons of storage depending on how long you're out of the house.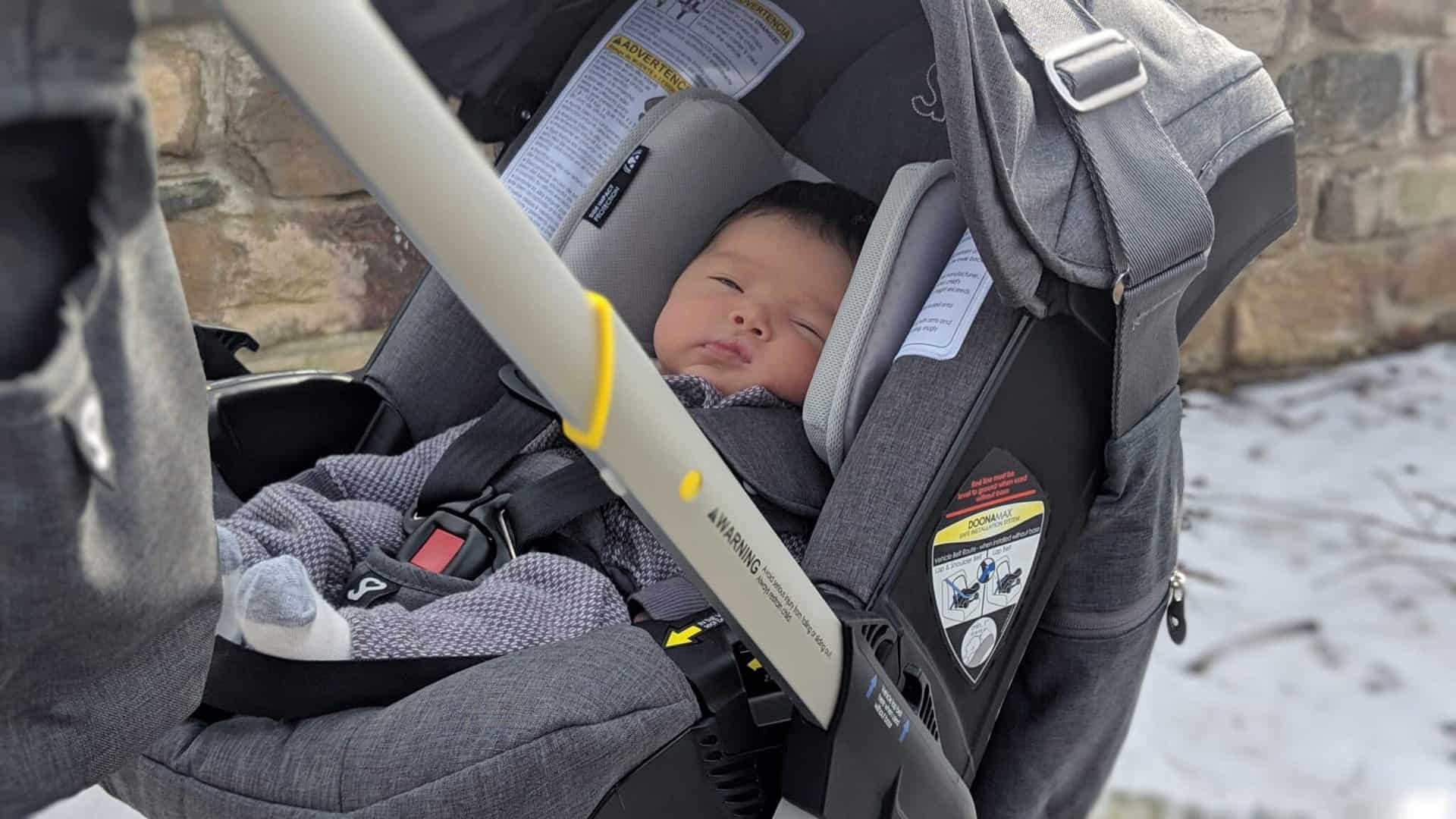 If you're likely to use it a lot with Ubers and taxis, it's probably worth picking up the wheel covers – your driver will thank you. The sun cover extension is also probably a good buy, it doesn't need to be removed in the car so it'll help your little one stay snoozing.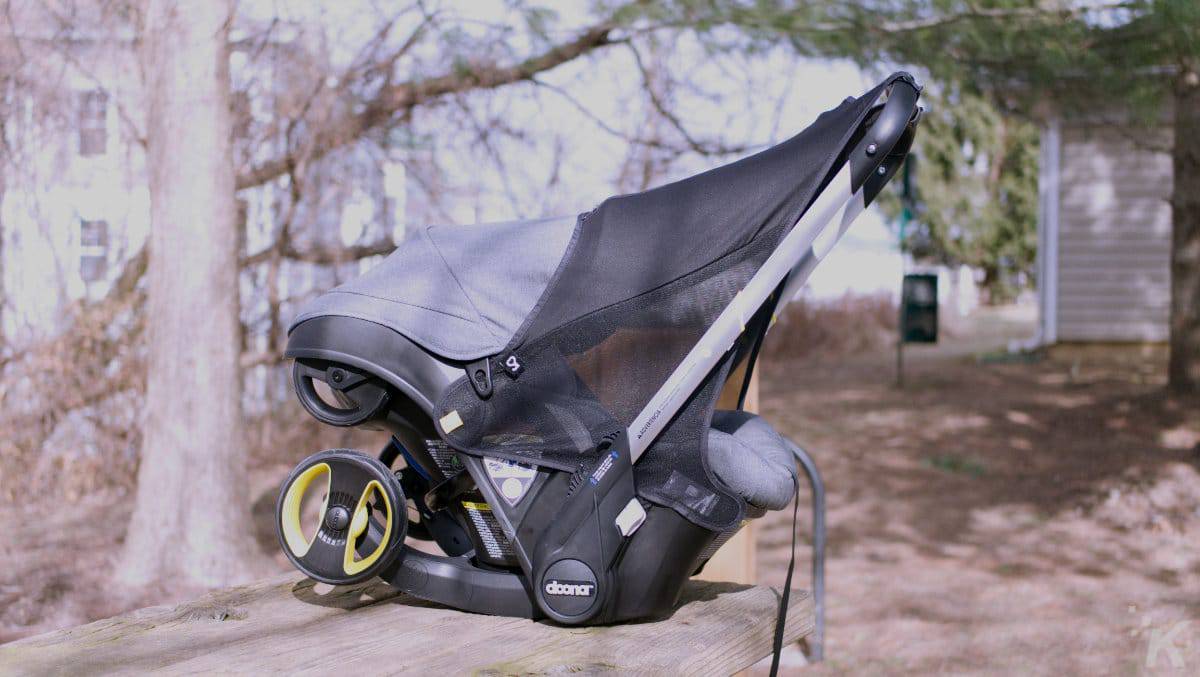 It's sold in the USA, so the Doona has already passed US standards for Car-Seats, Strollers, and Hand-held Carriers (US). It's about as safe as you can get a car seat. Simple Parenting (Doona's parent company) goes above and beyond the regulatory tests, also doing over 20 tests to ensure durability over time, prevent consumer misuse, and other issues.
So should I buy it?
If you're a city-dweller who uses transit or taxis/rideshare a lot, the Doona is a perfect alternative to bulky travel systems. Likewise, if you're in an apartment or another space-conscious home, the all-in-one approach of the Doona is perfect. The switch between carrier/carseat/stroller is effortless and makes you wonder why nobody did this sooner.
If you need lots of storage on your stroller – this probably isn't the system for you, but if you want a pint-sized stroller that does everything it's totally worth the $499 asking price.
A sample unit was provided to KnowTechie for the purpose of this review.
Editors' Recommendations:
The Good
Transforms into a stroller
No need for separate, heavy travel system
Small and maneuverable in stroller mode
Tested to all the US and EU safety standards
Did I mention it transforms?
The Bad
Slightly heavy as a carrier
No storage without buying accessories
High initial cost
Follow us on Flipboard, Google News, or Apple News