Review: Skout from Cotton Carrier – The original sling-style harness
Sling your camera in style.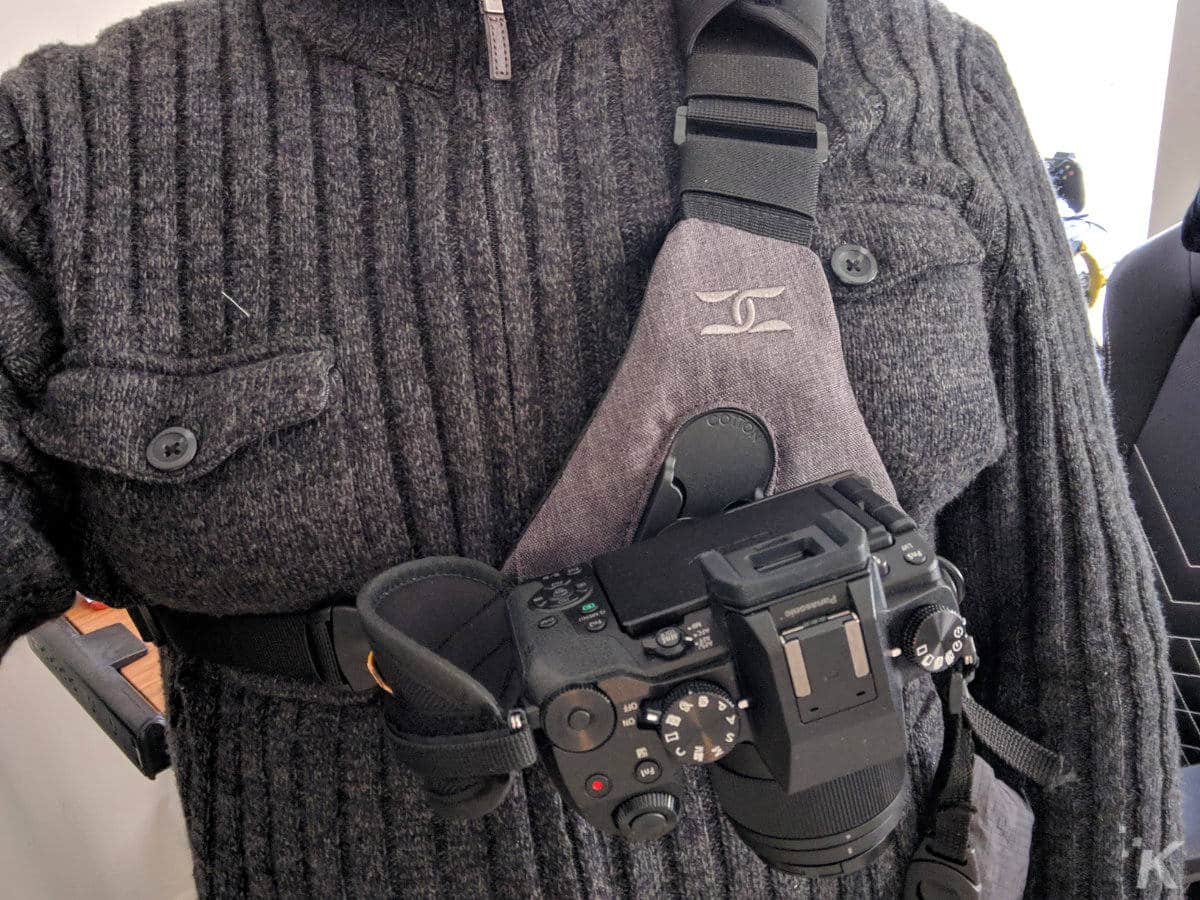 The Good
Comfortable to wear, even with a heavy camera attached
Keeps your expensive gear securely held
Huge upgrade over traditional camera straps
Quick to remove/reattach camera
The Bad
Might take some adjusting depending on your body type
It's often said that the best camera is the one you have with you. While this adage rings true, just having a camera on your person doesn't guarantee you'll get the shot you want. If you're hiking, your camera will likely be in a deep pocket of your day bag. Getting it out to take photos is a long, involved process, and it might cost you the frame. Animals won't wait for you to take their photo, and light conditions change quickly, especially in the mountains. You could always have your camera around your neck on a strap, although this both slows you down and introduces the possibility of damage.
This pattern repeats whatever your photography focus is. Outdoors you're always trying to find a balance between ease of access and protection for your expensive gear. Those same considerations also apply indoors, whether at home or in the studio. You want your camera supported and on you at all times (or near you if on a tripod) but you also need your hands free to adjust lighting, props, backdrops, etc. A neck strap might keep your camera on you, but the first time you forget it's there and bend forward you risk your camera hitting the floor.
Even the newer belt-mount systems have flaws, your camera gear is in reach but a little too in reach with your naturally-swinging arms in the picture. And don't get me started on doorframes, furniture or other solid objects.
Andy Cotton created the original Cotton Carrier because when he needed a camera carrying system for his career as a landscape photographer: "[all the] bags, sling straps, belt clips, and all manner of shiny things…  …were 'toys' designed by designers, not photographers." The model we're looking at today is the Skout – Sling Style Harness, which retails at $79.99 and does something no other harness on the market does – keeps your camera safely accessible in the center of your chest.
They also sent over their Universal Tripod Adapter Plate ($39) and Hand Strap ($19.95), both of which are perfect pairings with the Skout harness.
Design and ease of use
The Skout leverages Cotton Carrier's patented twist-and-lock system to hang your gear securely over your chest. I was initially apprehensive about hanging my Lumix in this way, but after bouncing around for a day while wearing it, the system feels like my camera is welded to me. Once twisted into place, the Skout held my camera just as securely as any tripod would, leaving my hands free to set up other equipment.
The harness goes around one shoulder, with one strap that clips all the way around the chest. It's similar to an underarm weapon holster and holds your equipment just as tightly to your body. There's padding on the wide top strap, and also on the pad which has the Arcan holder for your equipment. That pad has a small zipped pocket on the back, where you can stow minor things like the hex key for adjusting the adapter plate or things like cash or credit cards. The hub that enables the twist-and-lock system is anodized aluminum, with an adjustment slot so you don't block your battery door and another threaded hole for use with your tripod.
The optional Universal Tripod Adapter Plate was designed to work with the popular Arca-Swiss quick release system, and also has 1/4″ mounting holes for other types of quick release mounts, like the Manfrotto nub for my tripod. That means I don't have to constantly unscrew the mounting parts when I'm not using my tripod, saving time (and money, as there's no way to buy that Manfrotto part without buying a new tripod). The aluminum hub that comes with the Skout also mounts to this, as does the hand strap, if you're using one.
Along with the Arcan holder which securely holds your camera when stowed, the Skout also has a backup safety tether in case the camera manages to twist out of the holder. This attaches to the d-rings attached to your camera, which were designed to be used with a neck strap so should be more than strong enough to save your camera from taking a dirt nap if the unforeseen happens. Oh, and it comes with a weatherproof cover just in case of rain.
So should I buy it?
Overall, I'm having a hard time finding anything I don't like about the Skout. It adjusts easily to different body sizes/shapes, holds your camera equipment securely to your chest with no wobble or bouncing, and is super easy to put on or remove. When I'm out walking or deep in the zone in a studio shoot, I want equipment that doesn't cost me time, and the Skout ticks all the right boxes for me. It keeps my equipment handy without getting in the way of other tasks and means I don't lose time putting my camera down while I fiddle with lighting/backdrops/etc.
The only minor thing I can think of isn't even about Cotton Carrier's products, more an observation about the difficulty of designing for a universal system for cameras. When I use the hand strap mount on the universal tripod adapter plate with my Lumix G7 mirrorless camera, it's difficult to get the strap tight enough while still retaining movement of my finger to press the shutter button.
I know this part of the system was designed for larger DSLR camera systems, so I'm not taking any points off – just mentioning it as with the rise in popularity of mirrorless systems, it's worth mentioning. I'd love for a purpose-designed hand strap for mirrorless cameras, as the quality of this existing one is great, just enough padding and support to take the fatigue away from long handheld shoots.
A sample unit was provided for the purpose of this review.
Editors' Recommendations:
The Good
Comfortable to wear, even with a heavy camera attached
Keeps your expensive gear securely held
Huge upgrade over traditional camera straps
Quick to remove/reattach camera
The Bad
Might take some adjusting depending on your body type
Follow us on Flipboard, Google News, or Apple News