Review: Vanatoo Transparent Zero Wireless Powered Speakers
Transparent by name, transparent by nature.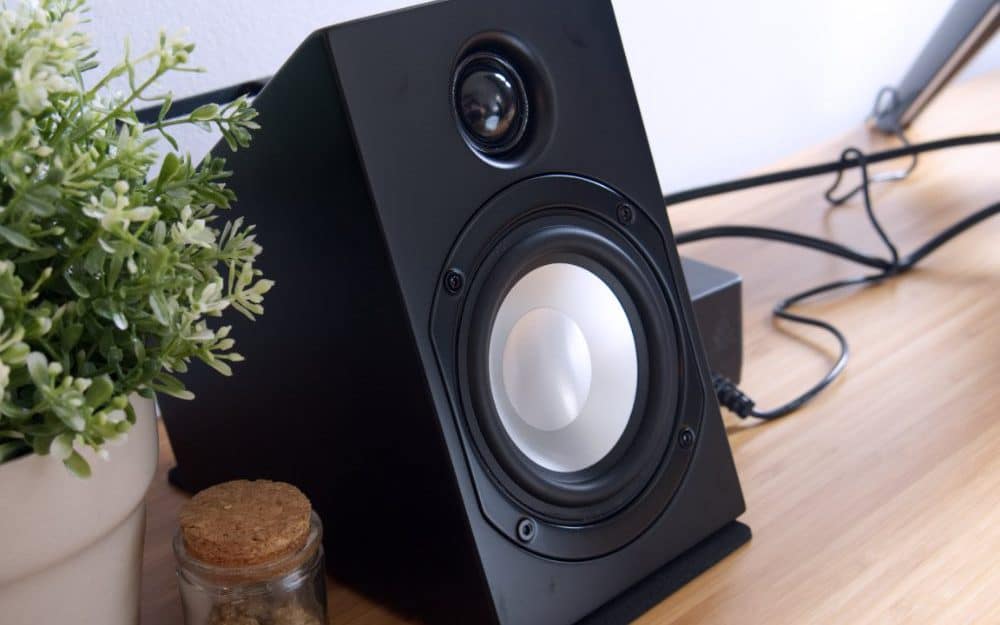 The Good
All the connectivity options you could want
Fantastic sound
Quality DAC
Dual orientation options
The Bad
I'm struggling to find any
You might not have heard of Vanatoo; they're a fairly recent entry to the marketplace of audio. They've been garnering critical acclaim since their first product, the Transparent One in 2012, and the Transparent Zero we're looking at today are only their second set of speakers.
Vanatoo was co-founded by Gary Gesellchen and Rick Kernen, two life-long engineers with a passion for both audio and technology. They have combined expertise in acoustics and digital electronics, which lends itself perfectly to the field. Gary has been building custom speakers since the mid-80's, and over 25 years of experience in the high-tech industry. Rick brings over 35 years of experience in microprocessor-based electronics and software design to the mix.
The name Vanatoo comes from the small South Pacific island Vanuatu, which obviously has some good memories behind it for the duo who call it "the happiest place on earth." They aim to "design affordable, versatile quality speakers for today's digital music enthusiasts with a focus on impeccable sound clarity and transparency, and with the flexibility to connect to the myriad of audio devices and networks currently available."
Feature set
The Vanatoo Transparent Zero set ($359) that we're looking at today aims to reproduce music as it was recorded, without coloring the tone. That means solid bass, clear mids and sparkling highs that don't fatigue. It has a bi-amped (four channel) 48 W/channel D-class amplifier, which should be more than enough for desktop use or even up to midsized rooms. There's a host of connectivity options, with aptX Bluetooth, Toslink Optical up to 96K at 24 bits, USB up to 48K at 16 bits, and a 3.5mm analog input that ADC samples at 48K at 24 bits since all the processing in the internal Class D amplifier and built-in DSP is done at that resolution.
Meet Therabody's All-New TheraFace Mask
TheraFace Mask is a breakthrough FDA-cleared LED skincare mask with added tension-relieving vibration therapy. Clinically proven results include firmer, smoother, healthier-looking skin with a visible reduction in fine lines, wrinkles, and uneven tone in as little as 8 weeks
All of the connectivity has a technology that Vanatoo developed that they call Digital Silence Detection. Basically, it lets the speakers drop into a low power sleep mode when they're not in use for a short while.
There's also a remote, so it's easy to use with a TV in place of a soundbar or a vastly more expensive theater setup. The speakers have a bunch of programmable features, like LED Brightness, bass response, subwoofer crossover, amp limiters, mono mode, sleep settings, and others. Interestingly, these are all programmed by having certain combos of switches active when plugging in the power lead.
It has two frequency response ranges, depending on which mode the speakers are in: 56Hz – 20K Hz ±3dB when set to Shelf Mode in-room, and 52Hz – 20K Hz ±3dB when set to Flat Mode in-room. If you add a subwoofer, the crossover frequencies also differ depending on the mode, with the crossover at 125 Hz in Shelf Mode and 80 Hz when in Flat Mode.
Design
The system has a driver combination of a 1-inch soft dome tweeter, 4-inch aluminum cone woofer with a 1-inch underhung voice coil, and a 4-inch long-throw passive radiator on the top to aid with bass reflex. And what a bass reflex it is, outperforming most speakers in its class. Vanatoo call this technology ClearBass, and its from the composite parts working in concert to outperform their characteristics. This is achieved with a selection of licensed componentry from other manufacturers and some custom-designed special sauce. None of the "midbass hump" or other gimmicks common to small speakers here, giving a full range sound that's clean across the frequency band.
[envira-gallery id="72041″]
The housing is 9mm wood, and have a reversible design for either desktop or in-room use. That 'handle' on the back is also a stand, which can put the angled speaker into a more traditional bookshelf orientation. Just remember that the tweeter will be lower in this orientation so you'll need to adjust your stands accordingly to keep the tweeters at ear level. You can also unscrew the stands and flip them so that the tweeter will be at the top as usual.
The passive radiators for the bass response either bounce off the wall behind your desk or off the surface they're on. This works fantastically. They're such small speakers, and they perform as if they've got a larger supplementary subwoofer already. I can only imagine what they'd feel like with a sub added to the mix. That extra oomph turns your whole desk into a bass radiator, even on my pretty solid 1-inch thick bamboo standing desk.
The speaker grills are magnetically attached, and strong enough that you won't hear buzzing from them vibrating. They also come with some thin isolation pads, and if you want you can purchase stands from Vanatoo that increase that isolation.
Listening performance
So apart from the better-than-it-should-be bass performance, how do they fare overall? Well, I'm overjoyed to say they're almost magical. Magical in the sense that for $359 you're getting a flat response uncolored by trickery or bias, that would cost you at least one order of magnitude more if you were looking at a separates system. I've heard NAD systems sound less transparent. Bass notes are booming and punchy without the muddy overtones that most small speakers are plagued by. Mids are clear and individual instruments and voice are kept in their own space as recorded. Small speakers also usually suffer from tinny highs, not so here where they're clear as a bell and as intended by the artist.
One thing is that while there is an analog input, you're better served using one of the digital ones for less conversion.
To test, I decided that the transparent presentation deserved a tweak to my usual track selections – I'd only select those that I've personally heard live so it should hopefully give a good picture of how well the artist's vision is reproduced. Luckily I lived in Sheffield, UK during my teenage/university days, a well-known hotbed of musical talent, both of underground and popular.
I love this track, the warbling didgeridoo-like bassline with the counterpoints of airy strings and Alison David's soulful vocals are a workout for most stereo equipment. The T0's reproduce the instruments faithfully, losing none of the emotions of the recording.
Roni Size and Reprazent – Share the Fall
Roni Size and Reprazent were the act that cemented Drum n Bass' emergence from the underground Hardcore and Jungle scene. Characterized by hip-hop drum routines speeded up to 180bpm, basslines as the rhythm instead of a guitar backing track, and often soulful vocals – the musical style needs good bass drivers to show the artists vision. The V0's do this amazingly well, I've never heard this track reproduced anywhere near as well. Crystal clear vocals, crisp snare beats, and warm bass, just as it ought.
It seems like Roni Size was everywhere in the late 90's in the UK, with this side project of his. Drum and Bass also work both ends of the scale, with basslines and syncopation of the drumbeats that can trip up drivers that can't adapt fast enough. No issues here, with crisp vocals and pleasant sub-bass rumblings.
One Minute Silence – Remain Calm
Discordant drums and thrumming guitars with a hard slap bass, layered with punk sensibilities and the politics RAtM used to have. On small speakers, this usually turns into a muddy mess, like a mosh pit at Glastonbury. On the V0's, every note is clear and distinct with wonderful imaging. It's about as close to the sweat and noise of a circle moshpit without leaving my living room.
Okay so the recorded version is a million times cleaner than the version I sang on stage at the Corporation with about 40 other fans, but every note resonates with my memories of that night. The barely perceptible guitar in the first part before the punk refrain comes in is clear, right down to the missed note.
This track is far more at home, at home, as opposed to the University main hall that I saw them perform it in. It's no less impressive though, with every crackle of the playing records coming through the soulful trumpet. Groove Armada have a 13 piece brass band on stage, doing the fusion of traditional styles with trip-hop in the way only the Brits can do.
I remember being transfixed, watching a woman in a spotlight singing over the breakbeat of this track. It was only after that I learned it was Julee Cruise, most famous for the Twin Peaks theme. The soft punchy bass, electro refrains, and strings are all clean and uncolored by the wonderful amp inside the T0's, that works just as well for softness as it does for heavy bass notes.
The distorting church bells in the lead up to this seminal classic are one of my favorite samples ever. Maxi Jazz's ASMR-inducing voice spieling tales like a modern day beat poet never get overshadowed by the synthesizer refrains, even when the breaks drop. Classic Faithless track, classic faithful reproduction by the T0's.
Conclusion on the Vanatoo Transparent Zero speakers
The Vanatoo Transparent Zero's are a real oddity in the high audio space. With no corners seemingly cut, and a crazy price for how good they are, they're the best desktop speakers you can buy – period. They constantly outmatched my more expensive Sony Dolby receiver and speakers that cost almost twice the price. If sticking to the established rules of engagement in the audio market, there just isn't any way that sound this good should come from small speakers like this. I don't know what secret sauce Vanatoo added to these, but sign me up for another dollop.
The only problem I have now is that if these are staying on my desk, I need another set to replace my home theater setup.
The Vanatoo Transparent Zero speaker set is available from Amazon and Vanatoo's website and retails for around $359.
A sample unit was provided for the purpose of this review.
For more reviews, check out:
The Good
All the connectivity options you could want
Fantastic sound
Quality DAC
Dual orientation options
The Bad
I'm struggling to find any
Follow us on Flipboard, Google News, or Apple News