Review: Zotac GeForce 1070 Ti Mini – Small stature, big punch
The little engine that could.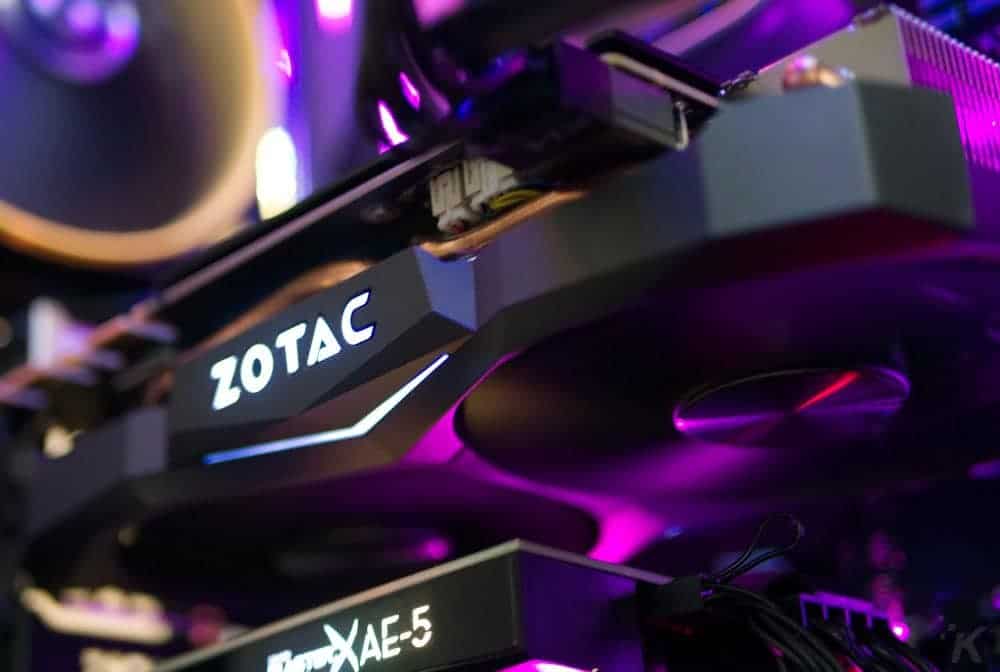 The Good
Small form factor
Oodles of power
One of the cheapest 1070 Ti's
The Bad
No compatible waterblocks
The buzz right now in the graphics card market is all about Turing, Nvidia's next-generational architecture but that doesn't mean we should forget about the current gen, Pascal. Pascal added a host of new features to Nvidia's offerings, such as the in-game screenshot tool Ansel, that lets you freezeframe the action in supported titles as if it had a photo mode inbuilt.
The final release from Nvidia's Pascal architecture was the GeForce 1070 Ti, which was released to outmatch the RX Vega 56 from competitor AMD. The 107o Ti was supposed to slot in-between the 1070 and 1080 in the lineup, however, it's much closer to the top 1080 and can even beat it after some overclocking. Today, we're going to be looking at one of the most interesting variants, the Zotac GTX 1070 Ti Mini.
Design and features
With the same 2432 CUDA cores and 8GB of GDDR5 as its longer brothers, with a base clock of 1607 MHz and a boost clock of 1683 MHz; the real selling point of the Mini is that diminutive size. Zotac claims that the under 9-inch card can fit into 99% of existing systems, which probably includes almost every PC that isn't a low-profile office machine. With a 180W power draw at full load, it should also be fine with the PSU used in most prebuilts although it's always worth checking beforehand.
Listening to their fans, Zotac opted to keep the Mini color-neutral with the 1070 Ti, with a gunmetal accent stripe instead of their signature yellow. I'm a big fan of the black/yellow combination but it does make it hard to fit into most other hardware. Three DP 1.4 ports, one DVI, and an HDMI 2.0b port provide connectivity, and there is an SLI finger for multi-GPU use.
The new Icestorm cooling system has a 90mm fan with curved blades for static pressure, and a 100mm fan that has wide flat blades to maximize airflow. It's an interesting combination and one that works very well in such a small GPU to keep temperatures down. There are the usual Zotac direct-contact copper heat pipes and a fairly beefy set of fins to transfer away that heat.
There are some white LED accents on the shroud, and the ZOTAC logo also in white LED on the side. Zotac has always been good about backplates on their GPUs, and the mini has a full cover metal backplate for stiffness. The fans are barely audible even under load, and a 15-minute benchmarking session only managed to reach 57 C.
Zotac also has their own software package, FireStorm. This helps you monitor the card and set fan profiles, it also lets you overclock wherever there aren't artificially locked settings. On this card, the core voltage is locked. The two bigger 1070 Ti's in Zotac's range have downloadable profiles that push the core clock by +150MHz, there isn't a similar profile for the Mini but overclocking is simple with the sliders.
Benchmarking
Testbench: PCPartPicker part list / Price breakdown by merchant
Starting out with the synthetic 3DMark Firestrike test, the Zotac 1070 Ti Mini trounced my test Fury X with a score of 19,539 to 17,564. That's not too surprising with the Fury X being two generations back, but since most people wait that many generations to upgrade it's still a fair comparison to make.
The gallery of gaming results is below, where you can see that the 1070 Ti Mini kept on its winning streak, with an average frames per second that were 20% or more than the Fury X. I was testing at 1080p, partly because that's what the majority of the market plays on but also because, despite the Fury X being marketed as a 4K card, it's really not cut out for it. I'm working on sourcing cards that will be able to do 1440p and 4K and will be updating all the benchmarks at that time, and adding the extra resolutions to my routine testing.
[envira-gallery slug="zotac-1070ti-mini-benchmarks"]
Conclusions on the Zotac 1070ti Mini
Zotac has a history of making cards for edge cases, and the Zotac 1070 Ti Mini certainly falls in this category. Those users who want small form factor (SFF) cases will rejoice, with the only minor drawback being that there are no compatible waterblocks for the card if you wanted to go that route.
Being almost as powerful as a GTX 1080, the $450 MSRP is attractive, especially in these days of over-inflated GPU prices. With great performance at 1080p and beyond, it's still a viable option for all system builders, or those looking to upgrade their Maxwell-era GPUs. With up to a 3-year warranty in the USA (2 years standard with a 1-year extension if registered on zotac.com within 30 days) to back it up, it's also a value proposition going forward. It's likely you'll upgrade before that warranty runs out, but it's nice to know it's there.
The Zotac 1070 Ti Mini ranges in price anywhere from $400-550, and is available on Amazon and through other retailers.
A sample unit was provided for the purpose of this review.
For more hardware and PC reviews, check out:
The Good
Small form factor
Oodles of power
One of the cheapest 1070 Ti's
The Bad
No compatible waterblocks
Follow us on Flipboard, Google News, or Apple News