Review: Weedcraft Inc – A management game for the budding entrepreneur
Maralize legajuana.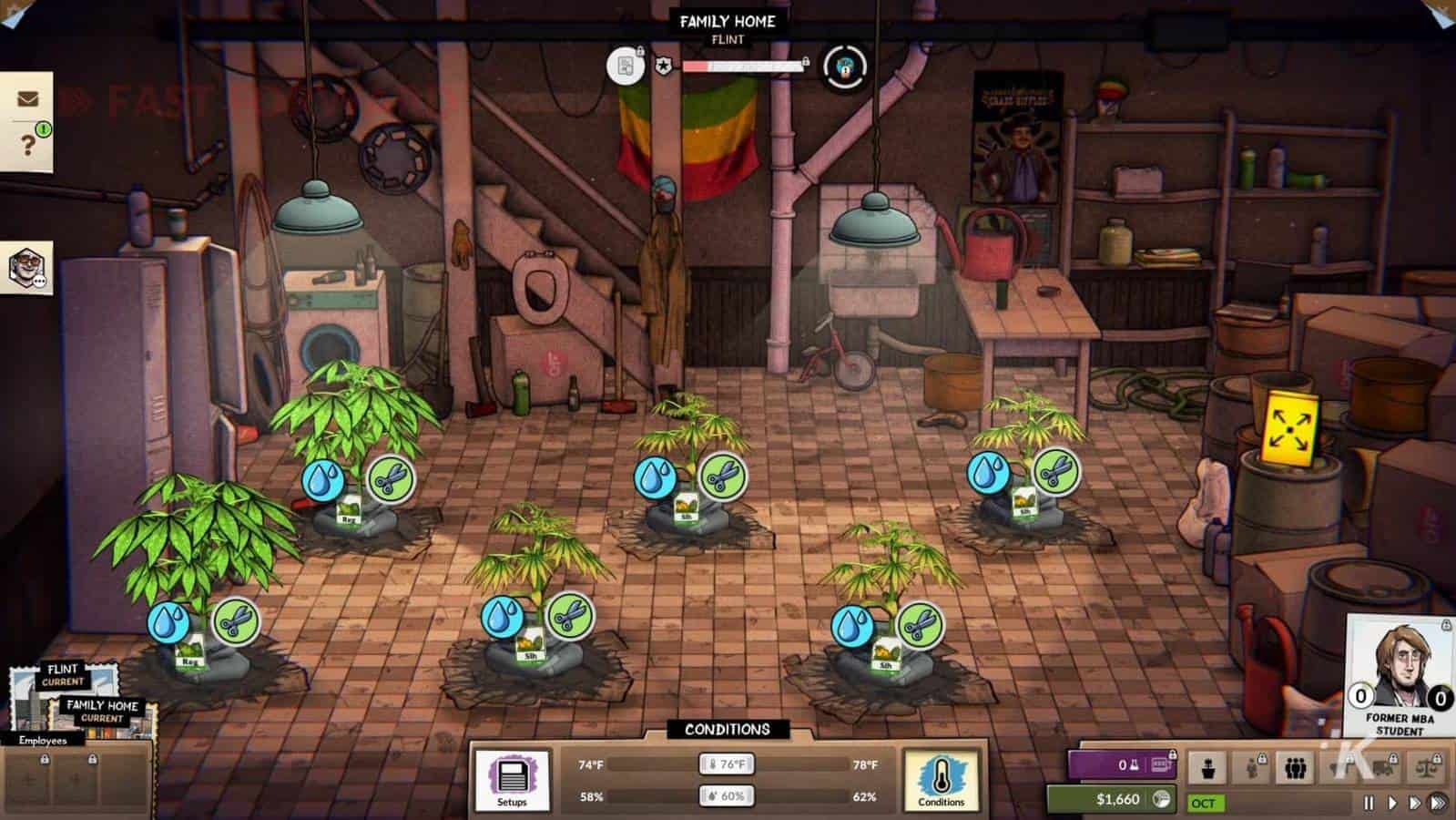 The Good
Solid management game
Interesting concept
Lots of options on how to play
The Bad
Bad character stereotypes
Music is lacking
So, let me just get this out of the way. I'm a little behind on this review. Weedcraft Inc released on April 11, and I had planned on posting the review on 4/20 because I'm the most basic bitch known to man, but fittingly, I have procrastinated and here we are.
Weedcraft for all intents and purposes is a business management sim/tycoon game. You're trying to grow your weed empire, both illegal and legal, and to do that you have to shake hands, kiss babies, and make risky deals in hopes of gaining a profit. But unlike other industries where shit is legal for no good reason (looking at you cigarettes), Weedcraft gets to play around with the legality of the substance, adding an additional layer to your traditional tycoon title.
Sadly, the game only skims the surface of many of these subjects and while it mentions things like the Farm Bill and medicinal use and video game streamers promoting weed (???), it all feels hollow, and that's a shame because there is some good material here for real conversation about "the gateway drug" and it's a shame it never fully embraces that.
Oh, and real quick, the only gateway drug I know is Surge and I've been chasing that green dragon for 20 years now.
But I digress, I'm not here to talk about drugs (unlike Kevin and Jared when they get together for "band practice"), I'm here to review a game.
Weedcraft's premise will make it interesting to a large group of people off the jump
The fact that you are playing a game where you're dealing with marijuana will instantly draw a group of people in – whether they smoke or not. I've discussed the game with friends and even those who have no interest in smoking the devil's lettuce find the concept intriguing. Devolver Digital does a good job of presenting the material in a way that doesn't glorify or demean the consumption of marijuana.
Of course, you have your stoner characters you'll meet throughout, but that's part of the culture, I get that.
That does bring up my biggest issue with the game, however
Everyone you sell weed to in the game is a stereotype. Whether it's a beggar looking for reggie or a cancer patient looking for medicinal marijuana, the art style is supposed to be punk or whatever, but it just comes off as uninspired and, in some cases, downright offensive. Which is a shame, considering how much time you spend selling to these clients.
Weedcraft Inc could have really tried to break these stereotypes and present pot smokers, cops, business people, you name it, in much more dynamic lighting, but instead went the route of cardboard cutouts. It isn't a dealbreaker, the game is still solid in its management aspects, but if these characters are going to exist in the game, they should be done well.
Rivals, politicians, and law enforcement have a bit more layers, but again, nothing feels real and conversations are flat. I do not care about you, regardless of how many times I ask you about video game streaming.
My last gripe deals with the soundtrack. It's not that it's bad, but it just isn't good. It reminded me of lo-fi hip-hop beats (and not the good ones) and I was over the soundtrack within an hour of playing.
Your operation starts small, but can quickly take off with the right moves
At first, your time with Weedcraft Inc will mainly consist of selling some basics strains to groups of people around Flint, Michigan. Rival operations will move in around the city and you can work on befriending them through basic interactions that feel like more of a chore than a learning experience.
You'll spend time in the early game watering and trimming plants to sell to people on the corner, but after you'll be hiring employees to sell the green for you, manage your grow rooms, and even run front businesses that are meant to keep the law off your back. Employee interactions are similar to learning about your rivals in that it is very basic. They want more money and you'd don't want to give it to them. Repeat for eternity.
After years of doing this (weed takes a long time to grow, so time does feel a bit weird in the game), you'll begin to expand your operation across the US with different locations offering different scenarios (like Colorado, for example). You can then start transporting legal weed to places where it is still illegal and this can bring with it its own set of issues.
There's a lot to manage in Weedcraft Inc and if you are a management game fan or just like seeing a somewhat simplistic view of the world of weed, Weedcraft should quench that thirst of the cottonmouth you got from that last joint.
Research, research, research
One of the more interesting aspects of the game is definitely how you go about growing better weed. Better weed means more money, so staying on top of your game can help. You can mess with pH balances, lighting, and temperature to find the perfect balance. Different strains require different things so there is always something you can be improving on.
There is also a skill tree for your budding entrepreneur and it is separated into "decent" and "shady". These can play a big role in your overall operations and gives you some options on how you want to play the game.
Focusing on particular skills can make your transition (if you choose to do it) to fully legal a lot easier, so it's good to have an idea of how you want to play the game as your empire expands.
Should you buy Weedcraft?
Overall, Weedcraft is not a bad game and I had fun managing my business. Tweaking your plants and yield is enjoyable and finding new markets to enter is exciting. I just wish the game would have been willing to have the big conversations in a more meaningful way and give the characters you interact with more personality and uniqueness.
If you are looking for a unique management/tycoon game and are interested in the marijuana industry, the $20 price tag is definitely worth it.
Weedcraft Inc is available on PC.
A copy of the game was provided for the purpose of this review.
Editors' Recommendations:
The Good
Solid management game
Interesting concept
Lots of options on how to play
The Bad
Bad character stereotypes
Music is lacking
Follow us on Flipboard, Google News, or Apple News