The Samsung Galaxy Fold is a galactic mess
Hmm. We had #BatteryGate with the Note 7, maybe it should be #PeelGate for the Fold.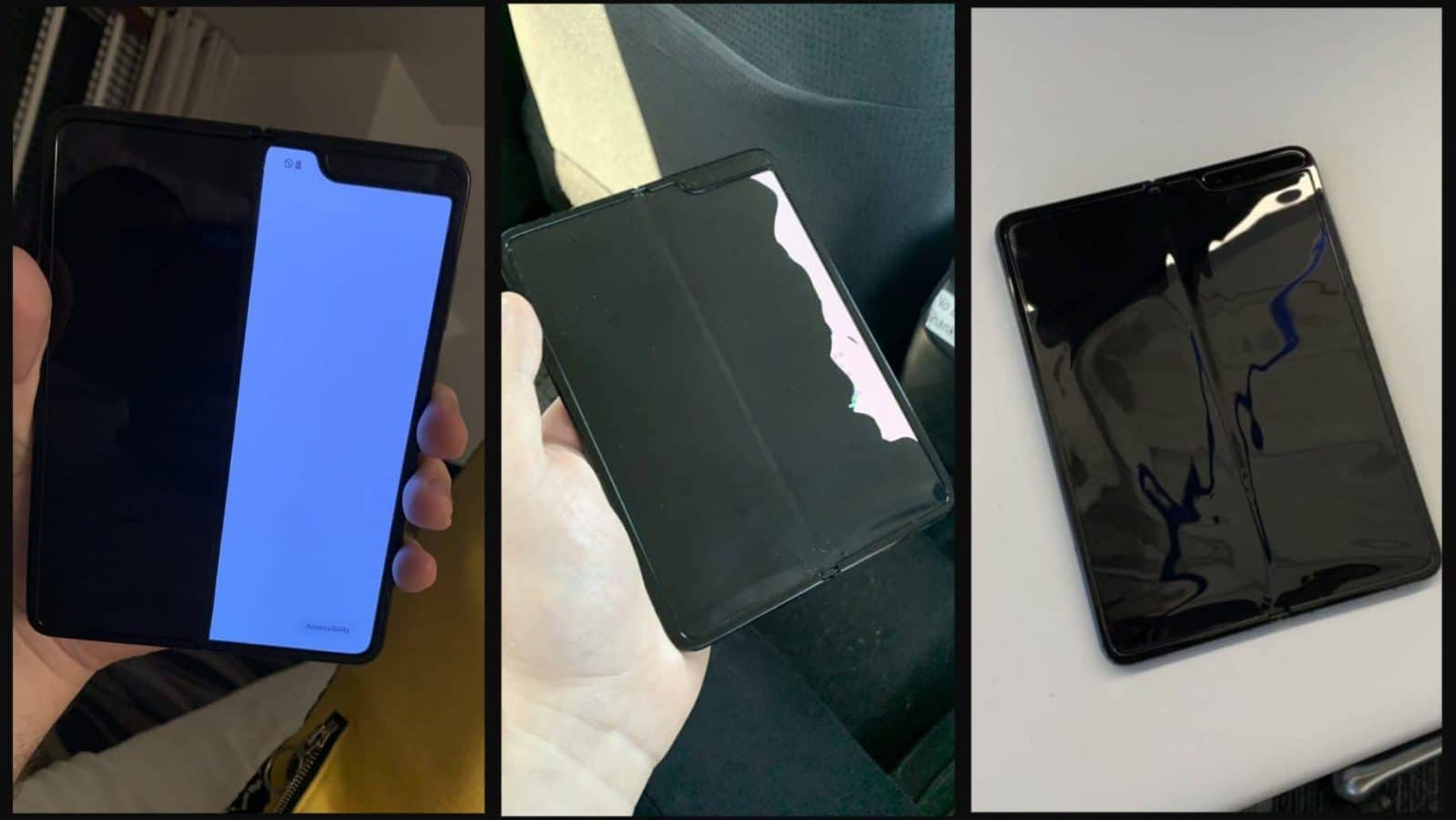 If you put down cash for a pre-order of the Samsung Galaxy Fold, you might want to reconsider. The foldable handset has only been in the capable hands of reviewers for major outlets for two days and there are already reports of broken screens.
The first one I noticed was Mark Gurman, who writes for Bloomberg. You can see the progression of the screen dying in the images above, which I like to call "A Tragedy In Three Screens."
See, the Samsung Fold has a protective layer over that flexible, plastic OLED screen
This protective layer looks just like any old screen protector or the usual peel-off protection for transit that any phone gets shipped with, but that is definitely not the case.
I'm sure you can figure out where this goes next, with Mark peeling off that layer yesterday, as would any consumer receiving their shiny new device. Things quickly snowballed, with the inner OLED screen dying in several acts over the course of the night.
Marques Brownlee, aka MKBHD, also fell for the not-really-supposed-to-peel-off protective layer. With such seasoned reviewers having their devices die so quickly, what chance does any actual customer of keeping their $2K device working after a week?
You might be thinking "oh, but they peeled off the protective layer – of course, their device started having issues."
I'd normally agree, but considering the additional tweets from similarly-experienced tech editors having the screens on their Galaxy Folds also die, without the removal of that film, the issues is bigger than protective film. Both Steve Kovach, who's CNBC's Tech Editor, and Dieter Bohn, Executive Editor at The Verge, also had their devices die in different ways.
The Verge's review unit first picked up a few telltale scratches on the screen, probably from fingernails during the usual touchscreen interactions. Then came the shocker, with an unwanted bulge appearing at the bottom of the screen, which pushed the OLED out far enough to break the entire panel. I'm sure it wasn't the first device broken by an errant bulge, but it doesn't bode well for the consumer release.
CNBC's device didn't bulge, and the protective polymer layer was left unscathed, but it developed its own quirks. After the hinge was unfolded, the left panel started flickering like a fluorescent striplight at a rave.
Not all the review units sent out are suffering a similar fate, with Mark Spoonauer at Tom's Guide triumphantly tweeting UPDATE: My Galaxy Fold isn't broken yet. #GalaxyFold.
Ahh, the fun of being an early adopter
If you did pre-order a Galaxy Fold, I'd recommend canceling that order if you can, at least until Samsung can look at the issue and see if it's fixable. If you really want to burn $2K that quickly, it'd be more fun to get twenty Benjamins, fold the stack in half, and take a Zippo to it.
What does this mean for upcoming devices from Huawei, Xiaomi, and Motorola? Have they figured out a better way to protect the fragile flexible OLEDs?
We'll be keeping an eye on this ahem breaking news story as it develops so watch out for more updates.
Surprised by these early Galaxy Fold reports or did you expect this? Let us know down below in the comments or carry the discussion over to our Twitter or Facebook.
Editors' Recommendations:
Follow us on Flipboard, Google News, or Apple News