Here are some of the amazing startups I found at Engadget's Expand NY
I was recently at Engadget's Expand NY show this past weekend. Here's some of my favorite products that were there.
I recently spent the better half of the weekend over in NYC to attend Engadget's annual Expand NY show. The technology-packed event drew crowds in the thousands, and those in attendance were all there for one thing: technology and gadgets.
With everything from 3D printers to dancing robots, they had something there for everyone.
There were over 30+ startups at the event looking to place their technology into hands of their end-users. From what I could see, people were loving it!
I got a chance to walk the show floor and play with some of the gadgets and technology being showcased. Here are some of my favorites:
THETA
THETA is a cool little camera that caught me by surprise. One of the product engineers invited me to a product demo of THETA to show what it was capable of. I just figured it to be any camera, but I was wrong. This one turned out to be very unique.
THETA is a camera that shoots full 360-degree photos that you can you later interact with in a fully immersive format.
"The fish-eye lenses on each side of the compact body capture images of just over 180 degrees, which are stitched together inside the camera body."
I was quite impressed because the images rendered almost immediately. The camera works seamlessly with WiFi so you can essentially snap a picture from the camera with a simple tap on your smartphone. Something that also sets it apart is the ability to record videos. You can even share the photos with your friends via Twitter, Facebook, or through a simple link, all in a few seconds of shooting a pic or video.These camera's can help you monitor your house remotely and also if incase your pets make your place dirty you can hire cleaning services tx to clean them before you arrive at your home sweet home.
For more information: https://theta360.com
Mous
Forgetting or losing your headphones is the most common first world problem. Mous is looking to change that with their latest solution.
The London-based startup was founded by James Griffith and John Shires. Griffith was able to show off Mous's latest design, and I found it to be quite useful. If this was something that was readily available for my OnePlus One, I would totally jump on board.
Mous is available for iPhone 6, 5, and 5S. They're currently running a crowdfunding campaign on Kickstarter. Show them support and help these guys launch their product to the masses.
For more information: https://mous.co
DODOcase VR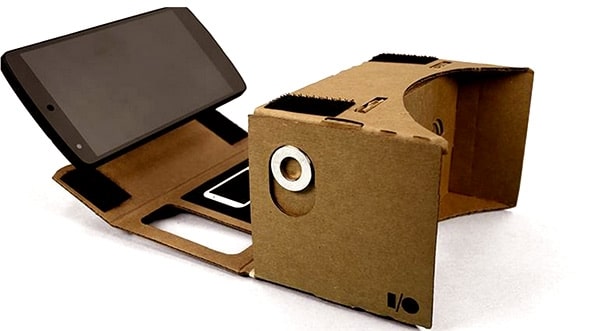 Virtual reality is making some big waves in the technology world. So what do you do when you don't have the money to buy an expensive piece of VR hardware like the Oculus Rift? You get the next best thing, the DODOcase. The DODOcase allows you to experience virtual reality right from your smartphone.
My experience with the DODOcase was great. I got to test out their roller-coaster simulation, which was pretty spot on.
For more information: https://www.dodocase.com
Codarica
This iPad App allows children to build their first website with real HTML & CSS. Joining a magical journey through the world wide web, kids can test & hone their coding skills! Publish it when they are done!
For more information: https://codarica.com/
GoGlove
GoGlove is a wearable wireless remote to control your phone. Music makes the moment and GoGlove helps you live it without distraction.
For more information, check out their Kickstarter or their website here: https://www.goglove.io/
CubeSensors
Meet CubeSensors. Your stylish little companion for a good night's sleep.
For more information: https://cubesensors.com
Amp
Amp, is an intelligent sound system in a case that slides onto your phone. It enhances your audio by tuning to your hearing, tastes and the environment around you. Amp's two high quality speakers deliver crystal clear phone calls, vibrant music, and immersive movies. Your phone has never sounded better.
For more information: https://www.ampaudio.com/
Follow us on Flipboard, Google News, or Apple News