SpotiKeep Spotify Music Converter Review
Listening to your favorite songs from the comfort of your own home has now become much easier with SpotiKeep's MP3 format conversion.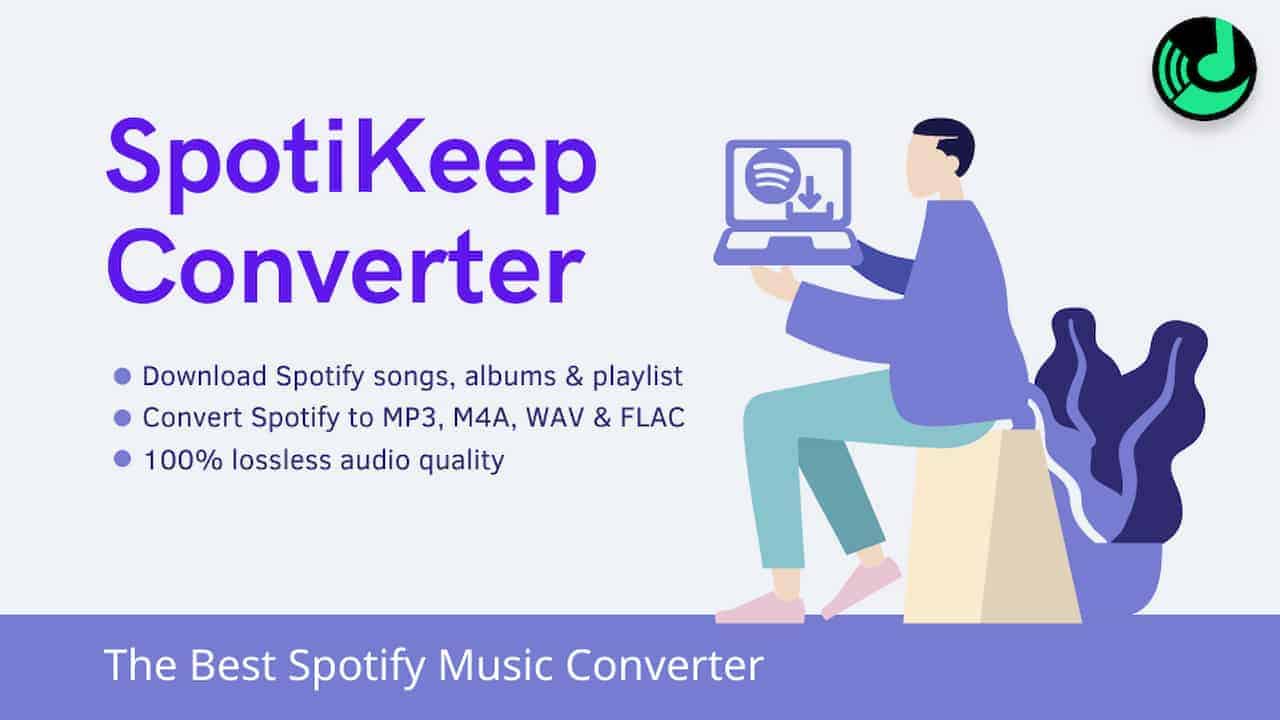 Disclosure: This is a sponsored post. However, our opinions, reviews, and other editorial content are not influenced by the sponsorship and remain objective.
Spotify has recently become the most famous music streaming service with a massive collection of soundtracks, music, audiobooks, and other content.
Currently, users may only listen to their favorite music offline if they pay a premium subscription. As a result, the Spotify songs you've downloaded cannot be played on any other music player.
Because of this limitation in listening, many users prefer a tool to convert Spotify files into a more readable format, such as MP3. That's where the SpotiKeep Spotify Music Converter comes into play.
SpotiKeep Spotify Music Converter has the most outstanding feature of all. In this post, we focus on the most impressive quality of SpotiKeep Spotify Music Converter.
Listening to your favorite songs from the comfort of your own home has now become much easier with SpotiKeep's MP3 format conversion. Those who are still curious about how SpotiKeep works should read our SpotiKeep review in depth. Let's dive in.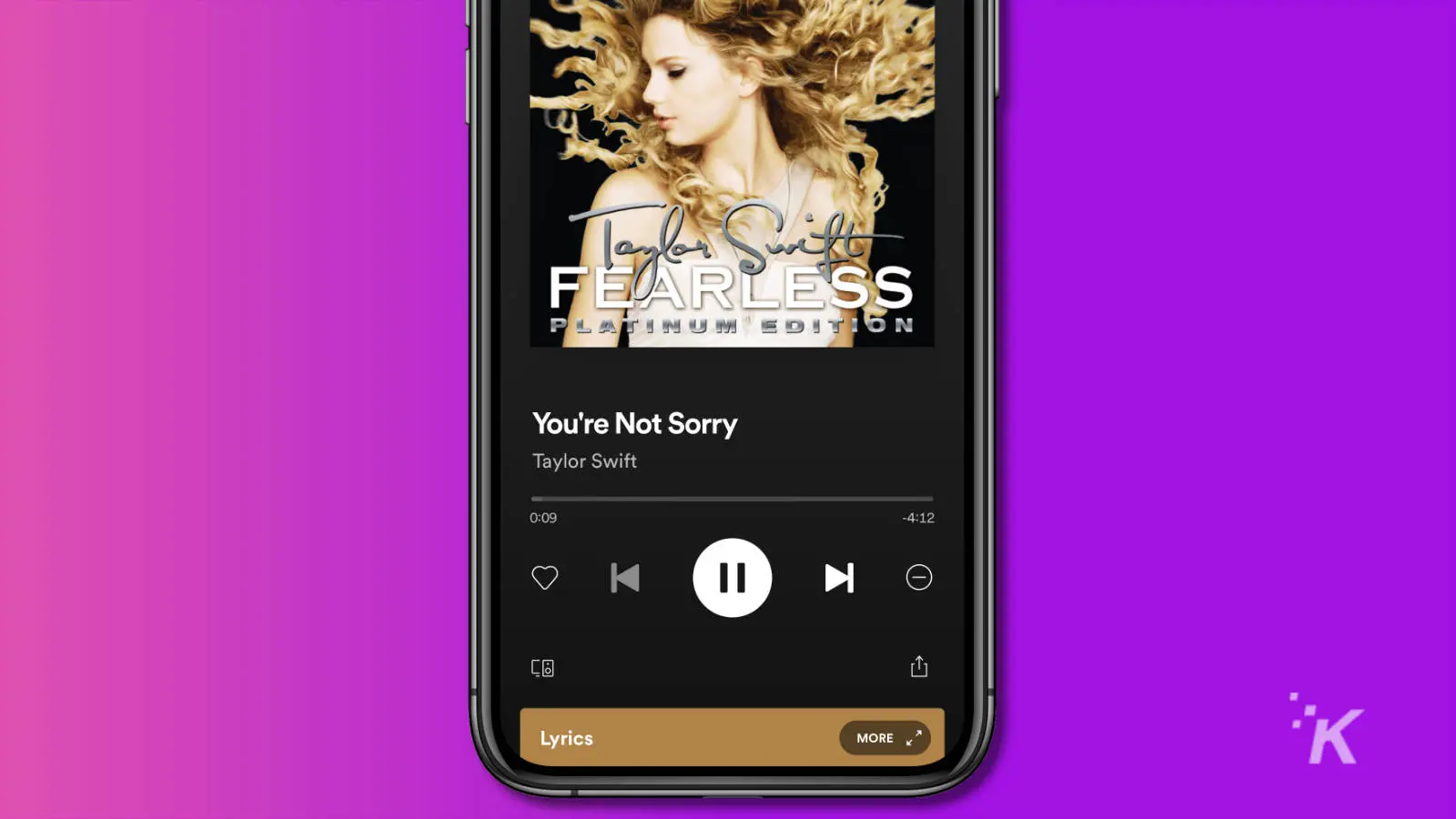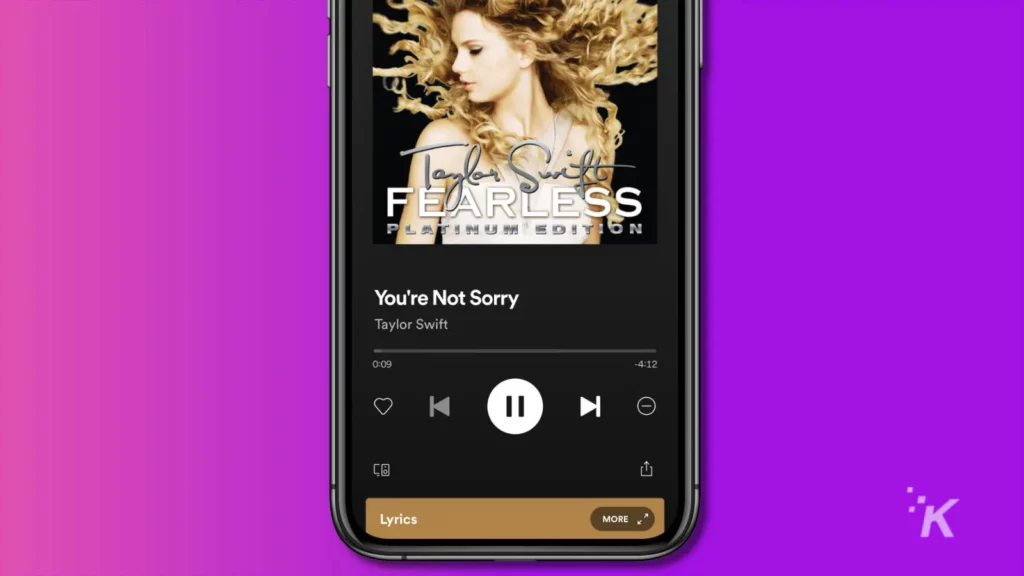 SpotiKeep's Spotify Music Converter Features
Check out the features of the SpotiKeep Spotify Music Converter below:
High-Quality Audio Output with No Loss
SpotiKeep will keep the originality of Spotify songs when you listen offline. SpotiKeep outperforms the competition when it comes to converting Spotify to MP3 without compromising the quality of the music.
Spotify to MP3 Conversion Effortlessly
You can flawlessly play Spotify music on various devices with SpotiKeep Spotify Music Converter. Consumers can save time by downloading and converting Spotify to MP3 using SpotiKeep Converter.
The conversion list allows you to add several songs or playlists. SpotiKeep Converter can increase its downloading speed by six times using an acceleration option.
This app can also save more than one song at a time, which is very efficient. Similarly, you can select from a range of audio formats, including MP3, M4A, WAV, and FLAC.
Due to this, SpotiKeep will decode Spotify music into simple audio codecs that can be listened to on a phone, PC, MP3 recorder, or other music devices.
Keep Original ID3 Tags for Spotify Music
You can download Spotify tracks with ID3 tags and metadata information while maintaining their quality with SpotiKeep Spotify Music Converter.
Therefore, arranging Spotify songs is easy, even if you download many music albums or podcasts from your favorite artists.
Eliminate DRM
SpotiKeep Spotify Music Converter is designed to remove the DRM from Spotify tracks so that you can play them on other devices.
A digital rights management (DRM) system encrypts media content to be better controlled by Spotify and prevented from being misused.
SpotiKeep Converter removes Spotify's DRM so you can play them offline and on other platforms.
User-Friendly Interface and User Experience
SpotiKeep Spotify Music Converter is characterized by its clean, ad-free operating background. Thus, any SpotiKeep newcomer will find this Spotify to MP3 Converter very easy to use.
SpotiKeep offers simple features to enjoy Spotify music offline without learning complicated coding.
Five Times Faster Conversion Speed
With SpotiKeep, you get a high-speed conversion rate compared to other players. You can convert Spotify to MP3 format at a five-fold faster rate than usual if you choose.
Select a playlist from Spotify, convert it to MP3, and your favorite music will be available immediately. SpotiKeep is a Spotify to MP3 Converter with the fastest conversion speed, but it depends heavily on a good network connection and a suitable medium.
How to Convert Spotify Music to MP3 with SpotiKeep?
By using this converter, you can permanently keep your favorite Spotify songs to yourself. Firstly, you will need to download and install the SpotiKeep Spotify Converter.
Step 1. Open a Spotify Playlist
After the software has been installed, run SpotiKeep on your computer, click the "Open the Spotify web player" button.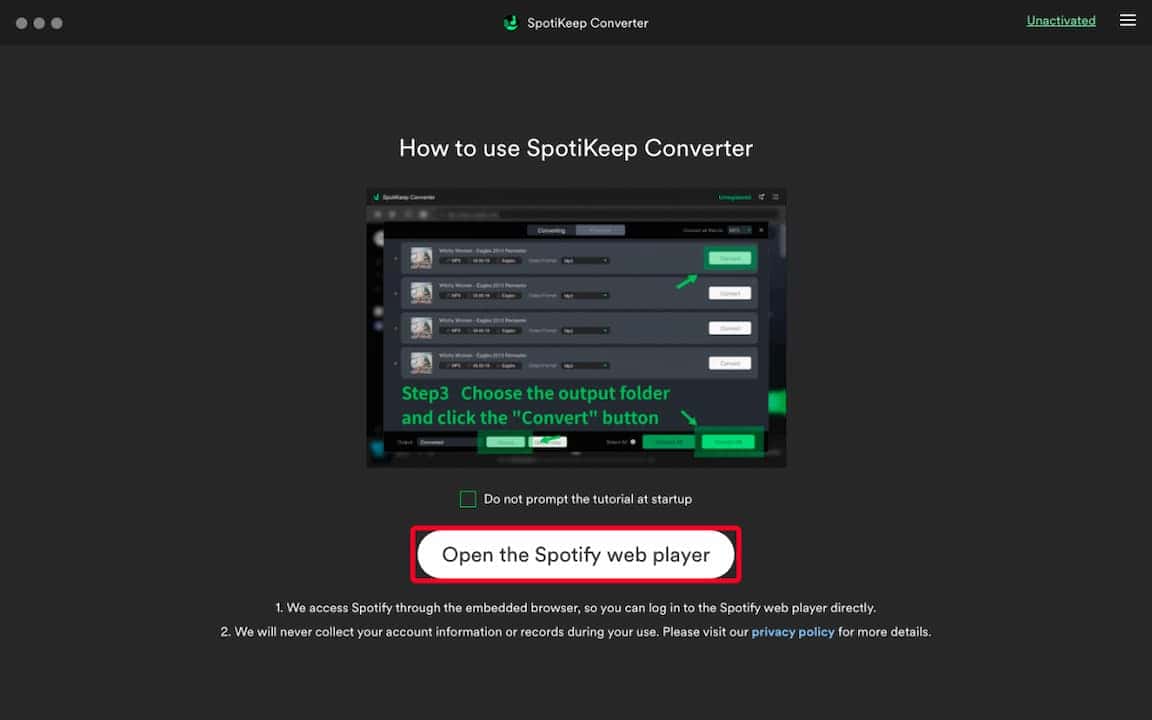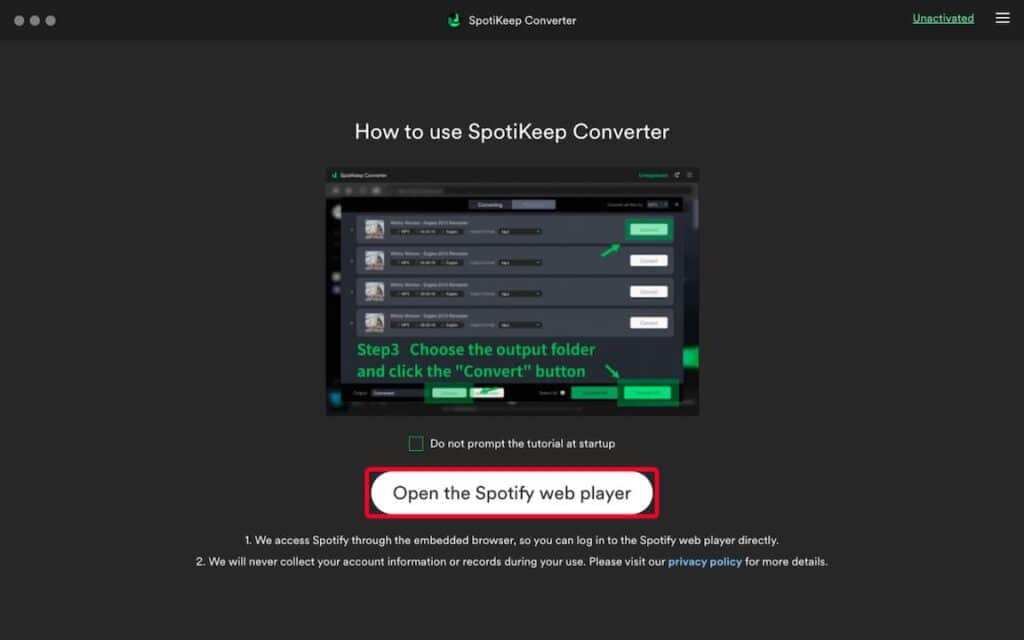 Log in with your Spotify account in the web player within the SpotiKeep Converter. Then open a playlist that contains the songs you would like to convert.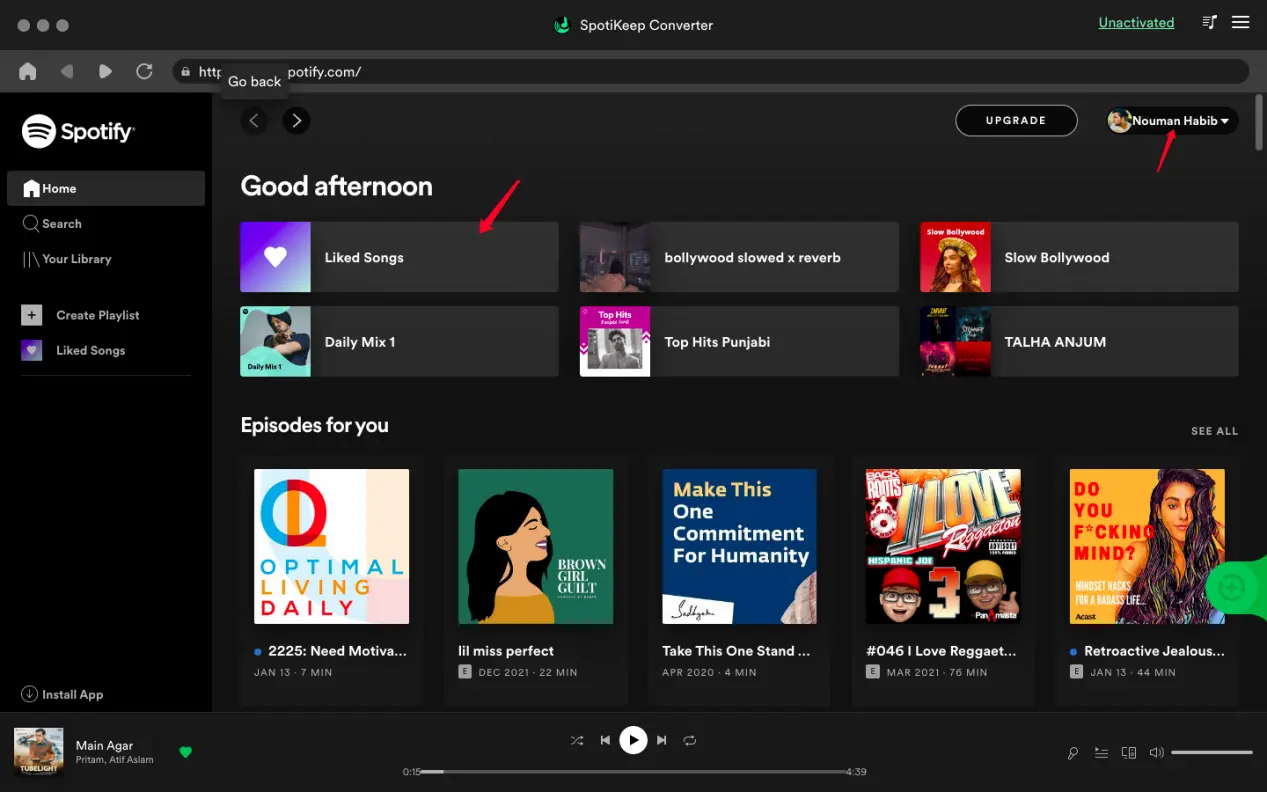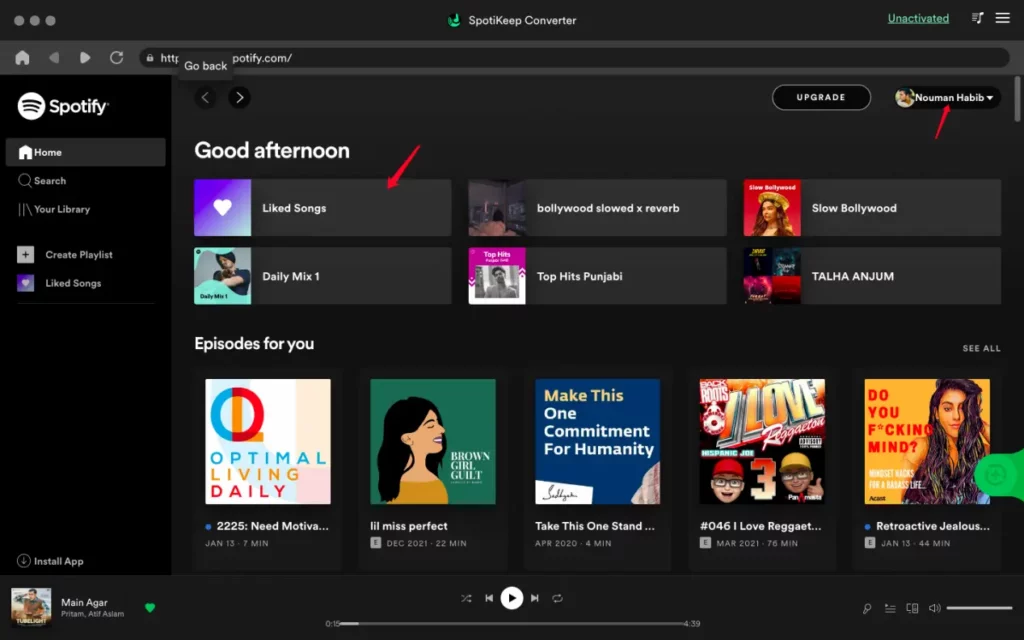 Step 2. Open the Converter
Press the green button at the corner of SpotiKeep Converter, and the converter will display all songs on your playlist.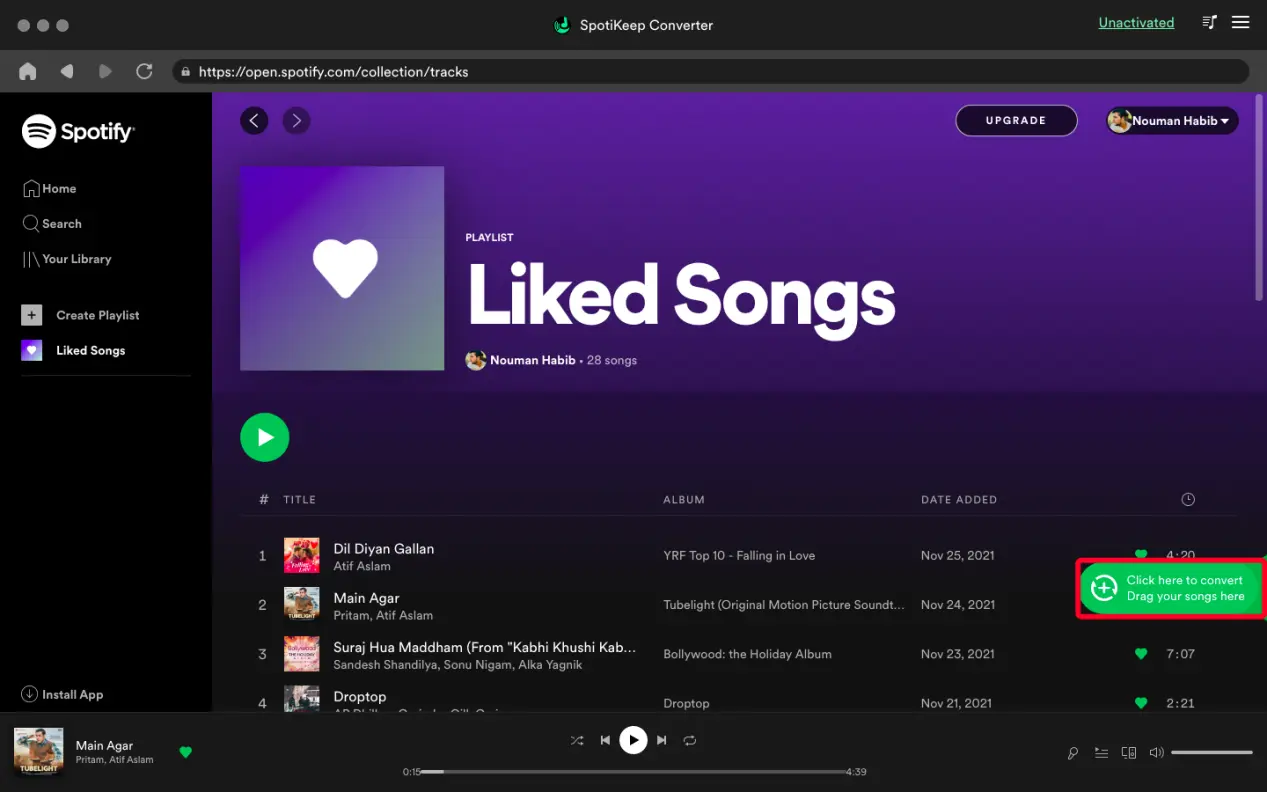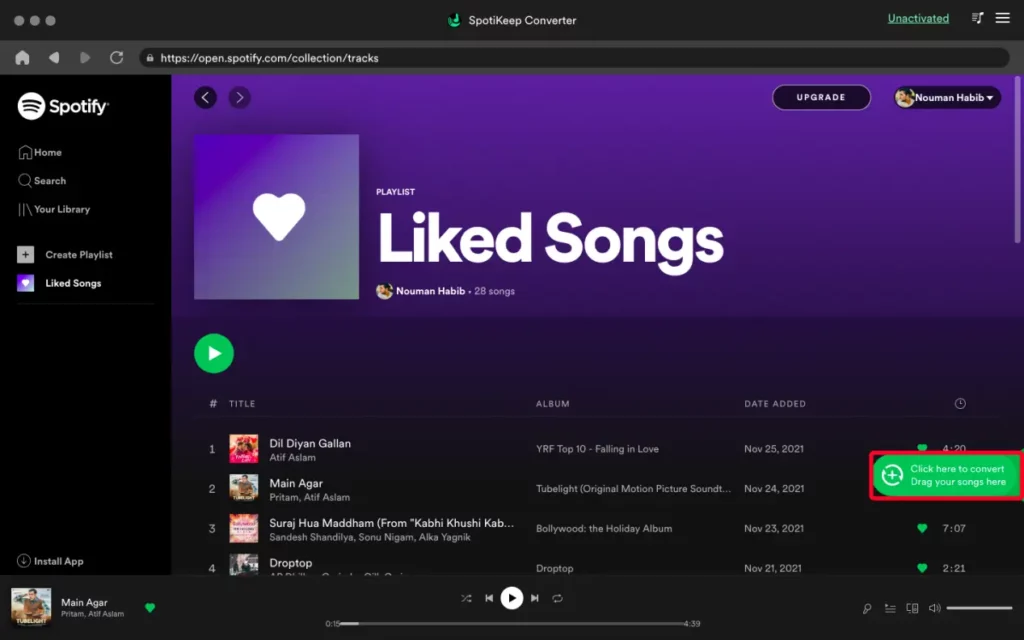 Step 3. Customize Your Output Format
SpotiKeep offers two ways of Spotify to MP3 conversion. You can convert specific songs by ticking on the boxes right near the tracks and selecting an output format from MP3, FLAC, M4A, or WAV. When you finish, click on the "Convert" button.
To convert all songs in the playlist, you can press the "Convert All Items" at the bottom.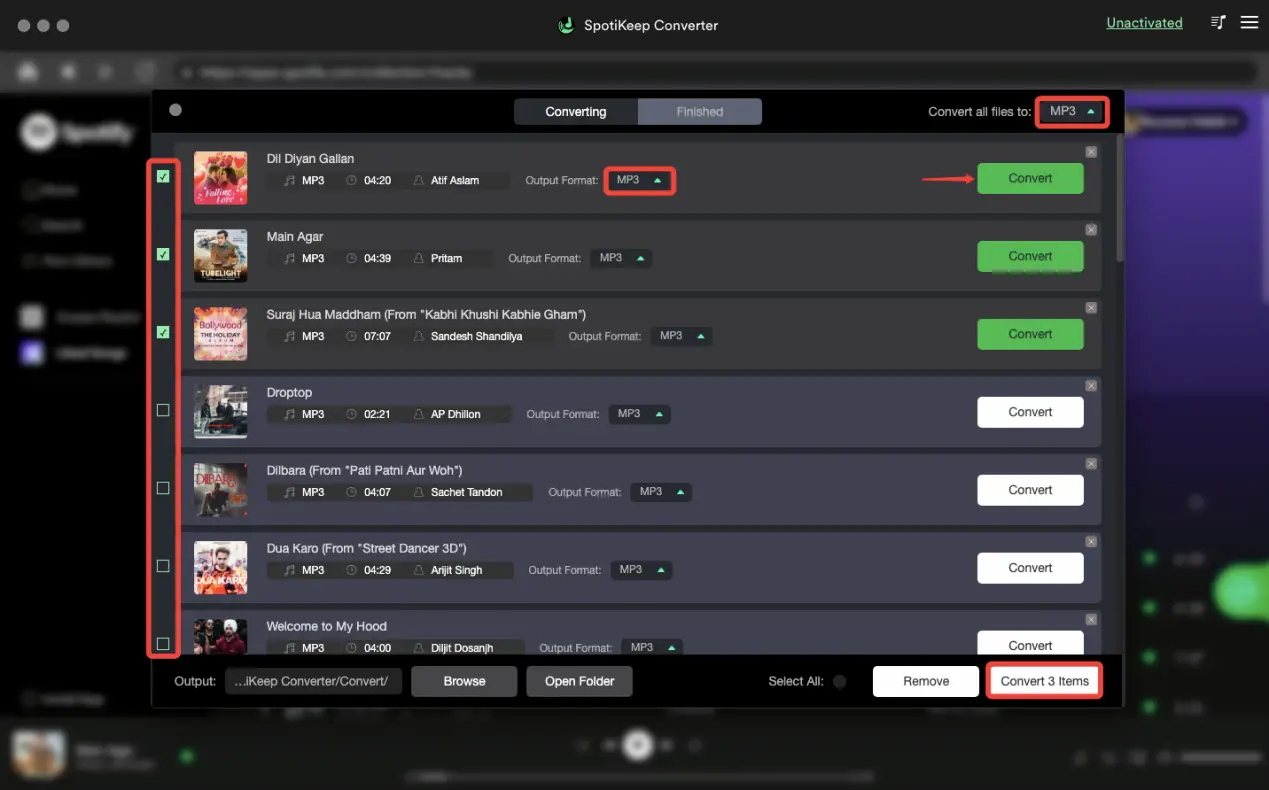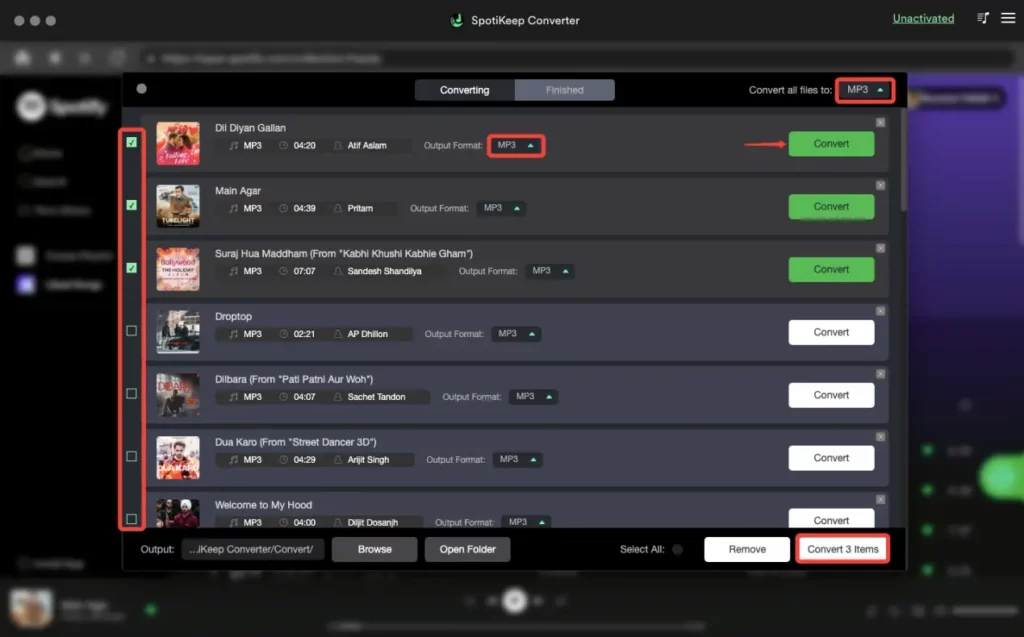 You can view the converting process immediately. The conversion will complete in a few minutes.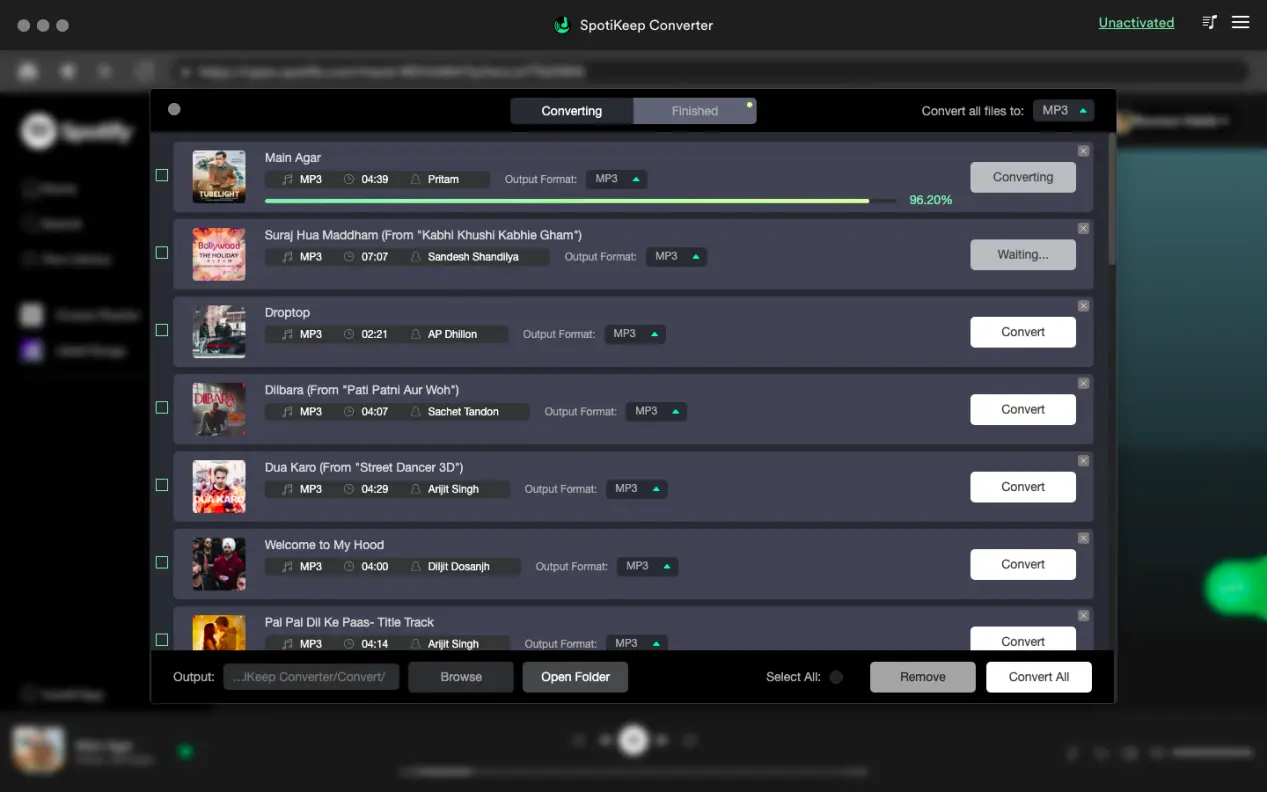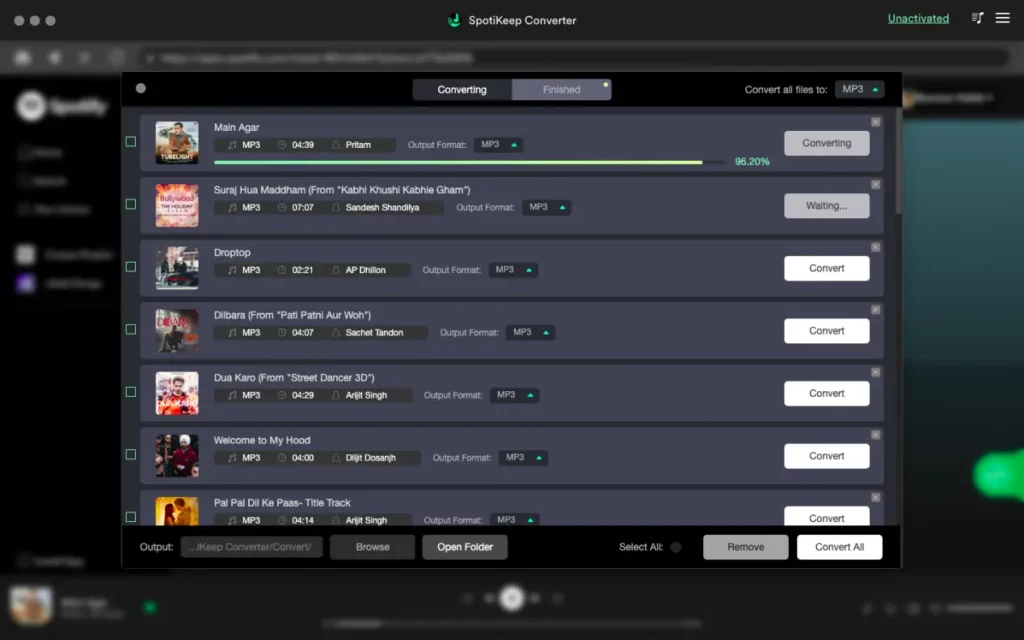 Pros of SpotiKeep Spotify Music Converter
Keep Spotify music offline as high-quality as possible.
Provide simple instructions for downloading Spotify music.
Offer a variety of output formats for storing the songs.
You can convert optional Spotify content, like singles, playlists, albums, radios, etc.
Streamline your download speed to 5X and download many files at once.
Cons of SpotiKeep Spotify Music Converter
A free trial can only convert a song up to 3 minutes long.
The free trial lasts only 30 days.
Pricing
There are limits to a free trial, as stated previously. Therefore, if you decide to upgrade your plan, you have three options:
A monthly fee of $19.95 for one device.
A year's subscription for one device costs $39.95.
A lifetime subscription for $79.95 is valid for one device.
Conclusion
We hope that we have given you enough information about SpotiKeep Spotify Converter. If you're unsure whether SpotiKeep is right for you, you can quickly sign up for a free trial first.
Due to its smooth operation and excellent performance, SpotiKeep is rated as the best Spotify MP3 Converter. Don't miss your chance to experience offline music listening with SpotiKeep, and give it a thumbs up.
Have any thoughts on this? Let us know down below in the comments or carry the discussion over to our Twitter or Facebook.
Editors' Recommendations:
How to save music to listen to offline
Hidden benefits of converting a video to an audio clip
3 reasons why you need to invest in DRM
Disclosure: This is a sponsored post. However, our opinions, reviews, and other editorial content are not influenced by the sponsorship and remain objective.
Follow us on Flipboard, Google News, or Apple News