Starbucks finally bans porn on its free WiFi so act accordingly
Triple money shot latte, please.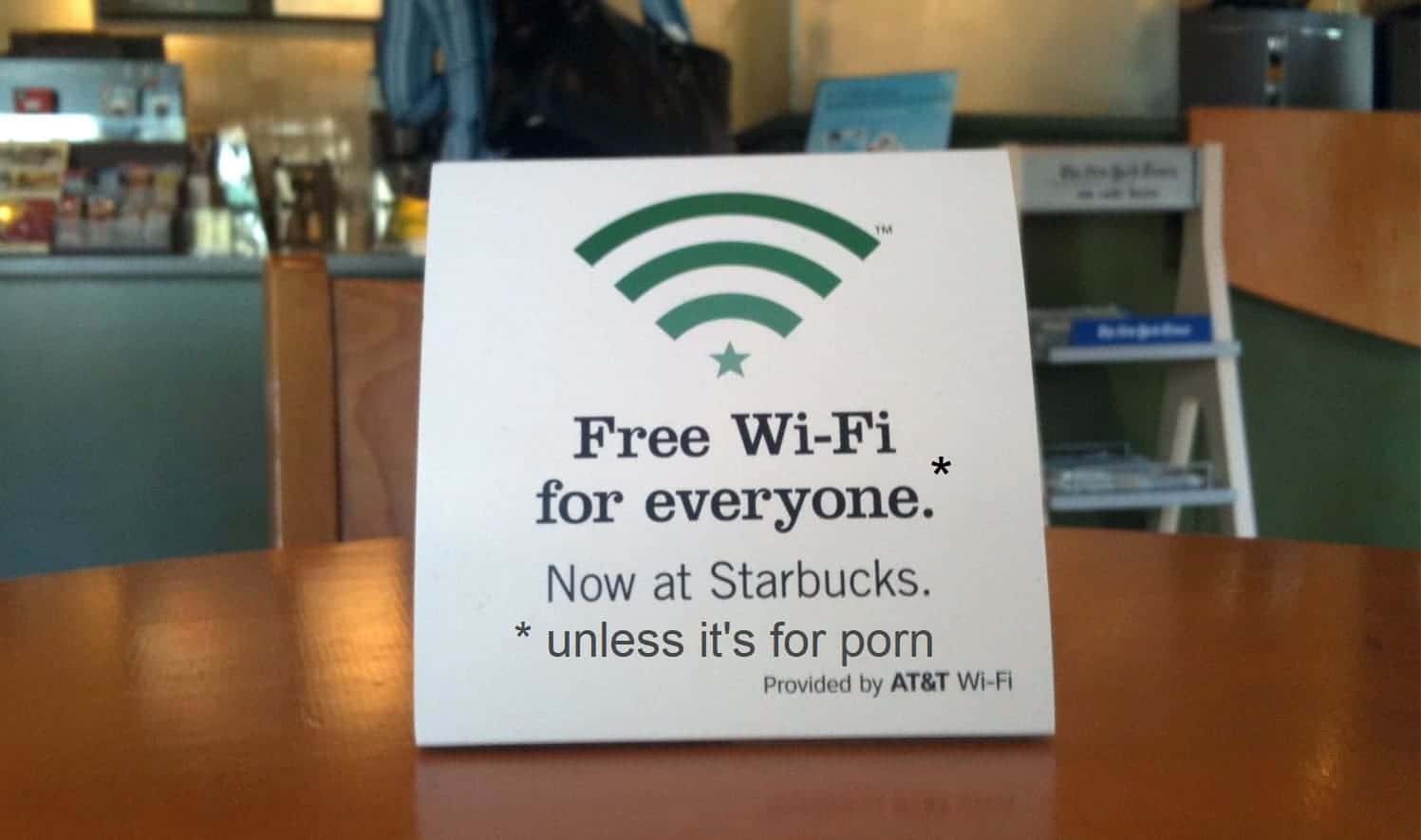 There are very few constants in this world. The sun will rise in the east and set in the west, the tides will rise and fall, your mom will always think you can do better — and you can totally watch porn on the Starbucks WiFi. Well, like the uncertainty of life itself, not anymore.
A few years ago it was reported that both Starbucks and McDonald's caved to pressure from anti-pornography groups (the lamest anti-anything collectives of bible thumping morality police) and restricted access to adult or mature (or porn) sites. However, Starbucks wasn't so quick to adapt.
While McDonald's, Chick-fil-A and Panera, who all offer free WiFi, have slapped on the content filters you are used to from working in an office for all these years, Starbucks took a little bit longer to get with the stupid program. Starbucks, to its credit, wanted to be sure that it wasn't blocking access to mature, but not porn, websites. Like anything on HBO for instance, or those videos in which some nice lady eats a cheesesteak really slowly while making direct eye-contact. Kevin keeps asking me to send him those.
Look, I'm not the type of person who goes to Starbucks or any free WiFi place to intentionally watch porn. Or even the public library. Porn is to be watched at home, with friends and not your parents. And yeah, if you are watching porn with a purpose in a public place where other people can see or hear the content you are consuming — then you are a fucking creep. But in the course of a days research, whether it be for writing or just dumb stuff your friends send you, sometimes naughty stuff pops up. Sometimes you shy your phone away from the public eye, pop in an earbud and consume that possibly mature content that isn't porn but would be blocked by the same tools.
Starbucks has apparently developed a tool that will block porn but still allow mature content that isn't porn. Which is good, because half the articles I write would be classified as mature content, and I need to at least be able to write them (yes, I often work from a Starbucks, sometimes the one in Target).
In the scope of getting free internet for the price of a latte and having to work in and around the general public, making sure that porn isn't part of the equation is acceptable. I'm all for porn and its existence, but I'm not for people watching it in public. What if they aren't into the same things as me? What if they are watching something with bad resolution? Who wants to see that? So good on Starbucks on making sure my second-hand porn viewing is limited to the bus and sometimes the highway.
Hopefully, the tool that Starbucks is using doesn't suck. I have flattened my ass in many a cubicle over the year, using networks with the shoddiest content blockers. They would block searches for weird stuff — which is like half my day — but still allow some porn to sneak through if you knew which sites to search for. Starbucks knows its tool must operate so cleanly that it doesn't disrupt the work of its most loyal customers — freelance writers, email telemarketers, the homeless, route salespeople, and a girl slowly eating a cheesesteak.
What do you think? Worried that the filters will be too extreme? Let us know down below in the comments or carry the discussion over to our Twitter or Facebook.
Editors' Recommendations:
Follow us on Flipboard, Google News, or Apple News