Thanksgiving remains in existence to serve the throbbing margins of tech on Black Friday
Consumerism is the gravy.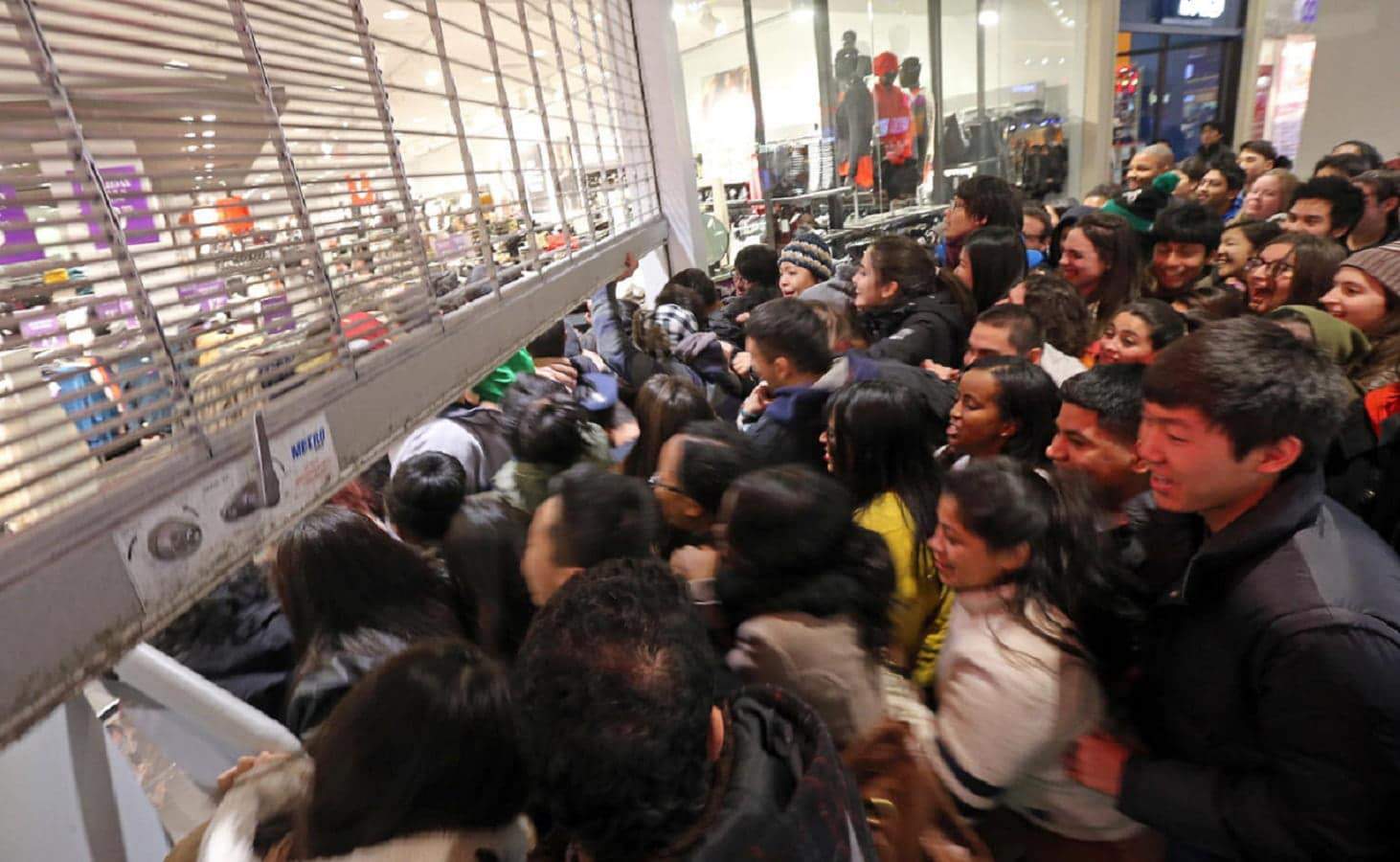 Thanksgiving, a holiday steeped in racial undertones and brutal colonialism, no longer holds whatever non-smallpox related meaning it may have once wielded. As humans capable of free will, do we need a marked day in order to come together, suffer the insufferable members of our bloodline and give thanks for what exactly? No, the proliferation and continuation of Thanksgiving as a holiday is akin to Columbus Day remaining as such in order to sell discount mattresses. It is simply the harbinger of Black Friday.
The Black Friday (capitalized for effect) phenomenon has expanded from one day of consumers rushing the doors at Walmart to a month-long affair of loud font sales, both in your email and in banner ads across the internet. It no longer serves a business to wait until the moment the turkey begins to cool to open its doors against the throngs of face-blushed customers, eager to save a small percentage on something they do not need. No, Black Friday comes as soon as Halloween ends, dragged like a bag of mud into the season by Christmas Creep.
As we kneel at the dark altar of consumerism we are reminded that it is our one true god. For whatever political meandering continuously threatens to topple our mental states, we always eagerly return to opening our wallets for the latest and greatest technology, suckling on the teet of a good deal, disregarding any differences we may have had before purchasing a new television that we simply do not need. It is a small satisfaction in a world of chaos. This is the time of year when tech companies regain any losses, their Thanksgiving comes after the fiscal period closes.
Which is why Thanksgiving, as vaulted a holiday as it might seem, is nothing more than a moment of respite before we fall into the warm embrace of consumerism. Our fingers itch as they refresh the page for Amazon's annual Black Friday deals. Our brains become wet with fevered enthusiasm as we patiently scan eBay for secondhand deals. Gamers salivate at the depth of deals offered by Microsoft for the Xbox and we have a side eye to smaller tech companies, also angling for that Black Friday sales traffic.
It is Amazon though, that has rendered Thanksgiving nothing more than a footnote on the path to Black Friday (itself rendering Cyber Monday a non-issue). This is where we start our Black Friday shopping, instead of in a tent outside a Best Buy. While traditional brick-and-mortar attempts to keep up (have you seen the sales on toilet brushes at Bed Bath & Beyond for Odin's sake), it is our ability to spend money while not moving from our seat that truly heaps glory upon the seven-headed beast that is Black Friday shopping. There is more relief to be found from shopping online than there is from loosening our belt after scooping large, dry chunks of turkey and potatoes into our gullets.
And it is tech, small and large retailers, and manufacturers that truly benefits from the existence of Thanksgiving and by proxy, Black Friday. This is when we purchase our new 8-track stereos, our VCRs and 19-inch televisions. This is when we stock up on peripherals we do not need, this is when we buy all the toasters we can handle. While non-tech items also fall into the Black Friday pit, it is tech we tend to gravitate towards. You've never seen a pair of customers fighting over an ottoman like they fight over an OLED 4kUHD television at 40% off.
Yet, as the dust settles sometime in mid-December, as Christmas approaches and the new year seems like the only thing that will save the crushing depression caused by the status of our bank accounts, we have to take a moment to thank consumerism. Because of it, we are constantly presented with new and amazing technology, all fighting for a place on our shelves or in our pockets. So if there is anything to be thankful for in that moment after your racist uncle has finally stopped talking and before the first slice of turkey has slipped past your grinding teeth, it is that we live in a country in which we can get some really good deals on fruit infusion bottles and dental tools on Black Friday.
Where do you stand? Is everything terrible? Let us know in the comments below or continue the conversation on Twitter.
Editors' Recommendations:
Follow us on Flipboard, Google News, or Apple News