AceMovi Video Editor from TunesKit is the best video editor for beginners
The AceMovi Video Editor is designed for consumers, which can be seen from its simple interface and preset library.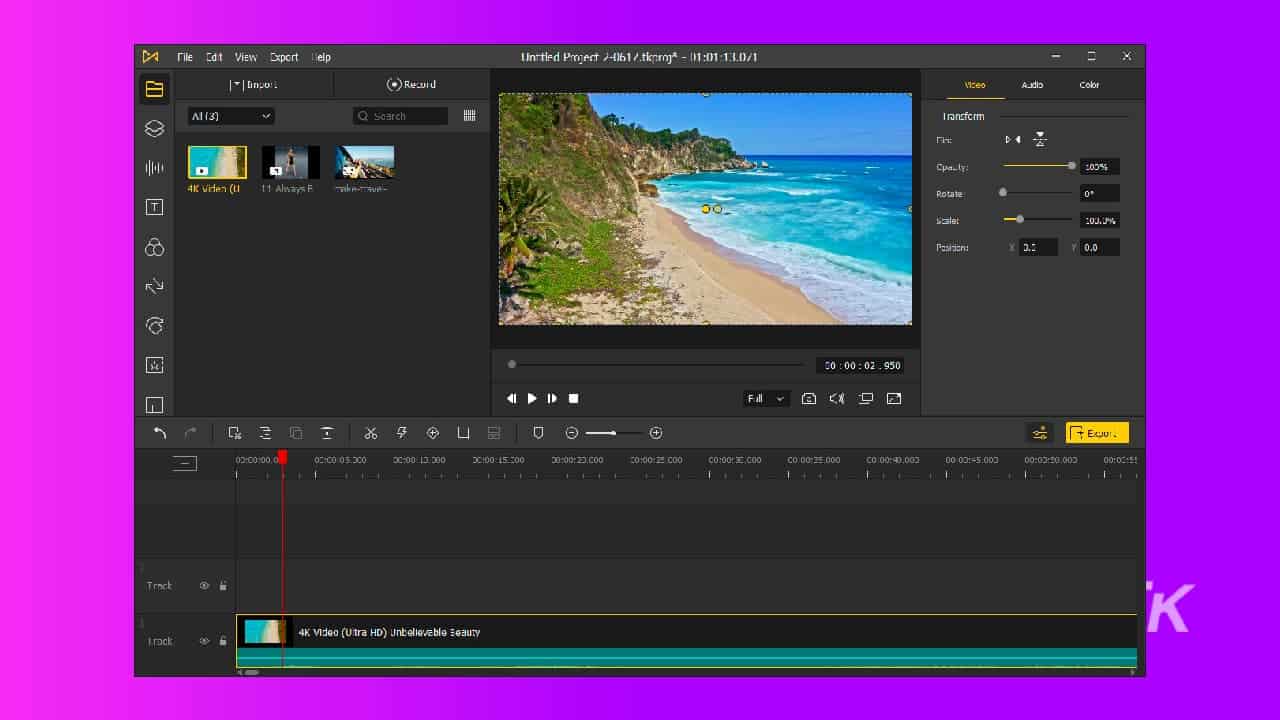 Are you looking for a lightweight video editor that does all the essential bits and pieces? The TunesKit AceMovi Video Editor is not a heavy professional-type video editor, and you can immediately tell when you download it. However, it doesn't require much power and works well on any PC, causing little to no hitch at all.
Also, this means that it is relatively easy to understand, and even if you are new to using a video editor, the interface is simple to navigate. The AceMovi Video Editor is good for making digital signage videos, social media video edits, slide shows, and screen recordings.
To put into perspective, the file size of this video editing software is below 100MB, which pales in comparison to the more sophisticated editors that are in the north of 2GB in size. However, the catch here is that you might still need to download some tools and other features you want to apply later in the app.
Nonetheless, the download is a one-time thing; however, you will likely need to be online to enjoy some of its key features during the early stages of usage.
Getting started with AceMovi Video Editor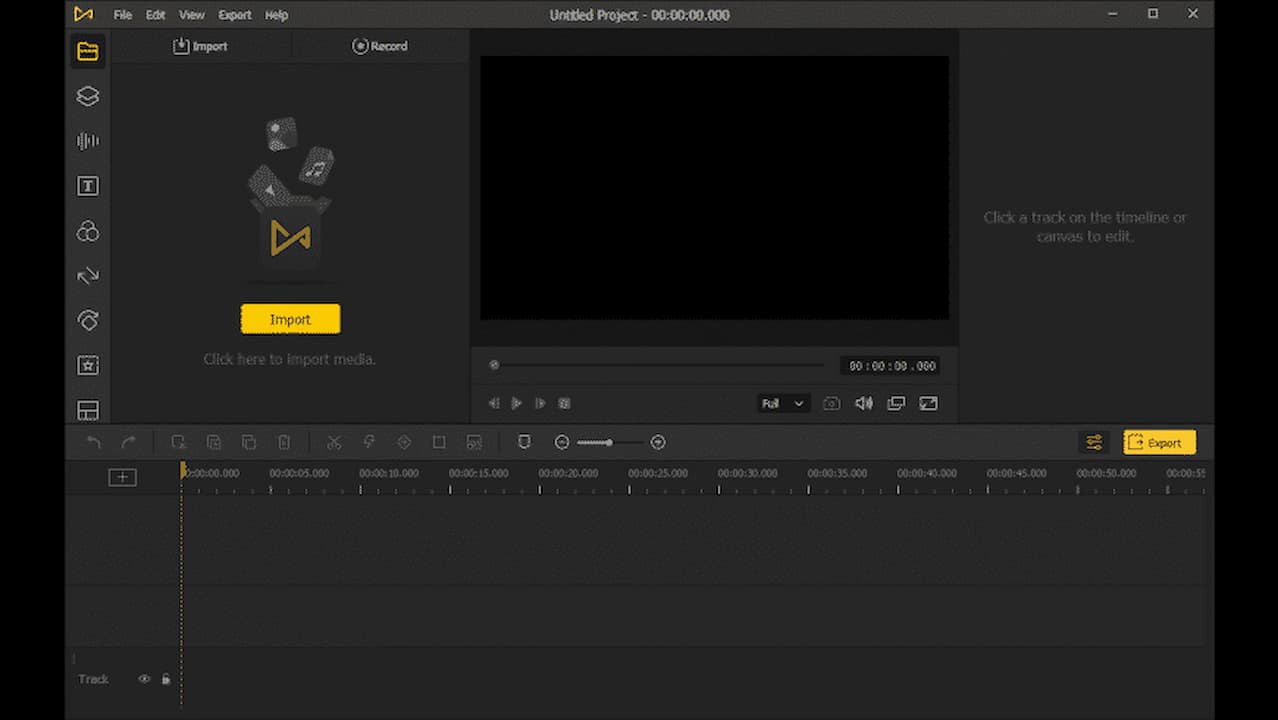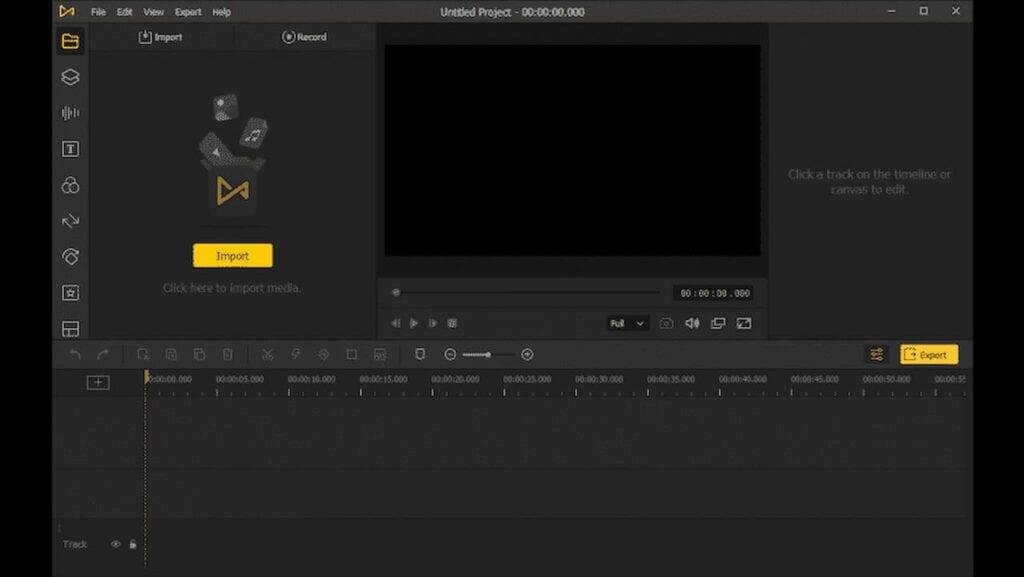 Opening up the video editor, the first thing you'll notice is a dark theme interface that you, unfortunately, can not change, but that's fine by me. I suppose having the option to choose wouldn't be a bad idea. Next are the different sections of the editor itself, which include six parts.
There is the usual menu bar at the very top, where you have the general options like 'Files,' 'View,' and so on. In addition, you will be able to make project settings, set preferences, select or open new projects, and export videos or audio.
The panel at the left is home to different editing options, namely from top to bottom:
Media: Here you will be able to choose between Import Mode where you import videos for editing, or Record Mode which is the screen recording feature of the app (more on that later).
Elements: This allows you to add backgrounds, shapes and stickers to your videos.
Audio: You can add preset background music or sound effects here. You have 25 background music and 37 sound effects to choose from on the video editor.
Texts: Add texts to your video.
Effects: Here is where you add filters and overlays to your video.
Transitions: Again, you have 32 transitions in the app library to choose from.
Animation: You will be able to pick from different animations and motions to add to your videos by clicking on this.
Regional: This is meant for making edits in specific areas of your videos like blurring out something you don't want to be seen or blowing up the part you want people to focus on.
Split screen: As the name implies, the last tool here is to split your screen up to six different parts with different ratios available. However, like some of the features here, there are 34 presets available but you can adjust them as you want.
Going further to the central preview screen where you see your video come together, there is the properties tab where you can tweak the video, audio, and color settings for each track on your timeline at the bottom of the editor. Again, the entire interface is simple, and you can get acclimated with the AceMovi Video Editor in no time, even without prior knowledge of the video editing.
Editing with AceMovi Video Editor
The scope of this video editing software is reasonably standard featuring a simplified video editing software-esque interface. Simply put, you begin a project by loading the media you want to use onto the editor, arranging them on the timeline by clicking and dragging them there with the features you would like to add like filters, stickers, texts, and others following in the same manner.
Next, you make changes to each clip and add customization to presets from the video editor in the properties section at the top right corner beside the preview feed.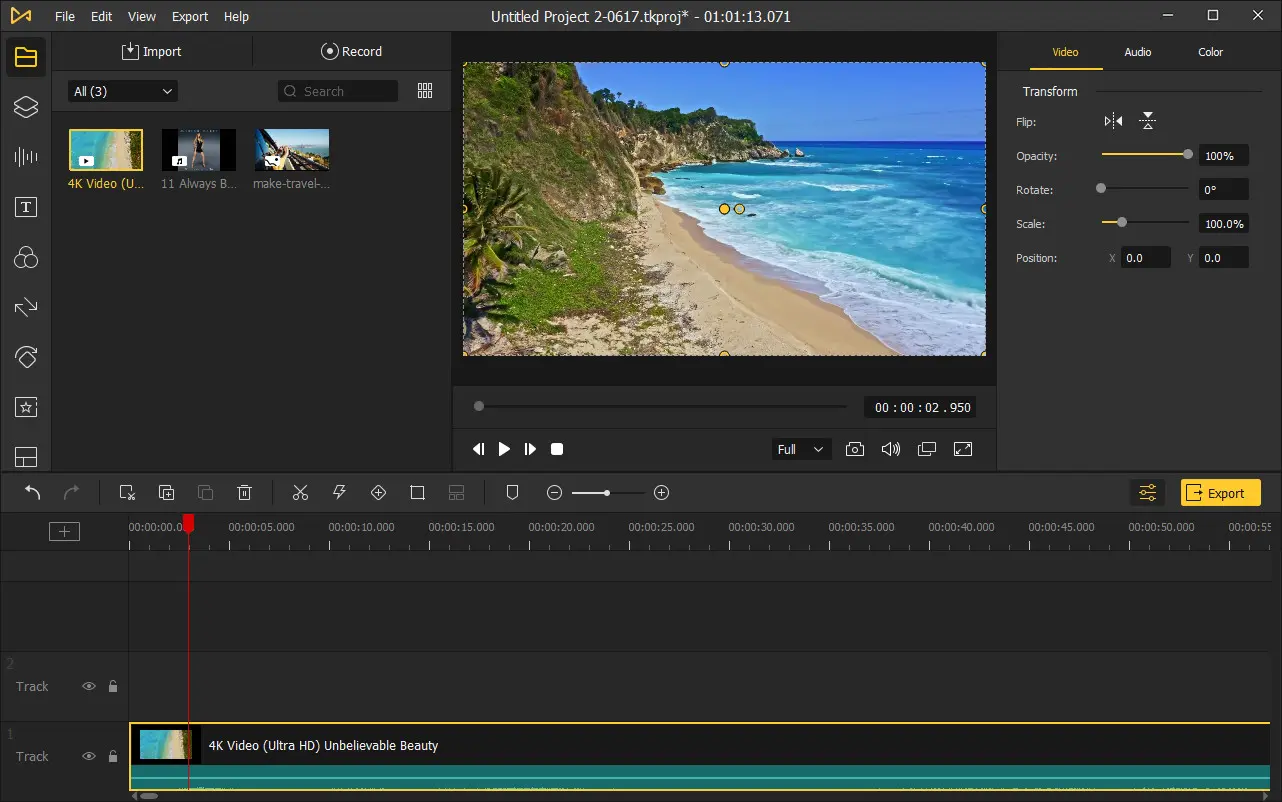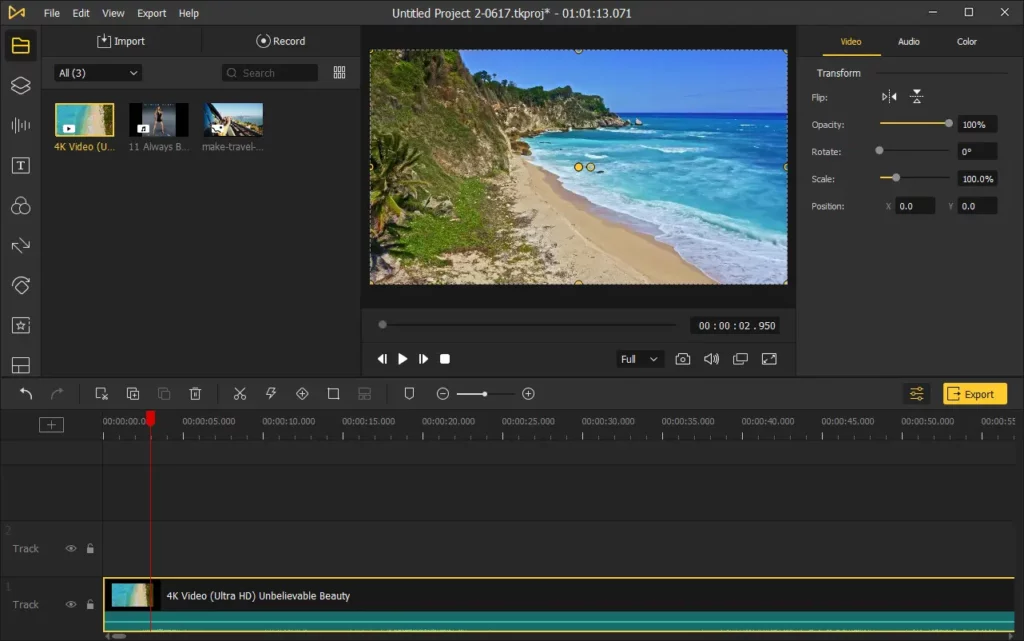 Furthermore, the AceMovi Video Editor allows you to make more changes to each track on your timeline through the advanced edit option that can be accessed by right-clicking on the track of interest and clicking on advance edit. Also, the video editing software allows for flexibility as you can make changes like zooming in and out of the timeline or detaching the preview screen.
As decent as the video editing software is for doing basic editing, it only targets consumers rather than professionals because it lacks sophisticated features you would typically find on something like Final Cut Pro.
Screen Recording
The video editor also has a screen recording feature to record the exact part of your screen and capture your audio. It does not matter if you have a headset on or not, and you can use this to make voice-overs which come in handy for things like reacting to a video playing on your screen.

After recording the video, you can export the file directly to other platforms like YouTube, Facebook, Vimeo, Instagram, etc. There is also the option to choose from different formats such as WMV, DivX, MP4, M4V, TRP, MOV, MKV, TS, MPG, MP3, and WAV, to mention a few.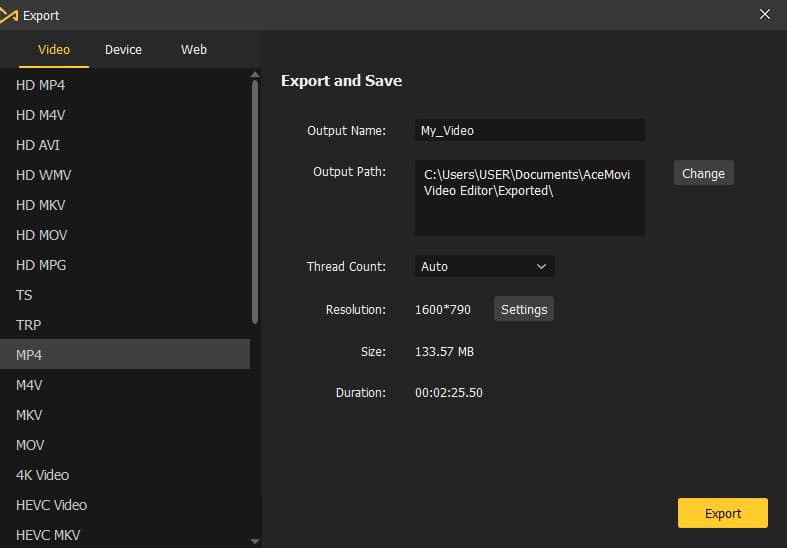 Pricing
For first-time users, the AceMovi Video Editor offers a free trial period; after that, the software will require you to pay to continue enjoying the full features of the software. There are three plans to choose from, and they include a one-time lifetime payment of $59.95, a yearly plan of $39.95, and a one-month plan that costs $19.95.
Conclusion
The AceMovi Video Editor from TuneKit is designed for consumers, which can be seen from its simple interface and preset library that gives you the ability to apply quick edits to your videos. In closing, the AceMovi AMRecorder is a handy screen recording tool added to the video editing software. There is also the fairly affordable lifetime fee, although the monthly plan is a bit of a stretch in my opinion.
Have any thoughts on this? Let us know down below in the comments or carry the discussion over to our Twitter or Facebook.
Editors' Recommendations:
The Good
Easy to use with a simple interface
Useful presets
Lightweight and take up much processing power
Fair lifetime pricing
Consumer-oriented
Screen recording is smooth and reliable
The Bad
Lack of professional features and tools
Follow us on Flipboard, Google News, or Apple News