When toxicity enters your favorite community
Acidic personality not welcome.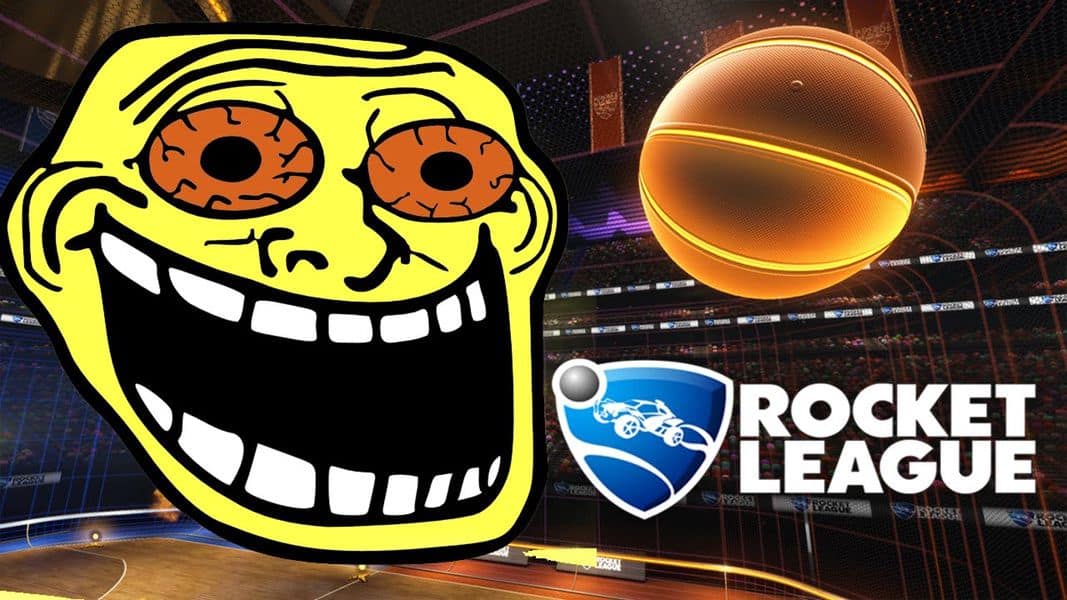 A couple of weeks ago I found myself where I often do late at night, finishing up my last rounds of Rocket League hoping to end on a winning streak. After I wrapped up my games (I ended on a two game winning streak), I found myself laying in bed. This really isn't anything unusual. Actually, it's habit. I usually check social media and my work emails before I go to bed, but this night something was different.
I was swiping through Twitter when all of a sudden there was a huge, wounded arm on my screen. My Twitter following isn't anything special as it is mostly esports teams, players, and industry people I know so for this to pop up is unusual. I am a 25-year-old woman who doesn't typically deal with internet drama, so I like to keep away from it.
I will be using her Twitter name for a few reasons. One being she posted this on a public forum, as a public account, so apparently she is open to conversation. Two, she has since blocked me and numerous others who tried to talk to her via DM in a calm manner. Three, she pinned her "arm tweet" and poor-excuse of an "apology." She hasn't learned in the two weeks it's been since this happened, so maybe this will reach her. If not, use this as an example. I also blocked out her arm because it shows open cuts.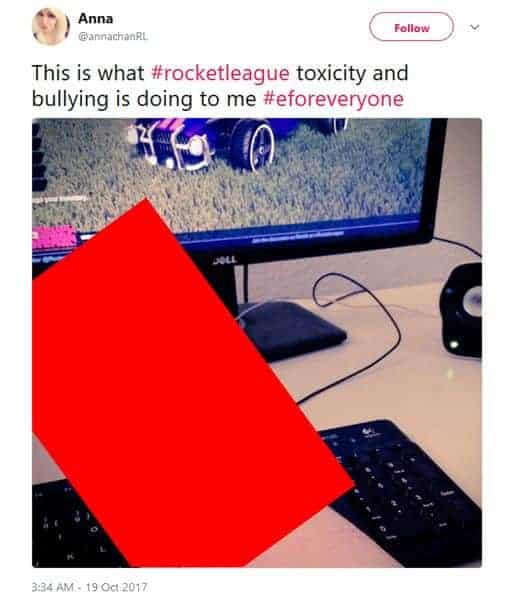 I clicked on the image, retweeted by a Rocket League professional who was clearly trying to be sarcastic. I don't think him, or her, expected it to get this big. Bad for him, good for her. Let me explain.
Once I clicked on the image, I knew immediately who this girl was. She mentions bullying in school, being young, and having self-harm issues. Not much different than any other teenage girl in angst, right? Wrong. I was that girl, and I never put something out in public that would trigger others. She doesn't have an excuse. If this were a legitimate cry for help, this article would have never been written and I would have tried a lot harder to reach her. It wasn't a cry for help, so it's a moot point.
"If I ever see anybody online who needs some type of help, I always try. I was that person who needed help, and thankfully people listened and gave me the support I needed."
If I ever see anybody online who needs some type of help, I always try. I was that person who needed help, and thankfully people listened and gave me the support I needed. I met most of my best friends through the internet, and I wouldn't change that for the world. Why would I deny the chance for somebody to have the same help I had? I won't.
I tweeted her asking if it was a joke because honestly, there are some really dark-humored people on the internet. It happens. I can deal with dark-humor and sarcasm. Her response threw me off.
"Wtf makes you think this is funny? Are you autistic or something?"
I didn't reply.

I reported her picture to Twitter and Psyonix. This type of thing may be appropriate for Twitter, as their guidelines are a bit more flexible, but I know Psyonix doesn't support this. The community is all about helping, giving, and supporting. This girl was none of the 3.
Over the 15+ years I have spent over the internet I have learned a few key points when dealing with trolls. Being a female makes me a huge target, but usually, when there is another female in the picture or lobby, it's an unspoken agreement to look out for each other. It's almost an instantaneous bond. For me, when Anna responded the way she did, hostility out in full force, I knew she was a troll. Lashing out is one thing, but coming back with an invalid argument is another. It's one reason why I don't bother with internet drama, behind hundreds more. Participating in a one-sided argument is pointless for both sides.
She responded to the first couple of people saying things like "so if I get bullied at school" and "yeah but in school," which leads me to believe she is a bullying victim in school. I felt terrible for her, because no matter your age or sex, I think everybody can sympathize with bullying one way or another. However, this doesn't give you the right to throw that negative attention at you to other people. An eye for an eye makes everybody blind.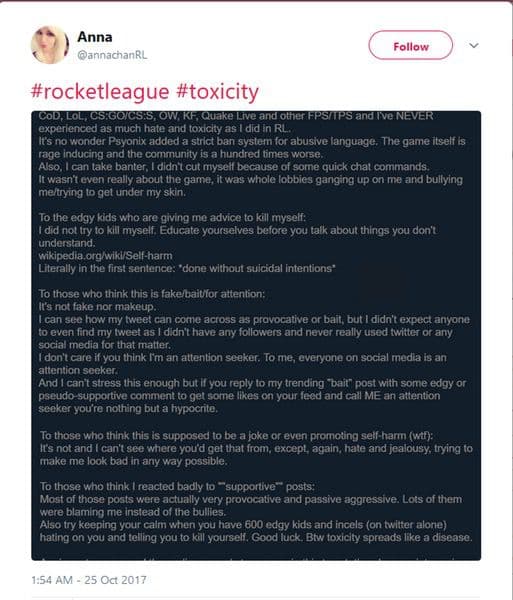 Rocket League has been one of those games that I have fallen helplessly in love with. Since the Call of Duty series has fallen off the past two years, Rocket League has been my new baby. I am certainly not the best, but nailing an aerial goal is one of the best feelings in the world.
Talking to the Rocket League community helped rejuvenate my hope and love for the gaming and esports community. There are good people everywhere that are looking to help, or just want to have some friendly competition. It has been incredibly refreshing to see a game bring this much fun.
There are trolls sprinkled throughout the internet, but this one was particularly annoying. She wasn't out to help anybody, and she wasn't out to spread awareness, she wasn't even out to hurt anybody. All she wanted was internet attention. She wanted to see her notifications blow up. She did, and I chose to not give her any more attention.
"If you are struggling with bullying, self-harm, depression, or are just having a rough time – there is help."
She eventually tweeted a nice, long explanation of her tweet and her behavior. Most of it was excuses and reasons to why she did it. She explains that her reasoning for the tweet was "it was a whole lobbies ganging up on me and bullying me/trying to get under my skin." Well, Anna, they succeeded. You literally showed them what it's like to get under your skin.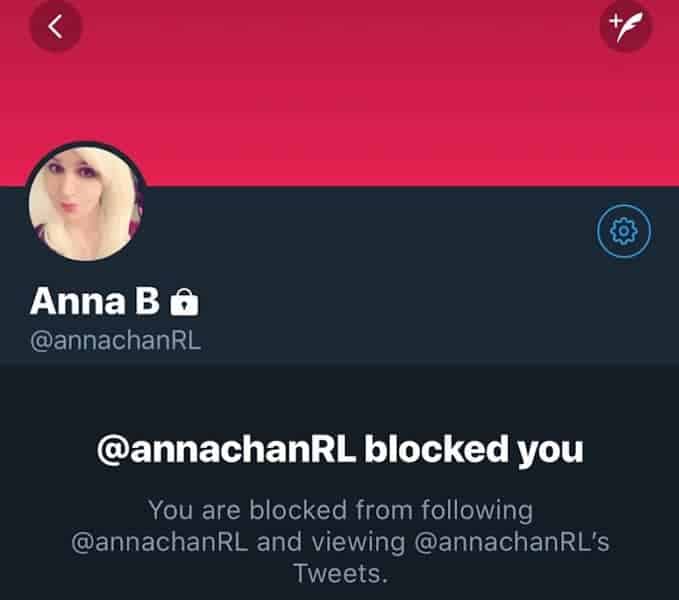 This isn't how you respond to bullies. This isn't how you cry for help. This isn't how you ask people to stop. This isn't how you spread awareness.
If you are struggling with bullying, self-harm, depression, or are just having a rough time – there is help. There are ways to get help, even if you don't have the resources. I know trying to find help without money is difficult, especially in America, but there are ways.
It's difficult to see a pretty, young girl like this use the internet in the wrong way. I hope she can be resourceful and find the help she needs. This article isn't to bully her. This isn't a "hit piece." It's to show what not to do. This is to show you what a classic troll looks like. No matter what reasoning or logic you use, you will always be wrong.
In this case, I made the decision to rightfully walk away. Anna, if you are reading this, delete your posts and get help.
Follow us on Flipboard, Google News, or Apple News