Fortnite's new dogfight mode, Air Royale, is stupid fun
Take a break from building and fly a plane.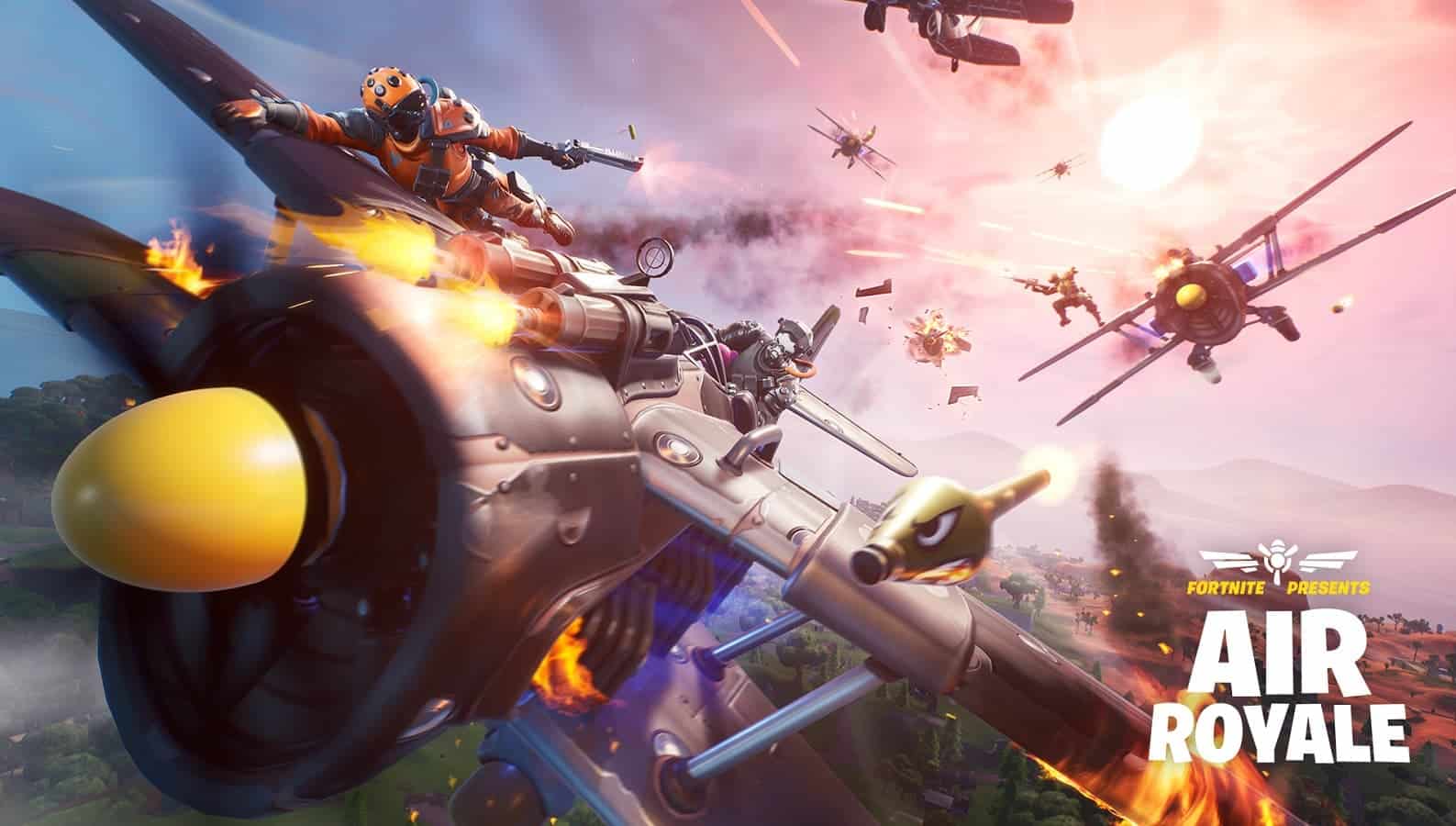 Fortnite has always done a pretty great job of keeping the game fresh. It seems like at least once a month there's a new game mode like Heist or the Horde modes. Yesterday, they introduced Air Royale, which essentially is a completely different type of game from the core gameplay.
Air Royale currently has 12 planes with 2 players each flying around the Fortnite map. You can't land, you can't bail and go on foot and most importantly, loot and health drop from the sky. The goal here is simple, shoot down all the enemy planes. Each team gets to respawn their plane three times, while the actual pilot or wingman can respawn as needed, as long as the other player in on the plane still.
To help you with killing your enemies, the plane can be equipped with special powerups that give you different special weapons that can deal crazy damage, catch planes on fire, or freeze them to cause a stall. There's nothing better than hitting a plane in a dive with an ice beam and watching them slam into the ground while the passenger desperately tries to jump out.
In the current duos setting, your teammate is as equally important as the power-up you find on the map
A good wingman (with decent weapons) can absolutely punish any jackass that tries to get behind you. I played with my son and after he got his hands on a minigun, he was knocking down planes throughout the match. Of course, you gotta have a great pilot too.
As the game goes on, the storm circle begins to close in, which is to be expected but there is also a storm ceiling that will interfere with your ability to evade and avoid combat. As the game progresses further, the storm moves and forces you to fly effectively over different terrain. We won during a match where the storm had us meandering in the gorge by Tilted Towers and Shifty Shafts. We froze the last enemy plane and they weren't able to recover before we lit them up.
Overall, Air Royale is a huge departure for the norm in Fortnite and is a massively welcoming break from the usual style of the game. It should be around for the next week and there are special challenges you can complete during this time period for special weapon skins. So grab a buddy, throw on some aviators and shoot down some no-skins.
I imagine the next event has something to do with the giant Captain America shield that appeared in the middle of Loot Lake though…
Have you tried Air Royale? Did you enjoy it? Let us know down below in the comments or carry the discussion over to our Twitter or Facebook.
Editors' Recommendations:
Follow us on Flipboard, Google News, or Apple News