This robotic plant buddy is the cutest shit I've ever seen
Is this what Bastion in Overwatch looks like?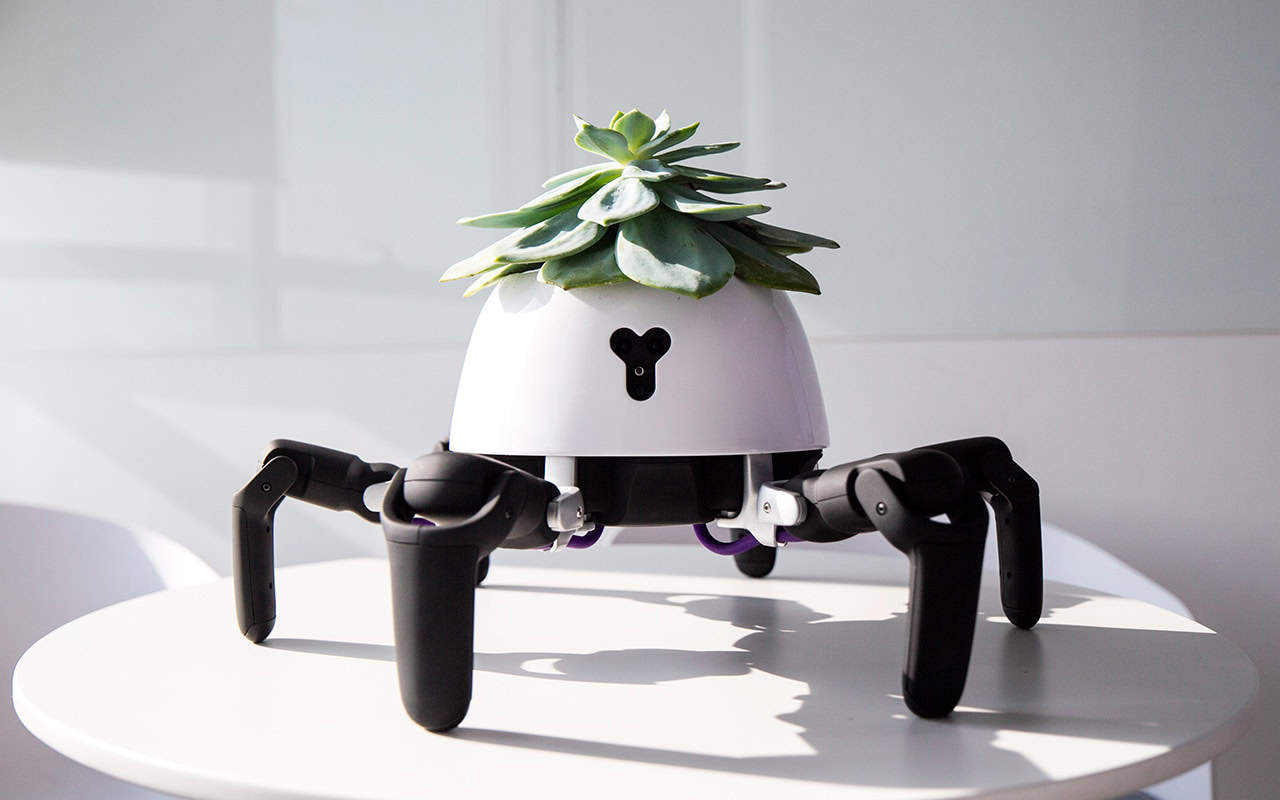 Okay, so the 'buddy' in question is a plant but that doesn't make this six-legged robotic toy made by Vincross any less cute. Modified by roboticist Sun Tianqi, the modified HEXA robot is very protective of its green-limbed passenger.
The resulting robotic-planter looks like a robot Bulbasaur or a softer turret from Portal. It moves towards the sunshine when needed, and retreats to a shady area when it's had enough. It can even 'play' with a human by tapping on its carapace, or throw a stompy fit if you're not meeting the plant's needs by refilling the water.
After being inspired by a dead sunflower forgotten to the shadows, Tianqi first had the idea in 2014 and made an installation called "Sharing Human Technology with Plants." This caught the eye of the first investor in his company, Vincross, which led to the making of the HEXA. Just like the circle of life, this robotic odyssey has a circular nature.
As Tianqi writes,
Plants are usually "eternally, inexplicably passive. You can cut them, burn them, and pull them out of the earth, and they do nothing. They have the fewest degrees of freedom among all the creatures in nature, but, in the same way that humans have augmented our ability to move with bikes, trains, and planes, technology can give plants new freedom. With a robotic rover base, plants can experience mobility and interaction. I do hope that this project can bring some inspiration to the relationship between technology and natural default settings.

Build software without devs. Blazingly fast. Trusted by 100,000+ teams worldwide. It's so easy, anyone can use it. Start building now.

"Just Write Your Damn Book Already" is a printable guidebook that helps you turn ideas into manuscripts. It's affordable and perfect for aspiring authors
It's a wonderfully ingenious mod, and one that kickstarts the mind into thinking of other applications for the robotic platform. Scaled down, you could have plants in nurseries that automatically move themselves out of the growing room and into the next one. Scaled up, you could have ever-living, ever-shifting gardens and parks where the foliage is in an unceasing waltz between each other and nature.
Would you buy something like this? Let us know in the comments.
For more gadget and tech news, see:
Follow us on Flipboard, Google News, or Apple News