How to claim your MacBook Butterfly Keyboard lawsuit payout
If you're eligible, you should receive an email or postcard with instructions for your claim.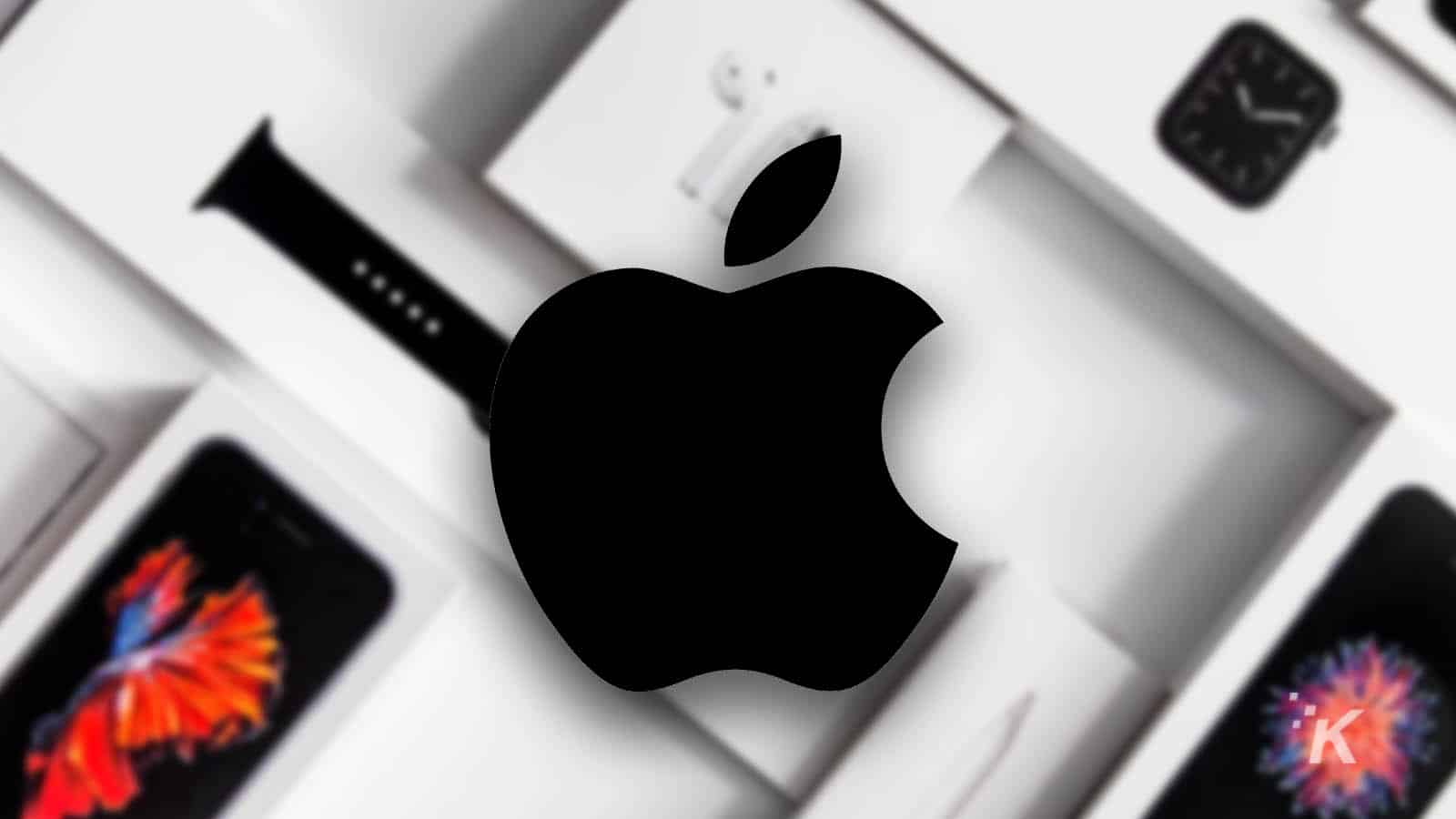 Last year, Apple settled a $50 million lawsuit over its faulty Butterfly Keyboards in some MacBooks. Now, it's time for the affected users to claim their portions of the settlement.
The settlement applies to MacBooks purchased between 2015 and 2019 with the infamous butterfly keyboards.
That means all base MacBooks from that time frame, as well as 2018-2019 MacBook Air models, the 2016-2019 13-inch MacBook Pro, and the 2016-2019 15-inch MacBook Pro.
It applies to anyone who purchased these models in California, Florida, Illinois, Michigan, New Jersey, New York, or Washington.
If you are eligible for a payout as part of this settlement, you should receive an email detailing how to claim. The claims process is open now, so we'll show you what you need to do to get your piece.
How to file a claim for the MacBook Butterfly Keyboard payout
The settlement is broken into three groups, depending on the level of repair required to fix their keyboards.
Additionally, you must have taken your MacBook to a certified Apple repair center to be eligible for payment.
The first group covers users with multiple Topcase Replacements for their MacBook keyboards. Users in that group will receive an email and automatic payments when the time comes.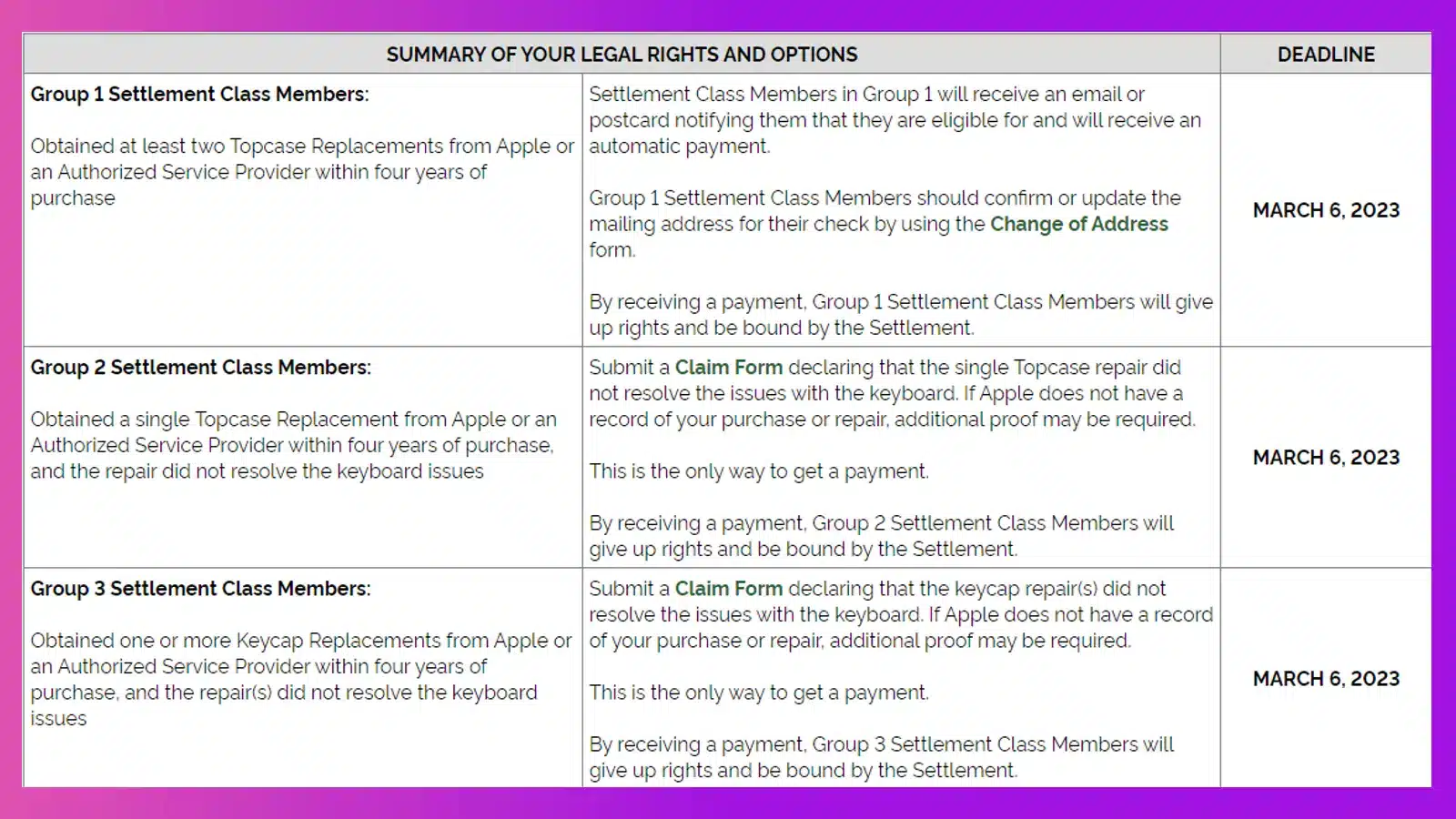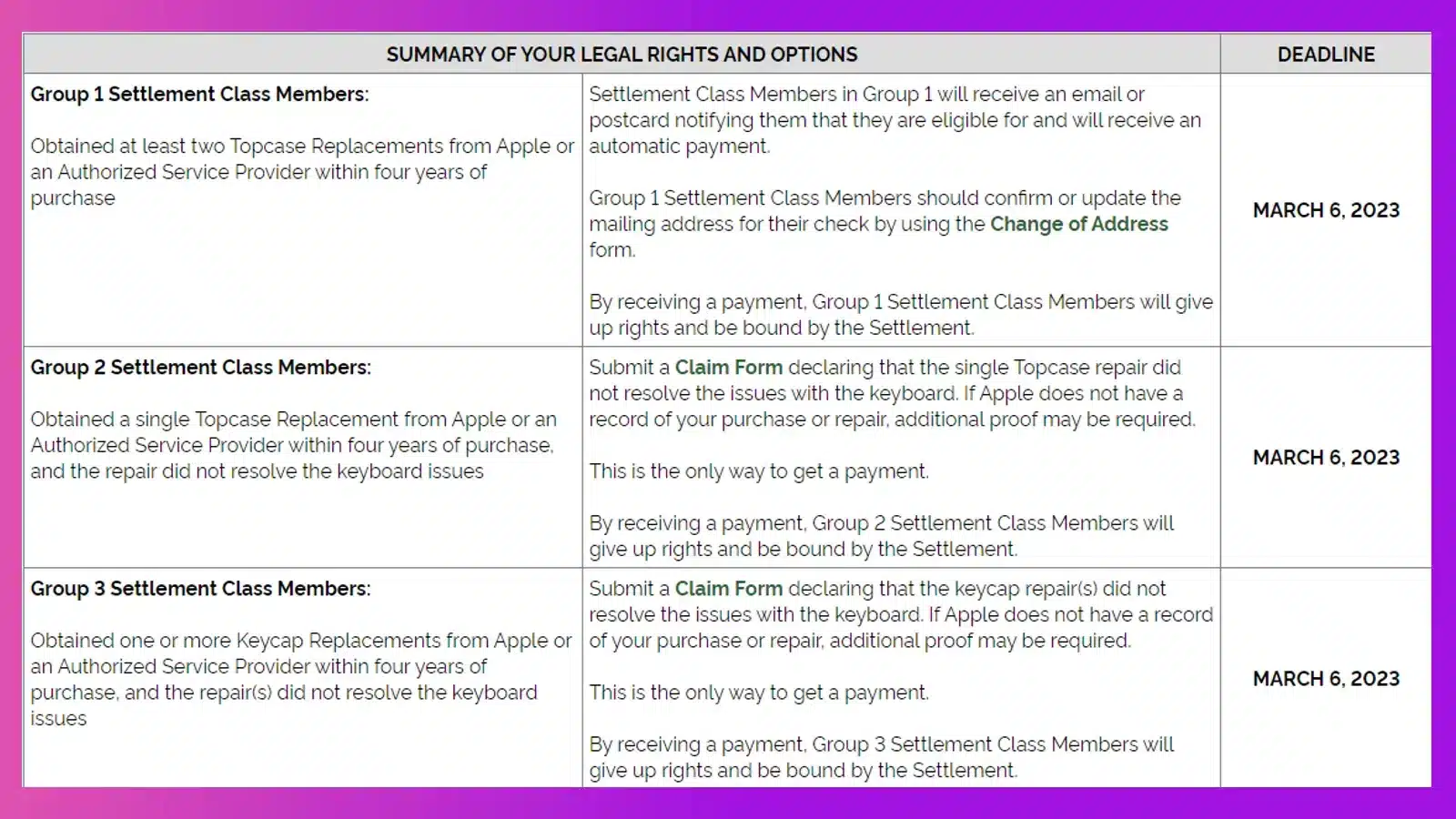 Group two covers those who only had one Topcase Replacement on their MacBook. Those users must file a claim using the ID and PIN in the email they receive.
Finally, Group three is for users who had one or more Keycap Replacements on their MacBook keyboard. They will also need to file a claim using the unique ID and PIN from the email or postcard they receive.
If you did not receive an email but think you're eligible for payment, you can still proceed with a claim. You must provide the serial number for your MacBook and proof of purchase to be eligible.
Act before March 16 to get paid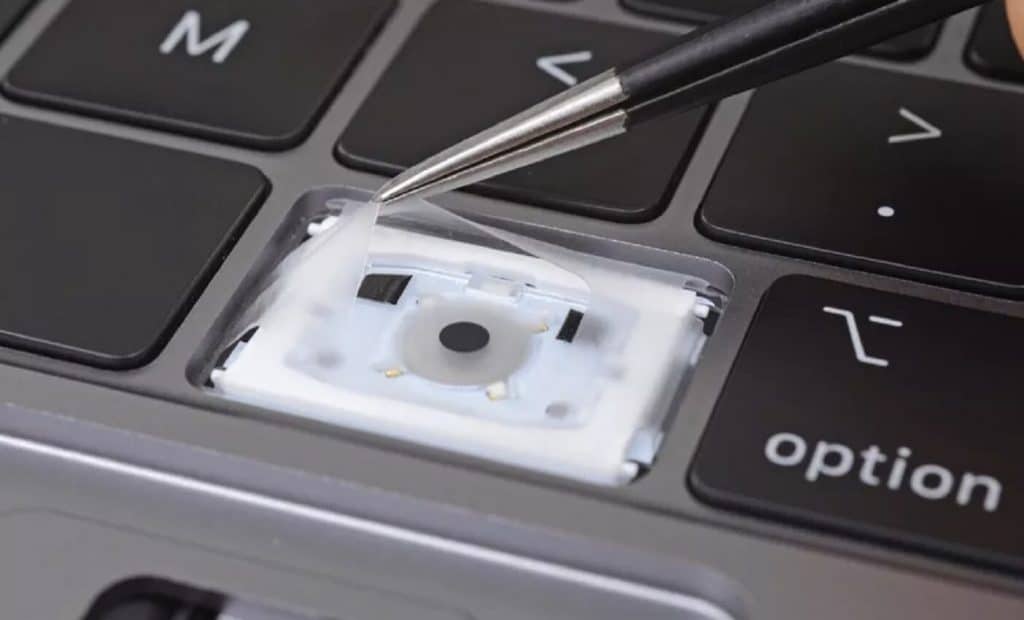 The deadline for filing a claim is March 16, 2023. If you wait until after that, you won't receive any payment unless you're part of the automatic payments of group one.
If you do nothing, you won't receive any payments (unless you're in group one), and you lose the right to bring any other claim against Apple regarding this particular issue.
You can 'opt-out' of the settlement if you want to keep the right to claim against the company regarding Butterfly Keyboards. You'll have to opt out of the settlement by February 10, 2023.
It's unclear exactly when these payments will be processed, but we'd expect to see them soon. If you think you're eligible for payment, check your email for instructions for your claim.
Have any thoughts on this? Carry the discussion over to our Twitter or Facebook.
Editors' Recommendations:
Follow us on Flipboard, Google News, or Apple News