Magic: the Gathering Arena's latest update includes a battle pass system that needs a bit of work
A small change could have a big impact.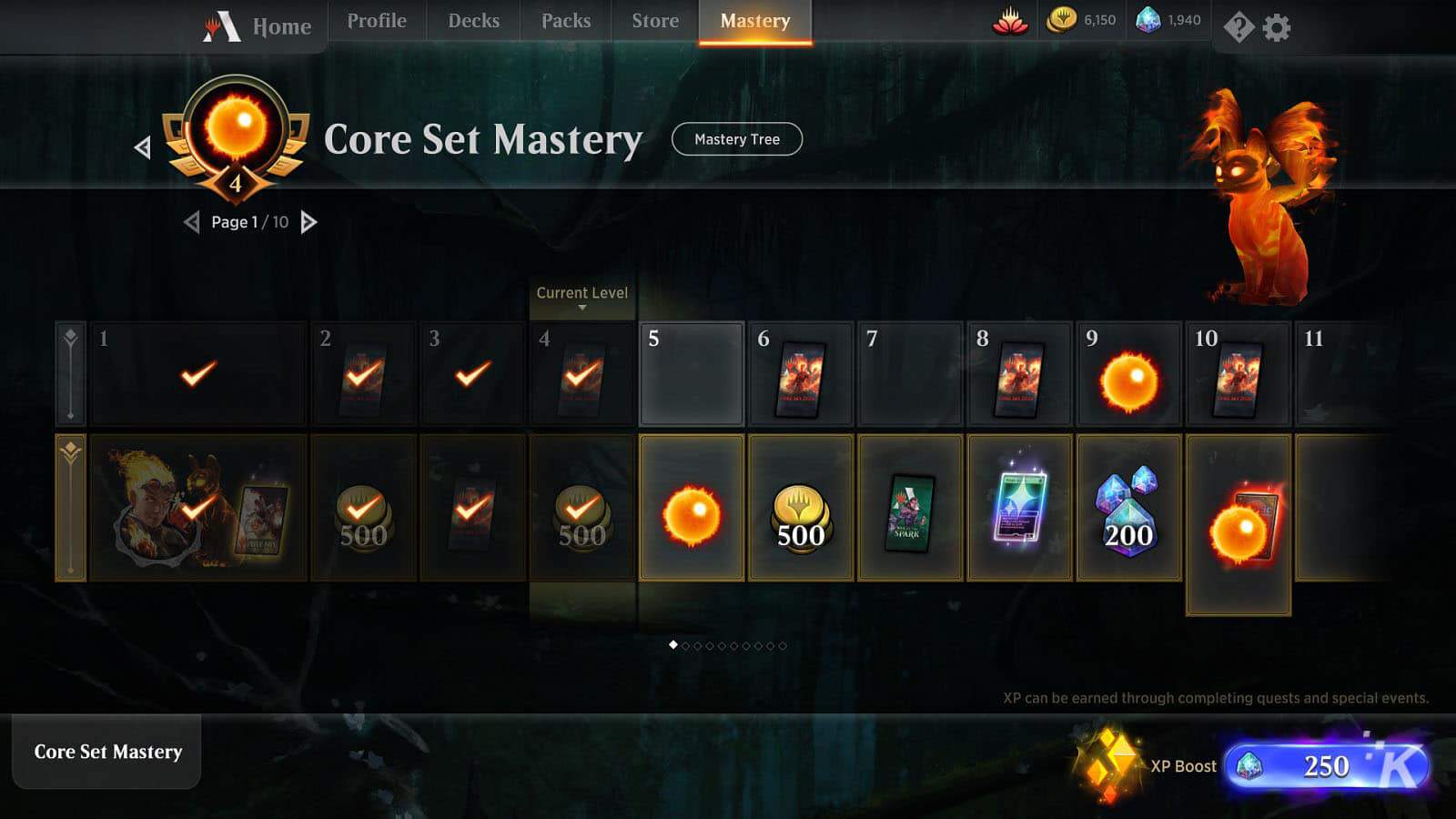 I have been playing Magic: the Gathering off and on for most of my adult life and the digital version of the game, Arena (not to be confused with MtGO), has been a godsend for me and my friends who used to get together for Friday night Magic.
The game is technically still in beta so some issues the game has (no friends list, for example) can get a pass, but just recently Wizards of the Coast released an update alongside a new card set, Core Set 2020, and while that's par for the course, a new system was added as well – the infamous battle pass.
Like those made popular in games like Fortnite, Arena's Mastery Pass has both a free and paid version. The paid version includes more rewards, plus a nifty cat pet that sets on the board while you play. Overall, the rewards earned from the paid pass are completely worth it – if you plan on playing a little bit every day, which is part of the problem.
Before we go further, it should be noted that Wizards has plans for bonus XP events and things of that nature to help players advance their levels, which will help, but it doesn't address every issue with the system.
The issues with Magic: the Gathering's Mastery Pass
While we can talk about the issues with a game in beta having a battle pass system for real money, I honestly don't really have problems with it. It's a digital card game, you're most likely going to spend some money and Arena actually does a pretty good job of offering free cards and packs even for those that do not want to spend money on the free-to-play game.
The problem is that, unlike basically every battle pass on the planet, Arena's is capped on how much XP you can gain each day (sort of) while making you feel like you have to play every day to get the most out of the system. It preys on FOMO and then takes away the thrill of the grind at the very same time – leaving the player in a weird position of obligation and stagnation.
While you can bank a couple of daily quests (for gold and XP) and do them all at once, you have to get your daily wins, well, daily. And you only get XP for the first three. After those things are completed, you are unable to advance your pass any further.
It's a strange feeling with the new pass because before where I may play 10+ games and get a bunch of wins it never felt like a waste, even if I was done with everything. Now, with a Mastery Pass looming over me, one that will not advance any more, no matter how long I play, it seems like I'm just wasting time. It's totally a mental thing, I get it, but I am far from the only one to experience this.
So, what can be done about the new system?
Since we're here critiquing a system, it only makes sense that we also offer some solutions and alternatives and this one is going to be pretty straight forward – remove the daily win XP cap. I get that Wizards of the Coast doesn't want us burning through the fancy new Mastery Pass in a matter of days, but you can still offer advancement to give the player a sense of accomplishment.
Instead of capping win XP at three games, remove the cap, but offer smaller XP gains after the first three wins. So, with Arena, each tier in the pass takes 1000 XP to level up, whether you're going from level 1-2 or 98-99, it is the same. Daily quests give you 800 XP and three daily wins total 200 XP. After that, you're done, kid.
My solution? Gamers aren't afraid to grind out XP, so make additional wins (not losses, as it could be abused) give 25 XP.
This would mean that to grind out a mere one additional level per day you'd have to get a whopping 40 wins, no small task. This would keep rewarding players for playing and balling out, while not making the Mastery Pass something that can be completed in a handful of hardcore gaming sessions.
What do you think? Do you have the new Mastery Pass in Magic: the Gathering Arena? What would you like to see changed? Let us know down below in the comments or carry the discussion over to our Twitter or Facebook.
Editors' Recommendations:
Follow us on Flipboard, Google News, or Apple News