The MetaFly drone substitutes rotors for wings
Rotors are so last year.
Drones nowadays are mostly variations of -copters, with differing numbers of propellers to keep them aloft. That's not the only way to fly through the skies, however, like this biomimetic drone, MetaFly, proves. The MetaFly closer resembles a biological insect while in flight than a helicopter.
The creator of this delightful drone is French aeronautical engineer Edwin Van Ruymbeke, who has a familial pedigree with nature-inspired flight. His grandfather and father worked together to create the original mechanical flying bird sold as Tim Bird way back in 1969, likely spurring Edwin to his studies of both Aeronautical Engineering and Biomimicry.
MetaFly is insect-inspired, with a 29 cm wingspan that flaps to keep the remote-control model in the air. The campaign page is quick to dispel any allusions that this is a drone for taking pictures, instead, the MetaFly is designed for the sheer joy of flight. It's light enough and flexible in motion to glide and flit through the air just like the natural wings it inspired it.
More about the MetaFly drone
Powering the wings is a mechanical coreless motor which is fed by a 55 mA lithium polymer battery. That gives the MetaFly an 8-minute flight time, where it can reach speeds of up to 18 km/h (around 11 mph). That's pretty impressive flight time, no doubt helped by the 10g total weight.
The aircraft comes with a two-channel remote controller, which has a 100m range and doubles as a recharging station for the aircraft. You'll probably not need all of that range though. While MetaFly can be flown outdoors, anything over light winds will likely ground it until the weather calms down.
The mix of carbon fiber for the airframe and liquid crystal polymers for the wing materials results in a pretty crash-proof device. Not that you won't crash it, just that the MetaFly should shrug off most crashes. Shifting the tail position tweaks it for slower or quicker flight and turns, which should help while flying around different rooms.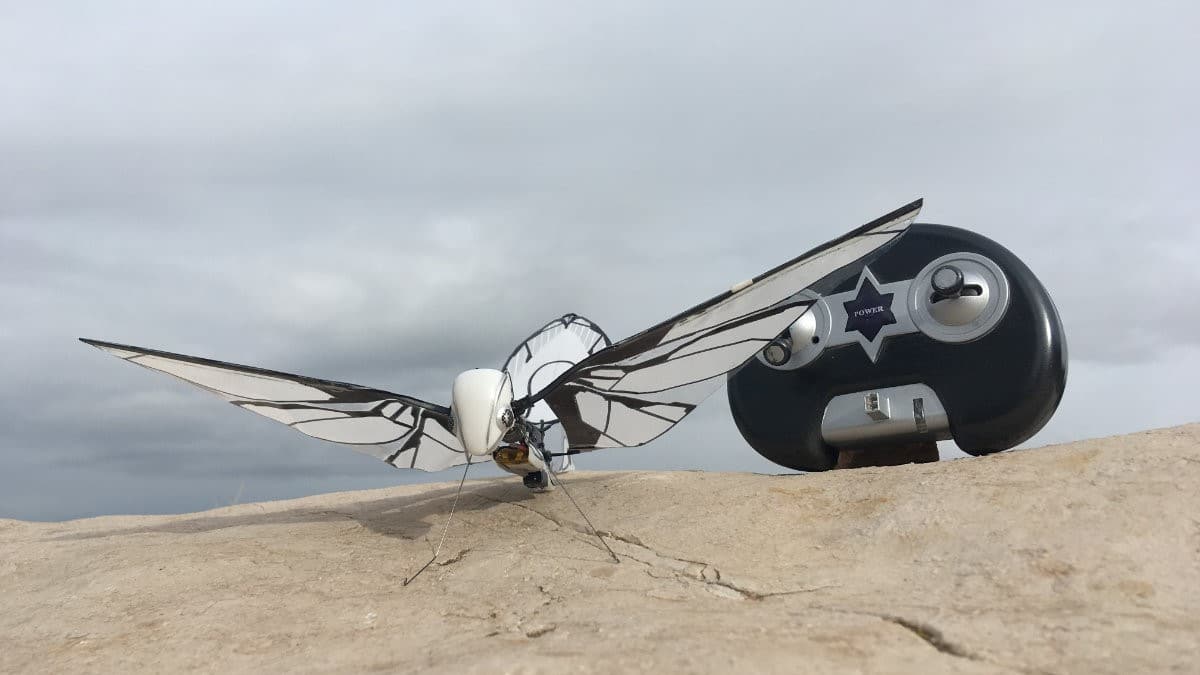 If you're interested in a non-copter remote controlled flying machine, you can get MetaFly from Kickstarter, where it's currently €69 (roughly $78) for a single MetaFly for the next day. Then pricing goes up to €79 (roughly $90) until the end of the campaign, for one MetaFly and a controller.
There are also other packages, depending on if you want the upgrade kit, which adds another wing design, a powerbank and a USB cable for charging, or if you want multiple MetaFly devices. The campaign ends on May 2, with an estimated shipping date of September 2019.
Just remember that as with all crowdfunding campaigns, what you're paying for is the opportunity to bring a new product to the market. Delays are possible, and in some rare cases, you might not end up with the product you backed at all.
What do you think? Interested in the MetaFly or is it a bit too gimmicky for you? Let us know down below in the comments or carry the discussion over to our Twitter or Facebook.
Editors' Recommendations:
Follow us on Flipboard, Google News, or Apple News