Review: 1MORE USA Quad-Driver In-Ear Headphones
They're like sex for your ears, only cleaner.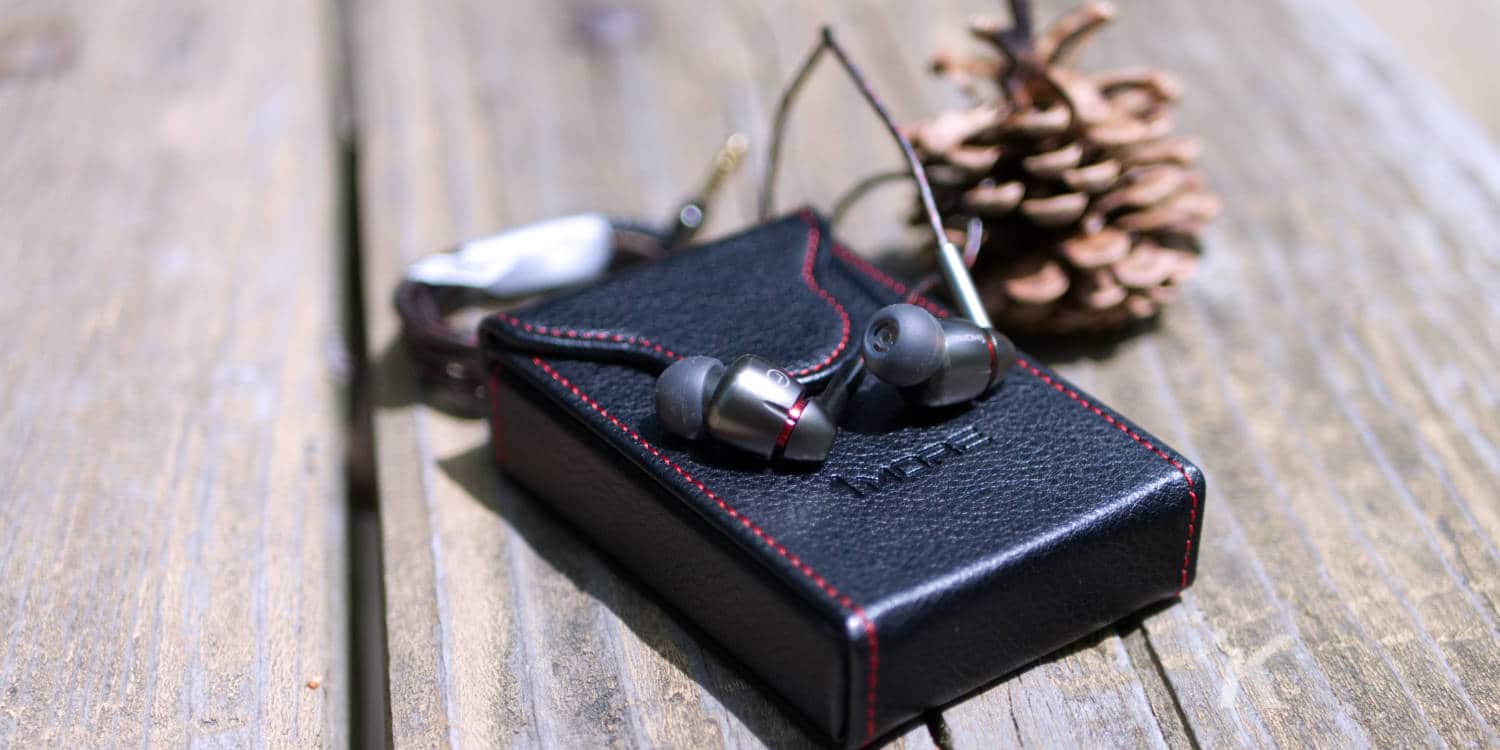 The Good
Truly innovative tech
Designed Fully In-house
Great value
Highly transparent sound
The Bad
Cables aren't user-replaceable
You might not have heard of 1MORE before, but don't let that dissuade you. They sold 20 million units in just three years in their native China, and are hoping to replicate that runaway success in the US market.
If you've been watching the audio market, you might recognize one of their designs – the Xiaomi Pistons were designed and built by 1MORE and licensed out. Those were my daily driver for budget IEMs for years, with a good overall presentation and added bass notes.
That's not the end of their range we're looking at today though, 1MORE USA has sent over their 1MORE USA Quad-driver IEMs for us to look at.
And what a look the 1MORE USA Quad-drivers have. I just can't get over how beautiful this set looks.
1MORE's tuning expert, Grammy winner Luca Bignardi says that tuning headphones is like tuning a room when you're a sound engineer, where the goal is to reproduce the mix that the musicians and producer had in mind. He's been there since the inception of the company to help create their own signature sound.
It's part science, part composition, part magic, and similar to solving a Rubik's Cube with only sound. 1MORE's CBO David Kellogg has described Luca's tuning as "[Luca's] tuning is flat with love," meaning that he takes flat tuning and tweaks the parts that our ears have evolved to respond to. This approach means that their products are versatile, they'll sound just as good to an older man listening to jazz or a younger person listening to EDM.
1MORE is a bit of a unicorn in the headset market. Where most companies source drivers and armatures from companies like Knowles, and build to a budget – 1MORE designs their equipment from the ground up, resulting in (hopefully) more of a coherent whole.
That's not to say you can't get coherency when buying from separate vendors, just that it's easier to tune when you're in charge of the whole process. This is also how they manage to keep their audiophile quality at an affordable level, by cutting out the middlemen in the supply chain. Their 100 person R&D team consisting of visual designers, audio engineers etc are always working on new designs, and their factory turns out 600k units a month between their own brand and OEM products.
On to the show
The 1MORE USA quad-driver IEMs are billed as the World's First THX® Certified Headphones. They retail at an MSRP of $199, although they're $150 on Amazon right now. There's a total of four patented drivers, a diamond-like carbon dynamic driver + 3 balanced armatures all tuned to work together in beautiful harmony. The dynamic driver provides the bass and midrange notes, and the balanced armatures fill in the details; with two being focused on the high details and the last on ultra-high frequencies.
This is a similar configuration to the FiiO IEMs we looked at recently, although that one only had one balanced armature. They also go up to 40,000hz on the high end, where most consumer headsets are pitched between 20-20,000hz. They have a 32-ohm impedance.
A premium product should look premium, and there are no disappointments with the 1MORE USA Quad in-ears. The driver's housing is sleek and slimline, in a jet-engine inspired fetching titanium gray with an anodized red accent ring.
You also get a huge array of accessories, 6 different sizes of silicone ear tips, 3 sizes of foam ear tips, a real leather carrying case, a 3.5mm to ¼" adapter, and both an airline adapter and shirt clip, both in matching titanium. All of this is ensconced in a premium box, with the de-rigueur magnetic closing. I certainly would not have minded finding this under the tree at Christmas.
The 1MORE USA Quad headset has inline controls that work with iPhone or Android, and a crystal clear mic for calls. The wires are Kevlar wrapped, and with oxygen-free copper wire. The slight angle of the ear nozzle helps with positioning so they fit like a glove once you've found the correct ear tip size. The metal doesn't make them heavy-feeling, and they warm up to body temp pretty quickly.
[envira-gallery id="62589"]
Software Companion App
Heard of burn-in? That's the process of gently breaking in your audio equipment to loosen it up slightly for better audio representation, like breaking in a new pair of leather boots.
Now there's an app for that – 1MORE has a companion app both on the AppStore and Google Play to simplify this process for you. It consists of 4 automated 12-hour burn-in periods at progressively higher volumes and different waveforms to get your headset purring like a highly-tuned racecar.
The app also considers that your equipment is new, so it automatically pauses every few hours so the drivers get a chance to rest and cool back down to avoid potential damage.
Pretty nifty stuff. You can also check authenticity by scanning the QR-code on the manual in the box.
This is a great feature, there are websites that you can get waveforms to do this on but none to my knowledge where it's automated like this. It's just another way that 1MORE differentiates their brand from the rest of the market.
Just be aware – the extended burn-in process isn't for the faint-hearted, be prepared to be without the use of your headset and your phone for that time. Regular listening can be used to help the burn-in process, so you could try what I did and do half a day of burn-in with the app than using the headset for your music the rest of the time. I've been told by 1MORE that usually, the burn-in will take between 20 and 40 hrs depending on the model.
Listening notes
I used the same set of songs for listening to both this set, and the Triple-Driver Over-Ears that 1MORE also sent over. You can catch that review over here.
Every nuance of Beth Gibbon's haunting voice comes across, even when the bass is threatening to overpower the lyrics. The detail these two sets put forth is stunning, every crackle of the record is present, every cymbal tap sounds like it's in the room with you. Sub-bass through to mids are warm and highs are detailed and crisp.
Late Morning – Breakbeat Era
I had the fortune to see this performed live in a small club where the walls reverbed back at you. The Quad-drivers won't give you the chest thump of a 30k system but it's the next best thing. The layers of detail here across the frequency range are astonishing from headphones.
Red Snapper – Like a Moving Truck
Just like the track title, the standup-bass hits you and won't let go with the freestyle from MC Det moving you along. Clarity across the 20-40,000hz range is a wonderful thing to hear.
Fake Plastic Trees – Radiohead
Thom Yorke's nasally crooning is both soft and hard at the same time, and often shows up badly tuned headsets. I'm glad to say there are no such issues here, with every part of his frequency range coming through clearly.
I Got 5 On It – Urban Takeover Vocal Mix
Luniz's unique voice comes across beautifully on the Mickey Finn/Aphrodite remix of this track, with the sub-bass bump that west-coast hip-hop is known for coming on strong. Both headsets handled this beautifully, with the only slight difference is in the bass, which was felt more with the IEMs being inside my ear canal.
Final thoughts on the 1MORE USA Quad Driver IEMs
These 1MORE USA Quad-Driver IEMs represent fantastic sound performance at a price that will be hard for anyone to match. The Grammy-winning sound engineer on staff gives them a leg-up on the competition and it shows. If you've never heard higher end audio equipment, this is a great place to start.
A sample unit was provided to KnowTechie for review.
The Good
Truly innovative tech
Designed Fully In-house
Great value
Highly transparent sound
The Bad
Cables aren't user-replaceable
Follow us on Flipboard, Google News, or Apple News